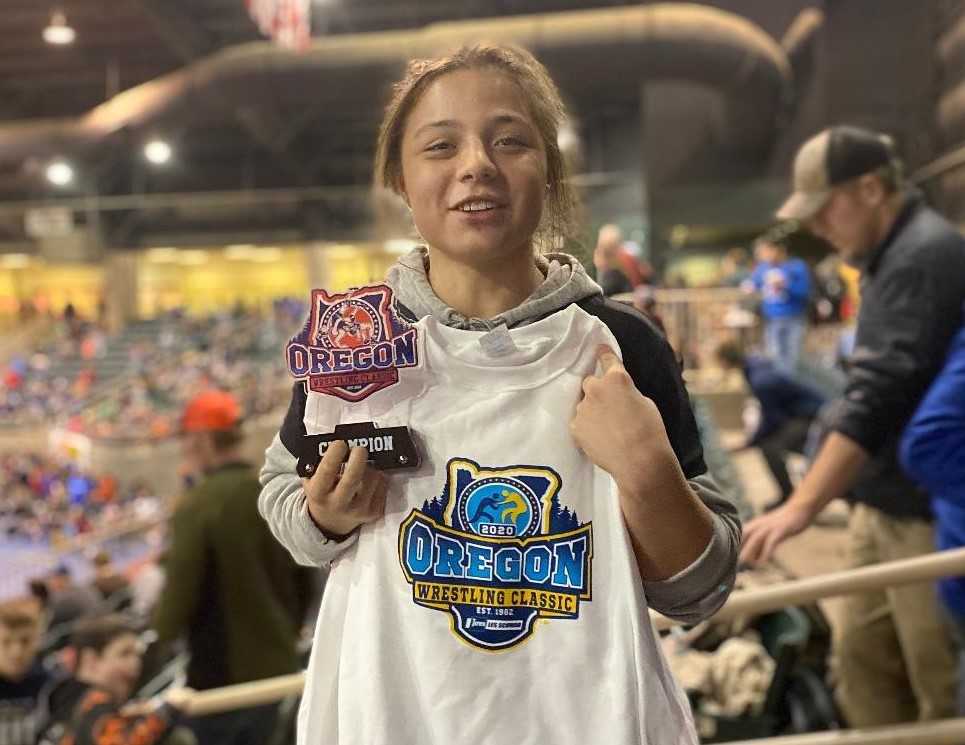 Destiny Rodriguez knows what it's like to compete on wrestling's big stages.
In 2018, she won gold at the Pan American Games in Mexico. Last year, she won a Cadet freestyle national title in Fargo and a world championship in the U15 World School Combat Games in Hungary.
So by the time she stepped on the high school mat for the first time this season for West Linn, she was no ordinary freshman.
"When she beats a boy, it's almost like you want to tell them, 'Hey, she's an Olympic athlete. She's a world-class athlete. That's what you're up against,'" Lions coach Doug Samarron said.
Said Rodriguez: "A lot of them are surprised because they don't know about me."
Rodriguez arrived at West Linn highly decorated, and has not disappointed. Ranked as the No. 4 girl in the nation at 145 pounds by USA Wrestling, she not only has made quick work of her girl opponents, but has more than held her own against boys.
Competing in West Linn's dual-meet lineup, she won her first five matches against boys until she entered last week's Reser's Tournament of Champions JV bracket, where she was pinned twice in the first round, by La Pine's Jose Orozco and La Grande's Wyatt Livingston.
According to Rodriguez, it was the first time she has been pinned in about two years.
"They were just really strong," she said. "I'll learn from it."
Samarron said the tournament was loaded.
"She ran into two very physical boys that would probably wrestle varsity most other places," he said.
Rodriguez started wrestling at age 7. She didn't win a tournament in her first year of competition, but she said that it didn't matter too much to her. What mattered was that she was having fun.
Eventually, the results started to come. As the years passed, and she trained with All-Phase Wrestling Club, she became a finely tuned wrestler.
"She has developed wrestling strength," Samarron said. "She's been on the mat so much, and in so many situations – resisting and pushing and pulling – that she has a really good core of strength, which most girls that are joining wrestling today have yet to develop.
"And she's mentally tough. She's been hit in the head, gotten her face smashed many times, and so that whole idea of full contact, that doesn't faze her."
Rodriguez has easily handled girl opponents this season, pinning all 13 in the first round. She wrestled at 155 in early December to win the Perry Burlison Tournament and the War of the Roses, and dropped to 145 to blitz through the Kelso Girls Tournament in Washington, which featured more than 700 girls from throughout the Northwest.
In the Oregon Wrestling Classic last month, Rodriguez entered the women's open division, under USA rules. Competing in freestyle, her favorite style, she won all three of her matches against college wrestlers, tech-falling the first two and pinning a foe from Eastern Oregon University in the final.
Rodriguez can qualify for the OSAA girls state tournament this weekend at regionals. She plans to enter at 145.
"It will be boring for me. She's so dominant when it comes to wrestling girls," Samarron said.
Rodriguez is a "proficient technician" who has been a plus in West Linn's wrestling room, according to Samarron.
"If you grab her for a drill partner, she's going to make you better," Samarron said. "Her footwork is amazing. She's very precise with her technique.
"That's what got her in trouble with those bigger boys at Reser's. She thought she could just go do her technique, and of course, that strength thing is an issue when you get to the upper levels."
Rodriguez also will enter the boys district tournament at 145. If she qualifies for state in both boys and girls, she will wrestle in the girls tournament.
"It probably benefits her future movement – either in college or internationally – to be a four-time girls champion," Samarron said.