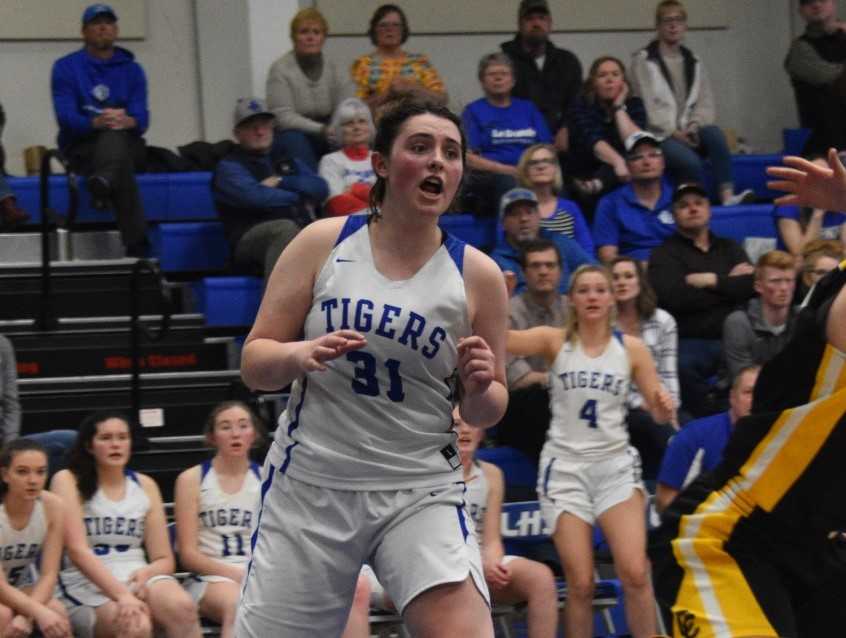 Recaps from Friday's 5A and 4A girls basketball playoff round of 16. Winners advance to their respective eight-team state tournaments next week.
We will add details as we receive them. Coaches may email [email protected] with information.
5A
No. 1 Silverton 53, No. 15 The Dalles 32: Truitt Reilly scored 17 points and Riley Traeger and Josslyn Ames added 12 points each for the Foxes, who led 37-12 at half.
No. 8 Ridgeview 56, No. 9 Putnam 52: The Ravens overcame a 14-point, second-quarter deficit to beat Putnam, avenging an 80-56 loss from early January. Ridgeview went on a 10-0 run to get back in the game in the second quarter and pulled even at 38-38 late in the third quarter. With the game tied at 48-48, Faye Davis and Alaina Clark scored baskets to put the Ravens ahead to stay. Davis came off the bench to score 17 points, all in the second half.
No. 5 Crater 54, No. 12 West Albany 30: Avery Young, a 6-2 senior post, led a balanced Crater attack with 10 points, six rebounds and three blocked shots. Presley Robison had nine points, four rebounds, four assists and two steals and Taryn Dance added five steals and three assists for the Comets. Carley Robb made three three-pointers and scored nine points for West Albany, which fell behind 19-3 and could not recover.
No. 4 Churchill 48, No. 13 Central 38: Danika Starr scored 18 points, Tiara Bolden had 12 points and four assists and Natalie Elstone added 11 points to lead the Lancers to the win over the Panthers, who got 23 points from Megan Mendazona.
No. 3 Wilsonville 73, No. 14 Willamette 42: The visiting Wolverines were within 12 points late in the third quarter, but the Wildcats sealed the win with a 16-2 run. Sydney Burns scored 17 of her team-high 19 points in the first half for Wilsonville. Karina Borgen came off the bench to score 14 points, 12 in the second half, and Renee Lee scored 12 points, making four three-pointers, for the Wildcats. Natalie Willoughby had 21 points for Willamette.
No. 6 Lebanon 55, No. 11 Pendleton 27: The Warriors used an 18-0 run in the first half to pull away from the Buckaroos. Mary Workman scored 20 points and Ellie Croco added 11 points for Lebanon, which made 10 three-pointers, getting six from Workman and two from Kylie Steiner. Daisy Jenness scored eight points for Pendleton.
No. 7 Corvallis 55, No. 10 Hillsboro 41: Elka Prechel scored 23 points and Ruby Krebs added 13 points in the win for the Spartans. Kylie Fernstrom led Hillsboro with 15 points.
No. 2 La Salle Prep 97, No. 15 Ashland 41: Junior guard Addi Wedin scored 41 points and senior guard Emily Niebergall added 24 points for reigning state champion La Salle Prep, which led 62-23 at half. The Falcons made 15 of 25 three-point attempts -- getting six from Niebergall and five from Wedin -- and had 27 assists on 35 baskets. Nina Munson led Ashland with 13 points.
4A
No. 1 Philomath 66, No. 16 Phoenix 40, Saturday: Sophomore Sage Kramer scored 24 of her 35 points in the second half to lead the Warriors to the win.
No. 8 Cottage Grove 60, No. 9 Madras 43: Matty Ladd scored 19 points and Megan Schatz and Grace Arnold added 10 points each in the win for the Lions. Dominique Walker led Madras with 12 points.
No. 5 La Grande 52, No. 12 Cascade 46: Ella Dunlap scored 25 points as La Grande turned back the Cougars. Abbigail Cordero and Camryn Boyles scored 13 points each for Cascade, which went on a 7-0 run to get within 43-36 in the fourth quarter but could not overtake the Tigers.
No. 4 Astoria 73, No. 13 Junction City 34: Halle Helmerson scored 28 points in the rout for Astoria. Cienna Hartle led the Tigers with seven points.
No. 3 Hidden Valley 55, No. 14 Banks 39: Kaiah Fisher made 9 of 13 shots and finished with 22 points, five rebounds, three blocks and five steals to lead the Mustangs, who held the Braves to six points in the second and third quarters. Jaaden Steele had 15 points, seven rebounds and three assists, Jada Hurley had seven points, four assists and five steals and Annabell Brown added 10 rebounds for Hidden Valley. The Mustangs made 14 of 25 free throws; Banks shot 5 of 8 from the line.
No. 6 North Marion 37, No. 11 Stayton 34: The Huskies scratched out the win after Stayton overcame a 10-point, third-quarter deficit. Katie Ensign, who had 17 points and 13 rebounds, made the go-ahead three-pointer with 1:30 left in the game and came up with a crucial steal down the stretch. Mya Hammack scored six of her nine points in the fourth quarter for North Marion.
No. 7. Valley Catholic 42, No. 10 Mazama 25: Josie Napoli scored 25 points and Mariella Guenther added seven points for Valley Catholic, which led by seven points after three quarters and outscored the Vikings 17-7 the rest of the way. Averie Romander had eight points for Mazama.
No. 2 Baker 53, No. 15 Gladstone 31: Jozie Ramos had 27 points and 13 rebounds for Baker, which also got 10 points from Isabella Nemec and eight points from Syd Younger.