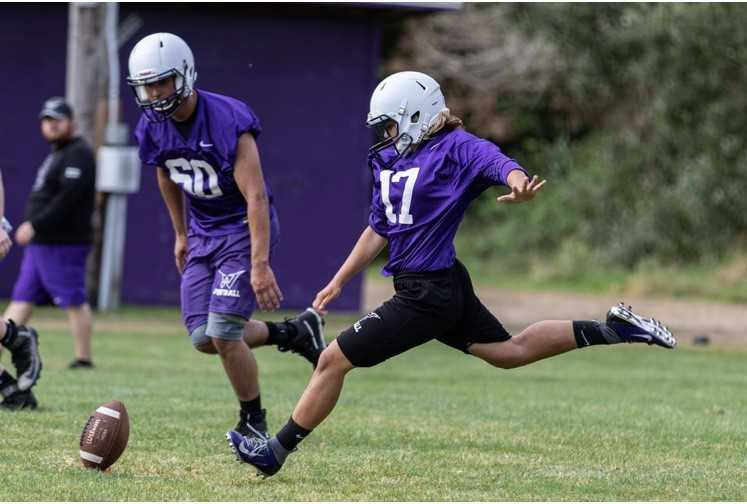 Converting extra points can be an adventure in 2A football, unless, of course, it's Warrenton senior McKenzie Ramsey.
The fourth-year starter could make a strong argument for being the most efficient female kicker in state history. In the last two seasons, she has made 77 of her 80 extra-point attempts.
Friday night, she tied her own state record for females by going 9 for 9 on extra points in a 66-13 win at Vernonia, matching her performance from Sept. 20 against Portland Christian. She also made her second field goal of the season Friday, tying her career-long with a 29-yarder.
"Us not having soccer, she wanted to play football, and she came out," Warrenton coach Ian O'Brien said of Ramsey, voted as a team captain by her teammates this season. "She's got as good a leg as I've ever had at Warrenton. She's the most reliable kicker we've ever had."
Ramsey missed her first attempt in 2018, then made her last 47 tries. She went 3 for 4 on field-attempts last season, making a 27-yarder to account for the team's only points in a 28-3 playoff loss to Sheridan. She was selected to the Northwest League first team.
"I don't know how she missed all-state with the year that she had," O'Brien said. "Last year she really kind of stepped up."
Ramsey, who also plays club soccer, basketball and softball, began playing football in eighth grade as a kicker, receiver and safety. She won the varsity kicking job as a freshman, beating out a senior, and also played receiver and safety in JV games as a sophomore and junior.
"I just knew it would be a challenge and something new and fun," she said. "I knew my high school didn't have soccer so I was trying something new. I definitely wasn't going to play volleyball. When I started in eighth grade, I was also playing soccer, and tournament softball in that season. Three sports at once. I remember going to a high school game and thinking, 'Huh, that should be me.'"
The 5-foot-6, 115-pound Ramsey is 30 for 32 on extra points this season, extending her streak to 52 before missing. She kicked a 24-yard field goal against Knappa.
"She's pretty dynamic on kickoffs, as well," O'Brien said. "She can spot the ball where you want it. She can kick it down to the 15. We don't really just blast it as far as we can, we try to give ourselves an opportunity to get the ball back a lot of times."
Ramsey has the leg strength for more than just chip-shots, though.
"The farthest I've ever made was a 45-yard field goal, and that was this summer when I was out getting some kicks in on my own," she said. "Farthest I've made in practice was a 35-yarder."
Basketball is likely to be her sport after high school. She owns school records for three-pointers in a game (eight) and a season (104). She was first-team all-league and third-team all-state in 2018-19.
Spartans relax, roll
Marist Catholic coach Frank Geske knew that if his players could just get out of their own heads, they could reach another level.
According to Geske, that at least partially explains how the fourth-ranked Spartans were able to rout No. 3 Mazama 55-21 in a 4A nonleague game Friday night. It was their third consecutive win since a 19-14 loss to No 1 Banks.
"The biggest deal for us is we just need to play like we practice," Geske said. "Our kids get so doggone nervous and uptight. That's what destroyed us against Banks. The kids didn't relax, and it was 19-0. Most people can't play white-knuckled, and we're no exception."
Visiting Mazama (5-1), which beat the Spartans 14-6 last year, entered undefeated and allowing 5.4 points per game. But Marist Catholic (5-1) jumped all over the Vikings from the start, building a 27-0 lead in the first quarter.
The Spartans drove for a touchdown on the game's first series, then converted back-to-back fumbles on kickoffs into scores, making it 20-0 before Mazama had taken a snap.
Senior Max Campbell completed 21 of 26 passes for 313 yards and four touchdowns and sophomore Lucas Tuski ran for 120 yards and three touchdowns on 21 carries, also scoring on a 56-yard catch.
"That was a have-to win for us," Geske said.
Campbell has completed 68.0 percent of his passes for 1,460 yards and 18 touchdowns with three interceptions. He is much improved from last season, when he threw eight touchdowns and six interceptions in 10 games.
"He's been a work in progress," Geske said. "The last two games he's finally quit fighting himself, gotten past the basics of reads and coverages and just started to feel it. He's extremely smart, but there was always just one stutter in his hitch that was holding him back."
The 6-0, 210-pound Tuski is a rare talent. The team returned its leading rushers from last season in junior Lucas Patterson and senior Hayden Loboy, but Tuski earned the starting spot and has rushed for 813 yards and 14 touchdowns.
"It was everything I could do to keep him on the frosh/soph team last year, but for his own growth, it was important that we did that," Geske said. "He's got a chance to be special. He'd start on a team dominated by 30 seniors."
Burns on fire
The Burns defense pitched its fourth shutout of the season Friday by defeating Umatilla 47-0 in a 3A Special District 3 game.
The No. 7 Hilanders (6-0) have held opponents to 12 points for the year, lowest among 11-man teams. Despite replacing six starters, they have taken it up a notch from last season, when they allowed a 3A-best 12.3 points per game and reached the quarterfinals.
"I'm kind of surprised at how they've played this year, and how aggressive they've become," Burns coach Terry Graham said. "Not that we don't have that capability, but it's just finally come together to be what they are at this point."
The Hilanders don't have a lot of size, but they are quick and physical. They lost their biggest player – junior Anthony Berry (6-4, 285) – for the season due to mononucleosis, but have a feisty cast that is epitomized by 5-8, 155-pound senior defensive tackle Pierce Epling.
"We're trying to be as quick as we can in what we're doing, stick with the fundamentals and basics," Graham said. "So far, things have worked out pretty good."
Senior defensive end Harlen Gunderson (6-2, 200) and senior defensive tackle Sean Wilber (6-1, 240) have been outstanding up front. Seniors Mick Winn and Anthony Moulton are disruptive at linebacker, and seniors Dawson Williams, William Johnson and Dakota Ceja have plenty of speed in the secondary. Johnson returned an interception for a touchdown against Umatilla.
"If I had to give out a most improved award to an individual, I don't think I could do it at this point," Graham said. "The whole defense has really come around."
Burns also started 6-0 last year before falling to Nyssa 31-21. The Hilanders hope to settle the score Friday when they visit Nyssa (4-2).
"At this point, we're playing with a lot of confidence," Graham said.
Cardinal virtue
Two years removed from a three-year stint as an independent team, Corbett is chasing after a league title.
The Cardinals played a 4A independent schedule from 2015 to 2017 before meeting OSAA criteria to move to 3A, where they finished 1-8 as a member of the PacWest Conference last year.
After beating Salem Academy 11-0 on Friday, they are 5-1 overall and 2-0 in the PacWest, tied for first place with No. 9 Yamhill-Carlton (6-0, 2-0). They play host to the Tigers on Friday.
Second-year coach Nate Aazzerah – who has coached in the programs at Sunset, Milwaukie and Benson – said the team is relishing the chance to play in meaningful games, something that was missing during the three-year independent run.
"It's got to be tough to get ready for a game that doesn't matter, doesn't count," said Aazzerah, a track coach at Corbett for the last seven years. "My seniors now, last year they had to get over how every game matters. And now at this point in the season, the games super matter."
Corbett is holding teams to 4.3 points per game, down from 29.3 last season. And the Cardinals, who managed only 28 points in all of 2018, have scored 101 points through six games.
The most obvious sign of progress was a 14-0 loss to reigning 3A champion and then-No. 1 Rainier on Sept. 27. Last year, the Cardinals lost to the Columbians 48-0.
"Our guys were pretty fired up after that game," Aazzerah said. "For us, it was error-free. It was just a very well-played game, and they all knew it. We lost the game, but if you were to hear us down in the locker room, you would think we were the winning team. That was a great building block."
Aazzerah doesn't believe it was an accident that Rainier fell to Clatskanie 13-8 the following week.
"It seems like after we play a team, everybody loses," he said. "We play really physical."
The defense features senior middle linebacker Kaine Mickalson, senior outside linebackers Luke Finn and Alex Finn, sophomore linebacker Glen Leith-Ross and senior defensive tackle Jack Stinger.
"Alex Finn has been an absolute demon on defense," Aazzerah said.
Corbett runs a veer offense with senior quarterback Jeremiah Pearson, who took over for the Rainier game after sophomore Carson Tappero suffered a shoulder injury.
Aazzerah said the team is thriving with a culture of accountability.
"I believe that the old-school culture is the ticket," he said. "The kids at Corbett did not have a base. Last year was our first year. We actually refer to it as Zero Year. This is our First Year."
General efficiency
To extend its dominance over rival Jefferson on Thursday, visiting Grant knew that it must do something that no other football team has accomplished this season: slow down Damir Collins.
In the first five games, the Democrats' junior tailback showed why he has become a national-caliber recruit, tormenting defenses while racking up a 6A-leading 1,443 rushing yards.
But the Generals -- for the most part -- kept Collins under wraps, limiting him to 103 yards on 24 carries. Yes, Collins got loose for a 68-yard touchdown catch, but it wasn't nearly enough as Grant (4-2, 2-0) posted a 21-7 win over the Democrats (4-2, 1-1) in a key Portland Interscholastic League game.
Generals coach John Beck credited the gameplan of defensive coordinator Alex Melson and defensive backs coach Aaron Kincy.
"They did a great job of knowing the tendencies, putting kids in the right spot to make plays against Damir," Beck said. "I have a lot of respect for that kid. He's got great jump-cuts, he's got good vision. When he puts his foot in the ground and goes forward, he is out of there like a cannon."
Junior defensive back Jackson Montfort played a key role in corralling Collins.
"Coach Melson kind of schemed it to spill stuff to him, and he was just lights-out," Beck said of Montfort.
Junior defensive lineman Kaden Segel had 2.5 sacks and senior defensive end Peter Zaharie and sophomore defensive end Max von Arx provided consistent pressure off the edge. Jefferson, which entered averaging 45.6 points per game, mustered only 207 total yards.
Grant, which shared the PIL title with Lincoln and Roosevelt last year in its first season under Beck, now finds itself alone in first place. The Generals are hoping that the lessons from their losses – 23-13 at West Salem and 28-13 at Barlow – will propel them going forward.
"We shot ourselves in the foot against West Salem. We'd love to get a chance to play them again," Beck said. "Same thing with Barlow. I think it made us battle-tested. Stuff doesn't faze us."
Sailors delight
Behind junior quarterback JJ Neece, Mapleton is emerging as a force in 1A.
Neece ran for three touchdowns and passed for two scores Friday as the No. 10 Sailors pummeled Yoncalla 48-13 in a Special District 1 South division game.
Mapleton (6-0, 3-0) has won its first six games for the first time since 2002, when it didn't lose until the quarterfinals. The team finished 4-5 last season.
"The group that we have went undefeated in middle school, so we knew they had the ability," said Sailors coach Jeff Greene, who was the offensive coordinator for the 2002 team. "It's a group that has wanted it more than the other kids we've had in the past.
"A lot of it is this year they're experienced. They lost a lot of close games last year, but they were very young."
The 6-2, 200-pound Neece has been a force, running for 1,600 yards and 20 touchdowns and throwing for 650 yards and 10 scores. An outstanding all-around athlete, Neece made the state track meet in the 100 meters, long jump, triple jump and javelin as a sophomore.
"He elevates everybody's game," Greene said of Neece, who has clocked 11.62 in the 100 meters. "It's his mental ability. He just knows the game. And he loves football."
Mapleton will play its biggest game of the season Friday when it visits No. 7 Lowell (5-1, 3-0), the reigning district champion. The game is likely to decide the district's No. 1 seed.
"They've been the dynasty," Greene said. "The road goes through Lowell."
A look at other Week 6 highlights across the state:
6A
Casey Filkins scored on a two-yard run as time expired to give Lake Oswego a 20-17 win at West Linn. Filkins rushed for 180 yards and two scores on 31 carries. … Devin Bradd rushed for 136 yards and three touchdowns in North Medford's 34-27 win over Grants Pass. It was the 113th game in the series, which North Medford leads 72-36-5. … Toren Tuttle threw three touchdown passes, two to Austin Boster, as South Medford dispatched Roseburg 34-6. … Mountain View set a school scoring record with a 67-19 win over Southridge. Keenan Harpole rushed for 287 yards and seven touchdowns on 30 carries for the Cougars. … Bend downed rival Summit 26-9 behind Nate Denney, who rushed for 196 yards and three touchdowns. … Sunset handed Aloha its first loss, winning 37-14. Caleb Kim rushed for 179 yards and two touchdowns for the Apollos, who had 451 total yards. … Reynolds had four interceptions in its 42-20 win over David Douglas. … Newberg rolled over Century 55-21 behind Justin Holtan, who rushed for 212 yards and five touchdowns. … Jaden Fulsher stepped in at quarterback for Central Catholic and completed 6 of 10 passes for 156 yards and five touchdowns, two to Kalvin Souders, in a 49-0 win over Centennial. … West Salem turned back South Salem 36-14, holding the Saxons to 122 yards. Jackson Lowery threw three touchdown passes to Nick Paslay and ran for a score for the Titans. … Jesuit outgained Sheldon 460-187 to win 41-17 as Kade Wisher and Ted Atkinson combined to rush for 315 yards and four touchdowns. … Drew Carter threw three touchdown passes, two to Max Lenzy, and Hunter Gilbert rushed for 118 yards and two scores in Tigard's 50-13 win over Oregon City. … Luke Marion and Kainoa Sayre each scored three touchdowns to lead Tualatin past Westview 42-14. .. Roosevelt rushed or 466 yards in a 56-40 win over Lincoln. Cardinals quarterback Jake Leitgeb threw for 322 yards and four touchdowns, two to Charles Willmott, in the defeat.
5A
Trever Davis passed for 330 yards and four touchdowns to lead Crater past South Eugene 57-26. The Axe got a 99-yard touchdown pass from Bryce Boettcher to Jake Trone in defeat. … Thurston remained unbeaten, dropping Redmond 60-20 as Cade Crist threw four touchdown passes, Wesley Kommer rushed for 146 yards and Caleb Scott returned a punt for a score. … Willamette won its fourth in a row, beating Ridgeview 33-21 as Dane Woodcock threw two touchdown passes. … Ashland's DeMario Watson rushed for 113 yards and two touchdowns on five carries in a 48-6 win over Eagle Point. … Crescent Valley's Kai Garber threw three touchdown passes to Walker Riney and ran for two scores to help beat South Albany 55-3. … Keith Brown ran for two touchdowns as Lebanon pulled away from Central 41-10. … North Bend bounced back from losses to Crater and Thurston to beat Springfield 38-7, holding the Millers to 63 total yards. … Izaak Worsch rushed for 213 yards and five touchdowns on 27 carries to propel Corvallis past McKay 42-7. … West Albany's Porter Phillips ran for 202 yards and four touchdowns on nine carries in a 63-0 win over North Salem. … Parkrose blocked two punts on its way to beating Wilson 56-0. … Wilsonville dominated Scappoose 50-14 behind Jayce Knapp, who threw for 352 yards and six touchdowns, three to Chad Overholt. … Churchill got its first win, beating North Eugene 14-7 as Deonte Jones rushed for 230 yards on 22 carries.
4A
Cameron O'Connor rushed for 227 yards and two touchdowns on 38 carries to lead Henley past Phoenix 42-27. … Marshfield scored touchdowns on its first seven possessions in a 49-0 pasting of Junction City. The Pirates' Josiah Niblett rushed for 172 yards. … Zach Luttmer caught two touchdown passes in Sweet Home's 42-3 win over Philomath. … Stayton racked up 430 total yards in beating Newport 35-8. … Banks blasted Valley Catholic 62-6 as Tanner Shook passed for 297 yards and three touchdowns, two to Jarred Evans. … Sergio Jimenez threw two touchdown passes and North Marion held Estacada to 123 yards in a 35-7 road win.
3A
Yamhill-Carlton stayed unbeaten, holding off a late rally to beat Scio 28-20. Jaime Garcia ran for two touchdowns and threw for a score for the Tigers. … Kiegan Schaan completed 15 of 18 passes for 206 yards and five touchdowns in Cascade Christian's 60-0 rout of South Umpqua. … Sam Vidlak threw for 434 yards and four scores and Tobias Powers rushed for 220 yards on 27 carries as Hidden Valley topped St. Mary's 49-26. … Marcus Fullbright rushed for 191 yards and four touchdowns on 11 carries to spark Santiam Christian past Siuslaw 50-15. … Brookings-Harbor scored four touchdowns in the fourth quarter – two on interception returns – to overcome a 13-8 deficit and beat Douglas 38-25.
2A
Monroe's Zach Young ran for 300 yards and five touchdowns on eight carries in a 54-21 win over Jefferson. … Heppner raced to a 38-0 lead in the first quarter and defeated Irrigon 50-0, getting 113 rushing yards and two touchdowns from Brock Hisler. … Weston-McEwen blanked Riverside 50-0 as Nevin Malchow rushed for 108 yards. … Gunnar Yates ran for two touchdowns in Coquille's 56-14 win over Reedsport. … Oakland held off Regis 21-7 as Corbin Picknell ran for 245 yards and two touchdowns on 24 carries. … Jaxon Rozewski completed 12 of 16 passes for 310 yards and five touchdowns, three to Mason McAlpine, to lead Toledo past Gold Beach 64-16.
1A
Hunter Carter passed for 246 yards and three touchdowns, two to Brody Scott, and ran for a score to lift Mohawk over Waldport 42-40. … Zack Genereux rushed for 178 yards and four touchdowns and returned an interception 65 yards for a score as Butte Falls hammered Glendale 58-12. … Camas Valley overran Riddle 62-14 behind Jared Hunt, who rushed for five touchdowns and returned a punt 70 yards for a score. … Seth Leodoro led Days Creek past Myrtle Point 56-8 by catching two touchdown passes, returning a fumble 40 yards for a touchdown and recording 16 tackles, including one sack. … Lowell's Taysian Williamson accounted for six touchdowns in the first quarter – four running, one passing and one receiving – to help build a 44-0 lead in a 54-14 win over Elkton. … Wyatt McDaniel ran for three touchdowns and caught a 97-yard scoring pass as North Douglas outlasted Oakridge 66-58. … St. Paul cruised past Perrydale 64-22 in a battle of unbeaten teams. The Buckaroos gained 570 yards, getting a combined 300 rushing yards on 10 carries from Gianni Grasso and Saul Martinez and four touchdown passes from TJ Crawford. .. Wallowa took out Pine Eagle 72-6 as Lute Ramsden threw four touchdown passes, two to Tristan Bales.