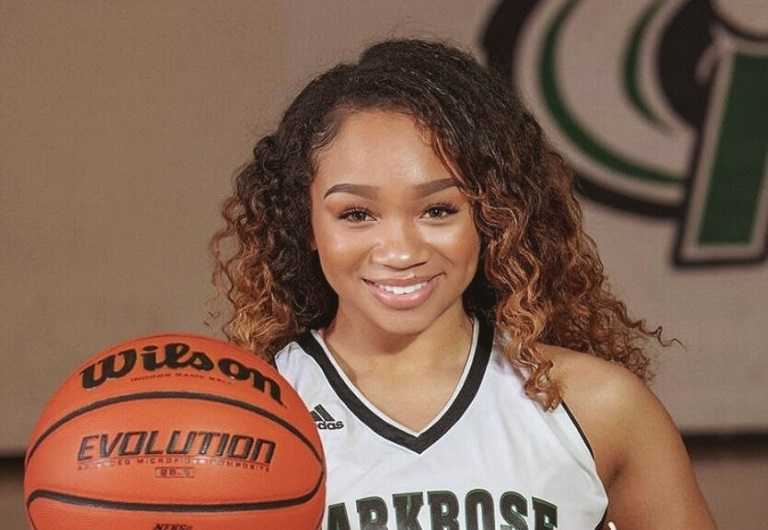 Once Parkrose's Imani Royster found the range Monday night, De La Salle North Catholic was powerless to stop her.
The 5-foot-5 senior guard got hot from distance and erupted for 21 points in the fourth quarter as the Broncos rallied from an eight-point deficit to beat the visiting Knights 60-57. Royster had eight three-pointers and finished with 38 points, 11 rebounds, four steals and three assists.
"She went absolutely nuts in the fourth quarter," first-year Parkrose coach Todd Abraham said. "They tried to box-and-one her, they tried to triple-team her, but she was just hitting from so far out, they couldn't stop her."
Abraham said that Royster is a like a "baby Barkley" in the way that she drives and initiates contact, often drawing fouls. Combined with her deep shooting range, Royster can be a headache for opposing defenses.
"She was maybe two steps over half-court for her last couple threes, and that was way beyond NBA range," Abraham said. "I couldn't believe it. That was a really good, athletic team, with players that were quick, and she still dominated."
Royster scored 21 of her team's 26 points in the fourth quarter to help erase a 42-34 deficit after three quarters. The Broncos took the lead inside two minutes and Royster hit three free throws down the stretch to seal the win.
Royster averaged 21 points in 5A Northwest Oregon Conference play last season, earning second-team all-conference honors. She scored 15 points in a season-opening 73-43 loss at Woodburn.
Abraham said he is prepared for teams to stack their defenses against her.
"I know she's going to be a target, but she'll still find a way to get her points," he said. "She's got the greenest light you could have because she's a threat from everywhere."
Abraham has replaced Krystal Forthan as the team's coach. He was the head coach at 3A Oregon Episcopal and has assisted at Central Catholic and Canby.
Mavericks meshing
No. 3 Mountainside's 51-44 loss at unranked Canby on Tuesday showed that the Mavericks are adjusting to adding former Southridge star Cameron Brink to their lineup.
"We're still working out the kinks on how to play together," coach Glen Lee said.
The addition of the 6-foot-4 Brink – who transferred after leading Southridge to 6A titles in 2017 and 2018 and a runner-up finish last season -- has put the spotlight on Mountainside in its second varsity season.
The Stanford-bound Brink has joined a Mountainside team that went 14-11 and made the playoffs in its first varsity season. The Mavericks opened by beating Clackamas 57-46 and Sherwood 77-52 but stumbled against Canby, losing a 15-point lead in the first half when Brink went to the bench with foul trouble.
Still, Lee said his team's level of intensity "has gone through the roof" since Brink came aboard.
"She brings that every day," Lee said of Brink, who is averaging a team-high 15.3 points. "That's what she brings to the table for us. That's really exciting. Our younger kids, last year they had the experience of getting to the playoffs, but they've never had the experience of playing with that caliber of player. She makes everyone much, much better."
Brink plays every position for Mountainside, often initiating the offense from the point. Her ability to draw the defense has freed up the team's best outside shooters, sophomore guards Carly Stone, Taylor Smith and Halle Hageman.
"They're wide-open looks because she draws so much attention, and she's such a phenomenal passer," Lee said. "Her dribble drive is pretty intense, and once the double comes, she's able to kick out over the top of people, and just throw pinpoint passes."
Brink had a busy offseason in which she played for her Cal Stars AAU team and the USA U17 team, which won a gold medal at the World Cup in Thailand.
"She has really taken it to another level," Lee said. "She's kind of growing into her body. She's not that awkward freshman that she was initially. From the end of March to now, she's a much improved player, from just the experience she had this past summer."
'Championship DNA'
Benson coach Eric Knox wasn't impressed with how his team played Tuesday in a 63-60, season-opening win over visiting Southridge in a rematch of last season's 6A final.
"That was a bad win, because we didn't deserve that win," he said.
But Knox liked the fact that even though the reigning champion Techsters, who start two freshmen, struggled for much of the game, they showed enough moxie to come back from a 48-34 deficit entering the fourth quarter.
"At the end of the day, you can't undersell championship DNA," Knox said. "There's something culturally different in our program. When you're right in front of it, you don't realize it, until you win a game like that."
The team's only seniors -- guard Bria Dixson and forward Aujae Yoakum -- scored 24 and 21 points, respectively, to lead No. 7 Benson to the win over No. 6 Southridge (1-1). Dixson converted a four-point play to cut the lead to 48-45, sparking a surge of momentum that the Techsters rode to the finish.
Dixson returned to practice last week after being away from the team for about a month following the death of her brother. Upon making the free throw to complete the four-point play, she pointed to the sky.
"She really dedicated that game to her brother," Knox said of Dixson, who went over the 1,000-point mark for her career in the game.
Gervais rolling
Early results indicate that Gervais is a team to watch in 2A.
The Cougars, who went 18-9 and lost in the first round of the playoffs last year, improved to 3-0 with a 67-28 win over visiting Yamhill-Carlton on Wednesday. They have outscored their opponents by an average of 68.7 to 22.3.
Junior guard Ariceli Vasquez made four three-pointers and scored 19 points against Yamhill-Carlton. Gervais, which lost to the Tigers 51-43 last season, built the lead to 48-11 late in the third quarter.
The Cougars, co-No. 5 in the OSAAtoday 2A coaches poll, have cranked up their defense early in the season. In their second game, they rolled 58-24 over No. 9 Vernonia.
Wednesday, they zeroed in on Yamhill-Carlton senior guard Aliya Seibel, who was coming off an 18-point game in a loss to Willamina. Gervais held her to six points.
"We started talking and we knew what we had to do," Vasquez said. "It was huge. That was our goal, to shut her down, and we worked together."
Gervais also got 13 points from freshman reserve post Izzy Boyd and 11 points from senior post Isabel Vasquez.