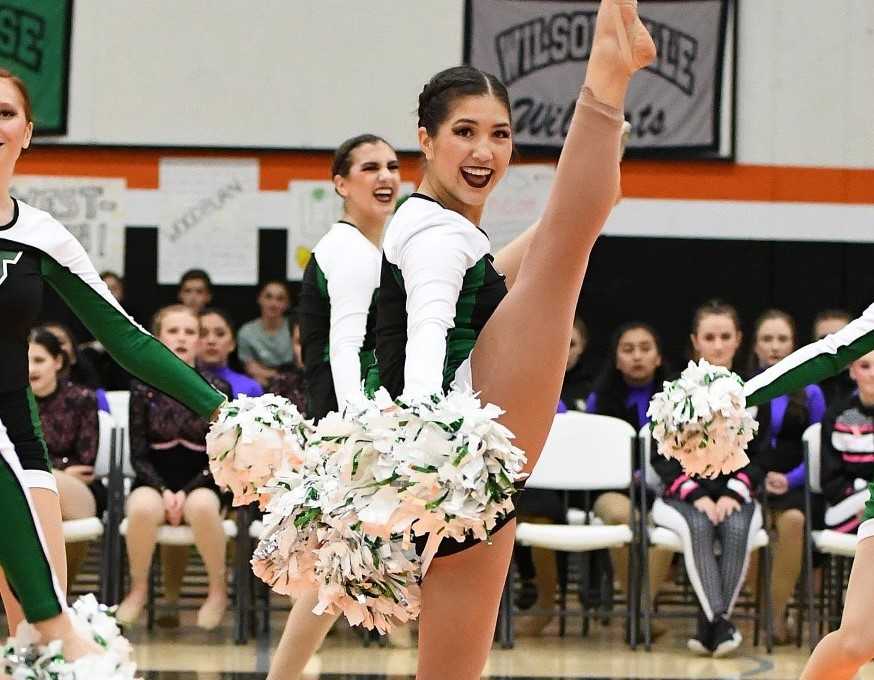 On Dec. 14, dance teams competed at the West Coast Elite Portland Regional at Milwaukie High School.
The competition allows dancers to compete as soloists, elite groups (2-5 dancers) and teams. West Coast Elite, based in Thousand Oaks, Calif., offers regional competitions in California, Oregon, and Texas.
Tigard sophomore Jamie Toda gave a stellar performance to earn first place out of 29 dancers in grades 9-12. In 2018, Toda placed fourth overall in the solo competition. Coming into the competition, her goal was to beat her 2018 finish.
"I love West Coast Elite because it allows us to compete solos in such a supportive environment," Toda said.
Toda originally trained as a gymnast and made the transition to dance at age nine. She currently dances with the performing company at Westside Dance and Gymnastics Academy and is a second-year member of the Tigard Tigerettes. After high school, Toda hopes to dance at the collegiate level.
Toda and her teammates went on to earn on an impressive list of accomplishments at the competition. Tigard won three of five solo divisions, placed five soloists in the top eight of the finals, won three team divisions, earned two of the top five overall placements and was awarded Best in Contemporary, Best Showmanship and Grand Champions.
Competition Results:
Solos, First-Place:
9th Grade: Tyler Zoe, Tigard
10th Grade: Jamie Toda, Tigard
11th Grade: Ashlyn Miller, Tigard
12th Grade: Sayeh Sanaee, Lake Oswego
Improv: Kaitlin Sandall, Stayton
Top 8 Solo Finalists (all grades):
1st – Jamie Toda, Tigard
2nd – Sayeh Sanaee, Lake Oswego
3rd – Ashlyn Miller, Tigard
4th – Kaitlyn Sandall, Stayton
5th – Samantha Vaughn, Tigard
6th- Jocelyn Christison, Stayton
7th – Natalie Xiong, Tigard
8th – Lily Morris, Tigard
Division Awards, First- Place:
Contemporary – Glencoe
Jazz – Tigard
Hip Hop – Southridge
Elite (2-5 dancers) – Stayton
Character/Open – Tigard
Pom – Tigard
Kick – Union (WA)
Top 5 Placements (all routines):
1st Place – Tigard's pom routine
2nd Place – Southridge's hip hop routine
3rd place – Tigard's jazz routine
4th place – Union's kick routine
5th place – Stayton's elite routine
Overall Awards:
Grand Champions – Tigard
Hip Hop Champions – Southridge
Best in Contemporary – Tigard
Audience Choice – Milwaukie's pom routine
Best Choreography – Southridge's hip hop routine & Union's kick routine
Technique – Glencore's contemporary routine
Best Showmanship – Tigard's pom routine