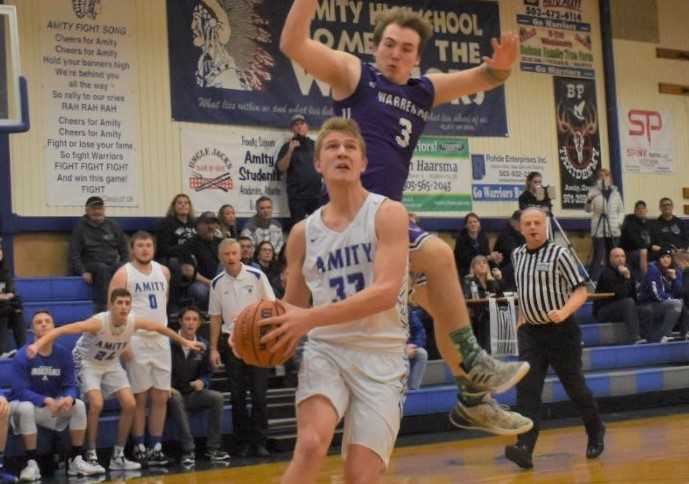 Amity has a well-earned reputation as a football school, winning seven state championships. In boys basketball, though, Amity's one and only title came in 1938.
The Warriors have been getting closer to ending that drought in recent years. They made the quarterfinals from 2014 to 2017. Last year, they reached the final for the first time since 1938.
This year – off to an 11-1 start and ranked second in the OSAAtoday 3A coaches poll – they appear to be a serious contender.
"We have high expectations," coach Scott Nelson said of his team. "We had some good teams that had the potential to win a championship, if you get the ball to bounce the right way, but it's hard."
Amity had to replace three starters from last year's team, but after some early rough patches, the Warriors seem to be hitting their stride. They have won six in a row since a 69-59 loss to reigning 1A champion Nixyaawii.
"We were having trouble taking care of the basketball early, but as the season wears on, we see what we're capable of," Nelson said. "As far as goals, we want to win our league and make it to Coos Bay. We think we have as good a chance as anybody."
The Warriors have shown composure, several times rallying from early double-digit deficits.
"There were games when things weren't going very well, and we just kind of stayed the course, didn't get too crazy, and kept working our way back," Nelson said.
The highlight so far was a 61-59 win over Columbia Christian, ranked fifth in the 2A coaches poll, in the final of the Crusader Classic New Year's Invitational.
"We played our best game against Columbia Christian, for sure," Nelson said. "We just kind of put the whole game together."
Amity's two returning starters are 6-foot-5 junior forward Josh Wart (18.0 points per game) and 6-3 junior guard Keenan Graham (11.0 points). Stepping into the starting lineup this season are 6-3 junior forward Isaac Watcherson (12.0 points), 5-10 sophomore point guard Logan Grove and 6-0 junior guard Landon Distler.
Wart, a standout tight end on the football team, partially tore his labrum and missed the end of football season. He saw limited action early in the basketball season but has slowly got up to speed.
Wart has the skill to shoot from deep and bring the ball up the court and the size and athleticism to dominate inside. He often throws down dunks, including an alley-oop in a win over Willamina.
"He's our best player, for sure. He's just a phenomenal talent," Nelson said of Wart, who was Amity's sixth man as a freshman. "He's not skinny. He's got some beef on him. It's just hard for teams to guard him."
Amity needed Grove to take over the point guard role as a sophomore and so far he has responded.
"That's probably the biggest difference," Nelson said. "He's got a high basketball IQ, but he's a sophomore and he didn't really have any varsity experience last year. He's probably had the biggest improvement for us, just taking care of the basketball, not trying to do too much, not trying to be a scorer but a distributor."
Graham, the team's best on-ball defender, and Watcherson give the Warriors length and athleticism on the perimeter. The Warriors also are getting solid play off the bench from 6-3 senior post Jacob Bernards, a big, strong football player who has a soft touch around the basket.
Amity went 19-9 overall, 6-4 in the PacWest Conference last season, finishing behind Dayton and Salem Academy, but as the No. 10 seed, made a surprise playoff run that included a 38-37 semifinal win over Dayton. The Warriors lost to De La Salle North Catholic 58-45 in the final.
Amity will be challenged in a loaded PacWest that also includes No. 3 Dayton (11-3), No. 5 Salem Academy (8-3) and vastly improved Yamhill-Carlton (10-4).
"It's tough. It always is," Nelson said. "I'd like to think we've had the toughest league for quite a while."
The Warriors play host to Yamhill-Carlton on Tuesday. They are home to face Salem Academy next Tuesday and go to Dayton on Jan. 24.