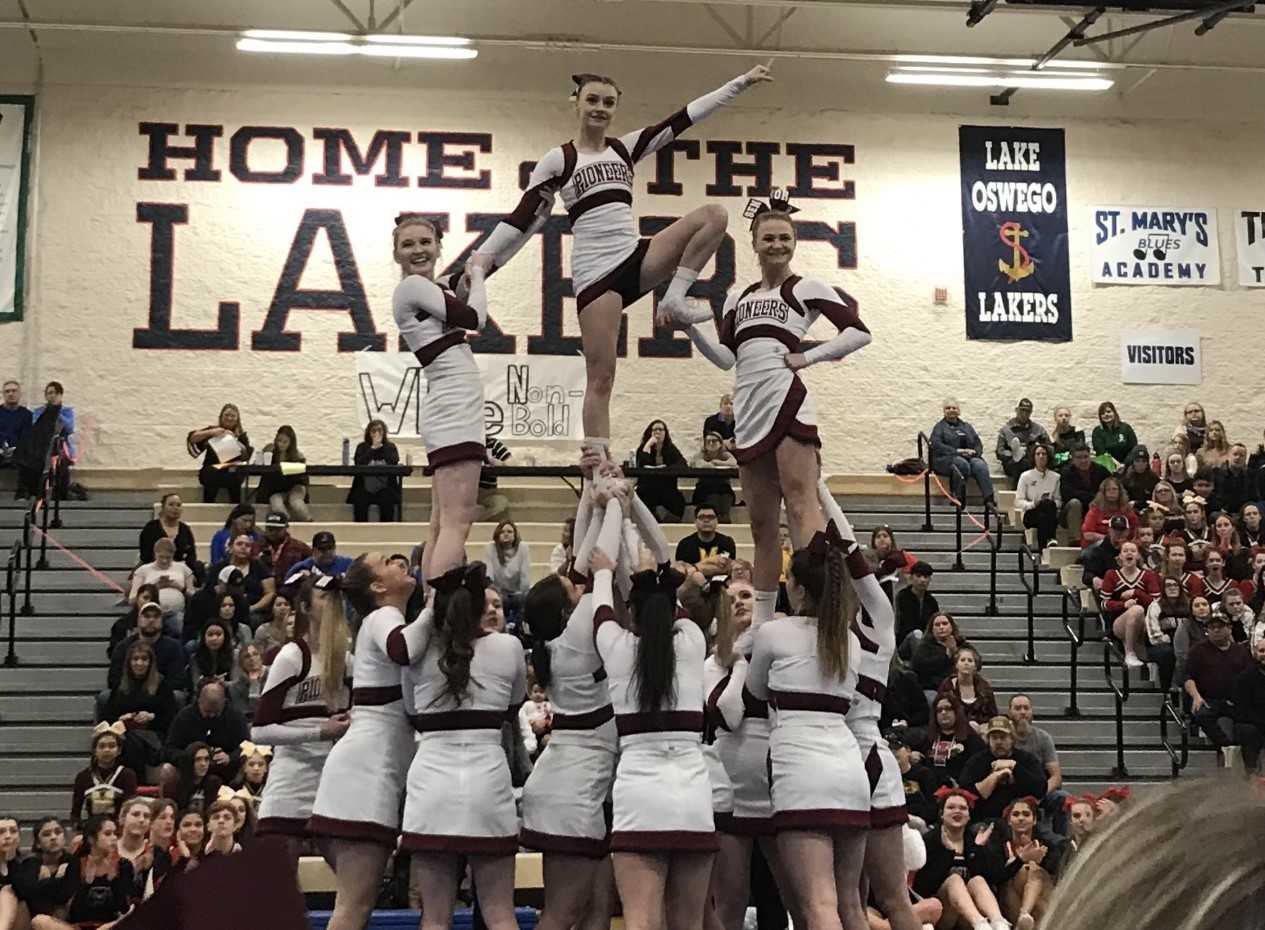 While it is still early in the competition season, many teams took the plunge this past weekend and put their routines on the floor.
The name of the game last weekend was potential. Many teams are still working out the kinks of their routines and getting out the first-time-on-the-mat nerves, so there weren't a lot of zero-deduction routines. But one thing is clear -- there are going to be some hard-fought battles for top placements at the OSAA championships this year.
Cascade Christian made a splash in the 1A-3A division by hitting a solid routine at its first competition of the season. They took first place over the teams from South Umpqua (second) and Oakland (third).
Last year's state champion, Santiam Christian, along with the runner-up Central Linn, did not compete last weekend, so there are still a lot of unknowns in this division, but Cascade Christian came out to a strong start. Rainier, although plagued by some stunting faults, showed potential with their difficult stunting, so they are undoubtedly a team to keep an eye on.
Both the 4A and 5A divisions did not have many teams competing last weekend, but Philomath took first over Molalla at the Laker Rumble, and Cottage Grove placed first in a division of one at the Orange and Black Cheer Challenge in Roseburg.
In the 5A division, Crater had a strong showing, beating Eagle Point by 26.1 points. Many of the top five teams from last year did not compete last weekend in either of these two divisions, so it's a little too soon to tell what these divisions may bring this year.
Meanwhile, many familiar faces competed in the 6A division in Lake Oswego on Saturday.
Newberg, which suffered from some uncharacteristic stunt falls, managed to take the top spot, but David Douglas, which also experienced some faults, followed close behind with less than a five-point difference between the two teams. David Douglas, the reigning champion from the Small Coed division last year, looks like it is ready to put up a fight for the 6A title.
Other teams who proved that they aim to be top-five contenders this year were West Linn, which placed third, Aloha, which placed fourth, and Lake Oswego, which performed a solid, deduction-free exhibition. This will definitely be a fun division to watch as the season progresses.
Another highlight of the weekend was seeing the re-emergence of the teams from Sandy, Molalla, and South Umpqua, all of whom are returning after not competing at the state championships for many years. Welcome back!
There were no small coed teams competing at Roseburg last weekend, so all eyes were on the Lake Oswego competition.
Crescent Valley took top honors, with Beaverton placing second, Milawaukie third, and Southridge fourth. Many of these teams could be in the race for a trophy at state this year, but some of the other top contenders, such as The Dalles and Westview, did not compete last weekend, leaving uncertainty in this division.
Large Coed is looking to be another entertaining division this year, with numerous teams showing that they may have the skills to fight for the top spots this year.
Like last year, Tualatin, McMinnville, Lakeridge, and Thurston all demonstrated that they are planning to put their best foot forward this season, fighting it out for those top positions in the division.
Tualatin gave a powerful performance in earning first place. McMinnville took second and also demonstrated its intentions to hit some very difficult stunts this year. Rounding out the division, Lakeridge took third, Thurston took fourth, and Springfield took fifth.
In Roseburg, North Eugene showed that they, too, want to be a part of the mix by beating out Marshfield (second) and North Bend (third) for first place in the division.