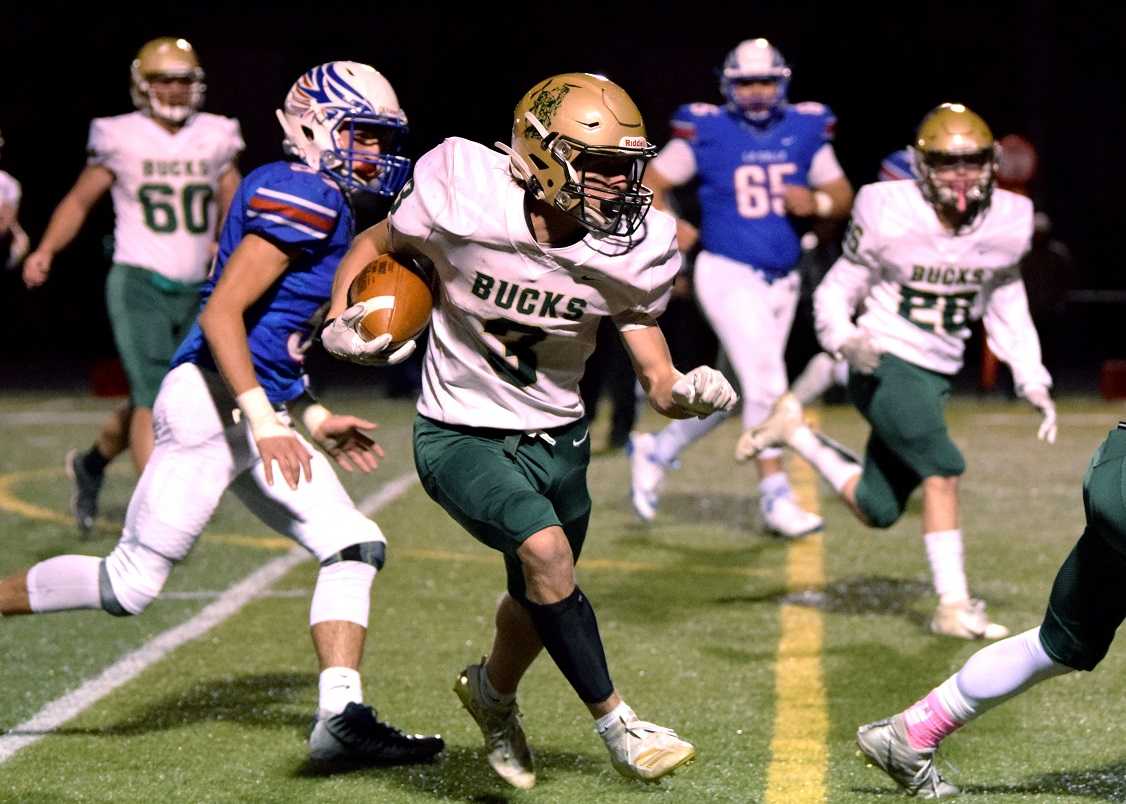 A tweak of 5A special district alignments to better accommodate schools from the Intermountain Conference was part of the latest update released by the OSAA football ad-hoc committee Friday.
The committee's recommendations for the 2020 and 2021 seasons will be reviewed by the executive board for potential adoption at its next meeting Feb. 10.
The committee has proposed a change from its previous draft, moving Redmond and Ridgeview from Special District 2 to Special District 1, where they would join Intermountain Conference schools from Hood River Valley, Pendleton and The Dalles.
The five IMC schools would be together with Northwest Oregon Conference schools La Salle Prep, Parkrose and Putnam.
"In the first attempt, the committee kind of templated it the way it looked the previous two years," OSAA assistant executive director Brad Garrett said. "They heard testimony Wednesday, and essentially, the IMC would like to be together, if possible. And La Salle was in the room and agreed with it."
In the proposal, 5A Special District 2 would include Northwest Oregon Conference schools Hillsboro, Scappoose, St. Helens and Wilsonville along with Canby, Forest Grove, McKay and North Salem,
"There's going to be travel, either way," Garrett said. "I don't know if the proposal necessarily reduces travel for anybody. Their argument was, 'Why are we driving past La Salle, Parkrose and these schools to get to Hillsboro to play?' I think in general, the committee thought it made sense to give it a shot for a couple years and see how it works."
The committee also denied an appeal by two 1A co-ops, Adrian/Jordan Valley and Pilot Rock/Nixyaawii. They requested approval to remain in their co-ops at the 1A level despite meeting criteria to move to 2A.
Adrian/Jordan Valley won the 1A title last season. Pilot Rock/Nixyaawii won the Special District 3 West title before falling in the first round of the playoffs.
The denial means that Adrian and Pilot Rock will disband their co-ops to remain in 1A. Jordan Valley and Nixyaawii will explore their options, which could include co-ops with other schools.
Garrett said the schools' appeal "didn't hold muster. I mean, they're good. That's a tough sell to make an exception for that. We're sticking with what our criteria says."
The 2A classification also underwent some restructuring due to Portland Christian, Neah-Kah-Nie and Chemawa opting to go independent, and Lost River, which is in the 2A/1A enrollment zone, deciding to go 1A.
Classification changes in 2020:
Required/elected to move up
6A: Cleveland, Wilson
5A: The Dalles
4A: Madras, Hidden Valley
3A: Warrenton
2A: Lowell, Oakridge
Play down confirmed
5A: Canby
4A: Milwaukie, North Eugene
3A: McLoughlin/Griswold. Philomath, Junction City, Sisters
2A: Irrigon, Umatilla
1A: Gold Beach, Lost River, North Lake, Prospect Charter, Pine Eagle