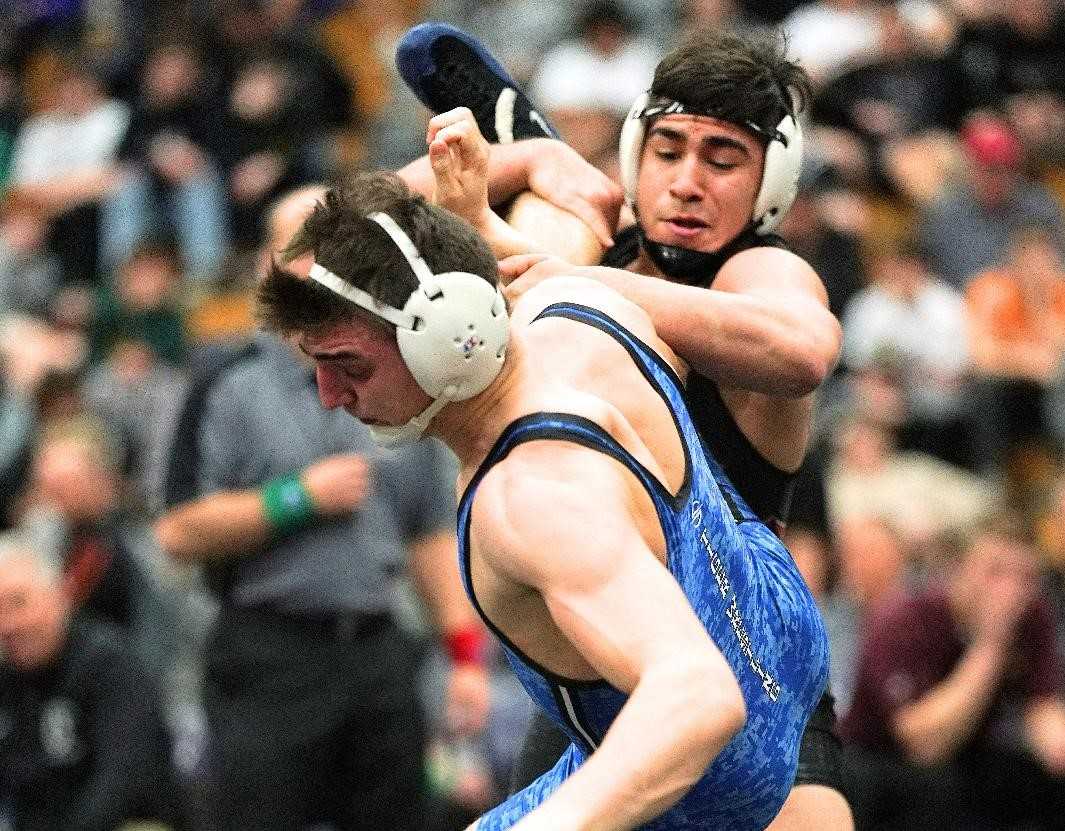 HILLSBORO – Yes, Santos Cantu III is hoping to join a prestigious group of wrestlers this year by winning a fourth state championship.
But what the Crescent Valley senior accomplished Saturday night arguably puts him in even more select company.
With his win in the 195-pound final in the Reser's Tournament of Champions at Liberty High School, Cantu is believed to be the third four-time champion in the 20-year history of the tournament. Billed as the premier tournament in Oregon, it includes wrestlers from all classifications.
"I know this isn't a true state championship, but for the most part, it really is, for all the classifications," said Cantu, who has signed with Indiana University. "It definitely puts me in a different class.
"I really want to be set different from a lot of the better guys. I have a lot of respect for them, but I also think God has created me with something a little different."
The other two known four-time champions are Tommy Siciliano (2010) of Newberg and Tyler Berger (2014) of Hermiston and Crook County.
Cantu, who won his third 6A title at Sprague last year before transferring to 5A Crescent Valley, won 17-5 in Saturday night's final against La Grande senior Christopher Woodworth, last year's 4A champion at 195.
For the second year in a row, five Crescent Valley wrestlers won titles at the tournament. In addition to Cantu, freshman DJ Gillett (106), sophomore Gabe Whisenhunt (120), junior Chance Lamer (132) and sophomore James Rowley (160) also won finals Saturday night.
The Raiders, runners-up in last year's tournament, scored 289 points to win the 26-team event, finishing ahead of La Grande (174.5), Roseburg (164.5) and Newberg (156.5).
Cantu said he is happy to be part of the team at Crescent Valley. Looking to make a change, he said he considered opportunities outside the state before being approved for an out-of-district transfer to the Corvallis school.
"The young kids there are really passionate. They have something special and unique to them," Cantu said. "These guys work super hard. I'm happy to have them add a little bit of a charge to my fire."
Cantu, Whisenhunt, Lamer, Rowley, Crook County seniors Hunter Mode (138) and Kyle Knudtson (182) and Mountain View senior Beau Ohlson (145) repeated titles from last year.
Whisenhunt won 4-3 in the final over Roseburg sophomore Nash Singleton, avenging a narrow defeat in the Reno Tournament of Champions earlier this season.
"I came in with a different gameplan," said Whisenhunt, last year's 5A champion at 106. "Last time, he kind of knew what I had coming because we've been wrestling for a long time. I just thought I'd try to take him down and cut him, get as many points as I could."
Mode and Ohlson won their third Reser's titles. Mode, a two-time 5A champion, rolled to a 15-0 win over Sprague freshman Riley Davis. Ohlson, going for his fourth state title this season, posted a 9-4 win over Roseburg senior Archer Bergeron.
Knudtson came out on top in his seasonlong rivalry with Crescent Valley freshman Hayden Walters, winning 8-3. Knudtson beat Walters 5-4 early in the season but lost to him 3-2 in the Oregon Classic two weeks ago.
"It's been burning in the back of my mind ever since," said Knudtson, last year's 5A champion at 182. "It was a humbling experience when I lost to him because I was on a high horse. I was winning matches, doing really well, and then he beat me, and it was like, 'OK, time to go back in the room and actually work on these things,' instead of thinking I'm good where I'm at."
Knudtson acknowledged that Walters' future is bright.
"He's going to be so good," Knudtson said. "The kid's already great on his feet. He's good on his defense. He's just a monster. He's insanely good. Props to him. He's going to be a stud."
Five runners-up from last year – Cascade sophomore Mauro Michel (113), Newberg sophomore Ayden Garver (126), West Linn junior Cael Brunson (152), Newberg senior Hunter James (220) and Century junior Broderick Reese (285) – picked up their first Reser's titles.
It was vindication for Reese, who in last year's Reser's final was pinned for the first time in his high school career, losing to Crescent Valley's Bubba Wa'a.
"That's haunted me ever since," said Reese, the son of former Hillsboro coach and current Century assistant Adam Reese. "I just looked forward to this day."
Reese pinned opponents in 12, 20 and 32 seconds on his way to the final, where he won 3-1 over Dallas senior Ashten Brecht, getting payback for a loss this season.
Michel, last year's 4A champion at 106, improved to 31-0 this season with a second-round pin of West Linn junior Ricky Bell. He is going after a perfect season.
"That's my main goal," said Michel, whose three older brothers wrestled for Stayton. "There are people who are trying to hurt me, but I get through the pain, and go through it all. I feel mentally, physically and emotionally stronger. I can put it all on the mat and not care if I lose."
Michel competed at Reser's wearing a old Cascade singlet that dates back about 30 years.
"Old singlets look better than the new singlets," Michel said. "I like the classic look."
James, who placed third at Reser's twice before finishing as runner-up last year, won a 7-1 decision over Mountain View senior Titus Schulz.
"I've gone up just a little bit each year," James said. "It's not really about winning, just improving each year is great."
Roseburg junior Darian Thacker (170) also won his first title, beating Mountain View junior Cannon Potts 13-2 in the final. Potts was coming off a 4-3 semifinal win over the top seed, La Grande senior Parker Robinson.