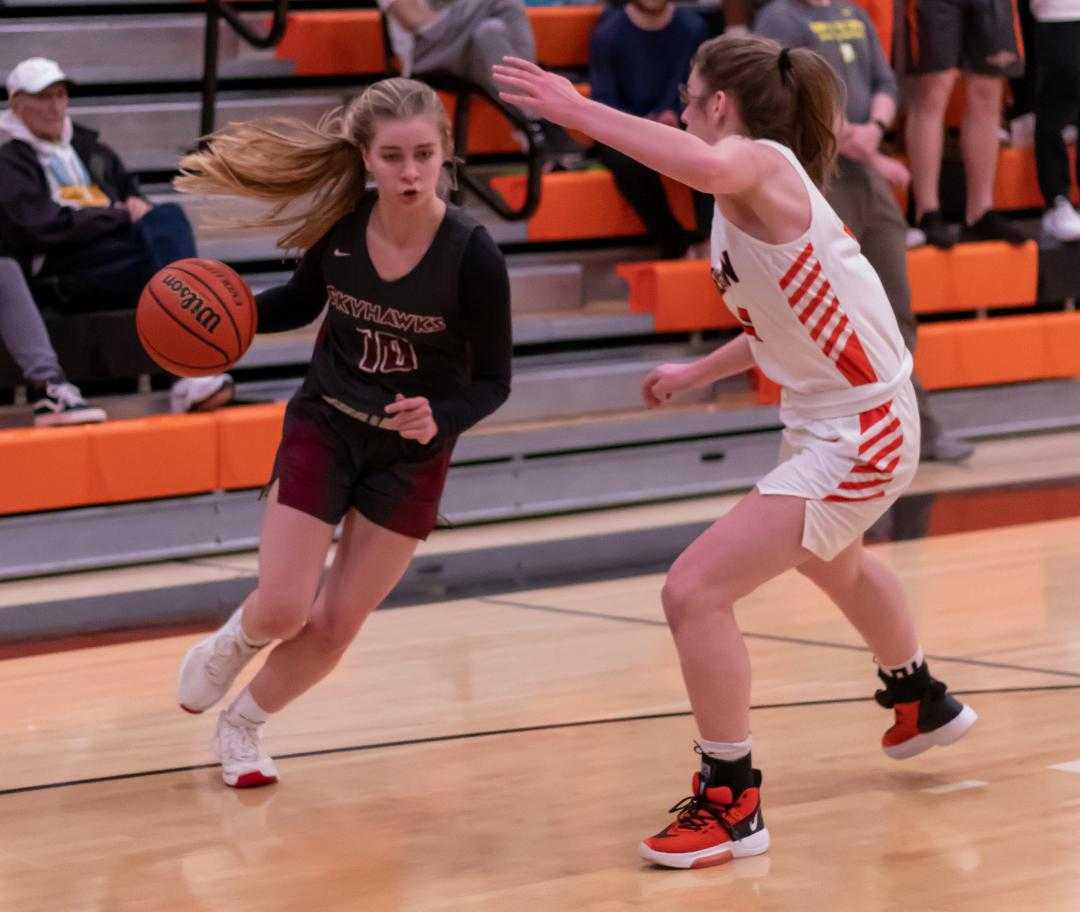 McKelle Meek doesn't recall where she was or where she was headed on Aug. 21. It was just another summer day, and she was sitting in her car when she received a phone call from her Southridge girls basketball teammate, Cameron Brink.
It was not an uncommon occurrence, but the timing still felt odd.
Over three years, Meek and Brink -- the savvy point guard and dominant center, respectively -- led the Skyhawks to back-to-back 6A titles and a runner-up finish. After a demoralizing 66-42 defeat against Benson in last year's state final, many anticipated Southridge to make its fourth consecutive trip to the state championship game in March.
Instead, what Meek received was a cordial phone call informing her that one of her close friends was deciding to transfer to nearby Mountainside. The call lasted fewer than five minutes.
"I was disappointed," Meek said.
Meek and Brink, who started playing together in second grade and played both high school and AAU ball together since sixth grade, have not stayed in contact.
Brink's departure was a blow to Southridge, but it also brought an increased opportunity for Meek, both on and off the court. Meek is among the state's leading scorers, averaging 24.4 points and shooting at a 38.1-percent clip for the No. 5 Skyhawks (16-5, 9-1), who are in second place in the Metro League, one game behind No. 1 Beaverton (18-4, 10-0).
Southridge has remained a contender despite Meek nursing a bone bruise and impaction fracture to the interior of her knee, an injury she suffered in a 58-44 win at Mountainside in late January.
In addition to making continued improvement on the court, Meek said that she has been working on improving her vocal leadership throughout the season. She's been in that leadership role over the past few seasons, but everyone has had to step up another level. According to Meek, everyone is doing a good job of taking that next step to improve the team.
"Everyone on our team has a bigger role now because that was our leading scorer, our leading player, our best rebounder," Meek said. "But I think everyone's done a good job of stepping up, improving, going harder, and accepting our roles.
"For me personally I just try to be encouraging to everybody every moment that I can. Help them accept their role and play hard every game. That's still something we struggle with is coming out to play every game, so we want to continue to work on that."
Meek's scoring average is up dramatically from 13.9 last season. Southridge coach Michael Bergmann said that while he has always seen improvement from his point guard over each off-season, the leap that she has made from her junior to senior season has been one of her biggest.
"Her energy is way better," Bergmann said. "She's such a good teammate, she's always looking to make the easy play, which a lot of times is her making a jump shot or a lay-up. But the thing she's been doing so well this year is just showing leadership. She's just a joy to coach."
Meek has reached the 30-point mark against Grant (36), Benson (30), Tigard (37), West Linn (35) and Mountainside (35, 36).
Meek has a knack for showing up in big moments. In the final nonleague game against Central Catholic, Meek took over late and scored the game-winning basket on a contested runner at the buzzer.
And in one of the most anticipated games of the season, Meek put the Skyhawks on her back, leading them past Brink and Mountainside by double-digits in their first matchup of the season, leaving the packed and energetic crowd stunned when the final buzzer sounded.
"You can always count on McKelle," teammate Kaylen Blair said with a smile.
In a rematch with Mountainside last week, Meek led the way to a 65-47 home win, although Brink was nursing an injury and did not play.
What makes Meek so efficient is how hard she is to guard.
She is not a one-dimensional player. Oftentimes she will play off a screen from one of her tall, athletic bigs before snaking her way into the lane, looking to shoot or kick the ball out to an open shooter.
When none of her primary options are available, she goes to her most lethal weapon: the free throw line pull-up jumper. And if the defense decides to drop back, well, she's averaging over seven three-point attempts per game this season, converting at nearly a 30-percent clip.
With just 11 defeats in Meek's four varsity seasons, the Skyhawks haven't been this successful since another Meek was a part of the program. Under her father, Michael Meek, the Skyhawks went 213-58, winning five state championships over six years.
Next year Meek will go on to play at the University of Portland, where her father is the coach. Meek has played for her father once before, during her sophomore summer on the AAU circuit.
"I've wanted to play for him again, so I'm super excited to go there," Meek said.
But before Meek enrolls on the bluff in the fall, she has some unfinished business at Southridge.
Making that fourth consecutive championship game will be difficult, but before she calls the Chiles Center "home," she is committed to giving everything that she has to bring another title to Southridge. Injured knee and all.
Kyle Pinnell is a senior at Southridge