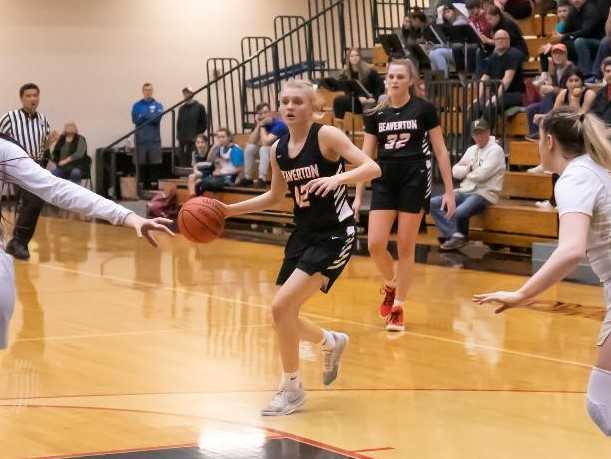 BEAVERTON – Before No. 1 Beaverton could turn its attention to the 6A girls basketball playoffs, the Beavers had one big loose end to tie up Friday night at No. 5 Southridge.
And they did it in style, breaking away late in the second quarter and rolling to a 57-31 win that not only clinched their first outright Metro League title since 2002, but underscored that they are the team to beat in the postseason.
"I think they're the best team in the state right now, for sure," Southridge coach Michael Bergmann said.
The Beavers (20-4, 12-0) already had a share of the Metro title, but the three-time reigning league champion Skyhawks (17-6, 10-2) could have split it with them with a win in the regular-season finale. Beaverton, which ended Southridge's 53-game Metro winning streak Feb. 4, wasn't having it, though.
"Honestly, we came out here like, 'This is our night,'" Beavers senior forward Laura Erikstrup said. "This is something that hasn't been done since 2002, and we wanted it bad tonight. We played together, we played connected and we played for each other."
Last year, Beaverton reached the 6A semifinals, where it lost to Southridge 46-30. This season, with all five starters back, the Beavers have gone unbeaten against Oregon teams.
If they continue to play like they did Friday night, it's clear that it's going to take a supreme performance for a team to knock them off in the postseason.
"It's a good confidence booster to see that we're playing well, we're doing what we need to do," senior point guard Mary Kay Naro said. "We just need to keep building on it for the playoffs."
Laura Erikstrup scored 16 of her game-high 18 points in the first half to lead Beaverton, which also got 15 points from Naro and 14 points from senior forward Sydney Erikstrup.
Southridge hung tough for a while behind senior point guard McKelle Meek, who scored 12 of her 16 points in the first half. But Beaverton scored the last five points of the first half to lead 30-20, then came out swinging in a sizzling third quarter to blow away the Skyhawks.
With dizzying ball movement and laser-like precision, the Beavers outscored Southridge 21-6 in the third quarter to lead 51-26. The Beavers made 8 of 12 shots in the third quarter as the Boise State-bound Naro kept the Skyhawks off balance. All four of Naro's second-half baskets came on drives, including a three-point play that drew a spirited celebration from her teammates.
"She's changing her speeds and attacking, mixing it up a little bit, so it was great to see that," said Beaverton coach Kathy Naro, her mother.
The third quarter was Beaverton at its best.
"That's how we should be playing," Laura Erikstrup said. "We work on it every single day in practice – move, cut, don't stand. Kathy's like, 'You're standing, you're wrong, you need to be moving. You need to be getting your teammates open.'"
It got the stamp of approval from Kathy Naro.
"I feel like we're getting there," she said. "We've learned a lot along the way and we're getting better and better each game. The ball movement, and sharing the ball, the unselfishness, is awesome."
All five starters scored for Beaverton in the third quarter, including three-pointers from Sydney Erikstrup, junior Alexa Borter and senior Jordyn Reverman.
"We just came out in the second half like, 'We're going to do this,'" Mary Kay Naro said. "It was just a mentality. And we did it, all together, connected. And it was just really fun to play out there."
When Southridge was able to force the Beavers to miss, it often couldn't secure the rebound. Led by the Erikstrups – 6-foot-2 Laura and 6-1 Sydney – the Beavers kept coming at them.
"They killed us on the boards," Bergmann said. "They just got a lead, and they're tough when they get a lead. … We can rebound better. We need to meet their physicality. They're big and strong, and they play that way. They just kind of beat us up."
Beaverton, which enters the playoffs as the No. 1 seed, opens at home against No. 32 Glencoe on Tuesday. Southridge, the No. 9 seed, is home to face No. 24 Lakeridge in the first round.
As if their size, skill and athleticism wasn't enough, the Beavers head into the playoffs with a heaping dose of determination.
"We've talked about this since the beginning of the season, back in October, and before that," Laura Erikstrup said. "We've been wanting this for a while. It's game by game, but we're ready. There's a new sense of urgency just because it's do or die."
Beaverton never has won a state title, although that 2002 team finished as the state runner-up to Oregon City. As a footnote, the second-place team in the Metro that season was Jesuit, which was coached by Kathy Naro.
A few years later, Southridge began a run of dominance that included seven state titles in 14 seasons (2005-18). The significance of wrapping up the outright league title at Southridge wasn't lost on Kathy Naro.
"This program here is amazing, Southridge, and for us to come here and have to play at their place on senior night, we knew it was going to be a huge test," she said. "I'm really proud of how we responded."