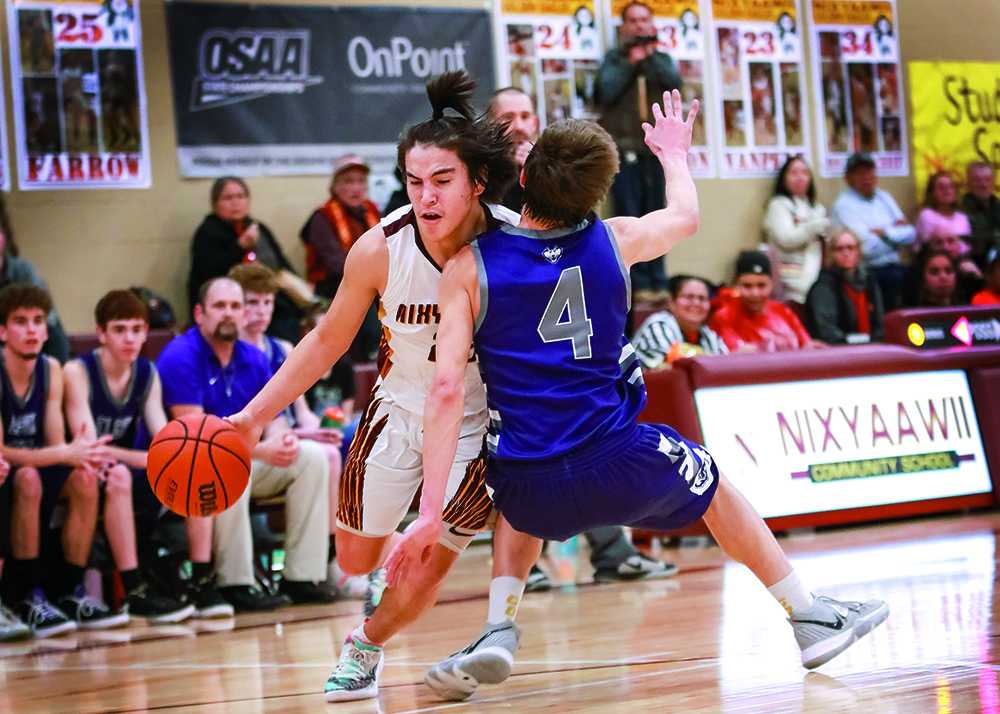 Don't be fooled by Nixyaawii missing three of its starters from last year's 1A boys basketball state championship team.
The Golden Eagles returned two explosive scorers and two key reserves, and with three promising freshmen joining the rotation, the team has gelled into a formidable force heading into the OSAA/OnPoint Community Credit Union 1A tournament this week in Baker City.
"It seems like we're young, and we only have one senior, but we're experienced," coach Shane Rivera said. "The younger kids that are stepping in are pretty talented. We're hitting our stride, for sure."
No. 5 seed Nixyaawii (23-5) has lost only to two Idaho league champions – unbeaten Lakeside and Lapwai – and two Oregon league champions in 2A Toledo and 3A Nyssa.
The Golden Eagles avenged one of those defeats by winning at Nyssa 69-66, and would be riding a 17-game winning streak if not for a forfeit loss to Elgin on Feb. 14.
Behind junior guard Tyasin Burns and senior guard Mick Schimmel – who are averaging 20 and 17 points, respectively – Nixyaawii is looking like a very real threat to repeat its title. The Golden Eagles will face No. 4 seed Trinity Lutheran (24-4) in Thursday's quarterfinals, a rematch of last year's championship game.
"It's a little different vibe this year," Rivera said. "I like our chances, but you never know."
Nixyaawii, a Native American charter school in the Pendleton School District, finished second (2015), third (2016) and fourth (2018) before finally winning its first title last year. The Golden Eagles dominated the state tournament, winning games by 22, 22 and 17 points.
Flourishing in the open court, Nixyaawii averaged a 1A-high 70.4 points per game last season. That number has jumped to a 1A-best 72.4 this season as Burns and Schimmel lead a high-octane attack.
"We have two exceptionally good players in Schimmel and Burns," Rivera said. "On any given night, those two carry us big-time. They're both really talented."
The 5-foot-11 Burns, a star tailback for the Pilot Rock/Nixyaawii football team, has had a handful of 30-point games this season. He was named player of the year in the Old Oregon League.
"He's just relentless," Rivera said. "We do such a good job of rebounding and outletting to him, and he's so dang fast. His skillset, he's a one-man press break. He can do pretty much everything. He's scoring a lot more this year. We were probably a little more balanced last year, scoring-wise, so we need him more."
The 6-1 Schimmel – whose sisters, Shoni and Jude, were standouts at Franklin and went on to college careers at Louisville – is a two-time league player of the year. He was first-team all-state as a junior.
"He's coming on strong lately," Rivera said.
Junior post Magi Moses (6-3) and junior wing Moses Moses (6-2), who came off the bench last year, are each averaging about 10 points per game as starters. Moses Moses had seven three-pointers in a state tournament game last year. Magi Moses gives the team a big body inside.
Freshman Shane Rivera, the coach's son, is the other starter. The 6-3 Rivera, who moved back to the area after attending school in Toppenish, Wash., gives the team size and athleticism.
Two other freshmen are in the rotation in guards Dylan Abrahamson, the brother of Burns, and Aaron Barkley, the brother of Deven Barkley, a senior starter on last year's team.
"A little surprised with the progress of the young guys … pleasantly surprised," coach Rivera said.
With Schimmel the team's only senior, and with five freshmen on the roster, the outlook is bright for the Golden Eagles. Basketball is thriving on the reservation.
"It's huge," said coach Rivera, a 1990 Pendleton graduate who played at Blue Mountain Community College. "Our kids play a ton of basketball. Outside of the season, you'll see kids go to tournaments for weeks and weeks, not just AAU. Those kids are getting stuff done on their own. And it helps that the community is involved."
1A boys quarterfinals, Thursday, Baker HS
No. 8 Ione/Arlington (21-6) vs. No. 1 Damascus Christian (25-1): Ione, which finished 12th in the power rankings, will play in its first state tournament since 2014. The Cardinals are led by senior wing Wesley Goad (15.6 points) and junior wing Hunter Padberg (14.3 points, 7.8 rebounds), a first-team Big Sky League pick. The Eagles, quarterfinalists last year, have lost only to Life Christian, a team they later defeated twice. Senior guard Jacob Zakharyuk and junior point guard Micah Colburn, both first-team all-league selections, average 17 and 12 points, respectively, for Damascus Christian. Colburn has missed several games in the second half of the season with a strained calf.
No. 5 Nixyaawii (23-5) vs. No. 4 Trinity Lutheran (24-4): A rematch of last year's state final, which Nixyaawii won 59-42. Golden Eagles guard Mick Schimmel, the team's only senior this season, had 17 points in that game. Nixyaawii, the runner-up in 2015, is in the tournament for the fifth time in six years. Trinity Lutheran, which made its first tournament appearance last year, has 6-5 senior wing Matt Eidler, who is averaging 24 points, six rebounds, three assists and four steals per game. Eidler, a two-time league player of the year, has more than 2,000 career points. The Saints lost to Triad in both Mountain Valley League games but beat the Timberwolves in the league playoffs.
No. 6 Prairie City (23-1) vs. No. 3 Crosshill Christian (25-2): Prairie City was runner-up to Pacific in 2018 and reached the semifinals last year, losing to Nixyaawii. The Panthers have won 23 in a row since opening with a 57-55 loss at Joseph. They have two fourth-year starters in guard Lucas McKinley (11.5 points) and 6-6 center Cole Dieter (17.0 points, 13.6 rebounds) and a third-year starter in junior guard Jojari Field (12.1 points). Crosshill Christian, which has lost only to Triad and Life Christian, has not played in the tournament since making it from 2014 to 2017. The Eagles have 6-6 junior forward Andrew Stoddard, who poured in 33 points in the round of 16. They have won 13 in a row.
No. 7 Joseph (22-7) vs. No. 2 Triad (24-4): Joseph is in the tournament for the first time since 2005. Three of the Eagles' losses have come against Nixyaawii by 14, 6 and 23 points. Juniors Chase Murray and Mason Ferre were named first-team all-league for Joseph. Triad is back after falling in the quarterfinals to Mountain Valley League rival Trinity Lutheran last year. The Timberwolves won the league this season, taking two of three meetings with Trinity Lutheran. Michael Irvine, a 6-3 senior forward who transferred from Hosanna Christian, averages a team-high 18 points for Triad. He had 28 points in the round of 16.
1A girls quarterfinals, Wednesday, Baker HS
No. 9 Country Christian (20-9) vs. No. 1 Crane (26-0): The teams met Jan. 3 at Pendleton, with Crane prevailing 65-33. Crane, which won its only title in 2004, has been dominant all season after falling in the quarterfinals last year. The Mustangs hold wins over four tournament teams (St. Paul, Mohawk, Joseph, Country Christian) as well as 2A No. 1 seed Kennedy. They beat reigning champion St. Paul 64-49 to end the Buckaroos' 49-game winning streak. Sophomore wing Kelsie Siegner and junior post Riley Davis were named High Desert League co-players of the year. Siegner averages 19 points and seven rebounds; Davis 12 points and 14 rebounds. Country Christian appeared in the final three years in a row – winning titles in 2016 and 2018 and finishing second in 2017 – but missed the tournament last year. The young Cougars have a standout freshman in Annie Bafford, who scored 26 points in a first-round playoff game.
No. 5 Joseph (21-6) vs. No. 4 Damascus Christian (24-2): Damascus Christian is led into the tournament by coach Dave Wakefield, who has 612 wins in 28 seasons, second on the state's all-time list behind Oregon City's Brad Smith (628). The Eagles, champions in 2013 and 2015, lost in the semifinals to St. Paul last year. Led by sophomore Emily Powers and senior Ally Love, they enter on a 16-game winning streak. Joseph, a quarterfinal team the last two years, features the two-time Old Oregon League player of the year in junior Sabrina Albee (20.0 points, 6.8 rebounds). Joseph has played home games at Enterprise and Imbler after its gym was damaged by a fire Jan. 16.
No. 6 North Douglas (24-3) vs. No. 3 Perrydale (24-4): In Perrydale's 44-40 win at North Douglas on Jan. 10, Pirates senior guard Sydney Lawrence made five three-pointers and scored 18 points. Lawrence and her twin sister, Kenzy, lead Perrydale in scoring at 15 and 12 points per game, respectively. The Pirates also have senior Amity Deters, a four-year starter who won state titles in the high jump and long jump. Perrydale made the semifinals last year. Three of the Pirates' losses this season have come against St. Paul. North Douglas, the 2016 runner-up, is back in the tournament for the first time since 2017. The Warriors are led by senior guard Nicki Derrick (10.0 points), who pitched North Douglas to state softball titles in 2017 and 2019. Derrick and senior guard Sofia Alcantar were selected to the Skyline League all-defensive team. North Douglas' only other losses were to 2A tournament teams Gervais and Coquille.
No. 7 Mohawk (23-4) vs. No. 2 St. Paul (26-1): St. Paul, which went 30-0 to win the title last year, extended its winning streak to 49 before losing to Crane 64-49 on Jan. 25 at Bend. The Buckaroos have three starters back from last season, including the Casco League player of the year in 5-10 senior guard Erin Counts (17.4 points, 8.8 rebounds) and all-league senior post Isabelle Wyss (12.6 points, 8.0 rebounds). St. Paul beat Mohawk 45-36 at home on Feb. 10. The Mustangs, making their first tournament appearance since 2011, have lost only to four tournament teams in St. Paul, Crane, Perrydale and Country Christian. They have the Mountain West Conference player of the year in senior point guard Peyton Robinson (13.0 points, 7.0 assists) and two other first-team all-league picks in junior post Kendyle Gormley (16.0 points, 8.0 rebounds) and senior wing Jessi Jo Nation.