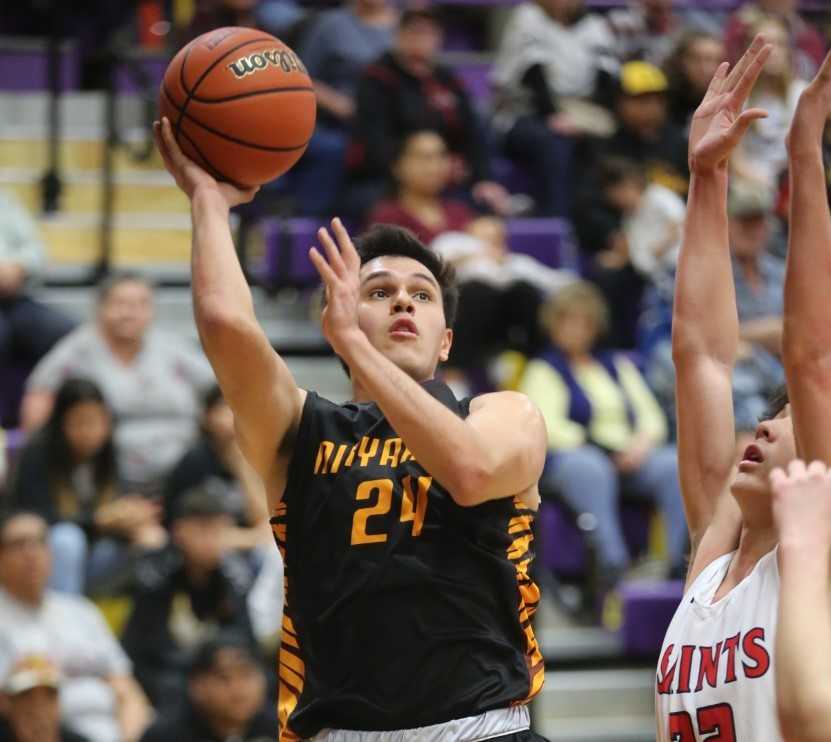 BAKER CITY -- Reigning champion Nixyaawii gave up a 17-point lead in the second half but recovered to beat Trinity Lutheran 66-63 in the quarterfinals of the OSAA/OnPoint Community Credit Union 1A boys basketball tournament Thursday at Baker High School.
Senior wing Mick Schimmel had 25 points, five rebounds and four assists as the No. 5-seeded Golden Eagles (24-5) held off the No. 4 Saints (24-5) in a rematch of last year's final. Nixyaawii advances to play No. 1 Damascus Christian in the semifinals Friday.
Nixyaawii went on a 15-0 run to start the second quarter, opening a 32-17 lead. The Golden Eagles led 39-23 at half and 49-32 in the third quarter before Trinity Lutheran started to rally.
The Saints outscored Nixyaawii 23-6 over the next eight minutes to pull even at 55-55 on a free throw by senior Matt Eidler with 4:31 remaining. Trinity Lutheran took the lead at 60-59 when senior Gideon Schippers hit a three-pointer with 2:53 left.
Schimmel made two free throws to tie 63-63 with 50 seconds left, and after a Trinity Lutheran turnover, he split two free throws to put Nixyaawii ahead 64-63 with 31 seconds to go.
Golden Eagles freshman Shane Rivera came up with a steal and scored on a layup to make it 66-63 with 17 seconds left, and Trinity Lutheran turned it over on its last possession.
Rivera finished with 13 points, seven rebounds and five steals and junior Tyasin Burns had 10 points, four rebounds and four steals for Nixyaawii.
Saints sophomore Scotty Gilbert made five three-pointers and finished with 28 points and five rebounds. Eidler added 18 points and eight rebounds.
No. 1 Damascus Christian 58, No. 8 Ione/Arlington 46: Senior guards Jacob Zakharyuk and Spencer Powers scored 20 and 18 points, respectively, to lift the Eagles (26-1) to a quarterfinal win over the Cardinals (21-7).
Powers scored nine points in the first quarter as the Eagles bolted to a 19-4 lead. Damascus Christian led 28-16 at half and scored the first seven points of the third quarter to lead 35-16 on a three-pointer by sophomore Zach Nelson.
Ione/Arlington went on a 10-2 run to pull within 37-26 late in the third quarter, but the Eagles answered to go up 46-30 entering the fourth quarter, and held on from there.
Senior Wesley Goad had 14 points and six rebounds and freshman Carson Eynetich added 13 points for the Cardinals.
No. 3 Crosshill Christian 63, No. 6 Prairie City 40: Senior Evan Dallum made five three-pointers and scored 15 points and junior Andrew Stoddard had 14 points, 12 rebounds, three assists and four blocks as the Eagles (26-2) advanced to the semifinals for the first time since 2014 by beating the Panthers (23-2). They will face Triad on Friday.
Crosshill Christian went on a 19-2 run to open a 24-9 lead early in the second quarter. The Eagles extended the lead to 22 points in the third quarter.
Senior Cole Dieter had 14 points and six rebounds and senior Lucas McKinley made four three-pointers and scored 12 points for Prairie City.
No. 2 Triad 61, No. 7 Joseph 41: The Timberwolves (25-4) opened a double-digit lead in the middle of the second quarter and put away the Eagles (22-8) to earn a spot in the semifinals for the second time in three seasons.
Senior Michael Irvine made 8 of 13 shots and finished with 17 points and six rebounds for Triad, which also got 14 points from junior Micah Young. Junior Mason Ferre had 13 points and junior Chase Murray added eight points and nine rebounds for Joseph, which shot 28.8 percent (15 of 52).
Photos of state championship events are available online from Northwest Sports Photography at 4nsp.com