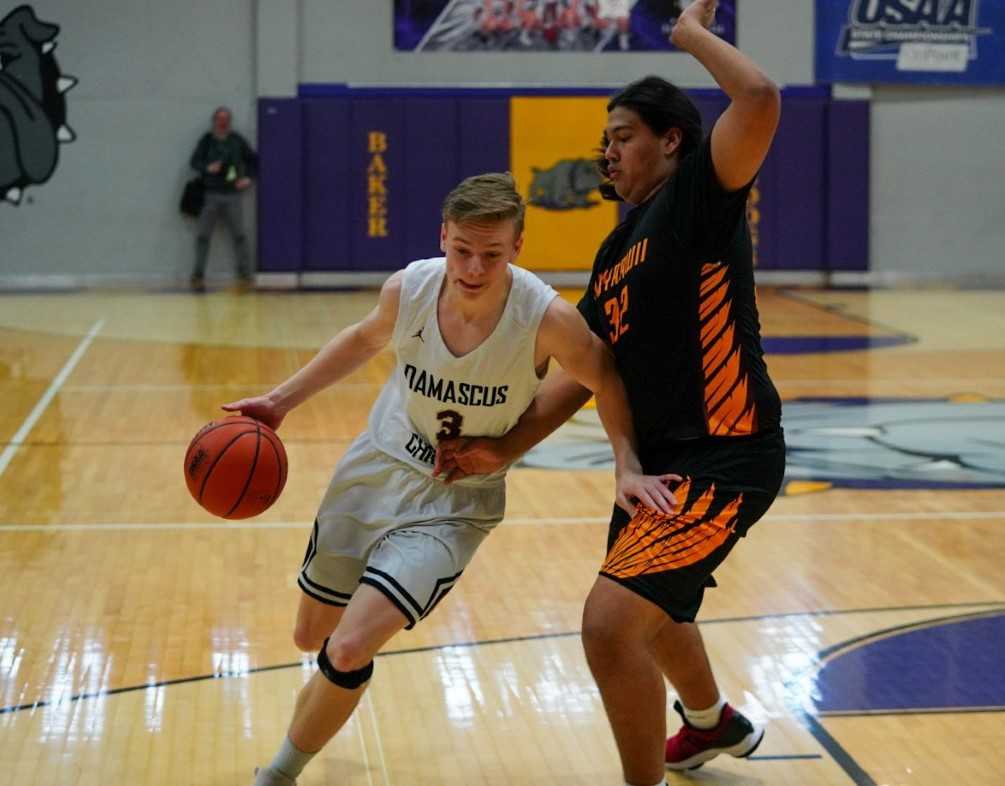 BAKER CITY – Senior guard Jacob Zakharyuk scored 32 points as No. 1 seed Damascus Christian ousted reigning champion Nixyaawii 61-53 in the semifinals of the OSAA/OnPoint Community Credit Union 1A boys basketball tournament Friday at Baker High School.
Zakharyuk made 12 of 21 shots, including 5 of 9 from three-point range, to help the Eagles (26-1) advance to Saturday's final. They will go for their first title since 2006 when they play No. 2 Triad.
Junior guard Micah Colburn added 13 points and eight rebounds for Damascus Christian. The Eagles shot 52.3 percent (23 of 44), hitting 9 of 15 from three-point range.
Leading 28-25 at half, Damascus Christian got a three-pointer from Zakharyuk to start the third quarter. Zakharyuk had six points in a 10-0 run as the Eagles opened a 46-32 lead late in the third quarter.
Nixyaawii cut the lead to 48-40 early on a layup by senior Mick Schimmel early in the fourth quarter, but could get no closer than seven points the rest of the way.
Schimmel led the Golden Eagles with 24 points and 10 rebounds. Junior guard Tyasin Burns had 12 points and four rebounds for Nixyaawii, which shot 34.4 percent (21 of 61).
Friday's other semifinal:
No. 2 Triad 60, No. 3 Crosshill Christian 33: The Timberwolves outscored the Eagles 43-16 in the second half to move into position to win their first championship.
Senior forward Michael Irvine had 21 points and six rebounds and senior guard Zane Napoli-Sorg made three three-pointers and added 17 points and 10 rebounds for Triad (26-4), which had a 39-27 edge in rebounds.
The game was tied at 17-17 at half before the Timberwolves took control.
Napoli-Sorg scored 10 points, including two three-pointers, in a 19-4 surge as Triad pulled ahead 36-21. Crosshill Christian (26-3) drew within 37-28 after three quarters, but Irvine had 10 points in a 16-2 run as the lead ballooned to 53-30.
Junior forward Andrew Stoddard had 11 points and 10 rebounds and junior guard Carter Knox added nine points, making two three-pointers, for the Eagles.