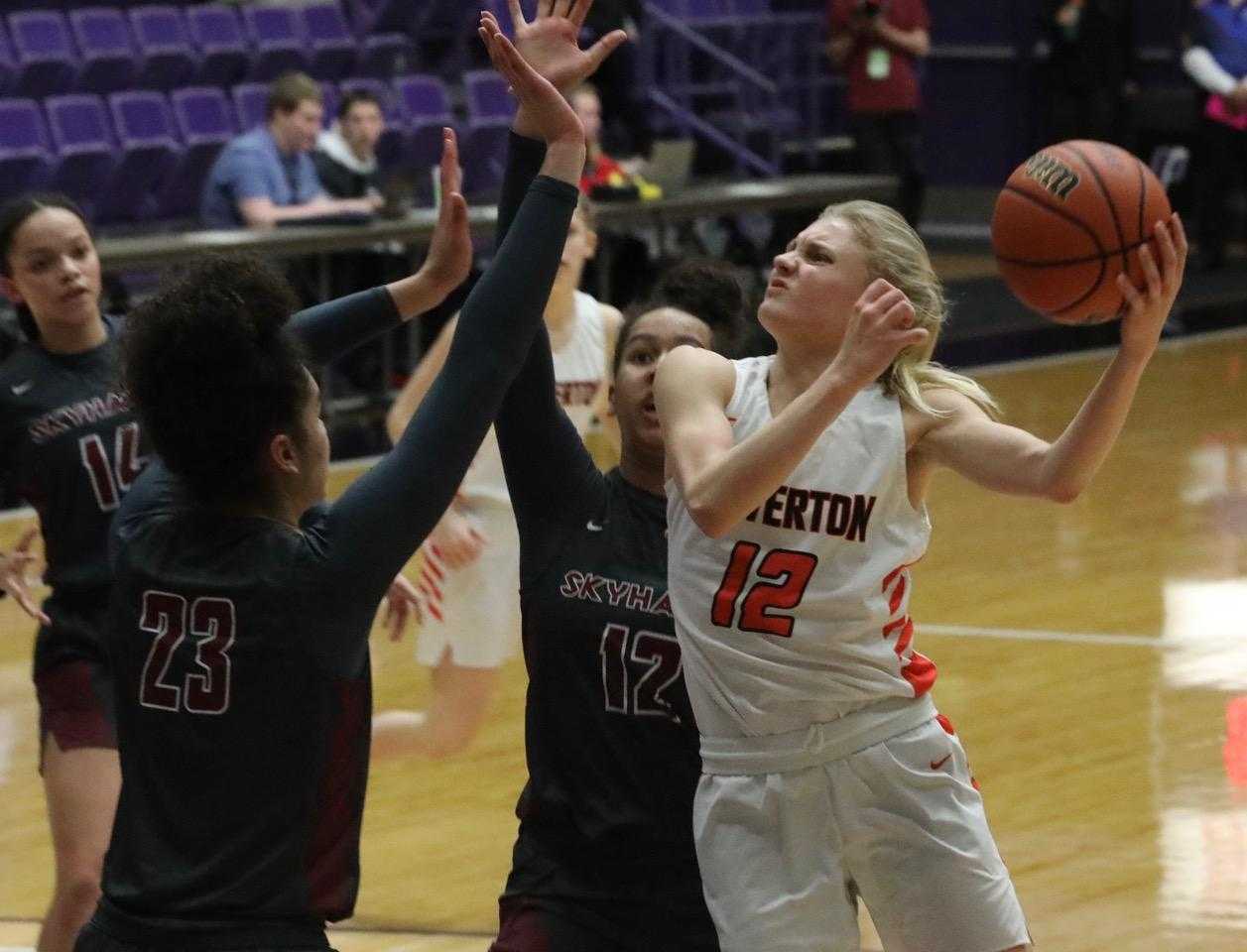 PORTLAND — It's not easy to finally lift a weight, years in the making, off your shoulders.
In its quarterfinal against the Southridge Skyhawks in the OSAA/OnPoint Community Credit Union 6A girls basketball tournament Wednesday at the Chiles Center, the Beaverton Beavers had a Sisyphean task at hand.
The narrative has been hanging over the team's head every season for three years.
It's nearly impossible to beat Southridge.
A team might come close, but never get over the hump until 2021.
Southridge will inevitably finish first, and everyone else is fighting for second place.
So, when the Beavers (23-4) finally swept the regular season series against the Skyhawks (19-7) at Southridge on the home team's senior night, the visitors jumped up and down in ecstasy. The question from that point was whether they could carry that performance over to the game that actually mattered.
It's not easy to beat any team three times in a single season, but Beaverton did it Wednesday afternoon, dispatching the 2019 runner-ups 37-26 behind a stifling defense that held the Skyhawks to 8-for-31 shooting.
With the win, Beaverton advanced to the semifinals to take on the Liberty Falcons at 1:30 p.m. Friday.
"They're an amazing team," senior Laura Erikstrup said. "We knew that it didn't matter how much we won by last week. Yeah, that game was great, but we didn't care about that. As it showed, a game can go any way. It wasn't a pretty game, so just the fact that we could stay together and stay connected, that was huge for us."
Over the past few seasons, the Skyhawks proved to be that insurmountable boulder for the Beavers. For three straight years, the Skyhawks rolled through the Beavers. Last season it was Southridge that knocked the upstart Beavers off in the semifinals, a game that players admitted stuck with them over the past year.
"Last year it was hard losing that game in the semifinals, so we just have had that mentality of, 'This is our year, we can do this.' It's game by game, but to take care of this one against Southridge, who beat us last year, it's a great feeling," Erikstrup said.
This year proved to be different than the past three. Beaverton gave the Skyhawks their only two league losses this season, winning by 11 and 26 points. For the first time since Southridge began its run of success, the Skyhawks came into Chiles Center as underdogs.
An easy Beaverton win wouldn't be easy though. Coming in, it was clear that the Skyhawks would not roll over early like they did in the previous two matchups. Neither team really pulled away, and with four minutes to go, the score was still within four points.
Yet, much like it has all season, Beaverton won its opening game with defense. Despite never finding its flow offensively, the Beavers prevented the Skyhawks from getting any easy looks.
Recently named Oregon Gatorade Player of the Year, McKelle Meek, finished with just 13 points and went 3 for 16 from the field. In the first quarter, Madison Naro, the smallest player on the court, blocked a Meek lay-in attempt into the stands.
"I think we had to be mentally focused," senior Mary Kay Naro said. "We know what they do and they know what we do and so it was going to be a battle. We had to execute and really work on our stuff, and I thought we did a good job of it down the stretch where we made free throws, and made big plays which is good."
Offensively, when the Beavers needed a basket, they went to Erikstrup in the post. The San Diego commit finished with 14 points and seven rebounds, finding open looks inside and creating multiple second-chance opportunities for the Beavers. Erikstrup had 12 points by halftime, the same amount as the Skyhawks scored as a team.
"My teammates are really good at finding me inside. That's how I'm so successful inside," Erikstrup said. "Just having that positioning and knowing that my teammates are going to get it to me, and if not, then my job is to rebound and get it out to them."
In 2017, Naro transferred to Beaverton from Sunset while both Laura and Sydney Erikstrup transferred in from Lake Oswego. As a group, they've been stuck under Southridge's shadow for three years; now, the end goal is in sight.
Beaverton can, and will, play better. Over the regular season, the Beavers have proven worthy of their top-seeded status, winning the Metro League title and making it through its league schedule unscathed. They played arguably their worst game in weeks and still downed their rivals.
Before the season, coach Kathy Naro said that the mindset among the players has been to take it one game at a time. They have been, and now waltz right into the semifinals with a potential state championship on their minds.
"We've told ourselves [to take it one game at a time] every practice," Mary Kay Naro said. "We've got to come out ready to go. Our thing is 'Be Us,' so we just have to be us and do what we do. If we do that, then everything else will take care of itself."
Kyle Pinnell is a senior at Southridge