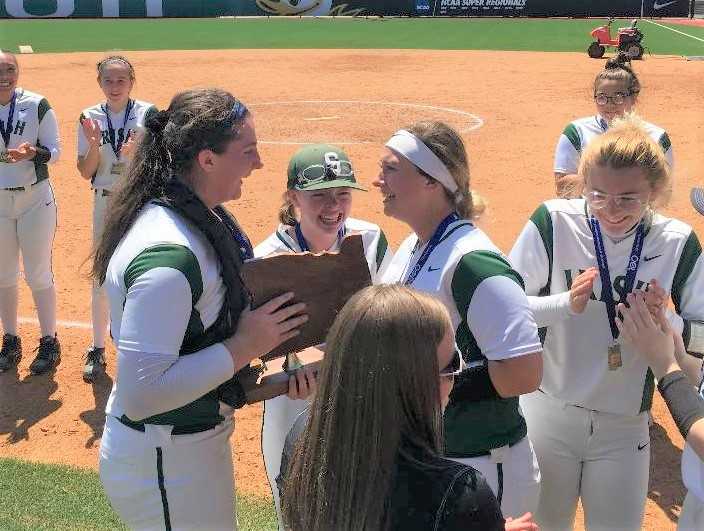 High school athletes and coaches had seen the writing on the wall, but still, when word came Wednesday that the spring sports season was canceled in Oregon, it was a crushing blow.
Gov. Kate Brown announced that the state was closing schools to in-person learning for the remainder of the academic year due to health concerns about the coronavirus, wiping out any lingering hope of a truncated spring season.
"I was kind of holding out hope for that," Clackamas baseball coach John Arntson said. "I told my wife when I found out, 'I'm actually more disappointed than I thought I'd be.' I tried to prepare, but I guess you don't.
"I'm not angry at anybody. Their hands are tied. It's safety first, I get it. It's just unfortunate."
Any optimism that schools could return after the shutdown expired April 28 seemed to have waned in recent weeks. Plans to complete the spring season were wrought with complications.
"To me, it was too much of a rush job," Centennial boys track coach Greg Letts said. "I understood why people wanted it, but you look at what the NCAA and baseball and others are doing, why would we continue with high school sports? I felt like it was just a matter of time.
"I'm still a little dumbfounded about the whole thing. I'm just surprised. This is brand new for everyone."
Sheldon's softball team, last year's 6A champion, had its hopes of a repeat shattered.
"We were definitely planning to have another great season and be right in the thick of it, and defend our title," coach Mike Faulconer said. "But more importantly, these kids just lost the opportunity to spend their last season together, experience all the great aspects of being on a team, the camaraderie. I just feel terrible for them."
The Irish had five seniors that had combined to start 370 games in their careers.
"I just feel awful for our seniors. It's devastating news for them," Faulconer said. "This is such an important part of life for all those kids. They dedicate so much time for this. It's frustrating and disappointing."
Among Sheldon's seniors is Camille Leach, the reigning 6A pitcher of the year who has signed to play in college at Southern Oregon.
"She would have dominated this year. She was ready to just dominate," Faulconer said.
Letts said he was excited to see the final season of his seniors, such as Angel Aluesi, the 6A runner-up in the shot last year.
"It's a lost opportunity for the seniors," Letts said. "You work with a particular group of kids from when they enter as a freshman, and by the time they're seniors, they're starting to figure it out. You're waiting to see what three years of work is going to do their senior year. We had some seniors that worked really hard, and we were expecting some big things out of them."
The lost season also is a financial setback for Centennial's track program, which raises money through the prestigious Centennial Invitational each year. In the last couple years, the revenue helped Centennial buy 120 track uniforms and install new pole vault and high jump pits.
Arntson was among the 6A baseball league representatives to send a letter to the OSAA in favor of a shortened season, provided school had resumed after April 28.
"Anything we could get, I wanted it," Arntson said. "We just said, 'Hey, we want to play whatever kind of season we could have. If that means it's 10 games, and the playoffs, that's fine.' If they extended the school year, we wanted them to extend the spring season."
With the school season canceled, Arntson is looking ahead to the summer season. He has drafted a full schedule, starting in early June.
The Clackamas summer team typically does not include graduated seniors, but Arntson texted the five players from the 2020 class on Wednesday and invited them to join.
"Some of these guys, especially in our program, they were kind of biding their time behind an older guy, and waiting for their chance to be a varsity guy, and then all of a sudden, it's gone," Arntson said. "That's tough to swallow. I think back to my senior year of football and baseball, and I can't imagine having that taken away. It's so unfair."
Lincoln boys tennis coach Todd Mansfield had 26 players on his roster this season, including seniors who were looking to finish their careers strong.
"There are probably many around the state who finished their junior year not the way they wanted, so they felt, 'I'm going to come back strong and make this senior year incredible,'" Mansfield said. "And then unfortunately, it's taken from them, through no fault of their own, and no fault of anybody in the state of Oregon."
Due to OSAA rules, coaches have been separated from their athletes during the shutdown. Faulconer said it has been "awful" to be apart from his players, but knows they have provided support for one another.
"It's a real tight-knit team," Faulconer said. "Those kids really care about each other. I'm glad they have that, but it's hard. The bond between the coaches and the players, it's hard to describe. That's what made us great is the team chemistry we had, the great team spirit we had."