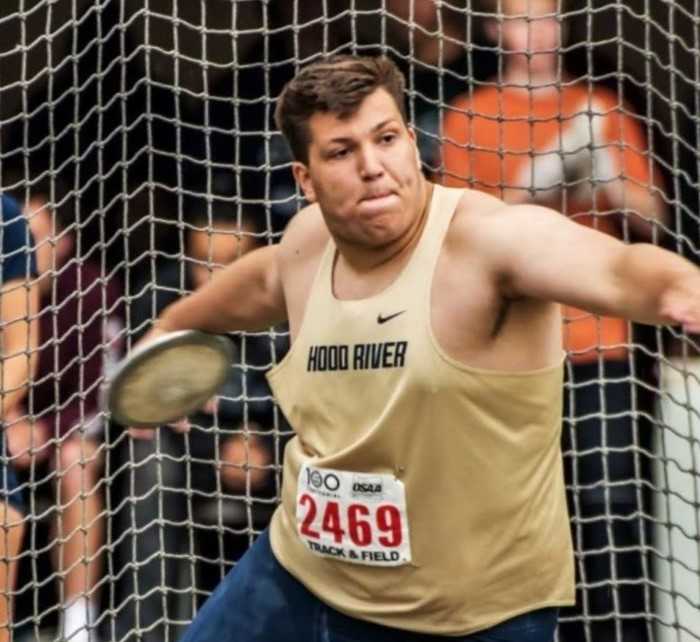 With a football scholarship to Oregon State in hand, Henry Buckles' junior year at Hood River Valley already was a raging success. But the 6-foot-2, 285-pound Buckles was ready for more.
After a brilliant sophomore track season in which he won the 5A title in the shot and was runner-up in the discus, he was primed to take it up a notch this season.
"I was just starting to get some momentum right before all this stuff happened," Buckles said, referring to the suspension and eventual cancellation of the spring season due to the coronavirus outbreak.
Under the guidance of Scott Skipper of Super Thrower Track Club, Buckles was looking strong. He threw the shot 58 feet, 6 ¼ inches at the UW High School Invitational on Feb. 22 in Seattle, just off his personal best of 59-5 ½, set at last year's state meet. He was throwing in the 62-63 range in practice and had designs on 70 feet this season.
He has made dramatic improvement in the discus, too. He said he was hitting about 185 in practice, well beyond his previous best of 172-9 from last season and within range of the school record of 200-0 set by four-time 5A champion Sebastian Barajas in 2016.
"He's been throwing incredible," Hood River Valley coach Brandon Bertram said. "He worked with Scott Skipper all winter. If Scott Skipper says Henry's going to throw a long ways, then Henry's going to throw a long ways. He was going to break Sebastian's record. That was pretty much what we had forecast."
Buckles said a fundamental change to his form – in which he slowed down on the back side, giving him more control in the middle and better acceleration near the finish – had made a difference in both events.
He said he was "staying looser and more open, so I could jump and be more athletic, because last year my form was a lot stiffer and more robotic and tighter. We were just trying to loosen it up and get me to be more athletic, to use my momentum."
As a sophomore, Buckles improved by 11 feet in the shot and 22 feet in the discus from his freshman year. Since he began working with Skipper as an eighth-grader, he has been on a steady rise.
"Scott has definitely helped me develop as a thrower tremendously," Buckles said. "He's a really good coach, and he's always patient with me. He coaches me really hard, helps me reach my full potential.
"My confidence level has risen over the years. It's just trying to stay level-headed as much as possible, and Scott does help me with that. He helps me with the mental side of throwing."
Buckles' biggest mental battle last season was in the discus. He hit 172-9 in his third meet and spent the rest of the season struggling to hit 160, finally making 167-4 at state.
"I was trying to chase that bigger throw," Buckles said. "In practice, I could throw it sometimes, but I would get too tight in the meets, and I wouldn't be loose enough to throw it as far as I needed to. It was mental."
Bertram believes that Buckles has learned to clear such hurdles.
"He's really controlling his mind more," Bertram said. "In warm-ups, he was hitting some of the discus marks he was getting in the finals. He's come so far in his confidence."
Buckles also has benefited from the advice of Barajas, a redshirt junior on the team at Oregon who is No. 3 on the state's all-time list. He became acquainted with Barajas after his first track season in seventh grade.
"He was actually the person who taught me how to throw," Buckles said. "I started working with him, and my first practice with him I improved like 25 feet. I knew he was going to help me a lot, so I just kept going. We kept working together. I improved like 55 feet in the next year in the discus. I still talk to him sometimes. He helps me."
Buckles' future is in football, though. After an outstanding junior season on the offensive line, he received offers from Oregon State, Nevada and San Jose State before choosing the Beavers.
"Oregon State offered me, and that was the school I wanted to go to," said Buckles, who plans to study biology. "I had already decided, pretty much. I really think the coaches are building a winning program that will have a winning culture, and a family aspect to it, too. I love the school, I love the location, I love the Pacific Northwest. The coaches are great, top notch. It's just where I want to be."
Bertram raved about the athletic potential of Buckles, who has just started growing into his body.
"That's why we're like, 'He's going to throw farther,' because he's still squeakin'," Bertram said. "He's a gentle giant. He's so soft-spoken. Our weight-room coach says he's going to break all the records in the weight room. He's well on his way."