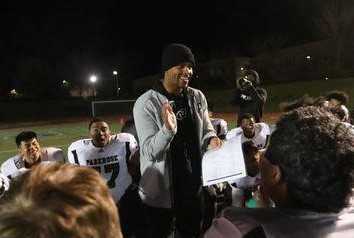 Keanon Lowe, hired as West Linn's football coach in January, has resigned from the position to take a college job as an assistant at UCLA.
Lowe informed the West Linn community of his decision in an email Tuesday night. In the email, he said the college opportunity was "a career move I could not pass up."
Lowe went 12-8 the last two seasons as the coach at 5A Parkrose. Under Lowe, the Broncos ended a 23-game losing streak in 2018 and recorded their first playoff win in school history in 2019.
The former University of Oregon receiver was hired to replace Chris Miller, who left to coach in the XFL after going 60-16 in six seasons at West Linn, guiding the team to a 6A title in 2016.
Miller was hired as the coach at 6A Franklin in May after the XFL disbanded in April.
Lowe's message to the West Linn community:
Dear West Linn Community,
I would like to thank you for the support and enthusiasm you have given me as the Head Football Coach these last few months.
It is with great difficulty that I must inform you that I will be stepping down as the Head Football Coach at West Linn High School. I have been presented with an opportunity to coach at the collegiate level and after much thought and discussion with my family, have decided to accept this position. With the outbreak of Covid-19 and the uncertainty this has caused all of us, this was a career move I could not pass up.
Over the course of the last few months, I have enjoyed getting to know your kids. I was very much excited and looking forward to working with your kids this football season and it is unfortunate that we were not able to begin our football program as I had intended to.
I have spoken to Principal Neuman directly and he has informed me they will be starting a thoughtful and timely process that will be led by new Athletic Director Brigham Baker to find the next leader of the West Linn Football program.
I will continue to be a resource, advocate, and contact for your kids moving forward. I truly believe West Linn Football has a bright future and I look forward to seeing you and your sons in the recruiting process down the road.
Best,
Keanon Lowe