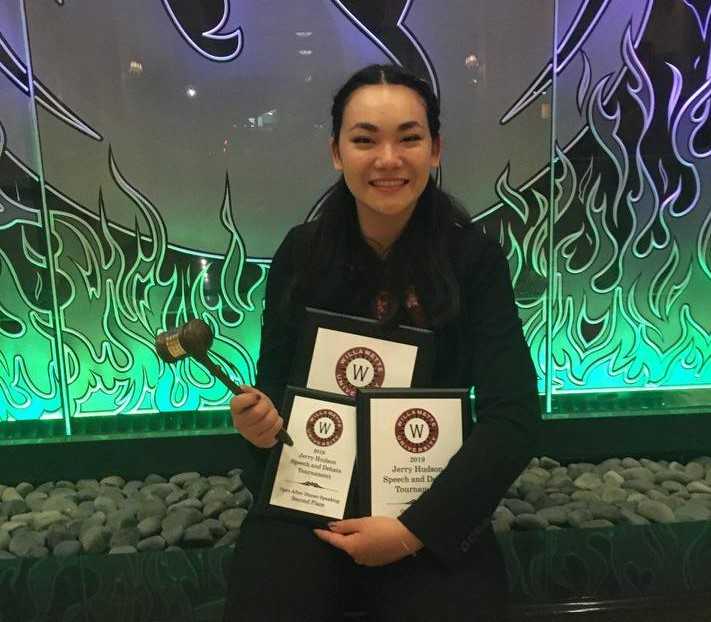 It was an epic weekend for Oregon in the National Speech and Debate Association championship tournament.
Jo Spurgeon, a senior at St. Mary's of Medford, became the state's first national champion since 2003 on Sunday when she won the Lincoln-Douglas Debate division in the competition, which took place online this year due to the coronavirus pandemic.
Lilli Morrish, a senior at Ashland, placed second in Informative Speaking, making her the first student from her school to compete in the main event finals in the 95-year history of the NSDA.
NSDA Nationals is the largest academic competition in the world. This year, of the more than 140,000 students who are members of the NSDA honors society, 5,073 qualified for the event.
To win the championship, Spurgeon had to make it through 15 preliminary rounds of competition, which were single elimination starting in Round 8. She went undefeated for nine rounds to win the title and a $1,000 scholarship.
"It's definitely completely surreal," Spurgeon said. "I never expected to win. I've only been debating for about 2 ½ years, and competing against people who have been debating since middle school or freshman year. It definitely made that competition a lot harder.
"I think it hasn't hit me yet. I think it'll hit me a lot harder when the trophy gets here."
Spurgeon is Oregon's first champion since Willamette's Francis Hatch and Meredith Price won first place in Public Forum in 2003. Oregon has not had a champion in Lincoln-Douglas Debate since the division's inception in 1980.
"I'm very proud of her. She worked so very hard for it," St. Mary's coach Molly Bruins said of Spurgeon. "Her work ethic is just impeccable.
"When she first joined the team two years ago, she certainly was extremely bright and well spoken, but it's really the fact that she's just dedicated hours every day to practicing that has helped her cultivate her skills and reach the highest level in this event."
The topic for Lincoln-Douglas Debate was "The inter-generational accumulation of wealth is antithetical to a democracy." Spurgeon completed 16 rounds, arguing eight rounds each for affirmative and negative.
"There's nothing special I do in debate," Spurgeon said. "All I do is out-research people. I got up at 7 in the morning to get the topic on May 1 and I worked probably five to six hours a day, cutting cards and doing rebuttal re-dos with my coach, up until the very day of finals."
Participating virtually was an adjustment for Spurgeon. Rather than switching rooms between rounds – like she did last year when she competed in person at NSDA Nationals in Dallas, Texas – she called in from home.
"The biggest difference for me is I was really worried about technology not working during my debate rounds," Spurgeon said. "The one thing I will say about being online is it was actually more restful for me. This year, I just walked the four steps to the office where I was competing."
Bruins said competing virtually did have disadvantages, though.
"It's more difficult to gauge your judge's reaction to what you're saying when you can't see them in person," Bruins said.
Students from schools that are able to travel to high-profile tournaments – many of them on the East Coast – traditionally have more success at NSDA Nationals. Oregon schools have a disadvantage due to travel expenses, according to Bruins, which made Spurgeon's victory even more significant.
"She beat out kids from these much larger schools, and she did it just through relentless research on her topic so that she was just much better prepared," Bruins said of Spurgeon, who plans to attend American University in Washington, D.C.,
Spurgeon earned Academic All-American honors, an accolade given to high-achieving students based on their character and commitment to community service. She also was voted Student of the Year for the South Oregon district by area coaches.
Morrish, who won OSAA state speech titles in Original Oratory as a sophomore and Informative Speaking as a junior, ended a highly successful high school career with a second-place finish. She finishes as Ashland's all-time record-holder in NSDA points.
"Speech and debate has changed my life, and has not only given me an outlet to speak on things I genuinely care about, but has given me some of the best friends and community I could ever ask for," said Morrish, who will attend Grinnell College in Iowa. "I am beyond grateful to have this opportunity and be a part of this transformative activity."
Morrish's finals speech was titled, "The Yeehaw Agenda."
"Lilli Morrish exemplifies what is best about speech and debate," Ashland assistant coach Eliza Haas said. "She has been empowered by the activity, and she has used that power and voice to go out into the broader community, advocate for change, and recruit and mentor new speech and debate students."
During her time at Ashland, Morrish competed under the direction of head coach Mat Marr and Haas. Both coaches earned Distinguished Service Citations from NSDA this year for their work in building the Speech and Debate community in Oregon into a more inclusive and collaborative activity for students.