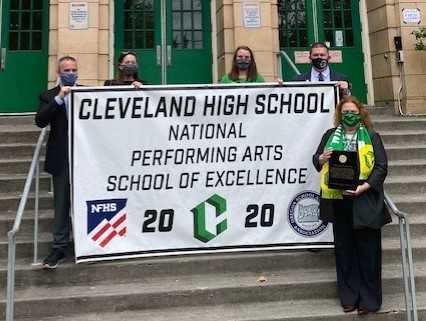 Cleveland's thriving performing arts program has been recognized with a national award.
The National Federation of State High School Associations (NFHS) has named Cleveland as the 2020 NFHS Performing Arts School of Excellence. Cleveland becomes the fifth annual winner of the award and the first recipient based in an urban setting.
Dr. James Weaver, NFHS director of performing arts and sports, presented the award Thursday to Cleveland principal Jo Ann Wadkins and athletic/activities director Kellie Cook during a special ceremony at the school.
"Cleveland High School has a long history of excelling at the top levels of performing arts in the state of Oregon and Section 8, and we are excited to celebrate its success," Weaver said.
Cleveland's dedication to growing and improving its arts programs is certainly evident in its lengthy list of achievements. The cornerstone of that success, however, is the conviction of its administrators and activities directors and coaches, who possess a deep understanding of the value students reap from arts participation.
"We know the arts enrich our lives and play a vital role in the culture of our school," said Wadkins. "We are proud of the dedication of our coaches, who inspire and support our students. To see our students perform is to get a glimpse of the spirit of Cleveland High School."
Cleveland's tradition of performing arts prowess was established in the 1990s, when the school's dance and choir programs rose to prominence in the state.
The dance team won OSAA championships in 1990 (3A Large), 1991 (4A Large), 1996 (4A Large) and 1997 (4A Large), along with runner-up finishes in 1992 (4A Large) and 1998 (3A Large).
Following an elevation to 5A Large, the program finished second in 2010 and claimed fifth-place finishes in 2011 (6A/5A) and 2015 (6A Intermediate).
Coaches Coral Burgess and Ana Rieser currently lead Cleveland's dance program.
The choir finished second in 1992 (4A) and won a championship in 1997 (4A), but that was only the beginning. In 2006, despite having no middle-school feeder programs, Cleveland's choir began a stretch in which it won five OSAA championships in seven years, with the last four titles – 2007, 2008, 2010 and 2012 – coming in 5A. The choir took second in 2009 and 2013.
Now under the direction of Allison Bassett, the Cleveland choir has appeared in three of the past four state showcases, highlighted by a second-place result in 2019.
The choir also has participated in many community events, helped raise money for a variety of causes, and recently collaborated with another area high school to focus on musical works that addressed social issues and displaced peoples around the world.
The 2010s also signaled the emergence of Cleveland's speech and debate, band, jazz band and chamber music programs, and produced a number of top finishes at state championships and league-level solo events.
The Cleveland speech and debate program, coached by Patrick Gonzales, won eight Portland Interscholastic League district titles from 2010 to 2018.
The program's state-level resume is even more impressive, collecting six state titles (three each in 5A and 6A) and three runner-up finishes in the last nine seasons.
Cleveland's band, led by Gary Riler, has competed at the state festival and placed first or second in the PIL in each of the past five years.
The jazz band has been PIL runner-up each of the past four years and placed fifth at its respective 6A festival in 2017. The chamber music program has had ensembles record top-five state finishes in 2016, 2018 and 2019.
At least one Cleveland soloist has made the top five at each of the past seven state festivals – including an Alto Voice state champion in 2017 – and a PIL champion or runner-up has been crowned in each of the past five seasons.
Cleveland performing arts students also perform well in the classroom. The school has posted strong finishes across multiple categories of the OSAA's Academic All-State competition.
"The performing arts are an integral part of the OSAA and its member schools," OSAA executive director Peter Weber said. "Having Cleveland High School recognized nationally by the NFHS is a testament to the impact that the performing arts have on students throughout our state."