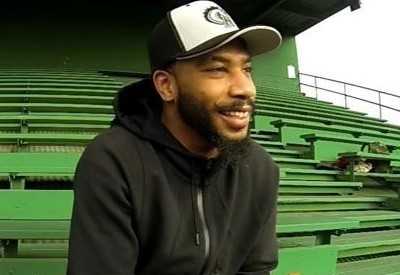 Brian Jackson sensed that Parkrose football was on to something special in 2018 when he joined the coaching staff as an assistant to first-year coach Keanon Lowe, his former college teammate at Oregon.
So when Jackson left Parkrose in 2019 to assist at Southridge, to be nearer to his home, "it was kind of a bittersweet thing," he said.
But things took an unexpected turn this year for Parkrose when Lowe – who engineered a dramatic turnaround in two seasons -- left to take the job at state power West Linn, and later landed an assistant coaching position at UCLA.
Parkrose then turned to Jackson, who was hired as head coach in March.
"I kind of felt like I had unfinished business there," Jackson said. "I think what was cool about getting approached to come back, it kind of felt like a no-brainer, honestly. I was itching at the chance to come back.
"It's not as if I felt like I made a mistake by leaving, but sometimes you never realize what you miss until it's gone. Coming back, it was a very good opportunity to go back to something that I helped start."
Parkrose athletic director Ryan Gallagher said Jackson "stood out above" about a half-dozen candidates not only because of his football acumen, but for the way he connects with athletes. Jackson will work in the school as an on-track coordinator.
"It's just one of those things that just magically comes," Gallagher said. "He walks through the door and kids are already talking to him. He just stands out. He's got that X-factor. It was really an easy interview because he was an obvious choice."
Under Lowe, Parkrose ended a 23-game losing streak and posted its first-ever playoff win. The Broncos went 5-5 in 2018 and 7-3 last year, reaching the 5A quarterfinals.
"There's definitely a lot of momentum that was built up," Jackson said. "I think that I was a big part of that, as well, when I first got there.
"But I don't want to look back at the past in a certain way because, sure I was there, but now I have to put my spin on it and make sure that they do the things I think they should do. I'm very much looking forward to just leading this team in my own direction."
Jackson grew up in Alabama, where he played for perennial powerhouse Hoover, winner of 13 state championships. He signed with Oregon and started at safety as a junior (2012) and senior (2013).
Jackson assisted at Sherwood for two seasons before joining Lowe with the Broncos. He steps into his first head-coaching job after spending one season assisting at Southridge under Kevin Bickler.
"I learned a lot from him," Jackson said of Bickler. "Over the course of my time coaching, I just kind of got this feeling where I could do this. I feel like the roles I've played, I took on a lot of responsibility, and willingly so."
After landing the Parkrose job, he was quick to make two phone calls, one to Hoover coach Josh Niblett and another to John Neal, his position coach at Oregon.
"I turned into y'all somehow," Jackson said he told them.
Parkrose is counting on Jackson to maintain enthusiasm in the program despite the loss of Lowe, the graduation of a class that was integral in the team's turnaround, and the disruption caused by the coronavirus.
"Within one year, we've had a lot happen," Gallagher said. "It's been overall an emotional year for everybody. It's hard to quantify it as a single event, but it definitely adds to the difficulty of 2020. I think what a lot of people wanted to see was, can we hold onto that momentum and move forward?"
Jackson, who has coached primarily on defense, will serve as the defensive coordinator. But he said he will work closely with the offensive coordinator, Blake Thomason, one of the staff holdovers.
"I've got some really good assistants, but I see myself taking over the game when I have to," Jackson said. "A lot of that defense is going to be run by me, but there's a lot of things that I definitely want to put my foot into. I don't want to be too overbearing, but at the same time, taking over a program, especially at a time like this, you've got to make sure that everything runs the way you want it to."
Jackson said that Thomason is "quite a mastermind" and will be instrumental in the evolution of the offense. Lowe had success with an offense similar to the one he ran at Oregon, but with the graduation of quarterback Tre Singleton and running backs Taydrian Jackson and Jay Jay Hudson, the Broncos need new weapons to emerge.
"We're looking to take this into a whole new thing," Brian Jackson said. "We've got some good stuff rocking. We've got a lot of creativity in our playbook. We're really fleshing out the idea of we want to advance football in the best way that we can, and I think we've got some kids here that can do it."