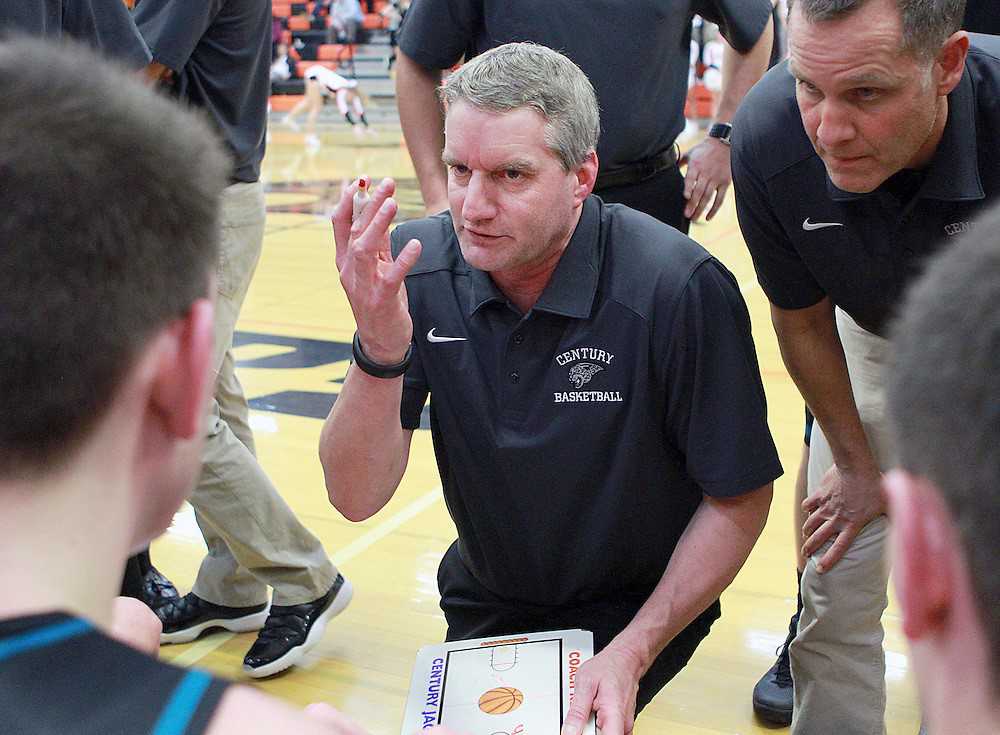 [Editor's note: The idea behind "Alphabet Stories" is to write one noteworthy athletics-related story about each OSAA-member school. We started with Adrian HS on Sept.18. Today's story, almost four months later, is about Century HS. The goal will be to write two per week. While we will be relying upon athletic directors to furnish story ideas, anyone may offer suggestions by emailing [email protected]]
Scott Kellar, the head boys basketball coach at Century HS in Hillsboro, speaks often of "no regrets."
Players will give maximum effort during games.
No regrets about what might have been if they tried just a little harder.
There will be no bad practices, so come ready.
No regrets about squandering any opportunity to get better.
Players will develop not only basketball skills in his program, but also life skills.
No regrets about failing to give young people the tools needed for success as adults.
So it should come as no surprise to anyone that, 23 years into his gig at Century and despite only two state tournament appearances and a win-loss record hovering around .500, Kellar has absolutely no regrets.
"Seeing kids develop as people and players…as time has gone by I take as much if not more pride in that than any win-loss record," he explained.
***
Since Kellar was eight years old, he's prepared every year in the late fall months for the start of basketball season. He played in high school at Glencoe under legendary coach Barry Adams (656 wins). He played four years collegiately at Western Oregon. Toss in the fact that his father, Elden, was a high school cross country and track & field coach for 40 years (the track at HilHi is named after him) and it stood to reason that Kellar would continue beyond college to put his imprimatur on the game, and the players who played it, as a coach. He'd seen firsthand the impact distinguished coaches had had on him. He wanted to give back in kind.
"I was motivated to be a head coach out of college," Kellar shared during an April podcast sponsored by the Oregon Basketball Coaches Association. "When you can't play anymore, you start coaching."
Kellar wanted to do more than just teach the X's and O's.
"I developed a passion for the kids and wanted to influence them," he said.
That's why winning on the scoreboard was never the most important thing to Kellar.
"When the game starts and you're keeping score, winning is the goal," he explained. "But you can win in practice and there are small victories to be had during every game. I realize that there are a lot more 'wins' out there than just winning games."
Not that Kellar-coached teams couldn't win games. He turned programs around at Taft and Sandy before returning to his roots to take the job at brand new Century HS in 1997.
Kellar knew that coaching at Century against the best of the best in the Metro League would be a challenge. The community surrounding the school produced good athletes but not the height needed to compete consistently with the Jesuits and the Beavertons and the Westviews out there ("I've never had a true post player in 23 years; we're usually giving up size every game").
"You get humbled pretty fast coaching against those guys," Kellar explained.
Century did not make the playoffs a single time in the program's first 10 years. Rather than get caught up in wins and losses, Kellar focused on making sure his players gave a consistent effort, every practice and every game. And that they developed a love of the game.
Something that happened in his first year at Century convinced Kellar that this was the right approach to coaching.
"We were 3-15 and it was early February," he said, "the dog days of basketball if you're not headed to the playoffs. We were having a late practice and the girls were practicing before them. My 12 guys were hanging around by the gym door. They couldn't wait for the girls to get done so we could start practicing. I thought, 'I'm doing the right thing if the guys are this excited to come to practice in February and not have one eye on baseball or track or spring break."
In 2009, Kellar had a team that was good enough to make the 5A championship game. Seeing his players having objective success was affirming for his team and the coaching staff and changed the student body's attitude toward basketball. But the hallmark of that team remained effort.
"Teams I had that went 25-2 didn't work any harder than my early teams that won five games," he explained. "They were just better."
"I have publicly said for years he is hands down the BEST BASKETBALL COACH in the state of Oregon!" exclaimed Kris Welch, the former Century AD who now works as an Assistant Commissioner for the OSAA. "He is a classy individual who thinks about kids and people and not basketball players. One of the best compliments you could ever tell about a coach is the number of his athletes who come back and help coach in the program, whether at the high school level or at the grade school level. He always has former players coaching in his program and that is a HUGE statement about the kind of individual Scott Kellar is!"
Dennis Rice knew of Kellar for years before taking the job as Century's athletic director five years ago.
"I was a student-athlete at Glencoe when Century opened and I played against Coach Kellar and his basketball teams," Rice recalled. "What I remember most about playing against him was his ability to get the most out of his players. They were always the hardest working team that we played."
"It has been a privilege to witness the positive impact that Coach Kellar has on the Century community," Rice continued. "The impact that he has on his players' lives goes beyond the game of basketball. He truly has a positive impact on their lives the minute they enter his program."
Twenty-three years into his career at Century (where he works as a school counselor in addition to coaching), Kellar has no timeline for hanging up the whistle. He thought in 2017, when his son, Joseph, graduated, that it might be time. That he'd put his supportive wife, Katrina, through enough as a year-round coach. But he came back and it's been three years now…
"I have the fire as much as when I first started," he said. "I love being around the kids. I can still relate to them. And they make me feel young."
Kellar's looking forward to the delayed 2021 season if/when it gets started in May. He won't have height – again -- but he has shooters. It'll be another opportunity to compete, to plan practices that are meaningful and fun, to influence young people, and to find wins, on the scoreboard and otherwise.
They're going to give maximum effort.
No bad practices.
And definitely no regrets.