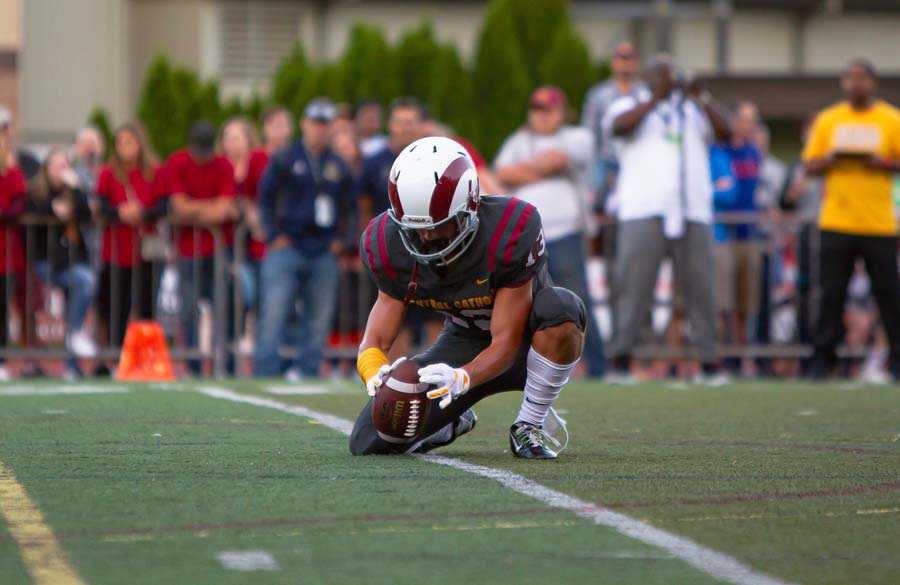 Every Friday night, we'll offer you PATs, a few nuggets from the night that was.
Be sure to check out Jerry Ulmer's comprehensive Football Notebook, published Sundays, for an in-depth look at all of the weekend action from across the state.
YC fires blanks in opener of openers
While the rest of the state got ready to play Friday football, Yamhill-Carlton and Knappa got everything started yesterday, with 3A YC winning in shutout fashion, 34-0. Jacob Preston ran for three first-half scores, sophomore signal caller Jacob McGehey threw for a pair in the third quarter and senior Hunter Stephenson had three sacks in the decisive victory over a Logger team at the start of a rebuilding season after a 2A semifinal appearance in 2019.
The Ballard of Brody The Kid
Brody Ballard tossed two touchdown passes to Trent Bateman and ran for a 62-yard score in Monroe's 26-12 win over Lowell. Dylan Irwin tacked on a scoring scamper and had 13 tackles to lead the defense for the Dragons, who made the 2A semifinals in 2019.
Going Where Eagles Dare
Wyatt McDaniel rushed 16 times for 211 yards and four touchdowns in Yoncalla / North Douglas' 36-0 shutout of Glendale. Cade Olds had 10 tackles and the Eagle defense forced six turnovers and held Glendale to just 100 yards of total offense for the game.
Thurston For A Win
Jake Newell and Jeremy Foss each scored twice and Dawson Muggy ran one in as two-time defending 5A champion Thurston had no trouble getting past Churchill, 35-6.
Winning Recipe Eludes Baker in Vale Loss
John Wolfe returned a punt 66 yards for a score and caught eight balls for 116 yards and another in 3A Vale's 21-12 home win over 4A Baker. Baker, which made the playoff quarterfinals in 2019, had just a handful of yards against a stout Viking defense until the last two minutes of the game. It didn't help that the Bulldogs lost their starting QB to injury in the first half.
No Gold For Prospectors Versus Reigning Champs
Blake Wolters ran for two scores as defending 2A champion Heppner took a 28-0 halftime lead over Grant Union, then returned the second-half kickoff for a touchdown, courtesy of Jackson Lehman, in the 35-0 win. Heppner held the Prospectors to 83 yards of total offense for the game.
La Salle Can't Hide From Tanner
Tanner Fletcher ran for three touchdowns to spark Hood River Valley to the 30-14 road win over La Salle.
Sunset Brings Out Stars For Sandy
Sunset had four interceptions and five total turnovers in a 40-0 home win over Sandy. Kyle Jaeckel threw for five TDs and Caleb Kim and Kaeden Ball combined for 235 yards on the ground in the victory.
"I couldn't be happier for this group of young men," said Sunset head coach Damien Merrick. "Everyone has been through so much this past year+ and it's nice to finally have something to celebrate. This group has done everything the right way and, most importantly, has stayed together."
Westview Picking But Not Grinning In Tough Loss
Westview's Drew Bennett returned two interceptions for long touchdowns but they weren't enough, as Aloha built a 21-7 halftime lead and held on to win, 27-21. Zak Hurley caught one TD pass and ran for another tally for Aloha, which opened the scoring with a pick six of its own, courtesy of Darion Stevens.
Sprague's Extras Produce One-Point Win
Sprague scored three touchdowns, including a deep ball in the fourth quarter, and converted three extra points in its 21-20 win at Lebanon. The home team trailed 14-6 at halftime and scored a touchdown early in the fourth to pull the Warriors within two. But they could not convert on the two-point try. Thus, when Sprague answered Lebanon's score with one of its own, and converted the kick, the nine-point deficit was too much for Lebanon to overcome.
Some Person Sparks Dallas Win
Logan Person had one receiving touchdown and one rushing touchdown, kicked two field goals and broke up two passes in Dallas' 26-7 win over South Salem.
Skyhawks Travel By Land In Win Over Forest Grove
Southridge scored four rushing touchdowns, two by Kaleb Moxley and one each from Cypress Albright and Robert Marquez, in a 35-0 shutout of Forest Grove. Southridge's lone passing touchdown came after the Skyhawks recovered a fumble with three seconds remaining before halftime. With one play to run before time expired, JC Klee found Justin Lee in the corner of the end zone for the score.
Newberg Lays Sure Wood To The Bowmen
Connor Croskrey and Dylan Stroup teamed for 18 tackles and caused two fumbles in Newberg's 14-9 home win over Sherwood. The defensive battle was scoreless at the half before two Newberg scores, including a TD reception from Owen Hawley; put the Tigers up 14-0. Sherwood scored the final nine points of the game, including a kickoff return for a touchdown, but could not produce an offensive touchdown in the loss.
Preston To Action, He Delivers For Century
Preston Springer had two interceptions, including a pick six; and recovered a fumble, as defense carried Century past McMinnville, 28-13. Emelio Hernandez led the Jaguars' ground attack with 141 yards and a score on 10 totes. He added an interception of his own on defense.
***
That's all we have time for tonight. Hopefully, as teams get back into it, we'll have more Friday scores and highlights to report in coming weeks.
Be sure to check out Jerry's more comprehensive report on Sunday!