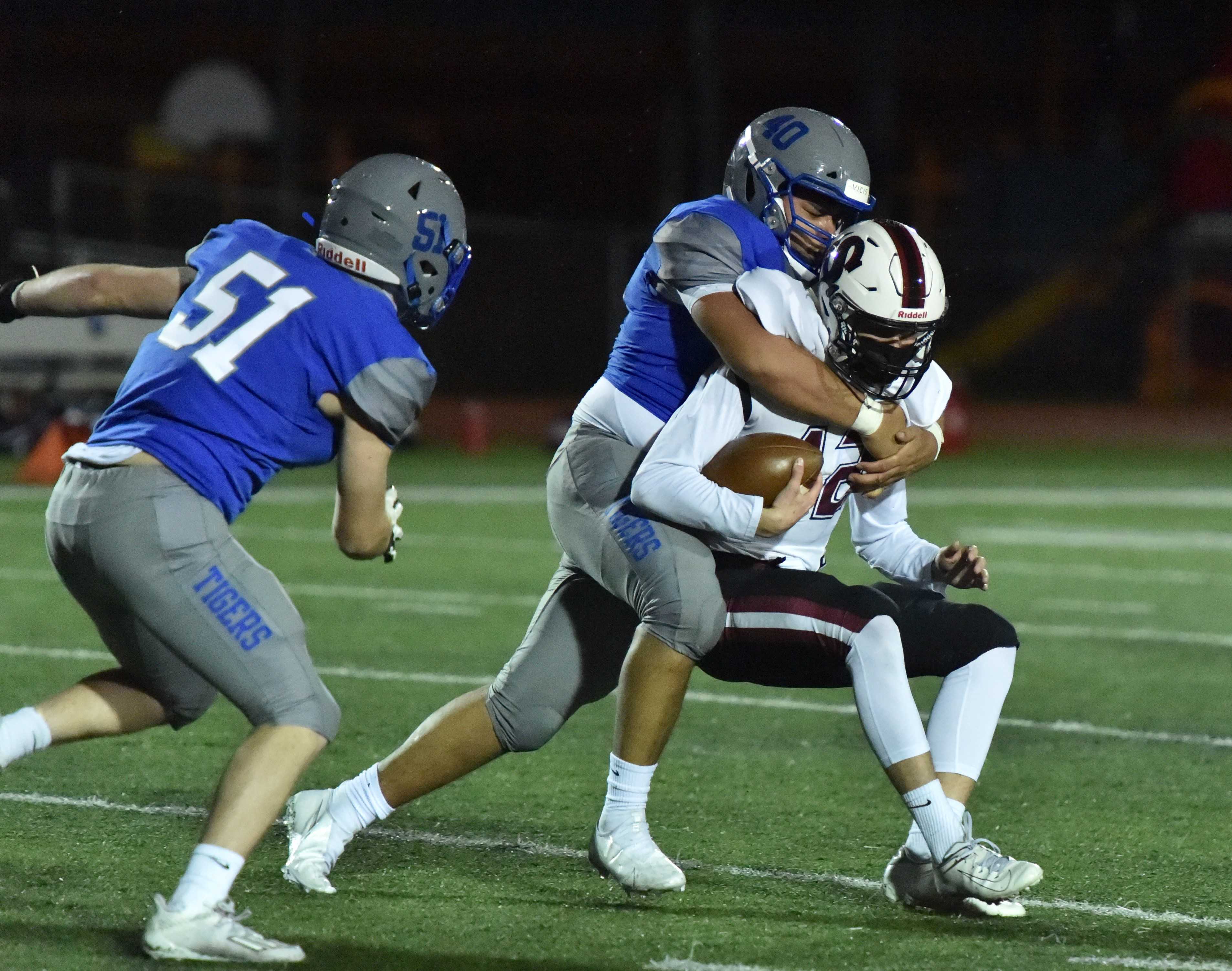 Newberg's football team has made dramatic gains in its three seasons under coach Kevin Hastin, going 8-3 in 2019, its most wins since 1960.
But one big roadblock remained for the Tigers to challenge for supremacy in the 6A Pacific Conference: Sherwood. Newberg plowed through that obstacle Friday night, suffocating the Bowmen's vaunted wing-T offense for a 14-9 home win.
"It's huge," Hastin said. "We know if you want to win a league title, you've got to be able to beat Sherwood. We've been getting closer and closer to knocking them off over the years. This is a really good Sherwood team, too."
Since the teams began playing in the same league in 2014, Sherwood had won all six meetings by an average margin of 24.8 points. The Bowmen beat Newberg 41-14 in 2018 and 35-14 in 2019, handing the Tigers their only conference defeats.
That all changed Friday, though, as Newberg broke a scoreless tie with two third-quarter touchdowns and held on for the win. Hastin couldn't help but wonder what the atmosphere would have been like if the stadium wasn't empty.
"It would've been nuts," Hastin said. "But we'll take it. The kids were just as fired up. There was just as much emotion on both sides of the ball. It was a special game."
Newberg took a 7-0 lead early in the third quarter when sophomore wingback Hudson Davis scored on a one-yard run on a sweep on fourth-and-goal. On the ensuing kickoff, the Tigers recovered a fumble – caused by senior Connor Croskrey – and junior quarterback Levi Durrell found senior Owen Hawley for a 30-yard touchdown pass to make it 14-0.
Sherwood's Cody Hall immediately responded by returning the kickoff for a touchdown to close the gap to 14-7. The Tigers held that lead inside four minutes when – facing fourth down at their 2-yard line – they opted to take a safety, making the score 14-9.
"We were thinking if we punt it to them, then we're giving them a really short field," Hastin said. "Our defense was just playing great all night, so the thought was to get a nice kickoff and make them march the field to beat us. We felt like the defense could win the game for us."
It worked out even better than planned as senior Dylan Stroup caused a Sherwood fumble on the ensuing kickoff and the Tigers recovered, virtually sealing the win.
Junior Price Pothier rushed for 116 yards to lead Newberg's offense. Croskrey and Stroup each had nine tackles at linebacker and senior free safety Armen Tarakhchyan was outstanding in run support.
"We were just salty up front," Hastin said of his defense. "Kids were getting off blocks, and we had 11 guys swarming to the ball."
Lakeridge tribute
As excited as Lakeridge's football team was to play a game Friday night against visiting Oregon City, the Pacers did so with heavy hearts.
The team and community has been reeling since Ezekiel Crowder, a sophomore who would have started at left guard, took his own life Feb. 22.
Lakeridge honored Crowder on its first offensive play, lining up with 10 players and senior center Barrett Bevacqua and senior left tackle Michael Stupfel holding up Crowder's No. 69 jersey. The Pacers were called for a penalty, which Oregon City declined.
"It was a really nice tribute they did," Lakeridge first-year coach Spencer Phillips said. "It just symbolized that he's here with us, even though he's not. The sportsmanship between Oregon City was amazing. It just made the experience a little bit better knowing that Oregon City had our back."
The 6-foot-3, 270-pound Crowder had great potential in football, according to Phillips.
"He had basketball-player feet, too," Phillips said. "He was very gifted, talented. Definitely to me was a Division I football player."
The Pacers have been sorting through a wide range of emotions as the season begins.
"The most important thing for us was making sure we handled this situation in what we thought was the right way," Phillips said. "That was just putting Zeke and his family and our players' emotional mental state in the forefront. It's been challenging, but it's been one of the best learning experiences I've ever been a part of."
Sophomore Ryan Oliver threw two touchdown passes, senior Andrew Oliver ran for two scores and junior Jake Reichle had two interceptions, returning one for a score, to lead the Pacers past Oregon City 35-20, giving Phillips a win in his Lakeridge debut.
"Just after all the stuff we've been through the last couple weeks, it was nice to end the week that way," Phillips said. "The kids were playing for a lot more, so it was cool to be part of something like that."
Buckaroo Burns
Pendleton got a big lift from a former eight-man standout in its 46-0 win at Parkrose on Friday.
Tyasin Burns, who attends 1A Nixyaawii, was the 1A Special District 3 West player of the year for Pilot Rock/Nixyaawii in 2019. He rushed for 2,382 yards and 17 touchdowns and had 821 receiving yards and six touchdown catches.
This season, though, Nixyaawii has a co-op affiliation with 5A Pendleton. And in his debut, he ran for three touchdowns and returned a punt 64 yards for a score.
"I'll tell you what, every little bit that he came advertised has come to fruition," Buckaroos coach Erik Davis said of the 5-10, 175-pound senior. "The kid's an absolute football player. Sometimes people don't think you can translate between the eight-man game and a 5A-level, 11-man game, but this kid transcends that pretty easily."
Burns ran for 55 yards on nine carries, but it was his sideline-to-sideline punt return that dazzled.
"That was probably one of the best high school runs I've seen in a long time," Davis said.
The Buckaroos have been waiting to unleash Burns in a game. He is a welcome complement to senior tailback Zaanan Bane, who rushed for 69 yards Friday.
"He's been fantastic in practice," Davis said of Burns. "He doesn't get tired. I think, also, he doesn't have to be the guy on our team. Tyasin brings a different element that we obviously embrace. We don't get transfers like that very often at Pendleton. To say that I'm excited about Tyasin Burns is an understatement, for sure."
Shifting gears
If taking over at Clatskanie – a 3A semifinalist in 2019 -- in the middle of a pandemic wasn't a big enough challenge for first-time head coach Judd Stutzman, the degree of difficulty has been cranked up another notch.
Due to lack of players, the Tigers have opted to play an eight-man schedule this season. They opened with a 50-0 loss to Rainier in the "Highway 30 Hootenanny" rivalry game Friday night.
Clatskanie had 38 players on its roster last season, when it reached the semifinals before losing to Burns 14-13. Entering this season, though, the Tigers had only 12 players available.
"I was expecting at least a solid 20 kids to run an offense and have a scout team defense," Stutzman said. "At the two-week mark, we had to make a decision to just get as many opportunities and experiences as we could for the kids. We're definitely doing right by the kids that have done everything correct.
"We want to compete, and we want to win football games. That's always the message. Our kids have taken the challenge head-on. We're going to come out on top."
Switching gears to the eight-man game hasn't been easy for the players or coaches.
"I'd call it a crash course," Stutzman said. "We're trying to do as much stuff as normal in terms of using the same verbiage, so when we get back to 11-man, we're not having to reteach all that. It's been definitely a learning curve. I always catch myself saying, "We need all 11 guys out there.'"
Clatskanie has scheduled four games against teams from the North division of Special District 1, including a rematch with Rainier (March 19) and single contests against Corbett (March 12) and Warrenton (April 2).
Was it difficult to get the other schools to agree to play eight-man?
"I don't think it was pulling teeth to get it done with the outlook everybody has on it," Stutzman said.
Junior circuit
One of the state's top 3A teams in recent years was missing from the results this weekend.
Burns, which made the state semifinals in 2019 after appearing in the quarterfinals in 2018, has decided to play a JV schedule due to low turnout. The Hilanders have 22 players on their roster, which includes two seniors and 10 freshmen.
"A lot of kids are not playing this year," coach Terry Graham said. "We've got a lot of them hurt right now. We looked at the situation and we just said, 'Let's try to make this the best we can this year, and try to get the younger kids an opportunity to at least have a JV schedule, and teach them something.' We couldn't be competitive with the team we had out there."
Burns has scheduled Monday JV games against Greater Oregon League teams Baker, Nyssa, Vale and Ontario. The two seniors on the roster – quarterback Justin Winn and lineman Garrett Goss-Bodily – will be permitted to play.
"We made an agreement with the league, if you've got a couple seniors, go ahead and let them get something out of the season," Graham said.
Junior quarterback Jaden Tiller, the Special District 3 offensive player of the year in 2019, suffered a torn ACL while playing basketball and underwent surgery last month. He is scheduled to return by midseason this fall.
Graham, whose two stints as the Burns coach (1989-2003, 2013-present) included the career of NFL quarterback Kellen Clemens, said that practicing in frigid Burns in February "is one of the craziest things I've ever been associated with. It was just solid ice out there on the field, and you couldn't do anything."
Joining forces
So just which team was it that lost to St. Paul 54-8 in the season opener Friday? Hosanna Christian or Triad?
Well, both.
Hosanna Christian and Triad – first and second, respectively, in the East division of 1A Special District 2 in 2019 – have merged to form not only a new team, but a new school.
Crosspoint Christian opened in Klamath Falls in the fall, but is playing this football season under the name Hosanna-Triad. The team will play this fall as the Crosspoint Christian Warriors.
For now, though, the team is playing it down the middle. The players wear black Hosanna Christian pants and blue Triad jerseys. The white helmet has "HC" on the right side and on old-school Triad logo on the left.
So it's only fitting that the team is coached by Jim Johnston, who started the Triad program from 2007 to 2011 and spent the last seven seasons as the coach at Hosanna Christian. Johnston had stepped down as coach after Hosanna Christian lost in the quarterfinals in 2019, but agreed to return to mold the hybrid program.
"I came back because of the merger," Johnston said. "The whole goal for coming back was to make sure there's no division at all."
Johnston went 31-10 in four seasons at Triad and 52-18 in the last seven seasons at Hosanna Christian. He has not committed to return to coach the team in the fall, but hasn't ruled it out.
"It's a storybook career," Johnston said. "I get to end my career with the old Triad logo on one side of the helmet and the 'HC' on the other. We're going to have fun."
Johnston expected to have about 30 players in the program last fall, but that number has dipped to 19 due to players moving out of state, injuries and others opting not to play. Of those 19, 17 are from Triad, including quarterback Micah Young, a starter on Triad's state champion boys basketball team last year.
The team suffered a setback last week when its best player – senior Nick Maurer, an all-state lineman who moved to running back this season – was lost for the season with a dislocated hip. Junior running back Kenny Tuttle, the team's fastest player, missed Friday's game with an ankle injury but is expected to return next week.
Roll call
Just as notable as what we saw in Week 1 was what we didn't see.
Many teams didn't play for a variety of reasons. Some didn't opt in for the season. Some didn't have enough players for a team. And others had to cancel games due to COVID-19 outbreaks.
The only 6A schools that didn't opt in are David Douglas and Centennial. Among those not participating due to lack of players is South Eugene, a 6A school that has played in 5A the last two seasons.
Ashland, a member of 5A Special District 4, will play a JV schedule. Cottage Grove, from 4A Special District 4, plans to finish its season playing JV games.
Lake Oswego, Sheldon and Roseburg – all 6A schools – canceled their games this week due to positive COVID-19 tests associated with the school, as did 3A Douglas. Sheldon has shut down football activities until March 15 because of contact tracing involving a member of the team.
Highlights from Week 1 games:
6A:
Sunset had five takeaways (four interceptions) in a 40-0 home win over Sandy. Kyle Jaeckel threw for five TDs – two to Nick Molitor -- and Caleb Kim rushed for 146 yards and two scores for the Apollos. … Zak Hurley caught one TD pass and ran for another score and Darion Stevens returned an interception for a touchdown to lead Aloha past Westview 27-21. Westview's Drew Bennett returned two interceptions for long touchdowns. …Imarion Kelly threw six touchdown passes, five to Jackson Flatner, including the go-ahead inside the final two minutes, as Roosevelt held off Wilson 38-32.
Preston Springer had two interceptions, including a pick-six; and recovered a fumble, as defense carried Century past McMinnville 28-13. Emelio Hernandez rushed for 141 yards and a score on 10 carries and had an interception for Century. … Luke Johnson completed 21 of 37 passes for 255 yards and four touchdowns as reigning 6A champion Central Catholic upended Jesuit 35-6. Jordan King had six catches for 90 yards and two scores for the Rams. Michael Rincon ran for 162 yards and one touchdown on 23 carries for the Crusaders. …Trailing by one point, North Medford got a 21-yard touchdown pass from Colby Neron to Bryce Dyer with 21 seconds left to overtake Grants Pass 27-20. Dyer caught passes of 26 and 28 yards on the 96-yard drive, which included two fourth-down conversions. He also had an interception return for a score.
Glencoe beat Liberty 42-22 as Royce Fasel rushed for 160 yards and two touchdowns and Tyler Cox caught three touchdown passes and returned a punt for a score. … Brian Mannion led Southridge's 49-7win over Beaverton, throwing for 210 yards and two touchdowns and running for a score. Andrew Simpson caught 10 passes for 124 yards and two touchdowns. … Gavin Haines ran for four touchdowns and Blake DeBisschop passed for two scores to lead West Linn past Tualatin 37-6. …Zander Garner ran for a five-yard touchdown in the third quarter and threw a 30-yard scoring pass to Joel Beltran in the fourth quarter as Franklin came back to beat Gresham 13-9.
Grant handled Barlow 26-0 as Logan Going completed 15 of 24 passes for 186 yards and three touchdowns, including one to Timon Davis, who had eight catches for 102 yards. ... Kaleb Moxley ran for two touchdowns in Southridge's 35-0 win over Forest Grove. … McNary turned back West Albany 19-14, taking the lead late in the fourth quarter on a seven-yard touchdown pass from Jack McCarty to Braiden Copeland. … Oregon State-bound Damir Collins carried 15 times for 149 yards and two touchdowns, one a 74-yarder, as Jefferson topped Lincoln 13-0. The Democrats held the Cardinals to 180 yards and forced four turnovers, including interceptions by Trejon Williams and Caleb Harvey. Jeremiah Matthews had 11.5 tackles for Jefferson.
Other classifications:
Brody Ballard tossed two touchdown passes to Trent Batemanand ran for a 62-yard score in Monroe's 26-12 win over Lowell. Dylan Irwin had 13 tackles to lead the defense for the Dragons. … Blake Wolters ran for two scores and Jackson Lehman returned a kickoff for a touchdown as reigning 2A champion Heppner cruised past Grant Union 35-0. Heppner held the Prospectors to 83 yards of total offense. … Tanner Fletcher ran for three touchdowns to spark Hood River Valley to the 30-14 road win over La Salle Prep. … Logan Person had one receiving touchdown and one rushing touchdown, kicked two field goals and broke up two passes in Dallas' 26-7 win over South Salem. …
Connor Hanson caught a touchdown pass in the fourth quarter to lift Creswell over Reedsport 7-0. … Mazama dropped rival Henley 35-0 behind Tristan Lee, who threw two touchdown passes to Cole Brosterhous and ran for a score. … Cascade's Jacob Hage completed 15 of 17 passes for 205 yards in a 41-0 win over Woodburn. … Andrew Teubner ran for three touchdowns as Seaside dominated Valley Catholic 49-0. … Banks rolled over Astoria 49-18 as Cooper Gobel completed 22 of 26 passes for 283 yards and five touchdowns, two to Chuck White, who had 132 receiving yards. … Jace Johnson threw three touchdown passes in the second quarter – two to Kade Johnson – in South Umpqua's 48-0 win over St. Mary's. …
Sutherlin rolled over Klamath Union 41-6 as Josh Davis ran for 225 yards and three touchdowns and Adrian Diaz rushed for 105 yards and two scores. …Nate Vidlak threw three touchdown passes to Jeremiah Noga as Hidden Valley blanked Phoenix 47-0. Tobias Powers ran for 95 yards on eight carries for Hidden Valley. … Kristian Fralich caught four passes for 101 yards and two touchdowns and rushed for 123 yards on 11 carries to lead Cascade Christian past Brookings-Harbor 40-8. … Marist Catholic scored on its first four possessions in a 42-14 win over North Bend. Lucas Tuski rushed for four touchdowns for the Spartans. … Myrtle Point, which won one game in each of the last two seasons, beat Gold Beach 32-16 as Troy Warner ran for a touchdown and returned a kickoff 75 yards for a score. …
Jacob Preston scored three touchdowns in the first half and Jacob McGhehey threw for two scores in the third quarter of Yamhill-Carlton's 34-0 win over Knappa. … Corvallis' Carter Stevens threw for 215 yards and three touchdowns, two to Brady Hawkins, in a 21-7 win over McKay. … Crescent Valley freshman John Coiner returned a fumble 70 yards for a touchdown for the go-ahead score in the final minutes of a 12-9 win over South Albany. … Wilsonville pulled away in the second half to defeat Scappoose 34-15. Chase Hix threw four touchdown passes for the Wildcats, two to Justin Slothower. …
Dayville/Monument held Mitchell/Spray/Wheeler to about 60 yards of offense to win 33-0. Mark Thomas ran for a touchdown and returned a fumble for a score. … Bryce Indell scored three touchdowns as Willamette topped North Eugene 40-21. … Vale's John Wolfe had eight catches for 116 yards and one touchdown and returned a punt 66 yards for a score in a 21-12 win over Baker. … Reigning 5A champion Thurston got two touchdowns each from Jake Newell and Jeremy Foss to beat Churchill 35-6. …Blake Eaton threw a touchdown pass to Dawson Douglas and kicked a 28-yard field goal as Crater edged South Medford 9-6. ...
Wyatt McDaniel rushed for 211 yards and four touchdowns on 16 carries to propel Yoncalla/North Douglas past Glendale 36-0. ... Ridgeview routed Putnam 33-0 as Gannon Jeter rushed for 125 yards and two touchdowns and Eli Millington returned a fumble 50 yards for a score. … Milwaukie trailed 13-0 in the first quarter but came back to beat Tillamook 14-13 behind Sean LaChapelle, who caught a touchdown pass and had 12 tackles, an interception and a fumble recovery. ... Marcus Fulbright rushed for 129 yards to lead reigning 3A champion Santiam Christian past Kennedy 45-8. The Eagles, who led 24-0 at half, held the Trojans to 105 yards.