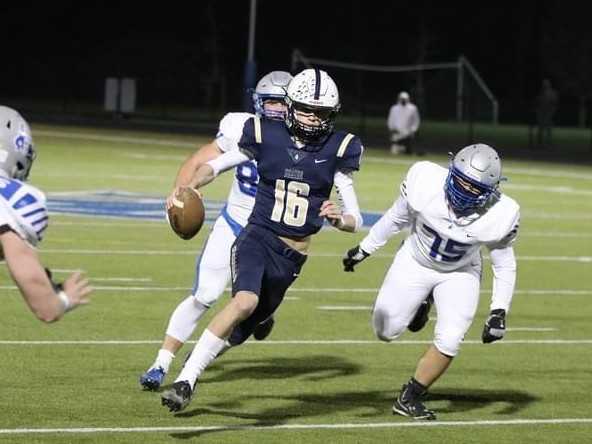 Banks thought it had its offensive priorities in order entering the football season.
The Braves would lean on their big, experienced line to run at opponents and not put too much pressure on their first-year starter at quarterback, junior Cooper Gobel.
After two games, though, Gobel's arm is starting to look more like Plan A for Banks, the 4A champion in 2018 and runner-up in 2019.
In two wins, the 6-foot-4, 170-pound Gobel has completed 79.6 percent of his passes for 625 yards and 10 touchdowns without an interception. He followed a 267-yard, five-touchdown performance in the opener against Astoria with a 358-yard, five touchdown effort Friday in a 48-0 win over Valley Catholic, amassing 320 yards in the first half.
"That was not the plan going in, to sling it all over the field, just knowing what we had up front," Banks coach Cole Linehan said. "But just based on his development, and the way he's finding receivers, it's changed the dynamic of our offense, for sure. We're very capable of just throwing the ball the whole time."
Gobel is the younger brother of Blake Gobel, a 6-7, 220-pound tight end on the Braves' 2018 title team who now plays at Eastern Washington. Cooper was heading down a similar path as a receiver when he switched to quarterback as a sophomore.
"The coaches and I were looking at each other like, 'This kid needs to play quarterback. He's skinny, he's tall, he looks like a quarterback,'" Linehan said. "We had high hopes for him this year, but then the pandemic hit. We knew what kind of arm he had. He has a strong, strong arm."
Cooper Gobel was the starting JV quarterback in 2019, usually playing two quarters before sitting to save him as the varsity backup. Now he is able to get extended playing time.
"It's fun to get him out there," Linehan said. "The experience he's getting now is obviously what he needed. He just didn't have it before. He's just developing now, that's the thing. He has such a high ceiling. He's only going to put on weight. He's only going to get better. And he's already able to put it together."
Gobel is benefiting from a solid line and an outstanding cast of receivers, led by junior H-back Charlie White. The 6-2, 230-pound White leads the team with 12 catches for 241 yards and four touchdowns.
"He has developed into a man," Linehan said of White. "He's breaking tackles. In one play against Valley Catholic, I think four guys bounced off him and he scored a touchdown. He's a thick kid."
Regal Eagle
Hood River Valley senior running back Tanner Fletcher, who has rushed for 423 yards in his first two games, is evoking memories of a former Eagles star.
Fletcher's play is reminiscent of Jacobe Krizman, who rushed for 2,845 yards for Hood River Valley in 2002, a total that stands at No. 8 on the state's all-time single-season list.
Eagles coach Caleb Sperry, who was the team's defensive coordinator during Krizman's career, said the 5-9, 190-pound Fletcher has some of the same traits as Krizman, who went on to play in college at Southern Oregon.
"I think the physicality that Krizman ran with is pretty similar," Sperry said. "Our scheme is a little bit different, so I think Tanner's a little bit better at finding that space. He's really good at making the first guys miss and getting north-south.
"I think Jacobe probably had a little better breakaway speed when he got to the next level than Tanner does, but definitely the physicality is similar with the two."
Fletcher, who ran for more than 1,300 yards as a junior, opened the season by rushing for 313 yards and three touchdowns on 38 carries in a 30-14 win over La Salle Prep. The rushing total tied him for No. 5 on the school's all-time list with Krizman, who holds down the top four spots with games of 353, 352, 340 and 335 yards.
Fletcher added 110 yards on 23 carries Friday – his ninth consecutive 100-yard game -- as the Eagles dominated Redmond 22-0. With Fletcher drawing attention, junior quarterback Trenton Hughes excelled in the read-option, rushing for more than 150 yards, including two scores of more than 50 yards.
Fletcher runs behind a strong line that features Oregon State-bound senior Henry Buckles (6-2, 285) and a third-year starter in senior Emilio Castaneda.
"He's got a pretty good group of guys in front of him," Sperry said. "He's just a really tough, physical runner. He's patient to find the hole, and he gets north-south, and he's tough to tackle. He's great at keeping his feet going. He's driving forward."
Sperry said Linfield is showing interest in Fletcher.
Powder power
Powder Valley showed that it is one of the fastest-rising 1A teams by opening the season with two impressive road wins.
One week after beating district rival Crane 18-8, the Badgers cruised to a wire-to-wire, 44-20 win at St. Paul, the 1A runner-up the last two seasons.
"It was a pretty boisterous bus ride home," coach Josh Cobb said. "They were so juiced up. It feels really good to go down there and beat somebody on their home field that's a really good program."
Powder Valley, which went 2-5 in both 2017 and 2018, improved to 7-4 in Cobb's first season as head coach in 2019. The Badgers appear to have cranked it up another notch this season despite having only two seniors starting on each side of the ball.
"We're making some serious headway," Cobb said. "Now we're rolling."
Against St. Paul (1-1), Powder Valley jumped ahead 16-0 and never looked back, building the lead to 38-14 after three quarters. The Badgers rolled up 614 yards, including 326 on the ground.
Junior quarterback Reece Dixon accounted for 415 total yards. He passed for 233 yards and two touchdowns, ran for 127 yards and one score and added 55 receiving yards, including one touchdown.
Junior Kaden Kreiger had 186 receiving yards, including a 75-yard touchdown in the fourth quarter that provided the exclamation point. Junior Clay Martin rushed for 108 yards.
The Badgers biggest improvement this season has come on defense, which is run by coordinator Riley Martin, the team's head coach from 2015 to 2018. They have tightened things up after allowing 39.8 points per game last season.
"Riley's spent a solid year trying to come up with this defense," Cobb said. "We're playing really aggressive."
Leading the defense against St. Paul was junior Case Olson (three interceptions, 11.5 tackles), Clay Martin (five tackles for loss, fumble recovery) and sophomore Cole Martin (two forced fumbles).
Cobb said his team has a mental edge.
"We knew we had athletes, but they're football-smart on the field," Cobb said. "They come back to me and say, 'We need to do this, because this is going to work.' I'm like, 'OK, I got it, I trust you, make it happen.' And they made it happen."
Lincoln County shuffle
The four teams in the Lincoln County School District – 4A Newport, 3A Taft, 2A Toledo and 1A Waldport – have agreed to finish the season playing nine-man rules in their games against one another.
"The coaches all had a meeting and that's what they came up with," Newport athletic director Lindsay DeVries said. "It's low numbers, and it's also a lot of young athletes that we have out. So they're worried about injuries. We get one or two kids that go down, and we're down to nine-man, anyways."
Newport, which typically has close to 40 players in its program, is down to 22. The Cubs played in a 5-on-5 flag scrimmage last week against Waldport, the district's only eight-man team.
Waldport opened its season Friday with a 54-22 loss to Toledo in which it played eight-man on offense and nine-man on defense.
Newport and Taft were scheduled to meet Friday, but the game was canceled after Taft entered into a two-week quarantine due to a positive COVID-19 test. That means Taft's game at Toledo on March 19 also was called off.
Toledo, which made the 2A quarterfinals in 2019, has one of the state's top quarterbacks in Western Oregon-bound senior Jaxon Rozewski. With 27 players, Toledo is seeking to add 11-man contests.
The Boomers are scheduled to meet reigning 2A champion Heppner in an 11-man game at Redmond High School on April 3. They have open dates for Weeks 3 and 6.
"We still practice 11-man," Toledo coach Jeff Taylor said. "We're trying to get a few games across the state."
The competition is important in the growth of the 6-6 Rozewski, who threw for a state-record 613 yards and eight touchdowns in a game as a sophomore.
"He's grown to much over the last year," Taylor said of Rozewski, who also started for Toledo's state champion basketball team in 2020. "I'm really excited to see what he's able to do in these short few games. He's worked throughout this whole time with some guys over in the valley. He's really taken that next step. I think hopefully he's going to turn some heads."
Lakers idle again
Lake Oswego, the 6A runner-up in 2019, remained on the sideline for the second week in a row.
The Lakers, who canceled their opener against Tigard due to positive COVID-19 tests at their school, moved Friday's matchup against Tualatin to April 9. That allowed Tualatin to pick up a game Friday against visiting North Medford, which had an open date after Sheldon canceled due to positive virus tests.
"We talked with Tualatin last week and just said, 'You guys go ahead,' because they had North Medford waiting," Lake Oswego coach Steve Coury said. "It's a game in hand, and I couldn't tell them how many of our guys would still be sick, and what we were going to do."
The Lakers had one player test positive last week but have not had any other positive tests in the program, according to Coury. They were able to return to practice Tuesday, and after four practices, would have been eligible to play Saturday.
But they couldn't find an opponent. Initially, they were hopeful to meet Sheldon, but the Irish won't be back to practice until Monday. Two Washington schools – Evergreen and Battle Ground – had openings, but both declined to play, according to Coury.
"They both said the same thing, that they're dinged up," Coury said.
So after a six-month delay to start the season, the Lakers have had to wait an additional two weeks. They are scheduled to play host to Oregon City on Friday.
"Gosh dang, not to get a chance to play, I feel bad for the kids," Coury said. "We're just trying to be so positive with the kids. We're having fun in practice. What I'm worried about is, Do you start to lose interest, faith? I know it's frustrating for everybody."
Burton to Jesuit
A familiar face has turned up on the sideline for Jesuit.
Former Portland State coach Nigel Burton has joined the coaching staff as an assistant to Ken Potter. When assistant Raphiel Lambert left the Crusaders for Central Catholic, Potter turned to Burton, whose son Jace is a freshman receiver and defensive back in the program.
"We were really fortunate that Nigel was out there," Potter said. "I've known Nigel for a long time. I reached out and said, 'Do you have the time, and he said, 'Yeah, I'd love to.'"
Burton, who coached Portland State for six seasons (2009-14), works with Jesuit's receivers and defensive backs.
"Nigel's resume is pretty good. It was a no-brainer," Potter said. "We're pretty fortunate to get a guy with that much experience to help us."
Burton played at Jesuit High School in Sacramento before a college career at Washington. Since his tenure at Portland State, he has worked as an analyst for Pac-12 Networks and run Nigel Burton Football Camps.
Highlights from Week 2 games:
6A:
Central Catholic's Luke Johnson threw two touchdown passes to Jordan King in the first quarter before yielding to freshman Cru Newman, who added two scoring passes, as the Rams handled Sandy 41-0. … Newberg raced to a 38-0 lead in the first half and beat Liberty 38-8 as Levi Durrell threw for 269 yards and three touchdowns, two to Sam Murphy and one to Owen Hawley (135 receiving yards). Charlie Evans had two interceptions for Newberg. … Gavin Haines ran for three touchdowns and Dylan Crouse returned an interception for a score in West Linn's 41-2 win over Lakeridge. … Century trailed Glencoe 14-3 at half but rallied to win 17-14, getting the go-ahead score on a 10-yard run by Zach Boehler. …Lincoln stifled Gresham 21-0 as Mario Ambrose threw touchdown passes of 82 and 21 yards to Justius Lowe. The Cardinals rushed for 249 yards and had 15 tackles for loss, four by Koosha Mirarabshahi. ...
Grants Pass held off turnover-prone Crater 21-13, coming back after trailing 13-7 at half. Hunter Gonzales threw two touchdown passes and Josef Miner had two interceptions, returning the second one for the clinching score in the fourth quarter. Crater's Trevor Jaasko caught 13 passes for 182 yards and one touchdown. … Michael Rincon rushed for 92 yards and one touchdown on 26 carries for Jesuit in a 20-12 win over Clackamas. … Sherwood outgained McMinnville 389-112 in a 50-7 rout. …Barlow quarterback Ethan Jones ran for a 34-yard touchdown on a broken play with 13 seconds left to break an 18-18 tie, giving the Bruins a 26-18 win over Jefferson. ... Mountain View spotted Aloha a 13-0 lead before racing off to a 55-27 win behind Luke Roberts, who ran for 146 yards and five touchdowns. ... Logan Going passed for four touchdowns and ran for a score in Grant's 60-20 win over Roosevelt. ... Zander Garner threw two touchdown passes and ran for a score to lead Franklin past Cleveland 38-13. ...
South Medford rolled off 20 consecutive points in the fourth quarter to put away Roseburg 28-14. The Panthers got touchdown runs from Carson Joe, quarterback Deacon Edgar and Garrett Henderson. … Tualatin broke from a 21-21 tie to beat North Medford 41-28. Jackson Jones threw five touchdown passes, including scores of 71, 16, 54 and 9 yards to Cole Prusia for the Timberwolves. … Sunset recorded its second shutout of the season, holding Mountainside to 134 yards in a 20-0 win. Caleb Kim rushed for 86 yards and two scores for Sunset, which recorded six sacks, 2 ½ by linebacker Connor Stevens. … Tigard opened its season by beating Oregon City 34-16 as Hewitt Sullivan ran for four touchdowns and Spencer Kuffel returned an interception 85 yards for a touchdown. Jahleel Heath had six catches for 157 yards for Oregon City. …
Drew Bennett caught a 49-yard touchdown pass and returned an interception 60 yards for a score in the fourth quarter to give Westview a come-from-behind 35-24 win over Southridge. … Summit blanked Bend 17-0 in a game that featured 15 punts. Summit's Ryan Powell broke a scoreless tie in the fourth quarter with a 33-yard touchdown run, and the Storm added a fumble return for a score by Jake Hendrick in the final minutes to beat the Lava Bears for the first time since 2016. … McNary throttled McKay 42-7, getting four touchdown passes from Jack McCarty, two each to Braiden Copeland and Tyler Copeland. Griffin Hubbard had a 95-yard interception return for a touchdown for the Celtics. … Ethan Bullock rushed for three touchdowns to help Sprague drop North Salem 34-7.
Other classifications:
Caleb Jensen's 43-yard touchdown pass to Ty May in the second quarter was all Philomath needed to defeat Dayton 7-0, its second consecutive shutout. Philomath got interceptions from Gio Abdelsayed, Alek Russell and Chase Beardsley. … Levie Phillips ran for two touchdowns in the second quarter to help Weston-McEwen come back from a 7-0 deficit to beat Umatilla 20-7. … Yamhill-Carlton defeated Blanchet Catholic 34-18 behind Mikel Rivas, who rushed for 155 yards. … Yoncalla/North Douglas rushed for 460 yards in its 58-8 win over Gold Beach, getting 122 from Bryan Allen, 119 from Cade Olds and 109 from Jordan Aguilar, who scored two touchdowns each. For the second week in a row, the Yoncalla/North Douglas defense held its opponent to 100 total yards. … Shane Tacla had a 99-yard interception return for a score in Wilsonville's 30-14 win over Beaverton. …
Brody Ballard rushed for 186 yards and three touchdowns and Chris Irwin ran for 146 yards and three scores to lead Monroe past Creswell 48-14. … Gavin Knights (130 rushing yards, three touchdowns), Jeremy Foss (97 rushing yards) and Jacob Newell (two touchdown catches) led Thurston past Willamette 46-6. … Freshman Niko May and senior Will Curran had back-to-back pick-sixes in the second quarter for La Salle Prep, which beat St. Helens 63-19. Falcons quarterback Ryan Rosumny threw three touchdown passes to Riley Peterson. … Ashton Foster threw two touchdown passes and Logan Person ran for two scores in Dallas' 38-27 win over Lebanon. … Gladstone routed North Marion 48-8 as Sabastian Peiffer ran for three second-half touchdowns. … Canby's Mikey Gibson completed 12 of 14 passes for 256 yards and four touchdowns, two each to Chance Miller and Kaden Boyd, in a 48-0 win over Hillsboro. Miller also returned a punt 63 yards for a score. …
Jayden Wilson rushed for 84 yards and three touchdowns and threw for a score to lead Hepper past Stanfield 46-0. … Camdyn Steigeler threw two touchdown passes to Riley Van Camp, Chad Pence threw for two scores and John Quirante ran for two touchdowns as Churchill blitzed Springfield 40-6. … Marist Catholic topped Cascade 35-21 behind Lucas Tuski, who rushed for 119 yards and two touchdowns. Joey Laing threw two touchdown passes to Hagan Stephenson for Marist Catholic. … Sam Martin completed 17 of 23 passes for 262 yards and five touchdowns as Cascade Christian ran away from St. Mary's 56-6. Kristian Fralich rushed for 128 yards and one touchdown and caught two scoring passes for Cascade Christian. …
Central Linn edged Reedsport 7-0 as Drake Madison scored on a four-yard run with less than two minutes left. Reedsport lost 7-0 for the second week in a row. … Dom Montiel threw four touchdown passes in the first half of Marshfield's 41-0 win over Elmira. Maddux Mateki caught a touchdown pass and returned an interception for a score. … Down 12-0 at half, Pendleton came to life and defeated Ridgeview 20-12. Tyasin Burns, who rushed for 131 yards and had an interception, scored on a 40-yard run to put Pendleton ahead 13-12. Ridgeview's Gannon Jeter rushed for 162 yards and two touchdowns. … Warrenton's Hordie Bodden Bodden passed for 185 yards and two touchdowns as Warrenton shook off an 8-0 deficit to beat Rainier 22-8. … Andrew Teubner rushed for four touchdowns to propel Seaside past Milwaukie 43-10. …
Nate Vidlak threw four touchdown passes and ran for a score in Hidden Valley's 47-3 win over Klamath Union. The Mustangs never punted. … Cauy Jackson ran for two touchdowns and Justin Jenks scored on a run and a catch to help lead Days Creek over Myrtle Point 40-12 … Dylan Smalley ran for the go-ahead touchdown late in the third quarter as Sutherlin beat Brookings-Harbor 15-6. Sutherlin was missing nine players – including starters at seven positions – due to COVID-19 quarantine protocols. … Astoria ended an 11-game losing streak by dominating Tillamook 38-13. …Conley Martin threw for 219 yards and four touchdowns and ran for 118 yards and four scores as reigning 1A champion Adrian/Jordan Valley overwhelmed Pilot Rock 60-18. Martin also had seven tackles, a sack and an interception....
Alsea overcame Elkton 47-34 behind Owen Aldous, who rushed for 143 yards and five touchdowns. Aaron Sapp returned a kickoff for a score for Alsea. … Corbin Picknell scored touchdowns running and receiving and threw a scoring pass as Oakland outlasted Lowell 26-18. Oakland overcame six turnovers. … Sweet Home turned back Stayton 28-10 as Cade Gaskey returned an interception 25 yards for a touchdown and added a scoring run. … Griffin Gardner ran for a touchdown and threw for a score as Sisters dropped Harrisburg 42-6 … Gilchrist pulled away from Eddyville Charter 44-25 in a six-man game behind Jaekob Spurlock, who threw five touchdown passes and ran for two scores. … Jefferson stopped a late two-point conversion attempt to preserve a 20-18 win over Culver. … Zack Cehrs rushed for 187 yards and three touchdowns on 19 carries to help West Albany defeat Corvallis 34-14.