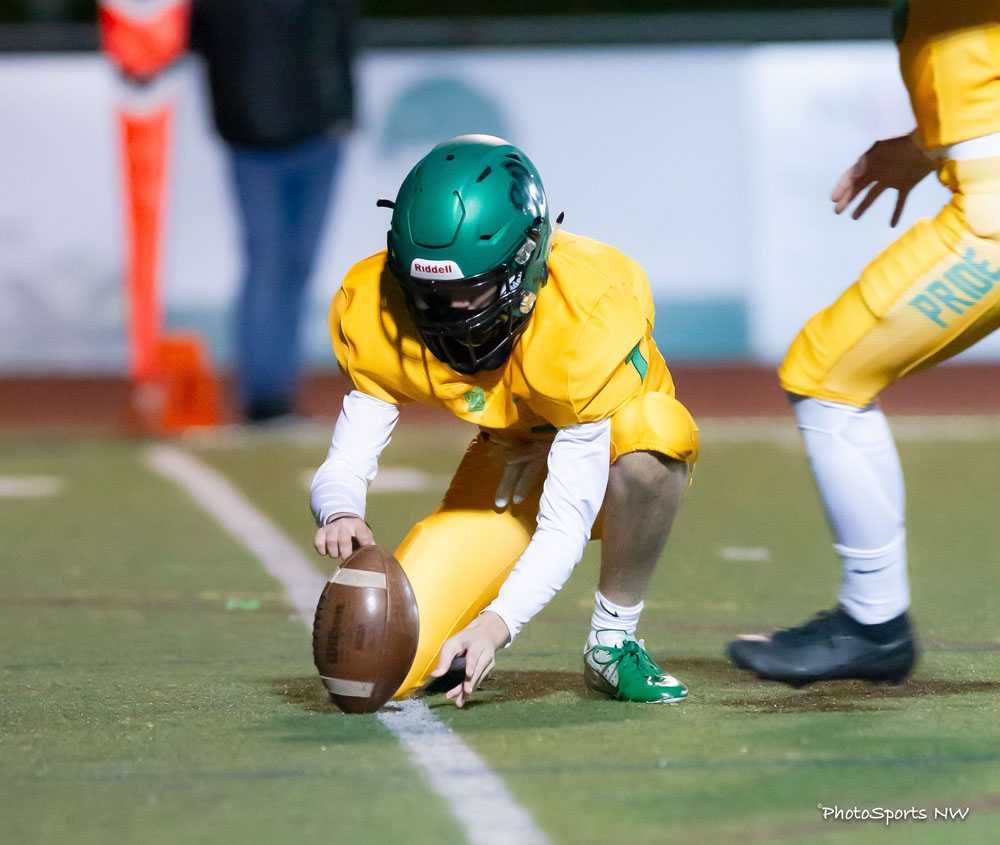 Every Friday night, we'll offer you PATs, a few nuggets from the night that was, along with some Thursday recaps.
Be sure to check out Jerry Ulmer's comprehensive Football Notebook, published Sundays, for an in-depth look at all of the weekend action from across the state.
Clay cashes in twice in first half for West Linn
Clay Masters caught two first half touchdowns from Blake DeBisschop and Mark Hamper added his first varsity score – an 80-yard run and catch in the fourth quarter – as West Linn throttled host Tigard, 35-15, to improve to 3-0 on the season.
Oakers felled by Dragons
Brody Ballard rushed 12 times for 186 yards with four touchdowns and Dylan Irwin added 109 yards on 10 carries in Monroe's 35-22 win over Oakland. Ricky Ramos led the Dragon defense with 14 tackles. Oakland's Corban Picknell ran for two shy of a century and scored a touchdown in the loss.
Mountainside peaks in Southridge win
Senior Andrew Simpson caught two touchdowns and also had a pick six in Mountainside's impressive 58-2 road win over Southridge. Southridge threw two interceptions, fumbled twice and twice hiked the ball over the punter's head to aid the Mavericks' cause.
Brushe, with greatness, helps Dallas double up Corvallis
Chase Brushe scored once, as did Jace Grillo and Conner Nash, in Dallas' 40-20 win over Corvallis. Ashton Foster pitched in with two TD tosses, one to Logan Person, who also ran for a score.
Brock totes the rock in Heppner win
Brock Hisler ran for a touchdown and Jayden Wilson ran for two more and threw one to Jackson Lehman in Heppner's 35-16 victory over Grant Union. Jace Coe added a pick six for the 3-0 Mustangs, who led 35-0 after three quarters. GU scored twice in the fourth quarter, as Devon Stokes ran for one score and threw for another.
Game is wild but deuce is not as Silverton holds off Marist
Joey Laing hit Hagen Stephenson from 20 yards out to pull Marist within two with 85 seconds remaining, but Silverton turned away the two-point try to take the 35-33 win. Caden Smith had three short TD runs for Silverton in the win.
Reyes a toast in Trojans' win
David Reyes scored in overtime to spark Kennedy's come-from-behind win over previously-unbeaten Salem Academy. Chase Brown scored both Salem Academy touchdowns.
Sheridan razzle-dazzles in win
Sheridan threw a 39-yard double-reverse pass for a second quarter score and made it hold up in a 14-6 over Colton in a game dominated by each team's defense.
Fresh faces lead Pilot Rock
Freshman Austin Ford had 160 receiving yards and two touchdowns and freshman Jace Otteson ran for 85 yards and another score in Pilot Rock's 30-24 win over Imbler, the Rockets' first victory of the season.
The "twelves" carry Stanfield past Umatilla
Stanfield shut out Umatilla, 20-0, despite dressing only a dozen players for the game. Enrique Arellano ran for almost a buck fifty and two scores and blocked a punt that produced the only other score for the victorious Tigers.
Newberg in the floe in shutout
Price Pothier ran for 129 yards and three scores, Owen Hawley caught two TD passes from Levi Durrell, and Hudson Davis had seven tackles and a sack in Newberg's 41-0 frosting of Glencoe.
Gold Beach not a flash in the pan in come-from-behind win
Gold Beach scored with five minutes left to turn a 22-20 deficit into a 28-22 win over Glendale in a game played on Thursday. David Lovaglio returned a punt 72 yards for a score and also caught a short touchdown pass for Glendale in the loss.
This Canby happening!
Tyler Mead scored on a 25-yard run and caught the two-point conversion to help Canby edge Cascade, 28-27, in two overtimes.
34 helps Falcons soar
Leading 7-6 over The Dalles at halftime, La Salle scored 34 points in the third quarter to make the game a runaway, 41-6, over the Riverhawks. Will Curran, James Menor, Brody Crowley and Riley Peterson all scored in the decisive quarter for the Falcons.
Boehler helps Century pin loss on Aloha
Zachary Boehler had three short scoring runs and Century scored a touchdown in every quarter to defeat Aloha, 28-13. A first-quarter kickoff return for 84 yards and a score from Adrian Mashia, Jr. was Aloha's big highlight.
Knights three scores pin L on Springfield
Gavin Knights rushed for three touchdowns, from 20, 40 and five yards, and Kellen Humphries returned a punt 58 yards for a score in Thurston's 41-6 road win over Springfield. Thurston's defense had three interceptions, forced three fumbles and held Springfield to 59 yards of total offense. Jesstin Troute, from 65 yards out, accounted for the Millers' lone TD.
Pay(dirt) for Peiffer 4x in Gladstone win
Sabastian Peiffer ran for four touchdowns and Mateo Burgos connected on a field goal in Gladstone's 31-0 blanking of Crook County.
Rangers kick up dirt in impressive win
Isaiah Schaffer scored three times on the ground to pace an impressive Estacada rushing attack that produced a 54-7 win over Molalla. Justin Lang had a sack and forced fumble and Caleb McDonald contributed a pick six for the Ranger defense.
Tualatin fixes Oregon trail
Scott Wright scored to clinch Tualatin's 42-33 win over Lakeridge. The Timberwolves trailed 21-0 late in the second quarter before rallying.
Vale can't cover for blocked PAT
La Grande edged Vale 20-19 on the road. The difference was a good conversion with six minutes left in the game. Vale had scored to go on top in the third quarter but had the extra point attempt blocked. Tanner Steele threw two touchdowns to John Wolfe and ran for another in the loss for the Vikings.
***
That's all we have time for tonight.
Be sure to check out Jerry's more comprehensive report on Sunday!