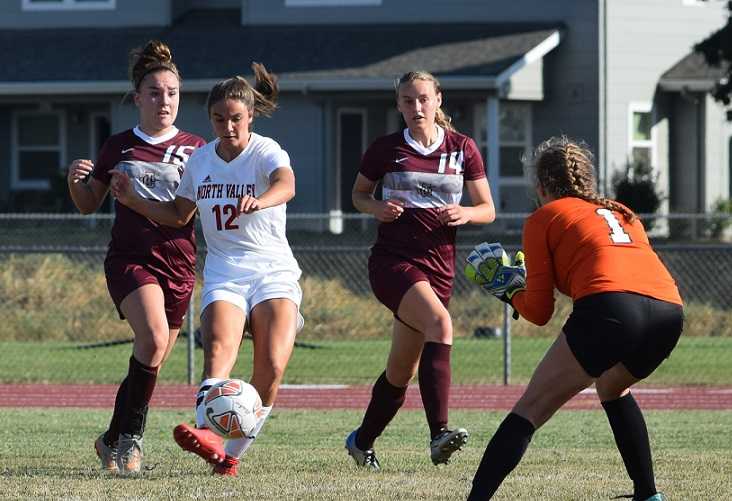 Baylee Touey, a senior on North Valley's top-ranked girls soccer team, joined elite company last week when she became the seventh player in state history to reach the 100-goal plateau.
Touey scored three goals in Thursday's 4-0 win over Klamath Union to push her career total to 101. She is tied for fifth place all-time with Gladstone's Amber Jensen, trailing only Hillsboro's Tiffeny Milbrett (131), Westside Christian's Laura Staropoli (117), Scappoose's Ariel Vier (116) and Jesuit's Laura Schott (116).
Tualatin's Anna-Marie Popma (100) is the only other player to reach the milestone.
The historic feat is nothing new for Touey, who has won eight 4A track titles in the sprints. She won the 100, 200 and 400 meters at the state meet the last two years, clocking 12.11 seconds in the 100.
"Baylee is a tremendous athlete," North Valley soccer coach Paul Kelly said. "Even more so than that, she's an amazing person. You would think someone that scores 101 goals would be very selfish, but she actually does her best to help her teammates."
Last week, Touey broke the school record of 96 career goals, set by Malloree Enoch, a 2002 graduate.
Touey scored 10 goals as a freshman midfielder before moving to forward. She scored 31 goals as a sophomore, helping the Knights to the state title, and had 34 goals as a junior. She has 26 goals this season for the Knights (9-0), including a career-high six-goal game against Junction City.
"She's had a good team around her," Kelly said. "It's not like she's been out there all along doing it by herself. But there are times in a game when she will, and you can just see the change in her demeanor, and know that nobody's going to stop her."
Touey, who has 26 career assists, continues to produce despite opponents stacking their defense against her.
"This year, specifically, we've seen teams playing five and six back, and she still gets a goal or an assist, or both," Kelly said. "She's really the epitome of everything you want as a coach in a soccer player, not just with her technical and tactical ability, but with the personality element of bringing her teammates with her."
Touey has yet to decide on her college future. She made an official visit to Oregon State for track and one to Southern Oregon for track and soccer.
Kelly expects her to stay in Oregon for college because she is very family-oriented. She has two sisters on the team at North Valley, junior midfielder Kaylee and freshman defender Karlee.
"This is the first year that all three of them have been able to play on the same team," Kelly said. "It's very special for them."