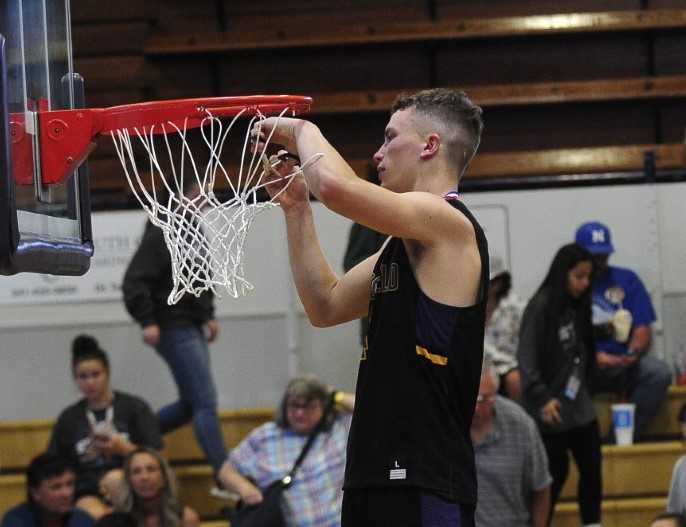 Host Marshfield rode an at-large berth to the championship of the 4A Showcase boys basketball tournament.
Junior Mason Ainsworth scored 29 points as the Pirates defeated Cascade 60-54 in the final Friday. Marshfield (12-4) also got 15 points from junior Dom Montiel and 10 points from junior Pierce Davidson to hold off the Cougars (13-3).
Marshfield's only state championships came in 1947 and 1953.
"It's just surreal," Montiel said. "We've been dreaming about this since we were kids."
Marshfield finished tied for second in the Sky-Em League behind Junction City but received one of two at-large berths into the eight-team bracket. The Pirates knocked off Gladstone 61-47 to reach the final four on their home court, where they rallied from a 13-point, first-half deficit to beat Woodburn 54-47 in the semifinals.
The Pirates trailed Cascade 20-12 before going on a 13-0 run to pull ahead and held a 31-27 edge at half. The Cougars rallied late in the third quarter to take a 48-47 lead entering the fourth quarter.
Montiel scored back-to-back baskets to put the Pirates ahead 54-52 with 2:42 left. Ainsworth hit two free throws to make it 58-54, and the Pirates held on.
"There was never any doubt in my mind we were going to come back and win," Marshfield senior Noah Niblett said. "It feels amazing."
Senior guard Carson Molan scored 20 points and junior Kellen Sande added 11 points -- playing through a broken hand suffered in the second quarter -- to lead Cascade (13-3). The Cougars reached the final by topping Klamath Union in the quarterfinals and Banks in the semifinals, two previously unbeaten teams.
3A
Yamhill-Carlton came back from an 11-point halftime deficit to outlast Cascade Christian 52-48 in the championship game of the 3A culminating week tournament at Marshfield on Friday.
Sophomore Moroni Seely-Roberts made 13 of 18 shots and finished with 31 points, 14 rebounds, five steals and two assists for the Tigers (13-4). His twin brother, Malachi, had 19 points, six rebounds and three assists. Senior Trey Richmond accounted for Yamhill-Carlton's other two points.
The Tigers outscored Cascade Christian 19-9 in the third quarter to draw within 41-40. They took a 44-42 lead early in the fourth quarter, and Malachi Seely-Roberts scored on a short jumper to make it 52-48 with about two minutes left.
"We were kind of playing scared and intimidated in the first half," Yamhill-Carlton coach Heather Seely-Roberts said. "I kind of ripped them a little bit at halftime, like, 'C'mon, you guys said you wanted to win this.'"
Yamhill-Carlton, which won its only state championship in 1992, is on the rise. The Tigers went 4-21 in 2018-19 in Seely-Roberts' first season as coach and finished 16-11 last year, losing in the first round of the state playoffs.
"We've made incredible strides in three years," Heather Seely-Roberts said. "Three years ago, we didn't even beat a 3A team."
Cascade Christian (13-1), which lost to Oregon Episcopal 35-33 in the 3A final last year, got 16 points from senior Levi Marincus and 14 points from senior Matt McPheeters.
Challengers standout freshman Austin Maurer (6-9) did not play in the tournament due to an injury.
1A
Nixyaawii led by as many as 30 points in the fourth quarter of its 50-29 win over Damascus Christian in the final of the 1A culminating week tournament at Baker on Thursday.
It was payback for the Golden Eagles (15-1), who were going for a repeat state title last year but fell to Damascus Christian 61-53 in the state semifinals. Damascus Christian (12-1) suffered its first defeat of the season.
Senior Tyasin Burns had 16 points, five rebounds and five assists, senior Dakota Sams had 12 points, eight rebounds, six assists and two blocks and senior Ruger Deming added 10 points, seven rebounds and four steals for Nixyaawii. Burns and Sams were selected first-team all-tournament.
"Damascus played a 2-3 for three quarters to try to slow us down, which made us work for good shots," Nixyaawii coach Ryan Sams said. "But we matched them on the defense by pressing and our tenacious man-to-man."
Girls
4A
Senior post Kaiah Fisher had 21 points and 13 rebounds to lead Hidden Valley past Philomath 44-39 in overtime in the final of the 4A Showcase on Friday at Marshfield.
Junior guard Teryn Powers added 12 points for the Mustangs, who finished with a 13-0 record. Powers made three three-pointers, including a tiebreaking shot in overtime.
Senior post Mia Rust had 18 points for Philomath (13-2). Sage Kramer, the Warriors' high-scoring junior wing, was held to eight points, with only two coming after halftime.
Hidden Valley coach Joel Jessee credited the defense of Powers and senior forward Jaaden Steele with holding Kramer in check, calling them the best defensive players in the state.
"We've been a defensive team," Jessee said. "To be able to shut down the best player in the state to only eight points with overtime is what we are about."
Hidden Valley avenged a 62-49 regular-season home loss to Philomath last season, when both teams advanced to the final eight before the 4A tournament was canceled.
3A
In a rematch of last year's 3A final, two-time reigning 3A champion Clatskanie turned back Sutherlin 55-44 in the championship of the 3A culminating week tournament Friday at Marshfield.
The Tigers (13-0) outscored Sutherlin 13-5 in the second quarter to open a 26-16 lead at half and held on for the win. It was the same winning margin as last year, when Clatskanie beat the Bulldogs 51-40.
Senior post Shelby Blodgett had 20 points, 17 rebounds, 10 steals, four assists and three blocks for the Tigers, making 8 of 9 free throws. Senior guard Olivia Sprague had 16 points, nine rebounds, 10 steals and four assists. Junior guard Cloee McLeod added eight points.
"We were able to grit it out and get a big win," Clatskanie coach John Blodgett said. "It was a tough, physical game, and I think we were the tougher team tonight. It wasn't always pretty, but we accomplished what we set out to do – win."
With Blodgett and Sprague leading the way, Clatskanie went 80-12 in the last four seasons. They also were catalysts for the softball team, which won the 3A title in 2019 and finished first in the 3A Culminating Week Tournament this year.
Sophomore guard Micah Wicks scored 19 points to lead Sutherlin (13-1), which committed 25 turnovers. Senior guard Jadyn Vermillion and senior center Amy Dickover added 13 and 11 points, respectively.
1A
Reigning 1A champion Crane finished off a dominant season by throttling Country Christian 75-54 in the final of the 1A culminating week tournament Thursday at Baker.
The Mustangs (13-0) cruised through the 16-team tournament, winning four games by an average margin of 34.8 points. They went 29-0 last season.
"Our athleticism and speed was our advantage against the bigger teams and quickness," Crane coach Stub Travis said. "The girls played well together."
The Mustangs made 13 three-pointers against Country Christian (15-2). Junior guard Kelsie Siegner had 18 points and 10 rebounds, junior Skye Miller added 16 points and five rebounds and freshman Kortney Doman added 15 points and 10 rebounds.
Siegner and senior Shelie Doman were named first-team all-tournament.