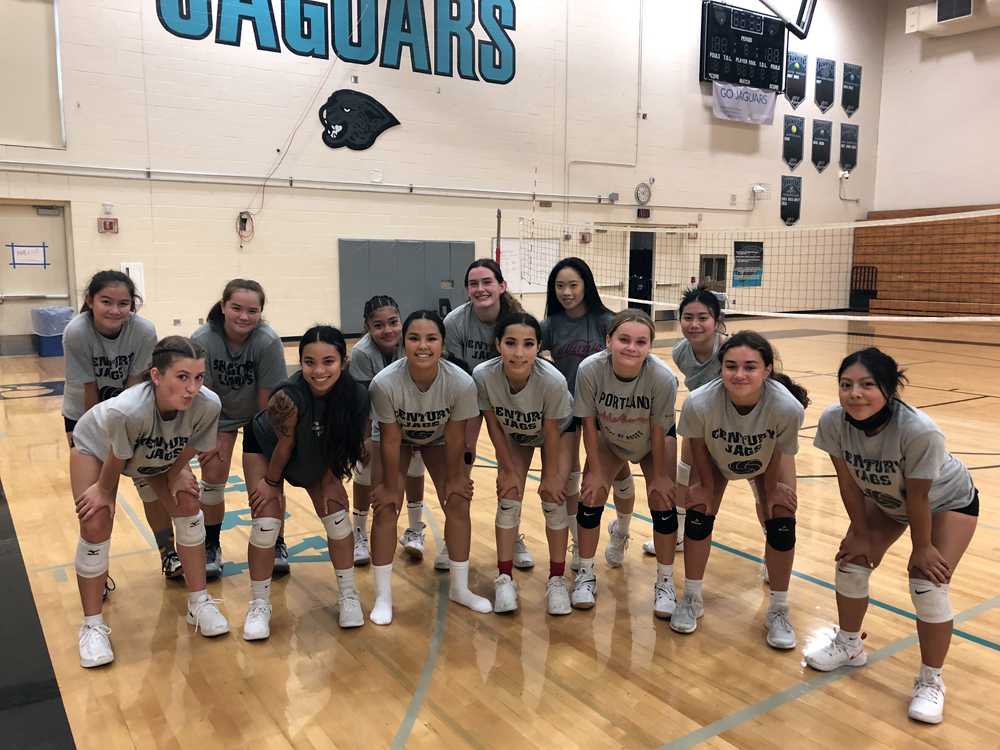 Welcome to the first Oregon high school volleyball notebook of the 2021 season. It feels good to be writing this in late summer rather than early March. This feels right; this feels normal. These fingers are crossed for a normal-type season through the state tournaments on Nov. 5-6.
Tournaments!
The season's opening weekend saw several tournaments scheduled and almost all completed. Newport's event was canceled over COVID concerns, but other events went on without a hitch, from Bend to North Powder to the Greater Portland area.
Jesuit, ranked No. 1 in last week's OSAAtoday 6A coaches poll, dominated the Southridge Tournament. The Crusaders graduated a lot of talent off of last year's undefeated squad, but much remains. The team moved senior Hannah Nguyen out of the back row and into a setting position and she did a nice job connecting with a talented group of attackers, which included Izzy Patterson, Tess Masingale, CeAnna O'Loughlin, Avery Pickard and Lilly Lansing. Freshmen setters Hayden McGehee and Jackie Carle also saw time and did nice jobs. Libero Maisie Alexander, a four-year starter, was her usual consistent self in the passing and defending departments.
"I felt like we got better with each match we played," coach Teresa Zimmerlee said.
Scary thought.
Oregon City was not among the 17 teams listed in the 6A coaches poll, but probably will be in two weeks' time. The Pioneers reached the championship match at Southridge, scoring wins over 6A No. 10 McMinnville and 4A No. 1 Valley Catholic, among others. OC lost to Jesuit in two in the final, but "put up a good fight," coach Erica Frafjord said.
The Pioneers had strong offensive performances from outside hitters Emma Pruitt, Emma Cereghino and Paige Thies. Middle blocker Olivia Adamo dominated on the net both offensively and defensively. The defense, anchored by libero Samantha Keightley and DS Dimitra Protopapas, also did well.
"It was a great beginning to what is looking to be a very exciting season for the Pioneers," Frafjord said.
Crescent Valley may be better than its No. 11 rankings in the 5A coaches poll. The Raiders made it to the semifinals at Southridge, where it lost to Oregon City. CV even took a set off of Jesuit in pool play! Belle Jacobson and Madison Heagney led the way in kills for Troy Shorey's team. Heagney and Kam Mitchell paced the offense as setters and Kara Patterson and Dani Street were terrific in the back row.
Century captured the Consolation Bracket at Southridge with wins over the host school, league foes Glencoe and Liberty.
Strong passing keyed Century's success.
"We had some key passers in senior libero Neveah Baccay, junior Tehya Militante and freshman Tehani Militante," head coach Melissa Salness said. "These three are forces to be reckoned with, proving they are strong individually and strong as a core group of passers. All three of these players were hustling, making smart decisions, and passing at a high percentage."
Century also had good performances from senior setter Brooke Johnson, an effort player; pin hitters Samarea Barber and the Militante sisters and efficient middles Kimy Anderson and Kiomi Tanakura.
***
Bend may be the team that challenges Jesuit in 6A this season. The very tall Lava Bears, ranked No. 4 in the 6A coaches poll, captured the Mountain View Tournament on Saturday, sweeping No. 10 Sheldon and 5A No. 3 Ridgeview in bracket play for the title.
"We worked on connecting setters with hitters," noted head coach Kristin Cooper. "I was really proud of our serve receive, which allowed us to run an offense and get our big hitters with sets on the net."
Chloe LeLuge, a 6-3 sophomore transitioning from middle to the outside, had a big day with 35 kills, 18 of which came in bracket play (4.5 kills per set). Abby Francis, a 6-2 lefty on the right side, totaled 26 kills for the day. Marley Hardgrave, a 6-4 senior middle, added 23 kills.
***
2A No. 9 Grant Union captured its own tournament, defeating Jordan Valley in the championship match.
"The team came to play this weekend," said head coach Shanna Northway. "They all played well, played as a team, had high level communication, and played with incredible intensity and energy throughout the entire tournament. We have an outstanding group of girls this year who have some amazing chemistry. We have four returning seniors who have stepped up as leaders."
Serving was key to the Prospectors' winning 10 straight sets in the tournament. Senior Grace Taylor and freshman Addy Northway led the way. The team also defended well, led by senior libero Lauryn Pettyjohn; and hit well, paced by Taylor and Paige Gerry. Senior middle Carson Weaver also was a catalyst, as she got her mitts on all kinds of stuff attempting to come back over the net.
***
Burns, No. 2 in 3A, went 4-0 to win the Lakeview Tall-Man Tournament. The event was a five-team round robin. La Pine went 3-1 to place second.
OSAAtoday asked Lakeview coach Anneke Griffith to explain how it came to be known as the Tall-Man Tournament.
"Lakeview has signs at its entrance with a cowboy that is called the 'tall-man,'" she explained. "It came about because Lakeview is (or was) the 'tallest town in Oregon,' with an elevation of 4800 feet."
***
Powder Valley, ranked fourth in 1A, captured its own tournament. Oregon Episcopal school won its event. Southwest Christian prevailed in an event hosted by C.S. Lewis Academy and Warrenton apparently captured its own event. We sought reports from all of these venues without success…
Crook County outlasts Burns
Thursday saw Crook County, No. 5 in 5A, knock off Burns in a season-opening tilt featuring two of the best teams east of the Cascades. Set scored were 25-22, 20-25, 25-21, 25-23.
The victorious Cowgirls served 92 percent as a team with 13 aces and got 21 digs from sophomore libero Jaycee Villastrigo and 22 kills combined from McKenzie Jonas and Josie Kasberger.
"It was great to play a quality team out of the gates and probably more beneficial for all of our teams than a jamboree," Crook County coach Kristy Struck noted.
Odds and ends…
Century has two sets of sisters on its varsity and three sets of sisters in the program as a whole…It's been a few years since Marshfield was a state contender, but the Pirates have a bright future building around cornerstone freshmen Tatum Montiel, a 5-10 outside; and Ava Ainsworth, a 6-0 S/RS…Valley Catholic won state in 4A back-to-back in 2018 and 2019. The Valiants will rely heavily on jumping jack outside Naima Foster in their quest to win again. Foster stands 5-9 and will be the tallest player in the rotation for head coach Becky Kemper, who will need to replace graduated standout middles Maddie Klopcic and Gretchen Kibbe…
Beaverton graduated nine seniors off of last year's squad. Senior Skylar Teixiera, a 6-1 middle, is the lone returning starters for the Beavers, who have two precocious freshmen, Kaarina Geymann (lefty S/RS) and Destiny Hernandez (OH), who should be four-year impact players at the school…Summit has to replace impact middle Harper Justema (Columbia University), but is otherwise loaded with six returning impact players, led by senior setter Kate Doorn. New coach Ban Tat said that the Storm should make a run for the Mountain Valley title…The tandem of Charli King and Genna Robinson makes Weston-McEwen a competitive 2A program again in 2021. The TigerScots have missed the state playoffs only once since 2004…
Lowell, No. 7 in the 2A coaches poll, graduated just one from last year's 10-2 team. While losing league POY Lucy Plahn is significant, the Devils bring back four all-league players: MB/S Lydia Plahn, libero Annabelle Pickett, OH Alexis Curry and OH Esperanza Guzman-Fields. Lowell has a real shot at the final eight if it plays to its potential, coach Kristen Prenevost said…Milwaukie volleyball has struggled historically. Interest is picking up, however. Coach Carol York, in her third year, said the Mustangs had so many girls try out that they created a fourth team! Middles Kora Botta and Ava Bondo are players to watch…Cascade went 15-1 in the spring and finished second in the 3A Culminating Week tournament. The Cougars graduated five starters, however, and will rely heavily on freshmen and sophomores growing up quickly if they are to have sustained success. Sophomore Maddi Carter, a 5-7 outside, is the only experienced player back…
Central Catholic will need to replace the production of Kealani Rosa and Makenah Jackson to have a typical contending season in 6A. The Rams will build around seniors Elliott Bush, Lauren Stemple and Renee Tassin as well as juniors Mia Starr, Sofia Cooper and Alycia Wilson…Gaston was ranked fifth in 2A to start 2021 but might have deserved even better. The Greyhounds, who were 11-2 last spring, graduated no starters. Gaston is a scrappy defensive team led by Anna Wismer, Mackenzie Berger, Lexi Fern and Maya Rosenberg…Crosshill Christian had four straight quarterfinal appearances in the 1A tournament between 2016 and 2019, but graduation hit the Eagles hard. The 2020 season, played in the spring of 2021, produced zero wins. First Team All-League senior OH Hope Witham returns for Julie Bennett's team, which remains young and inexperienced. The squad will be better than it was in the spring, that's for certain…
South Salem went 12-0 during the spring. Coach Matt Leichty knows that the Saxons will have targets on their backs heading into the fall. The team graduated two, but returns a wealth of talent, including senior setter Laila Leaks, senior OH Areya Watanabe and 6-3 senior middle Brookelyn Worst…The opening of Nelson HS means that perennially strong Clackamas is probably rebuilding. The Cavaliers lost their coach and a majority of players to the new district school. New coach Nathan Blankenship, who was at Wilsonville previously, has seniors Leah Agost and Kendal Ishida as foundational players...