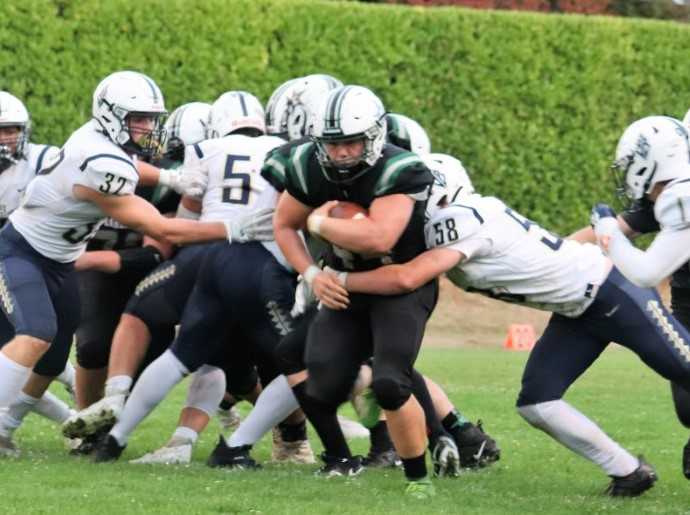 Heading into the season, Estacada's vital signs pointed toward the Rangers having one of their better teams in a while.
They returned the bulk of their starters after finishing 5-1 in the spring, including their entire offensive line and most of their skill players. They believed they could contend in 4A, but had much to prove against the state's best teams.
Estacada, No. 5 in the OSAAtoday 4A coaches poll, got some confirmation Friday night when it rolled to a 33-7 home win over No. 3 Banks.
"At times, we've struggled to win big games, or when we've had big matchups, especially in the preseason, in the past," Rangers coach Andy Mott said. "So this was a huge win to see where we're at. They're one of the top teams in the state, so it was good to have an early-season matchup with a very good team like them."
Estacada rushed for 378 of its 403 yards. The offensive line – junior tackles Cody White and Andrew Turner, junior guard Dominic Nacoste, senior guard Devin Gotchall, junior center Mariano Martinez and junior tight end Mark Youngberg – controlled the line of scrimmage.
"They're physical, and we have size," Mott said. "The trenches is one of our strengths."
Junior quarterback Cory James rushed for a team-high 96 yards and one touchdown and 220-pound junior Waylon Reidel hammered for 77 yards for the Rangers (2-0).
Estacada led 21-7 at half and held potentially explosive Banks (1-1) at bay the rest of the way. Reidel had 7.5 tackles, including a sack and a tackle for loss. Turner also applied constant pressure on Braves senior quarterback Cooper Gobel, making him uncomfortable in the pocket.
"Their QB is a heck of a player and they've got some guys that can catch and run, but we were able to hold them down a little bit," Mott said. "We tried to keep everything in front of us and rally to the ball."
The schedule doesn't get any easier for the Rangers. Up next is a home game against co-No. 8 Seaside (2-0), which has outscored opponents 103-0. Then they visit co-No. 8 La Grande (1-0) before opening Tri-Valley Conference play at home against No. 7 Gladstone (1-1).
"If we can survive that, we're going to be in good shape," Mott said.
West Salem grinding out wins
Everyone knows about West Linn and Sunset, but there's another 6A team that has not lost in the 2021 calendar year. That's right, West Salem.
The Titans have followed a 6-0 spring by winning their first two games, beating Newberg 34-29 in their opener and going on the road Friday for a 42-20 victory over Grants Pass.
After graduating an outstanding class this year, West Salem entered the season with modest expectations but is feeling good about the progress it is making with a new cast of characters.
"They're so inexperienced, I couldn't really tell you their identity," coach Shawn Stanley said.
Stanley is pleasantly surprised with the development of the offensive line. The Titans lost four starters from last season's line -- including Holden Whipple, who moved on to Northern Arizona – but the new crew is becoming a cohesive unit.
"Our O-line has been really efficient," Stanley said. "They're not the 6-3, 290-pound Holden Whipples, but they're great technicians. A couple of them weren't even starters when they were freshmen. They just kind of built their bodies, waited their turn."
Senior guard Aydan Watson, the lone returning starter, is joined up front by senior tackles Jaiden Dunton and Aidan Hussey, senior guard Triston Smith and senior center Jeremiah Pinkerton. They paved the way for 368 rushing yards Friday against Grants Pass.
"We kind of took over," Stanley said. "We got the lead and kind of grinded the clock. We did the same thing the week before. It was good to see. We've been playing quite a few kids, and it felt like the last couple games we kind of wore teams down at the end."
West Salem graduated star tailback Nate Garcia, but his backup in the spring, senior Hudson Giertych, has rushed for 228 yards and three touchdowns in two games. Giertych and senior Johnny Withers rushed for 157 and 117 yards, respectively, on Friday, each scoring twice.
"These guys now just run hard," Stanley said. "Nate was smooth. He was physical in his own way, with good balance. These guys are just kind of relentless, scrappy, don't go down with easy tackles.'
Senior Brooks Ferguson (6-6, 230) has replaced Jackson Lowery (now at Linfield) at quarterback. He has benefited from the return of senior receiver Zach Dodsen Greene, who missed the spring season with an injury but caught six passes for 170 yards and three touchdowns in his first game back.
"He's probably the best receiver we've had as far as route running, body control," Stanley said of the 6-2 Dodsen Greene.
The Titans, No. 10 in the OSAAtoday 6A coaches poll, meet rival South Salem (2-0) in their Greater Valley Conference opener Friday. Then they visit No. 4 Tualatin (2-0).
"We'll find out a lot about ourselves," Stanley said. "If we stay healthy, I think we can be really good. Now, relative to the Tualatins, the Central Catholics and West Linns, I guess we'll see."
Marshfield maestro
Marshfield senior quarterback Dom Montiel, who led 4A in passing yards (1,711) and touchdown passes (22) in the spring, has taken his game up a notch this season, according to Pirates coach John Lemmons.
"He's becoming more of a commanding leader in practice and on the field," Lemmons said. "He's starting to understand the important of moving the chains and taking what the defense gives you, instead of just throwing long bombs. He's maturing as a young man, as a leader, and as a quarterback."
In Friday's 57-6 win at 5A Churchill, the 6-3, 190-pound Montiel set career highs for passing yards (422) and touchdown passes (five). In two games, he has thrown for 752 yards and nine touchdowns for the Pirates (2-0), who are No. 1 in the OSAAtoday 4A coaches poll.
"He's very intelligent," Lemmons said of Montiel, a third-year starter. "He's a fierce competitor. And he really has a gift for getting away from pressure, escaping at times when a lot of quarterbacks would get sacked."
Montiel also is a bit of a gunslinger.
"He has a little wicked sidearm when he needs to throw it at times, when he's under pressure," Lemmons said. "He can sling the ball sidearm pretty darn good. And he can throw on the run really well."
Montiel, a member of the Marshfield basketball team that won the 4A Showcase last season, also is becoming more of a threat to run the ball.
"I noticed it last season in basketball," Lemmons said. "He went to the hole strong, and with a lof of ferocity, and I'm just kind of seeing that running the football this year, as well."
Montiel benefits from a talented cast of senior receivers that includes Pierce Davidson, DJ Daugherty, Maddux Mateski and Mason Pederson, as well as senior running back Ezra Waterman. Daugherty had a team-high 10 touchdown catches in the spring and leads the team with four this season, three of them coming Friday.
Lemmons said that Montiel is drawing interest from small colleges, including Linfield, and some Big Sky Conference schools.
"I'm not quite sure if he's a Division I quarterback, but I think potentially if he keeps growing and learning, he could potentially be a Big Sky quarterback," Lemmons said.
Heppner keeps streak alive
Reigning 2A champion and top-ranked Heppner needed some late-game heroics to extend its winning streak to 20 on Saturday against visiting Warrenton, ranked No. 8 in 3A.
The Mustangs trailed 12-7 in the fourth quarter before Landon Mitchell threw a 14-yard touchdown pass to Kason Cimmyotti to take the lead with 1:52 left. Brock Hisler ran in the two-point conversion to make it 15-12.
Warrenton's last bid was thwarted when Cimmyotti intercepted quarterback Hordie Bodden Bodden.
Mitchell had two touchdown passes, the other a 33-yard strike to Zander Fisher. Bodden Bodden completed 17 of 39 passes for 184 yards and ran for 79 yards and two touchdowns, but the Warriors failed to convert after their scores, ultimately costing them the game.
"It really was that close," Heppner coach Greg Grant told the East Oregonian. "We dodged a lot of bullets. We would move the ball and struggle. My kids are resilient and they never give up."
The game was a rematch of a 2019 quarterfinal, won by Heppner 32-7. Warrenton moved to 3A in the spring and went 5-0.
Challengers unchallenged
The season has started with a thud for Cascade Christian, the No. 1 team in the OSAAtoday 3A coaches poll.
One week after leading at La Pine 7-0 at half, then having the game canceled because of poor air quality, the Challengers were forced to cancel a Week 2 showdown against 4A No. 6 Mazama due to a positive COVID case in their program.
Cascade Christian learned about the case last weekend and the players went into quarantine. Instead of practicing, coaches and players met online to break down video.
"It's tough, but that's the way it is," Challengers coach Jon Gettman said. "Those things aren't in our control, so you just go with what you can do. We'd take any work right now just to be able to go out. But the kids are resilient. They just go with the flow."
Since the official start of practices, Cascade Christian has had only two sessions on its field.
Due to poor air quality from nearby wildfires, the team spent the last two days of the first week practicing at North Valley, 33 miles away. The Challengers also spent several practices in the school gym, waiting until 6 p.m. to start.
"We've had to sh ift practices all around, but the kids and the parents have been awesome about it," Gettman said.
Provided the players come back from quarantine with no symptoms, the team plans to return to practice Monday in preparation for a Week 3 game at Yreka (Calif.).
The Cascade Christian-Mazama game would have matched teams that went unbeaten in the spring. Mazama filled the void with a road game against 5A No. 7 Crater, which it won 42-14.
The Challengers are scheduled to play host to 4A No. 2 Marist Catholic on Sept. 24. They lost two dates when Douglas and Brookings-Harbor shut down for the season, but picked up games at Siuslaw (Oct. 1) and Springfield (Oct. 15).
With new starters at 15 positions, and only four seniors on the roster, Cascade Christian is eager for its young players to gain experience. Fortunately for them, four of their offensive linemen played in the spring as sophomores.
"We're kind of backwards from where we've been in the past," Gettman said. "Usually we're really good with our wide receivers and throwing the ball around, and our offensive line was sometimes smoke and mirrors. We feel like we're strong there, and we're trying to work through the other aspect."
All-female crew
History was made Friday night at Hare Field, where an all-female officiating crew worked the Hillsboro-Glencoe rivalry game.
The six women in the crew included three from the Portland Football Officials Association and three from college associations. The idea was hatched when one of the PFOA members – part of an internet group chat for female football officials -- connected with three women who were coming to Oregon this weekend to work college games.
Carl Haessler, the PFOA commissioner, coordinated the effort. The college offficials arrived in Oregon earlier than previously planned to be part of the historic crew.
"I said, 'You know what, let's let people see that women can officiate football, and they know what they're doing,'" Haessler said. "It's a good thing that women and girls can see that they can be football officials."
The PFOA members were umpire Jeana Fisher, head linesman Mary Harvill and back judge Rebecca Brisson. The college officials were referee Cat Conti (Mountain West Conference), line judge Amy Pistone (Missouri Valley Conference) and center judge Kim Bly (Southern California Conference).
Haessler said he hopes to put together an all-Oregon female crew. The three PFOA officials are the only women in the association cleared to do varsity games, although others are in training.
"I think we could get three or four women together and run them down to some other part of the state with one or two officials," Haessler said. "I don't want this to just be a Portland thing. I think it would be appropriate if the first all-Oregon female crew was somewhere other than Portland. That's what I'm gunning for."
Haessler is in his second season as PFOA commissioner.
"One of the things I want to do is find ways to make it fun for officials," he said. "I'm trying to come up with new and different things."
Glencoe defeated Hillsboro 35-0.
Highlights from Week 2:
6A
Payton Roth ran for two first-quarter touchdowns in Jesuit's 17-7 win over Tigard. … Chase Harmon threw five touchdown passes, two to Barret Brundage, as West Linn handled North Medford 49-7. Brundage also threw a scoring pass. … Logan Ready's 43-yard field goal in overtime gave McNary a 17-14 win over Newberg. … Roosevelt got five touchdown passes from Imarion Kelly in beating La Salle Prep 59-0. … Sunset won 45-7 over Southridge, scoring all of its points in the first half. Grady Newsom threw for 247 yards and three touchdowns and Caleb Kim rushed for three scores. … Sandy's Garrett Willenberg, Payton Giusto and Hayden Thomas combined for five touchdowns in defeating Centennial 45-14. … Jacob McBreen returned two interceptions for touchdowns as Westview ran away from Mountainside 49-16. … Lake Oswego got four touchdown passes from Jack Layne in beating Sherwood 48-20. … Down 20-13 after three quarters, South Salem beat Lebanon 29-20 as Daschel Smith threw two of his three touchdown passes in the fourth quarter. Smith threw for 287 yards. … Forest Grove built a 24-0 lead at halftime over McMinnville – getting a 70-yard interception return for a touchdown by David Johnson – and held on to win 24-21. … Roseburg blitzed to a 37-0 halftime lead – getting four touchdown runs and 122 yards from Cayden Eckel – and defeated Mountain View 37-7. ... Jake Reichle ran for more than 100 yards and two touchdowns and had two interceptions to help Lakeridge defeat Jefferson 41-6. … Malik Ross rushed for 130 yards and one touchdown, returned a kickoff 86 yards for a score and had the game-clinching interception at the 1-yard line with 30 seconds left in Tualatin's 35-28 win over Silverton. … Cru Newman threw three touchdown passes for Central Catholic, which dropped David Douglas 55-2. … Clackamas won 38-30 at Camas (Wash.) behind Miles Williams, who caught a touchdown pass, returned a punt for a score and had a game-sealing interception. … Quarterback Royce Fasel led Glencoe's 35-0 win over rival Hillsboro by rushing for 212 yards and one touchdown on 20 carries and throwing for a score. ... Bend's Malakai Nutter rushed for 231 yards and four touchdowns on 33 carries as the Lava Bears shook off a 14-0 deficit to beat South Medford 41-27.
5A
Chase Hix threw four touchdown passes and ran for another to lead Wilsonville past Pendleton 35-19. … West Albany escaped Canby 17-14 as Michael Cale threw a touchdown pass and ran for a score. The Bulldogs held Canby to 201 total yards. … Tyler Seiber had 11 carries for 119 yards and three touchdowns to spark South Albany to a 48-21 win over North Salem. … Sidon Green ran for four touchdowns for North Bend, which topped Ashland 27-6. … In Dallas' 34-6 win over Wells, Logan Person rushed for 130 yards and two touchdowns and Kolby Johnson-Sallee caught two touchdown passes from Ashton Foster. … Putnam rallied from a 21-7 deficit to beat rival Milwaukie 23-21, getting two touchdown catches from Zack Creswick. … … Shaw Burns scored three touchdowns for Hood River Valley, which pulled away in the second half to beat Scappoose 39-21. … Eagle Point defeated Springfield 24-7 as Jimmie Copeland caught six passes for 132 yards and one touchdown.
4A
Marist Catholic throttled Tillamook 42-6 as Lucas Tuski rushed for 274 yards and four touchdowns. … Cascade thumped Elmira 74-0 as Blake Lewis, Lance Van Hoose and Jacob Hage combined for seven touchdowns. … Mazama bounced back from an opening loss to dominate 5A Crater 42-14 as Zeke Heaton rushed for 252 yards and four touchdowns on 40 carries. … Seaside led 41-0 at half and cruised past Newport 48-0, holding the Cubs to 55 total yards. Lawson Talamantez rushed for three touchdowns on four carries. ... Stayton led 42-0 at half on its way to a 49-0 win over Phoenix, which finished with 44 total yards. Nick Frith had two touchdown catches and returned a punt for a score.
3A
Tanner Steele threw two touchdown passes to John Wolfe and ran 88 yards for a score in the final minutes to lift Vale over La Pine 20-14. … Philomath edged Blanchet Catholic 27-25, getting the go-ahead score in the fourth quarter on a 42-yard pass from Caleb Jensen to Ty May. … Dayton turned back Yamhill-Carlton 46-14 behind Nate Arce (15 carries, 115 yards) and Kyle Troutman, who had two of the team's four interceptions. … South Umpqua's Jace Johnson threw five touchdown passes, two each to Isaac Deal and Andrew Christensen, in a 48-0 win over Pleasant Hill. … Rainier blasted Scio 36-8 as Kenney Tripp rushed for 162 yards and two touchdowns and passed for 113 yards and two scores. … Adan Diaz scored on runs of 41 and 59 yards for Sutherlin in its 14-6 win over Oakland. The Bulldogs sealed the win with a goal-line stand with about two minutes left.
2A
Brody Ballard had 14 carries for 145 yards and two touchdowns, including a two-yard score in overtime, to carry Monroe past Santiam 34-28 in overtime. Ballard threw two touchdown passes to Trent Bateman, who also returned a kickoff for a score and had 17 tackles. Trenton Stanford rushed for 215 yards and three touchdowns for Santiam. … Lakeview trailed Modoc (Calif.) 20-7 in the fourth quarter but got two touchdown passes from Greg Havely – the go-ahead score to Gavin Patterson – to prevail 27-20. … Umatilla's Kaden Salamanca threw four touchdown passes, two to Ramiro Alvarez, in a 40-0 win over Irrigon. … Stanford blanked Culver 34-0 as Hobs Hurty ran for 137 yards and two touchdowns on eight carries. ... Glide topped Lowell 42-21 behind Dylan Ackerman, who ran for 180 yards and three touchdowns and passed for 230 yards and two scores. Colby Bucich had nine catches for 200 yards and two touchdowns and had an interception for Glide.
1A
Lance Tuck passed for three touchdowns and ran for a score to lead St. Paul to a 48-0 win over Days Creek, which was limited to 78 total yards. ... Myrtle Point rallied from a 22-6 deficit to beat Bonanza 44-22 behind Tanner Mestas, who ran for two touchdowns. … Pilot Rock dispatched Enterprise 36-32 as Jace Otteson threw three touchdown passes and had a team-high 11 tackles. Efren Castro rushed for 141 yards and one touchdown on 17 carries for Pilot Rock. … Cove ended a 13-game losing streak by overcoming Union 36-28, piling up 449 total yards behind quarterback Patrick Frisch. … Lost River blanked Camas Valley 34-0 as Chase McAuliffe threw two touchdown passes to Hayden Duren and Connor Dunlea ran for two scores. ... Powder Valley built a 40-6 halftime lead in its 46-14 win over Elgin, which dressed 11 players. … Tied 32-32 after three quarters, Waldport pulled away to beat Gold Beach 56-40. The Irish had four interceptions, two in the end zone to stop Gold Beach drives. ... Jaxon Grover returned a kickoff 99 yards for a touchdown in Joseph's 31-13 win over South Wasco County in a six-man game. ... Palu Rayon-Wilder scored eight touchdowns and had nearly 600 all-purpose yards as North Douglas came back from a 26-6 deficit to beat Prospect/Butte Falls 68-32 in a six-man game. Rayon-Wilder rushed for 296 yards and five touchdowns on 20 carries and had six returns for 277 yards and three scores. ... Powers defeated Elkton 52-6 in a six-man game behind freshmen Henry Fandel (two rushing touchdowns), Rene Sears (touchdowns passing, rushing) and Patrick Mahmoud, who returned a punt 63 yards for a score.