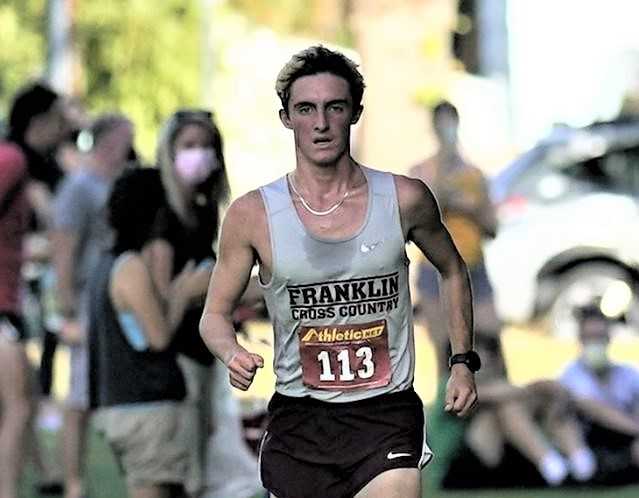 Saturday, all eyes were on the last big cross country race in Oregon this season, the Lewis & Clark Invitational at McIver Park in Estacada.
The nationally No. 4-ranked Summit girls showed tremendous depth in easily winning the girls team title. Franklin swept the individual titles in fast times on a day with perfect weather.
Lightning seniors Kaiya Robertson and Charlie North both ran lifetime bests to post significant and fast wins over tough competition. Summit girls had four in the top 10 and six in the top 20 to easily outdistance the top PIL teams.
In the boys team race, a three-team barn-burner between Portland schools went to Lincoln, via its sixth runner. Lincoln and Central Catholic tied with 84 points and Franklin had 87.
A look at meets on Saturday:
Lewis & Clark Invitational, at McIver State Park
Girls Varsity Orange race -- Franklin senior Robertson won the individual title in 16:58.6 ahead of PIL rival Lincoln senior Kendall York (17:00.9) and Summit had four in the top ten to win the team title with 45 points. Lincoln was second in the team race with 96 points, ahead of Franklin (136) and Wells (150).
Wells senior Charlotte Richman was third (17:16.3) and the Storm were led by junior Ella Thorsett, fourth in 17:27.6. Crescent Valley freshman Emily Wisniewski was the top 5A finisher, fifth in 17:29.9.
Summit seniors Teaghan Knox (17:40.9) and Maggie Williams (17:49.2) were sixth and seventh. The Storm had three more girls finish in the top 20; Barrett Justema (10th in 18:05.5), Payton Finney (18th in 18:30.7) and Camille Broadbent (20th in 18:33.5).
Boys Varsity Orange race -- Franklin senior North won in a fast 14:40.0, more than 10-seconds clear of Central Catholic senior Max Girardet, 14:50.7. The Lincoln senior duo of Tucker Bowerfind (14:59.0) and Aiden Smith (15:02.8) were third and fourth.
Four 5A runners were next: Milwaukie junior Logan Law (15:04.3), Crescent Valley senior Henry Coughlin (15:04.7), Ashland junior Nathan Stein (15:10.0) and Crescent Valley senior Cade Byer (15:11.5).
Central Catholic tied Lincoln for the team title with 84 through five runners, but the Cardinals prevailed on the 6th man tiebreaker. One of the Rams top runners, junior Wes Shipsey, did not race. Franklin had seven runners behind North in the top 33 overall to finish a close third with 87 points and 5A Crescent Valley was fourth with 135.
Boys Varsity Black race -- Joseph Blanshan of La Center (Wash.) won in 15:45.2 ahead of Santiam Christian junior Benjamin Bourne (15:50.6) and Knappa junior Isaiah Rodriguez (15:56.0). Parkrose junior Marte Hailey was fourth in 16:03.6. Brayden Lee (16:15.3) and Parker Waugh (16:24.7) were fifth and sixth to lead Barlow to the team title by one point over Clackamas, 145-146. Team Scores (Top 4): Barlow 145, Clackamas 146, Mark Morris 150, Santiam Christian 208.
Idlewild: Burns Cross Country Meet at Idlewild Campground in Burns
Girls -- Burns had four of the top five finishers to easily outdistance Grant Union for the team victory, 20-36. Senior Olivia Winn won by almost a minute in 22:39.20 ahead of teammates, senior Riley Morris (23:36.39) and junior Mattie Woodbury (23:47.10).
Boys -- The Highlanders had four of the top five boys finishers as well to score 20 points and easily defeat Vale (55) and Grant Union (56). Burns senior Masson Shaw won convincingly in 17:41.23 ahead of Vale sophomore Trevor Stewart, second in 18:48.39.
The Stan Goodell "Legend" Invitational, at Valley of the Rogue State Park, Gold Hill
Girls -- Grants Pass senior Madison Wilt won handily in 19:15.60 and the Caveman won the team title over North Medford, via the sixth runner tiebreaker. North Medford junior Estella Gutches was second in 19:50.60 ahead of Klamath Union sophomore Aubrey Syrnyk, third in 19:52.50. Team Scores (Top 4): Grants Pass 35, North Medford 35, Klamath Union 64, Hidden Valley 121.
Boys -- Cascade Christian senior Jake Sorani won in 16:33.80 while Grants Pass junior Quaid Petronella, second in 16:48.70, leading the Cavemen to the team title. Team Scores (Top 4): Grants Pass 45, Hidden Valley 73, Crater 84, North Medford 108.