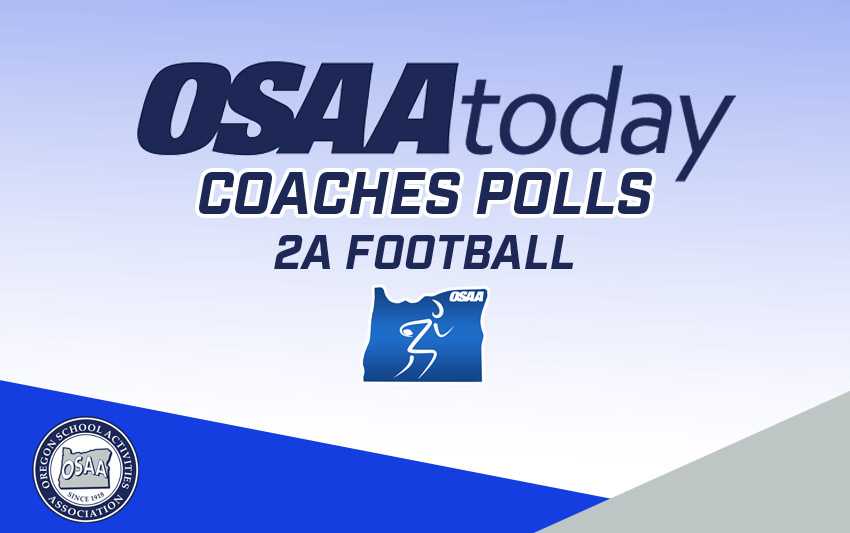 Oct. 20 2021 2A football coaches poll
OSAAtoday presents its 2021 statewide 2A football poll following the conclusion of Week 7. Thanks to all the coaches who took the time and had the expertise to contribute their opinions to this endeavor.
Look for the 2A football poll every Wednesday during the fall regular season.
Please note: these polls are for generating interest and discussion only and have no impact on the OSAA's RPI and Colley ratings that form the basis of the OSAA's rankings for playoff purposes.
If there are any varsity football head coaches who would like to vote in 2A coaches polls going forward but did not receive notice to vote in this one, please email [email protected].
1. Heppner (10) [1] 7-0 114
2. Kennedy (1) [2] 6-1 108
3. Lakeview [4] 6-1 77
4. Coquille (1) [nr] 3-2* 65
5. Bandon [3] 5-1 59
6. Toledo [6] 4-3 52
7. Oakland [7] 3-3 51
8. Gaston [10] 5-1 33
9. Weston-McEwen [9] 6-1 32
10. Knappa [5] 5-1 29
*Both losses by forfeit
Dropped out:
Former No. 8. Monroe 5-2
First-place votes in parentheses
Last ranking in brackets
Record listed is what's posted on www.osaa.org (maximum seven results through seven weeks).
Others receiving significant votes: None
Week 7 highlights: Heppner won its 25th in a row, downing Grant Union 36-12 as Brock Hisler ran for 224 yards and three touchdowns on 19 carries. …Zach Wusstig ran for 170 yards and four touchdowns on eight carries and caught a 60-yard pass for a score as Jefferson outlasted Monroe 44-34. Brody Ballard ran for 132 yards on 25 carries for Monroe. ... Blane Peal threw four touchdown passes to lead Weston-McEwen past Riverside 43-6. Tight end Chase Ferenbacher had three catches for 116 yards and two scores. ... Knappa dispatched Sheridan 47-7 behind Tanner Jackson, who completed 7 of 14 passes for 133 yards and two touchdowns and ran for 147 yards and two scores on 11 carries. Mark Miller rushed for 124 yards and two touchdowns for Knappa, which had 486 total yards. ... Morgan Ludwig ran for two touchdowns and Gavin Patterson rushed for 92 yards and one score as Lakeview dominated Illinois Valley 42-0. ... Kennedy held Gervais to 52 total yards in a 63-6 win. Owen Bruner (101 rushing yards, two rushing touchdowns, one receiving touchdown) and Elijah Traeger (103 rushing yards, two rushing touchdowns) led the way for Kennedy, which led 57-0 at half. .. Toledo rushed for 389 yards to outlast Creswell 38-30. Gunner Rothenberger ran for 276 yards and four touchdowns on 41 carries, threw a 60-yard scoring pass and ran for four two-point conversions. ... Gaston ran over Nestucca 58-0, getting big games from Brandon Clowdus (six carries, 135 yards, three touchdowns) and Jaden Dolan (six carries, 118 yards, two touchdowns). Jesse Liesegang had a sack and two fumble recoveries. ... Brayden Webb rushed for 90 yards and three touchdowns in Oakland's 60-12 win over Oakridge. Silas Arscott returned an kickoff for a touchdown and James Baimbridge returned a kickoff for a score for Oakland.