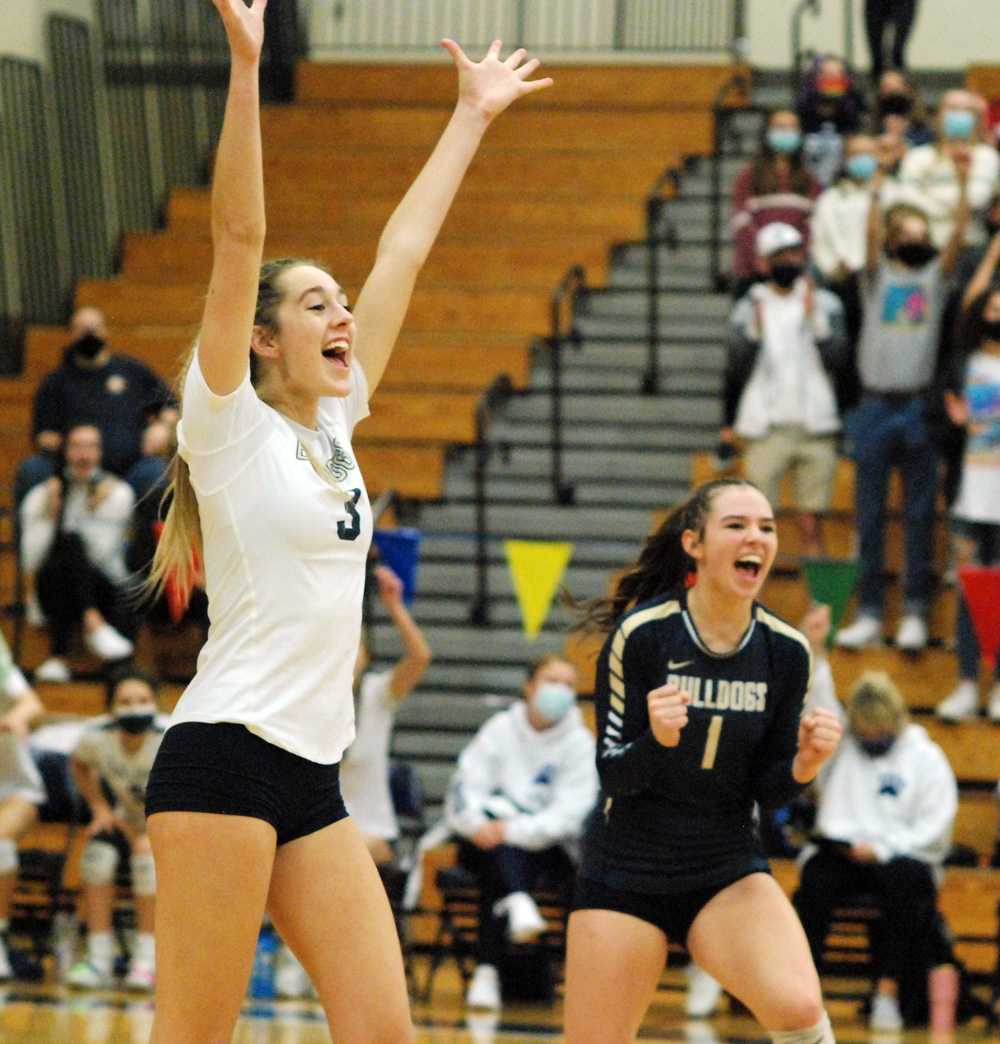 HILLSBORO – Top-seeded West Albany used a relentless service game to dispatch 2019 champion Ridgeview in four sets Friday afternoon in a 5A semifinal played at Liberty High School. The set scores were 25-16, 25-12, 20-25, 25-14. The senior-dominated Bulldogs will play for a state title tomorrow, at 4 p.m., for the first time since winning back-to-back titles in 2012 and 2013.
The turning point in the match came at the start of the fourth set. After dominating the first two sets, West Albany, which hasn't dropped a match to a 5A school all season, came out flat to start the third set, made a spate of early errors and quickly fell behind. The Bulldogs turned it around to start the fourth, as senior setter Sydney Harrington served six straight points, including two aces, to recapture the momentum for her team.
"I think the first few points in a game are the most critical," Harrington remarked. "It was critical to get that first run. It started to hype everybody up."
Ridgeview, which was throttled in the first two sets by West Albany's overwhelming offensive attack, used its resilience and renewed energy to capture the third set, thanks for remarkable serving from Kate West and terrific defensive intensity led by Kylee Rost and Madi Vaughn. The Ravens tried to summon that same energy to get back into the fourth set and twice crawled within three points, but a West Albany mini-run, which featured kills by both hands from senior middle Gracie Boeder put the game, and match, essentially out of reach.
"That's typical," said Bulldog coach Megan Wallace about Boeder's proficiency with either hand. "She has that ability and it's fun to watch."
"Game 4 was do or die," Wallace added. "We've never gone to a Game 5 before. We didn't want to go there and the team responded."
Early on in the match, it did not appear that even a fourth set would be necessary. West Albany dominated the first two sets in all phases. In Game 1, success on the pins from Hailey Heider, Kendyl Arnett and Tessa Zimmerman and consistent service pressure helped the Bulldogs wrest control after the teams played side out volleyball through the first six points. A 5-1 run that created the necessary separation included two slide kills from Boeder and two leftside smashes from sophomore Arnett, the star in waiting.
Three kills and a block from Zimmerman set the tone for the second set. West Albany survived a rare rough performance from Heider, its senior superstar, to win easily.
"Our bench is so deep and we have so many talented girls that if somebody is having an off night we don't have to reply solely on that one person," Wallace said.
Rost, Ridgeview's senior libero, came out amped up for Game 3 and it wore off on her Raven teammates. Ridgeview (16-5) took its first lead of the match, 1-0, on a Vaughn kill, then used a slew of errors from West Albany and West's tough serving to build a fast 6-1 lead. Ridgeview added kills from sophomores Ellie Owen and Paige Capitani to grow the advantage to 11-3.
Harrington said that West Albany cannot do that again in the finals tomorrow.
"I feel like we started to lose a few points in the beginning of the third set and everybody got quiet," she said. "It's important that everybody everywhere has bought in and is energetic. It comes from every player. Everyone has to buy in."
West Albany (25-3) came all the way back in the third set, as Heider came alive. A vicious line shot from the senior, made possible by libero Maddy Hellem's dig near the net, completed a 10-2 run and gave the Bulldogs their first lead at 16-15. Ridgeview proved resilient, however. Vaughn's lefty swipe knotted the set once more, terrific serving from West, including two aces, and successive kills out of the middle from Sadie Green helped re-establish the Ravens' dominance in the set. Jenna Albrecht, whose defense along with Rost, impeded West Albany's ability to stage a second rally, ripped a ball down the line to send the match to Game 4, where Ridgeview could not keep the momentum, thanks in large part to Harrington's decisive run.
"That's a great West Albany team," Ridgeview coach Randi Viggiano said after the match. "They've earned that No. 1 seed. We gave them one helluva good set but it wasn't our best match today. They put a lot of pressure on us offensively and with their serve. I'm proud of my team. I have only one kid [Albrecht] who's played here before. Hopefully tomorrow whoever we play will get a better match out of the Ravens."
In other action from the state semifinals…
6A
West Linn 3, Central Catholic 2 – Top-seeded West Linn won the first two sets. Central Catholic took the next two and led midway through the fifth set before Lion OH Emily Warmenhoven took over. With the deciding set knotted at 10-10, Warmenhoven delivered successive kills to put West Linn up for good. She also delivered the match-clinching kill, a 14-13, on a missile from the pipe that ate up the Central Catholic defense. Warmenhoven finished with a team-high 25 kills and added 14 digs. Addie Hoover had 14 kills and Ella Nordquist contributed nine kills and two blocks.
Jesuit 3, Bend 1 – Jesuit dropped the first set, 26-24, but was in control thereafter. CeAnna O'Loughlin was a spark on the outside for the 'Saders, the two-time reigning 6A champions. She finished with 20 kills and Izzy Patterson added 18. Freshman setter Jackie Carle averaged 13 assists per set and Hannah Nguyen and Maisie Alexander teamed for 35 digs.
5A
Wilsonville 3, Crescent Valley 2 – Wilsonville won three deuce sets to down a well-coached, determined Crescent Valley team, 15-13 in the fifth set. "Our team showed incredible resiliency, as we were playing from behind all match," Wildcat coach Scott Thompson said. "We won key points along the way and, in the fifth set, we played with poise and confidence while remaining aggressive. It was a very gritty effort by our team. I couldn't be more proud of our team today." OH Ashli Edmiston was a difference maker on offense all match long. Makenna Wiepert set a beautiful match. Ella Hubka provided a spark from behind the service line, helping Wilsonville rally from down 23-19 in the first to win, 26-24. Libero Sophia Kleckner delivered a gutty performance and middles Tatum Lubisich and Emma Alewine did the dirty work that made winning possible.
4A
Sisters 3, Philomath 2 -- Gracelyn Myhre served the final three points, two of them aces, to help top-seeded Sisters rally from behind in the fifth set to stun Philomath, which itself had rallied after losing the first two sets. Bre White's 15th kill of the night ended the match. Gracie Vohs had 22 kills and nine blocks for the Outlaws. Hannah Fendall contributed 42 assists and Mia Monaghan had 22 digs.
Cascade 3, Valley Catholic 0 -- Cascade rallied from down 21-14 in the third to sweep the two-time defending champion Valiants. Setter Kenna Coleman did a great job of distributing the ball, making the Cougars very unpredictable on offense. Lucretia Benolken and Meah Carley did a lot of damage from the outside, while middles Annabelle Peterson and Emma Gates stepped up and had great matches. Libero Jadyn Daviscourt served tough and her incredible passing jump started the offense all night.
3A
Sutherlin 3, Creswell 2 – Sutherlin rallied from down 7-2 in the fifth to win. The Bulldogs got clutch serving from Tianna Murphy and Kaley Kuxhausen to get Sutherlin back in the set. Makayla Murphy's 13th kill of the match was the clincher. She added 21 digs and five aces, Tianna Murphy contributed 45 assists, Haley Smoldt dug up 20 balls and Mallory Turner had 19 kills and four blocks. "We are so excited to be in the finals!" exclaimed coach Kathy Rice. "This group of ladies has worked incredibly hard all season. They have worked to trust each other to pick up the slack when a teammate stumbles. It took all of them to get here and will take all of them tomorrow."
Burns 3, Catlin Gabel 1 – A back and forth battle went Burns' way in four sets. Freshman middle Akylah Kaino was a huge spark, producing a dozen kills and adding 10 blocks to slow Catlin Gabel's big hitters. Kaitlyn Wright added 15 kills and nine digs for the Hilanders, who also got 11 kills from Mackenzie King, 12 digs from Macy Temple and 26 assists from Ashley Wright.
2A
Salem Academy 3, Grant Union 0 – Top-seeded Salem Academy was one of only two teams to win a Friday semifinal in straight sets. The Crusaders got 24kills combined from Aly Herber and Aubrey Smith, 16 digs and two aces from libero Annabelle Brawley and 33 assists from Bailey Pedersen.
Gaston 3, Monroe 2 – Gaston scored the final three points in Game 5 to stun Monroe. Bella Gamache's kill put the Dragon ahead 15-14 before the Gaston heroics sent the Greyhounds to the state championship match for the first time in school history.MB Mackenzie Berger was a monster for Gaston, with 32 kills and 19 blocks. She had the stuff block to tie the fifth set at 15-15, then delivered the final two kills in the come-from-behind win. Cayden Henderson also was a force for Gaston, scoring a ton of points from behind the service line with two aces.
1A
North Douglas 3, Crane 1 – Brooklyn Williams had 12 kills and seven digs in North Douglas' win. Cydni Dill added five kills and 13 digs and Samantha MacDowell chipped in with 18 assists, five digs, two blocks and two aces. "We played well in the first 2 sets and had a lot of energy," said coach Emily Reed, whose team dropped the third set before rallying to win in four. "I am so proud of these girls and all that they have accomplished."
St. Paul 3, Damascus Christian 2 – St. Paul won a slugfest with Damascus Christian, prevailing 15-11 in the fifth set. Amazing digs from Mer Coleman, Halsie Hempfling and Frankie Lear helped setter Gracie Koch run a transition offense that did just enough for the top-seeded Buckaroos. Koch finished with 45 assists, Stella Koch and Annabelle Davidson teamed for 40 kills and Ainsley Goughnour, Siena Garstka, Isla Haven and Lear combined for 57 digs. St. Paul, the 2019 1A champion, missed just six serves over the five-game match.