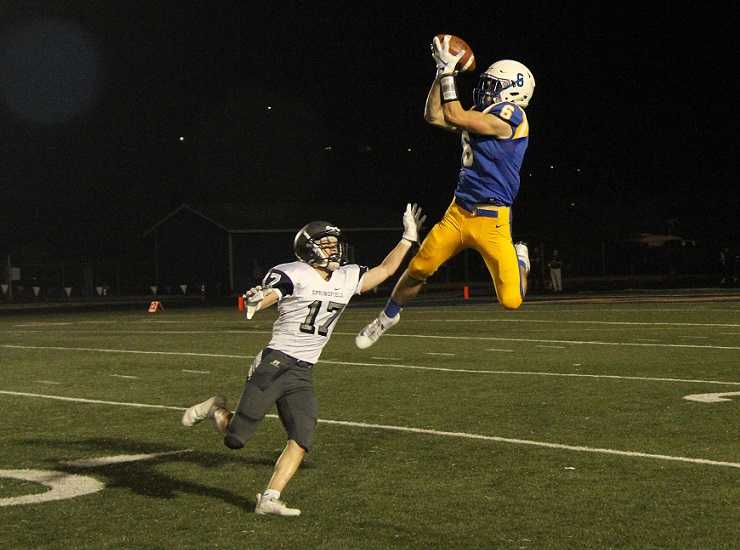 If not for a broken collarbone he suffered early in the 2017 season, perhaps everyone would know about Eagle Point receiver Noah Page by now.
Fully healthy as a senior, Page is making the state take notice.
The 6-foot-1, 190-pound had his most eye-popping performance of the season Friday, catching eight passes for 351 yards and five touchdowns in the Eagles' 82-56 win at North Eugene. It is the third most receiving yards in an 11-man game in state history, behind only Waldport's Kraig Pruett (456, 2012) and Oregon City's Nick Castillo (354, 2002).
For the season, Page has 48 catches for 1,327 yards and 17 touchdowns. He is averaging a whopping 27.6 yards per catch.
"He's faster than any kid on the field, and he's big and strong," Eagles coach Seth Womack said. "His route running is second to none. The kid can move side to side as well as anybody, and do it all full speed.
"Athletically, there's nothing he can't do. He's got the size and the frame, if we wanted to run him between the tackles 30 times a game, he could do it."
Page has been clocked at 4.65 seconds in the 40. Womack said that a few colleges have looked at Page, but as of now, there's "nothing serious."
"He didn't have a junior season, so that really hurt him," Womack said. "He's going to make someone a heck of a college football player."
Eagle Point (5-3) also got big games from senior quarterback Cameron Morgan and sophomore running back Devin Bradd in the 82-point outburst, the 10th-highest total in the state's modern era (1950-present).
Morgan threw for 416 yards and seven touchdowns, giving him 1,973 yards and 25 scores for the season. Bradd rushed for 281 yards and four touchdowns, increasing his season totals to 1,225 yards and 18 scores.
The 6-0 Morgan has been outstanding after missing most of last season with mononucleosis.
"If he was two inches taller, I think he'd probably have every school in the country looking at him," Womack said. "He's got a rocket for an arm, and he just puts the ball where it needs to be."
Booming numbers
Eagle Point players weren't the only ones making new entries in the state record book Friday. Toledo also got into the act with its 59-56 win over Glide in a 2A game.
Boomers 6-5 sophomore quarterback Jaxon Rozewski set an 11-man state record by throwing for 613 yards, breaking the previous mark of 569, set by Westview's Austin Brisbee in 2014.
Rozewski also threw eight touchdown passes to tie the state record held by four others: Yoncalla's Ricky Shaw (2001), Central Catholic's Ryan Gunderson (2002), Marist Catholic's Logan Silver (2010) and Ridgeview's Jacob Johnson (2013).
Rozewski completed 29 of 49 passes in the game, also throwing two interceptions. For the season, he has completed 61 percent of his passes for 2,534 yards and 32 touchdowns with nine interceptions for Toledo (5-3).
Against Glide, Toledo senior Cameron Lonergan had 11 catches for 333 yards and five touchdowns and sophomore Donovan Villanueva caught 11 passes for 222 yards and three scores.
Lonergan's yardage total ranks him No. 4 all-time behind Pruett, Castillo and Page. Lonergan has 60 catches for 1,217 yards and 15 touchdowns this season.
Turning the tables
Turnovers proved to be the ultimate equalizer as No. 6 Tigard beat No. 5 West Linn 23-21 in a key 6A Three Rivers League game Friday.
The Lions (5-3, 2-2) had a 357-261 edge in total yards, but the Tigers (7-1, 3-1) turned the tables with five interceptions, returning them for a total of 209 yards.
Junior defensive back Max Lenzy had three interceptions, two that led to field goals and one that set up a touchdown. Senior linebacker Jazz Ross intercepted a pass in the end zone and returned it 42 yards after West Linn had the ball at Tigard's 5-yard line early in the second quarter.
And with West Linn at the Tigard 18-yard line inside the final 30 seconds, senior defensive back Dylan Burch foiled a potential game-winning field goal by intercepting a pass from reserve quarterback Ethan Coleman over the middle and returning it 67 yards.
Tigard's defense put constant pressure on West Linn's quarterbacks, Arizona State-bound Ethan Long and Coleman.
"We've got four to seven different guys that are able to get to the quarterback," Tigard coach Craig Ruecker said. "We're not a real big football team. Last year we had defensive linemen that were 290 pounds, and this year they're 220 to 230 pounds. But we're very athletic at linebacker and defensive line. We've been able to get through the gaps and get hurries."
Ruecker said the pass rush is the key behind Tigard grabbing 14 interceptions this season, three of which were returned for touchdowns. Lenzy leads the team with seven interceptions.
"He's an outstanding athlete, and he has great football savvy," Ruecker said of Lenzy, who started all 13 of the team's games as a sophomore. "His vision is extremely good. He gets breaks on footballs because he's able to read the quarterback's drops, the quarterback's eyes, and see things as they develop."
Since Tigard joined the Three Rivers, the Tigers and West Linn have met six times, with the road team winning each one. Tigard is 4-0 at West Linn in that span, including a 24-21 quarterfinal win last year.
"Maybe home field is overrated," Ruecker said. "It's kind of a crazy deal."
Celtic transformation
After opening the season with five nonleague losses by an average margin of 34.2 points, McNary wasn't exactly in the conversation for the 6A Mountain Valley Conference title.
Heading into the regular-season finale, though, the Celtics (3-5, 3-0) are on a three-game winning streak and one victory away from wrapping up the outright conference title. They can do it Friday with a home win over South Salem (2-6, 0-3).
"Those first five games were rough. We played some top-level teams," coach Jeff Auvinen said. "We had some inexperienced guys. I think we learned the physicality part of it, and we really came together."
Did Auvinen think a title was realistic after the 0-5 start?
"I wouldn't go that far," he said. "I knew we'd be able to compete. I had a feeling, with the growth I thought we were making, that we could compete against our local teams. I didn't expect to be 3-0 at this point."
McNary clinched at least a share of the conference title Friday with a 35-23 win over West Salem (4-4, 3-1). Junior running back Junior Walling ran for 237 yards and four touchdowns on 36 carries and junior Erik Barker threw for 147 yards to lift the Celtics.
The 6-2, 225-pound Walling, who has a scholarship offer from Oregon State, has run for eight touchdowns in the last two games as McNary has a new commitment to establishing the run.
"The last three games, he's running a lot harder," Auvinen said of Walling. "He's got his pad level down and he's running through tackles."
It helps that the line, led by senior guard Joshua Schmelzer (6-1, 300) and senior tackle Wyatt Sherwood (6-4, 250), is playing better. Sherwood, who suffered a concussion and spinal neck injury in Week 2 against West Linn, returned to the lineup Friday.
"We worked hard on our power running game. The linemen are getting off the ball well now," Auvinen said. "That's really opened up our play-action game."
As the Celtics win, the vibe around the team has changed. Auvinen said that usually 15 or 20 players ride the bus back from road games. Friday they had 42.
"They just wanted to hang out," he said.
Century air raid
In its second season under coach Sean McMenomy, Century has made steady progress running his Air Raid offense.
The Jaguars (3-5) are averaging 431.2 yards and 32.5 points per game, up from 314.8 yards and 24.8 points last season, when they finished 1-8. Century is throwing about 40 times per game.
"We're not afraid to do it," McMenomy said. "It's fast, it's fun. Once our kids catch up with our strength and speed program, where they get three to four years where all they know is you, then it gets a whole lot of fun. We're still a work in progress."
Century beat Glencoe 42-28 on Friday as senior Jack Wilson completed 30 of 39 passes for 259 yards and five touchdowns, two to senior Shane Neal and one each to seniors Preston Strauss and Dylan Larson and junior Chance Sparks.
McMenomy came to Century from DeLaSalle (Minn.), a 4A-sized school in Minneapolis where in eight seasons he led the team to the state semifinals three times and the state final once (2014).
"This has been a bit humbling, which is good," McMenomy said. "But I've been through this before, so I kind of have the gameplan. The kids are way ahead of where I thought they'd be."
Wilson has passed for 2,737 yards and 29 touchdowns with 13 interceptions. Neal has 62 catches for 823 yards and 11 touchdowns) and Sparks has 53 catches for 835 yards and six scores.
The 6-3 Sparks, who caught 52 passes for 1,000 yards and 10 touchdowns as a sophomore, has put up his numbers despite missing two games with a knee injury.
McMenomy said that Sparks has run 4.4 in the 40 and is "one of the top receivers on the West Coast." He said Pac-12 and Big Ten schools are among those showing interest in Sparks.
"I'm expecting a whole bunch of offers after the season for him," McMenomy said.
4A postseason
Class 4A wrapped up its regular season Friday. The top two seeds from each of the six special districts get automatic berths into the 16-team playoff bracket:
Special District 1 – 1. Banks, 2. Seaside
Special District 2 – 1. Gladstone, 2. Estacada
Special District 3 – 1. Sweet Home, 2. Cascade
Special District 4 – 1. Marshfield, 2. Marist Catholic
Special District 5 – 1. Mazama, 2. Klamath Union
Special District 6 – 1. La Grande, 2. Ontario
The other four playoff berths will be determined by play-in games this week:
Baker at Astoria
Tillamook at Woodburn
Molalla at North Marion
Cottage Grove at Newport
The first round, set for Nov. 2-3, will be seeded by power ranking. The top four teams are Banks, Gladstone, Seaside and Marshfield.
A look at other highlights from Week 8:
6A
Jesuit rushed for 350 yards to beat Sunset 56-21. Will Spitznagel completed 13 of 14 passes for 223 yards and four touchdowns and Andy Alfieri ran for 178 yards and two scores on 16 carries for the Crusaders. … Noah Hobbs ran for three touchdowns as Clackamas extended its winning streak to 22 by defeating David Douglas 63-8. … Central Catholic trailed by 14 points entering the fourth quarter before turning back Barlow 47-42. In the comeback, Elijah Elliott ran for two touchdowns and returned an interception for a score. Jobadiah Malary had four touchdown runs for Barlow. … Jalen John ran for three touchdowns and Bryson Corbin returned a kickoff 98 yards for a score in Lakeridge's 35-23 win over Bend. … Liberty took over first place in the Pacific Conference by holding off Sherwood 41-33 behind quarterback Brad Norman, who ran for 150 yards and three touchdowns. Ian Stormont rushed for 174 yards and three scores for Sherwood. … Jaren Emptage rushed for 140 yards and one touchdown and caught a scoring pass in Grants Pass' 28-7 win over South Medford. The Cavemen outgained the Panthers 394-115. … Aloha rallied from a 21-10 deficit to beat North Medford 44-28. Timothy Dennis threw for 256 yards and five touchdowns, four to Regan Wilson, for Aloha. North Medford's Eli Spence rushed for 244 yards to give him 1,757 for the season, breaking the school record of 1,743, set by Ryan Folsom in 2005. … Sheldon dominated Roseburg 49-7 as Michael Johnson Jr. threw for three touchdowns and ran for a score. Matthew Burgess had two touchdown runs for the Irish. … Summit trailed South Salem by 11 points with four minutes left but rallied to win 25-21, getting a six-yard touchdown pass from Henry Bledsoe to Michael Schutz with six seconds left. Bledsoe also ran for two scores. … Casey Filkins ran for 134 yards and three touchdowns as Lake Oswego overcame a 14-0 deficit to win at Tualatin 28-21. Thomas Dukart had a 99-yard touchdown catch for the Lakers. … Zakhayas Dennis-Lee rushed for 168 yards and two touchdowns on 13 carries and caught a scoring pass to lead Oregon City past Canby 45-3.
5A
Nathan Overholt threw six touchdown passes, giving him 38 for the season, as Wilsonville overran Wilson 57-20. … Carson Van Dyke threw two touchdown passes to Myles Westburg for West Albany in a 21-7 win over Dallas. … Lebanon built a 21-0 lead in the first quarter and cruised past Crescent Valley 56-19. … Silverton rolled McKay 55-13 behind quarterback Levi Nielsen, who returned after missing four games and threw three touchdown passes, two to Nathan Kuenzi. … Churchill defeated Crater 58-20 as Deonte Jones rushed for 248 yards and four touchdowns and Demontre Thomas II passed for 325 yards and three scores. Elijah Fields had two touchdown catches and returned a kickoff for a score for Churchill. … Connor McNabb ran for 96 yards and one touchdown, caught three passes for 81 yards and returned a kickoff 80 yards for score in Scappoose's 50-21 win over Cleveland. ... South Eugene quarterback Bryce Boettcher ran for four touchdowns to lead the Axe past Ashland 27-17. Isaac Reyna had 141 of South Eugene's 283 rushing yards. … Thurston defeated Ridgeview 71-38 as Wes Kommer rushed for 239 yards and three touchdowns on 20 carries and caught two scoring passes, giving him 837 rushing yards in the last four games. Colts quarterback Cade Crist completed 12 of 15 passes for 216 yards and five touchdowns. … Pendleton remained unbeaten by blasting Benson 61-18, getting three touchdown passes and a touchdown run by Cooper Roberts. Blake Davis and Willie Camp each scored on a kick return and touchdown catch for Pendleton.
4A
Hayden Vandehey threw for 309 yards and five touchdowns, two to Blake Gobel, to lead Banks past Molalla 47-7. ... Mazama rushed for 289 yards to beat Henley 40-14. Buddy Zakour ran for 121 yards and two touchdowns for the Vikings. ... Gladstone held off Woodburn 30-28 to win the Special District 2 title outright. ... Trae Stephens ran for 106 yards and one touchdown on six carries and caught a scoring pass to spark North Valley's 42-0 win over Phoenix … Dylan Graves threw for 226 yards and four touchdowns to lead Cottage Grove past Junction City 57-12. … Klamath Union got touchdown runs from Xavier Arvizu and Cameron Taylor to down Elmira 13-7. … Marshfield managed only 223 yards but pulled out a 21-14 win over Marist Catholic on a go-ahead touchdown run by Sirus Robie, who ran for two scores and had an interception. Grant Woolsey's pass to Tyler Thorton set up the game-winning score.
3A
Cascade Christian's Kiegan Schaan threw for 297 yards and five touchdowns and ran for a score – all in building a 52-7 lead – in a 59-20 win over Brookings-Harbor. Ian Fralich and John Fralich each caught two scoring passes for the Challengers. … St. Mary's got three touchdown passes from Aliiloa Kaeo-Wailehua and defensive touchdowns from Jonah Hadley and Sean Snyder to beat South Umpqua 56-24. … Colton Kesey completed 13 of 17 passes for 300 yards and four touchdown to lead Vale past Umatilla 55-6. Tanner Hamilton and Kade Haueter each had two touchdown catches. … Quarterback Jamie Garcia ran for three touchdowns as Yamhill-Carlton came from behind to beat Salem Academy 27-21. .. Tyler Parr threw three touchdown passes, two to Payton Richardson, and West Streeter rushed for 178 yards and two scores in Amity's 40-32 win over Clatskanie.
2A
Sheridan knocked off top-ranked Santiam 9-0, getting a safety and a 25-yard touchdown pass from Jacob DeBoff to Joey Daniel. Brian Flowers had 11 tackles for Sheridan. … Lost River overcame a 9-0, third-quarter deficit to beat Rogue River 23-9. … Monroe's Brady Ballard ran for two touchdowns and had three of the team's seven interceptions in a 47-0 win over Regis. Zach Young rushed for 212 yards and two touchdowns for Monroe. … Heppner clinched the Special District 6 title by defeating Grant Union 47-14. Gavin Hanna-Robinson ran for two touchdowns and caught a scoring pass for Heppner, which got an interception return for a touchdown by Jackson Lehman. … David Reyes returned the opening kickoff 80 yards for a touchdown as Kennedy rolled over Culver 54-0. Emorej Lynk returned an interception 100 yards for a touchdown and ran for two scores. … Cayton Sinay ran for 147 yards in Bandon's 27-22 win over Reedsport. … Lakeview beat Illinois Valley 51-6 as quarterback Dayton Alves ran for six touchdowns and threw for a score. … Warrenton throttled Gaston 62-6 as Jacob Morrow rushed for 152 yards and three touchdowns on seven carries and Giovanni Martinez ran for three scores. Warrenton kicker Kenzie Ramsey set a state girls record by making all eight of her extra-point attempts.
1A
Wallowa blanked Cove 66-0, owning a 504-110 edge in yards. Zeb Ramsden had five carries for 260 yards and four touchdowns, scoring on runs of 55, 60, 52 and 90 yards. ... Dylan Hackett ran for three touchdowns and returned a kickoff for a score as Riddle overpowered Butte Falls / Crater Lake Charter Academy 54-24. Nate Hopkins had two touchdown catches and ran for a score for Riddle. … North Lake got its first win of the season, beating Prospect 42-20 behind Damon Ward, who ran for two touchdowns and caught a scoring pass. … Yoncalla's Bryan Allen, making his first start of the season, threw touchdown passes to four different receivers and ran for a score in a 42-22 win over Oakridge. Dominic Aguilar caught five passes for 128 yards for Yoncalla. … Lowell backup quarterback Taysian Williamson ran for four touchdowns in the second half to carry his team past North Douglas 58-48.