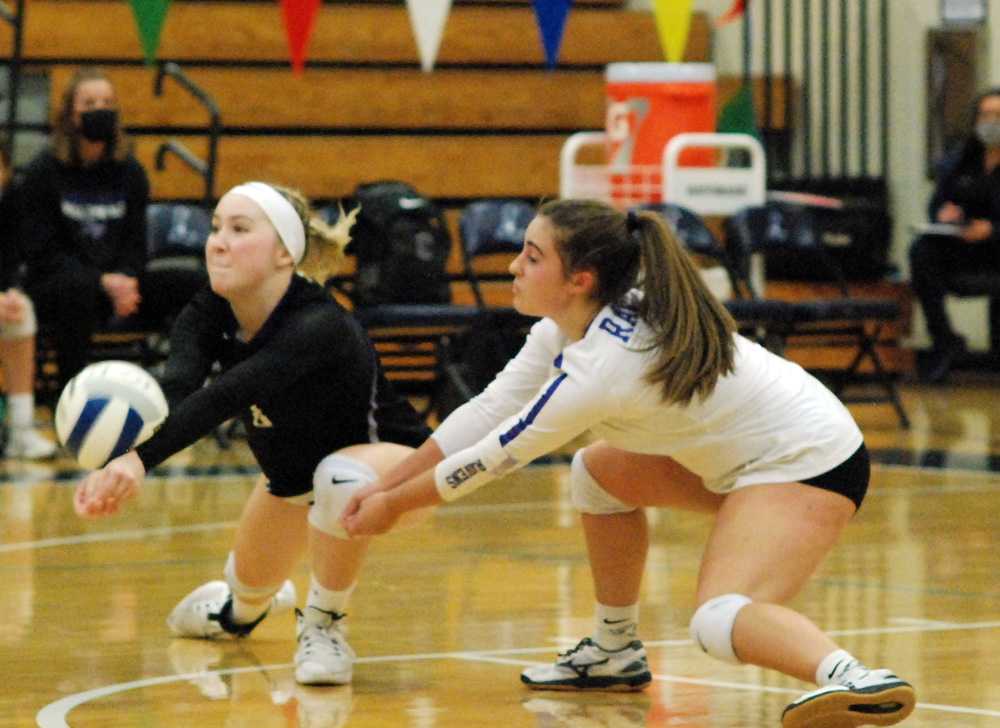 This is our sixth and final volleyball notebook of the fall 2021 season. We hope it gives you a lift.
We are the champions
On Aug. 26, there were 269 teams that had a theoretical chance to win a state title in six classifications. On Saturday, six champions were crowned, with blue trophies held high, medals worn proudly around the necks of players and coaches, and smiling for photo after photo through tears of joy. How glorious!
In 6A, West Linn overcame Jesuit for the third straight time to win state after a 14-year drought -- West Linn leaves no doubt
In 5A, pre-season favorite West Albany went wire-to-wire, capped by a win over Wilsonville in the final -- West Albany dogged in finals win
In 4A, Cascade won its first title by toppling conference foe Sisters in five sets -- Cougars rally from behind for first title
In 3A, Burns rallied from a set down against Sutherlin to claim state supremacy for the first time since 2015 -- Burns wins seventh under coach Paula Toney
In 2A, favored Salem Academy swept weary Gaston for first state title in 26 years -- Salem Academy runs to 2A crown
In 1A, North Douglas prevented a St. Paul threepeat and captured its first title in the process -- North Douglas comes up aces
We are the champions the most!
Burns' title was its seventh since 2000, one behind Santiam Christian and Crook County during that time span. Santiam Christian and Crook County both lost in the first round this year, SC as the No. 1 seed to No. 16 Cascade Christian.
Six schools have won five or more titles since 2000, as follows:
1. Santiam Christian – 8
1. Crook County – 8
3. Jesuit – 7
3. Burns – 7
5. Sisters – 5
5. Central Catholic – 5
Jesuit and Sisters came one win short of adding to their totals, losing in the finals in 6A and 4A, respectively. Central Catholic lost a 6A semifinal heartbreaker to West Linn, which went on to defeat Jesuit for its third title since 2000. West Albany, the 5A champion, also won its third over the time frame. The other three champions, Cascade, Salem Academy and North Douglas, all won their first titles since 2000.
Final Oregon Top 25
Which were the best teams in Oregon this fall regardless of classification? We examined schedules to make that determination. 6A champion West Linn topped the list. The Lions were one of 12 6A teams in the top 25. 5A winner West Albany placed fourth. The Bulldogs, one of seven 5A schools, were the only in-state team to defeat West Linn, but losses to Jesuit, Bend and Sheldon prevented them from taking the No. 1 overall spot. 4A titleist Cascade benefited from 4A runner up Sisters' early-season win over 5A third-place finisher Ridgeview to claim the final spot in the top 10. The Cougars and Sisters were the only two from 4A to make the list. Burns, at No. 12 was the highest ranked of three 3A schools. 2A champ Salem Academy got into the rankings at No. 24.
1. West Linn (6A)
2. Jesuit (6A)
3. Bend (6A)
4. West Albany (5A)
5. Central Catholic (6A)
6. Wilsonville (5A)
7. Sheldon (6A)
8. La Salle Prep (5A)
9. South Salem (6A)
10. Cascade (4A)
11. Sisters (4A)
12. Burns (3A)
13. Ridgeview (5A)
14. Oregon City (6A)
15. Crescent Valley (5A)
16. Clackamas (6A)
17. Silverton (5A)
18. Sherwood (6A)
19. Westview (6A)
20. Nelson (6A)
21. Sprague (6A)
22. North Bend (5A)
23. Catlin Gabel (3A)
24. Salem Academy (2A)
25. Sutherlin (3A)
Calling their shot!
We invited coaches to call their shot if they believed their team would at least make the semifinals in 2022.
Only a handful of coaches had the courage to do so.
In 6A, champion West Linn and quarterfinal loser Sprague could be Final Four bound in 2022.
West Linn graduates a ton, including its setter, libero, both middles and one of the best attackers in the state, Emily Warmenhoven. Coach Emilie Wilmes remains bullish despite the losses, because of the return of pin hitters Addie Hoover and Amyah Semau as well as others waiting to contribute, like setter Olivia Doel, defender Caroline Nielsen and hitter Olivia Trobetsky.
Sprague bids farewell to Abby Sorensen, arguably its best six-rotation player, but Anne Olsen's squad will return 12 varsity players, including standouts at the setter, libero and outside hitter position. If rising sophomore S/RS Evie Morrissette develops quickly and Sprague find a little height, the Olympians, who finished under .500 this fall, could make a run.
In 5A, fourth-place finisher Crescent Valley had three impact freshmen, setter Kamden Mitchell, OH Bella Jacobson and MB Taelen Betley, this past fall. Adds juniors Sophia Terwilliger and Leah Matson, both HM All-League; libero Dani Street and OH/DS Vivian Buford and it's easy to understand why coach Troy Shorey is bullish about his team.
"We have a very good core coming back next with a year of experience together and a trip to state," Coach Shorey explained. "This is a group of players that are dedicated and willing to continue to work hard and achieve higher level of play and sustain that level. They feel like they have unfinished business right now!"
In 4A, champion Cascade will be favored again as the Cougars return a core group that includes five starters, four of whom were All-League picks. They are OHs Lucretia Benolken and Meah Carley, libero Jayden Daviscourt, middle Annabelle Peterson and RS/S Bella Oliver.
"They all have grit and the will to win and are ready to come back as defending state champions," said coach Cristina Williams.
Philomath made a run to the semifinals in 2021 despite finishing outside of the top 10 in the final OSAAtoday coaches poll. The Warriors graduate six, but return a big front row that includes 6-2 RS Abigail Brown, 5-9 OH Clara Stanley and 5-10 MB Ahnika Tryon.
"I believe in this program," coach Denee Newton-Vasquez said. "We seem to be underdogs going in because our record shows losses. Those losses are to big teams, so we can prepare all season to finish strong. We plan to continue this and are hoping to get into the finals this time."
In 3A, state champion Burns should be more than formidable as it chases the repeat in 2021. The Hilanders bring back three First Team All-League players and two more who landed on the second team. Those players are setter Ashley Wright, libero Macy Temple, middles Akylah Kaino and Caitlyn Horrell and 6-1 OH Mackenize King, who made the All-State Tournament Team.
Fourth-place finisher Creswell is planning on a return trip to the semifinals.
"I always believe my team will be a contender," Bulldog head coach Anna Baltrusch explained. "I have a ton of strong sophomores, several who played on the JV team. I have lots of kids who love the game of volleyball in Creswell. The group of players that were on varsity have great ball control and knowledge of the game. They serve tough and to locations that they need to hit. I also have a lot of kids who know they are competing for spot and are dedicated to working on their game in the off season."
Creswell will graduate six, but only star Emme Whitson played six rotations. Setter Kimberlee Kelsey, middles Kendyl Whitson and Kyla Ellis and OH Lizabelle Osborn are among the returnees expected to make deep impacts.
In 2A, Weston-McEwen, coming off of a 14-11 season, brings back starters at all but one position, including 6-1 middle Genevieve Robinson, OH Lily Linsdey and libero Lirian Holden.
"We were really young this year and lacked the consistency to get over the top and be a top four team," said coach Shawn White. "With a year of experience, I expect this group to win those close sets and matches that we narrowly lost this year."
In 1A, Crane rallied from two sets down to upset top-seeded North Clackamas Christian in the quarterfinals. Head coach Grant Nelson believes that losing at home like that will motivate his Saints all season in 2022. NCC will graduate just two and returns a slate that includes four All-League players: OH Kelly Dransfeldt, MB Ashlyn Watt, who was co-defensive MVP; setter Olivia Woody and MB Hannah Stark. Makayla Ferguson, a starter on the right side, also returns.
Calling our own shots
With confidential help from coaches, here are the teams we predict will make the semifinals next fall. Note that the picks are based on where teams are classified currently, not where they might land following December's re-classification vote.
6A
Central Catholic – perennial contenders return standouts Mia Hunt, Sofia Cooper and Mia Starr
Jesuit – always in the mix, the Crusaders graduate their defense and top middle, but return both live-armed outsides, setter Jackie Carle and nice complimentary pieces
Nelson – Hawks won 17 matches and made second round of the playoffs in first year as a school with almost entirely an underclass roster
Westview – Wildcats were 22-6 this fall with just one senior on the roster
5A
Crescent Valley – Made state with three great freshmen leading the way
La Salle Prep – Unfortunate draw cost LSP a shot at Final Four this year; Falcons return dominant middles Olivia Moulding and Hailey Heytvelt
Ridgeview – Five starters, including Madie Vaughn, return for third-place Ravens
Silverton – Foxes return arguably the state's best player, S/OH Alexis Haury, as well as attacker Rowan Reilly
4A
Cascade – Five returning starters, including two who made All-State Tournament Team
Philomath – Battle-tested Warriors bring back tough front row
Sisters – Runner up Outlaws graduated two key finals contributors, but return MB Gracie Vohs, setter Hannah Fendall and OH Gracelyn Myhre
Valley Catholic – Naima Foster returns from injury, Addie Emerson is a year better, Fran Eisenhardt does her thing…the Valiants will be GOOD!
3A
Burns – OH Kaitlyn Wright a huge loss, but virtually everyone else back for Hilanders, including Mackenzie King and Akylah Kaino
Cascade Christian – Maddi Carter and Molly Griffin lead Challenger team that had just one senior this year
Horizon Christian – Reagan Anderson, the McDonald twins back for the Hawks, as is the entire roster
Santiam Christian – Junior dominated in 2021; graduates only two defensive specialists
2A
Lowell – 18-win Devils graduate just one; bring back Lydia Plahn, Annabelle Pickett
Monroe – Maddie Gamache a big loss, but Dragons return Bella Gamache and Sarah Thompson
Vernonia – 20-win Loggers graduate only three
Weston-McEwen – TigerScots barely missed playoffs, but welcome back five starters
1A
Damascus Christian – Sierra Hale, Julia Mitchell return with a purpose for senior year
North Clackamas Christian – Saints will be fueled by hunger, four returning All-League players
Rogue Valley Adventist Academy – team's best players were all juniors
St. Paul – State runner up loses just one starter
Note: Picking 1A was especially tough, as champion North Douglas, fourth-place Crane and perennial force Powder Valley all bring back strong squads as well.
Unsung heroes
In this section, we recognize those players, nominated by their coaches, who have been "unsung heroes" on their teams this fall. An asterisk (*) indicates a new nominee this week.
Mackenzie Agnew, 5-7 Sr. S, North Marion -- Agnew has been team captain for the Huskies for the past two seasons and was nominated by head coach Lindy Wing because of her leadership on and off the court and because setters never get enough recognition. Agnew leads North Marion in assists, has been a steady defender and plus server. "Mackenzie plays a huge role on the team," Wing said.
Summer Artman, 5-11 Jr. MB, Clackamas – Artman is a workhorse and the backbone of Clackamas' defensive game at the net. "Her constant pressure on the biggest hitters in the state is a huge contribution to the Clackamas team both by getting key points with stuff blocks, and creating offensive opportunities by slowing down the big hammers from very talented opposing hitters," said coach Nathan Blankenship.
Lauren Bernt, 5-8 Soph. OH, West Albany – A first-year varsity player, Bernt has spent more time on the sidelines than on the court, due to a senior-loaded roster that is No. 1 in 5A. "Her value this year has come from her leadership and support of her teammates from the bench," coach Megan Wallace said. "In my opinion, we have one of the best benches in the state and that is hugely attributed to her enthusiasm and 'all in' mentality!! She is a 'we before me' kind of athlete and, without her, I don't know if we would have the same kind of energy that we do."
Paige Candee, 5-7 Sr. DS, Silverton – A starter as a sophomore, Candee tore her ACL the first day of tryouts her junior year, which came this past spring. Told she probably would not be able to compete as a senior in the fall, she still came to all program events and helped run Silverton's Kids Camp. Candee did extra work to get back on the court sooner rather than later and, last month, was fully released to play. Now she's back in the lineup and contributing to one of the best 5A teams in the state. "Even when she couldn't play, she still had the Fox spirit of Silverton Volleyball!" exclaimed coach Kate Trimble.
*Kenna Coleman, 5-7 Sr. S, Cascade – A foot injury during Coleman's sophomore season led to surgery just before her junior year began. Coleman worked hard to come back strong for her senior year and helped the Cougars make history by winning the 4A state title. just b
*Kaya Dobson, 5-5 Sr. RS/DS, Burns – Dobson dealt with three different injuries this fall that limited her on-the-court time; yet she continued to support the team and provide valuable senior leadership to a very young Hilander team.
*Kylie Durr, 5-4 Sr. DS, Ridgeview – Raven coach Randi Viggiano described Durr as "the most selfless teammate." She didn't see a lot of playing time this year and did not have the opportunity to dress at state. "That did not stop her from being the loudest and most engaged kid on the bench," Viggiano added. "She always had things to add to timeouts about what she saw and kept the energy positive and loud for her teammates. We are a better team because of Kylie Durr."
Shannon Milter, 5-5 Jr. DS/OH, Canby – Canby coach TJ Schlatter said that Milter hasn't played as much as she'd hoped, but that she's been ready and willing to contribute at all times. "When our starting middle was out sick, I asked Shannon to step in and play middle for us," Schlatter explained. "Against the number one team in our league no less! This is a position she has never ever played before. She did not bat an eye, and her response was, 'OK, let's do this!' Many times athletes will back away from the unknown, but Shannon embraced it with energy and effort and did a spectacular job! This is the sign of a very good teammate, being ready and willing to play any position for the good of the team and doing it with a good heart. Since that time, Shannon has gained more and more confidence and has been playing great as a defensive specialist for us."
Natalie Reveles, 5-5 Jr. DS, Bend – Reveles is not a star for the standout Bend team, but coach Kristin Cooper noted that when she comes in, she makes a difference on the court. She finished the regular season with 25 aces and has served a ton of big points for the Lava Bears. She also passed a 2.24 during league play and once passed a perfect set!
*Taylor Roe, 5-4 Sr. libero, Philomath – Said coach Denee Newton-Vasquez: "Taylor is an amazing defensive player and is always 'right here right now.'" She is integral to the success of the program."
Ana Rose, 5-9 Soph. MB, Horizon Christian (Tualatin) – Rose has missed the season with a severe ankle injury, but she has still been integral to the Hawks' success. "Her presence on the sideline has been inspirational," noted coach Jay Lazaro. "She's at every game, both JV and Varsity, cheering on the teams. She is the loudest at the bench and a master in encouraging others. We are blessed to call her teammate."
*Reese Rothwell, 5-10 Jr. MB, Burns – A mid-season knee injury curtailed any playing time, but Rothwell worked herself back to health and made major practice-time contributions that helped the Hilanders get ready to win the 3A state title.
Noelle Thickett, 5-7 Soph. RS, St. Mary's School (Medford) – Thickett has played multiple positions this year – setter, middle, outside, right side and DS – including several positions in the same match. "She is a very versatile player who has shown immense growth both physically and mentally," noted head coach Katie Miller.
Chloe Wallace, 5-6 Sr. DS, West Albany – A quiet force on a star-laden team, Wallace is consistent and solid. She's been especially effective behind the service line, with only two errors in 150 attempts. "She gets in there and gets the job done," said Bulldog head coach Megan Wallace.
Adessa Woods, 5-9 Jr. S/RS, Junction City – A six-rotation talent for the Tigers, Woods has great hands and is a good blocker. "She does the little things that keep us in games, with her attitude and effort," noted coach Gary Meininger. "She is a positive force for the team!"
Portsiders!
This week, we asked our coaches on our email list, "Who are the top left-handed hitters in Oregon this season?" Here's what we have come up with:
*Abby Berndt, 5-9 Jr. OH/RS – Berndt was a stalwart in the starting lineup for the 4A fourth-lace Valiants. She contributed offense form either pin and showed great effort in the back row when asked to play defense.
Abigail Brown, 6-2 Jr. RS, Philomath – Brown is the Warriors' BIG blocker and routinely shuts down opposing offenses. She also is very smart and really connects hitting the sharp angle.
*Addie Emerson, 5-8 Fr. RS, Valley Catholic – Springy and super athletic, Emerson emerges as a go-to terminator for the Valiants later in the year and is set to play a major role in 2022.
Abby Francis, 5-10 Sr. RS, Bend – Francis finished the league season with 76 kills while hitting .272. "Abby is an awesome down the line hitter," noted head coach Kristin Cooper. "She can mix things up and really is an important part of our offense from the right side."
Bridget Gould, 5-10 Soph. MB, North Bend – Gould leads the Bulldogs in kills with 219 and is hitting .355 in conference play. She also is the team's top server, with 47 aces, and has 33 blocks. "She is only a sophomore but plays with such intensity and dominates at the net," noted head coach Summer Sawyer.
*Bella Oliver, 5-10 Soph. RS/S, Cascade – Oliver had 64 aces for the 4A champion Cougars and played her best ball at the end of the season. Playing on the right, the southpaw had 10 kills and three aces in the championship match.
Jayden Sahlin, 6-0 Sr. MB, North Marion – Sahlin is a team captain and is pivotal at the net as both an attacker and blocker. She has 150 kills, 99 digs and 17 blocks on the year and is serving at 92 percent. Sahlin is quick on her feet and reads the ball nicely, said coach Lindy Wing.
An asterisk (*) indicates someone new this week.
Mighty Mites!
In this space, we recognize Oregon "Mighty Mites," those six-rotation or front row varsity starters who stand 5-6 or shorter. Here are the players we've uncovered so far (a * indicates a new addition this time around):
Sandee Adriano, 5-1 Sr. OH – A four-year letter winner and Seaside's lone senior this season, Adriano is outstanding in all phases on the floor and has grown into her leadership role as well.
Jazell Allen, 5-4 Sr. OH, Milwaukie – Allen jumps well, which helps her attack despite being undersized. Her defense is excellent.
Natalie Baker, 5-6 Fr. MB, Clatskanie – Baker plays six rotations for the Tiger. Last week, she had 28 kills, 32 digs, four solo blocks and seven assisted blocks. She plays much bigger than her height and is a player Clatskanie leans on heavily to get the job done.
Kiera Butori, 5-6 Sr. OH, Jewell – Butori leads Jewell in aces, digs, kill percentage, serve percentage and serve-receive percentage. "She dominates back row defense and knows where to place her attacks at the net," coach Jessica Miller said.
*Meah Carley, 5-6 Jr. OH, Cascade – Carley plays much bigger than her height. She amassed more than 150 kills on the season and played outstanding defense all year long. "Her attitude, grit, leadership and overall athleticism was exactly what our team needed to make Cascade Volleyball history," said coach Cristina Williams.
Aryn Felder, 5-5 Sr. MB, Hillsboro – Felder has played middle all four years of her career. She is almost always the smallest player at the position but is a leading hitter for Hilhi and averages 2.5 solo blocks per match.
Lexi Fern, 5-3 Soph. S, Gaston – A six-rotation setter, Fern is a main reason the Greyhounds remain undefeated with just a couple of weeks remaining in the regular season.
Gracelyn France, 5-4 Sr. S/DS/MB, Willamina – A four-year starter, France excels whatever her position on the floor. She sets and attacks from the middle while in the front row and was a standout DS when an injured hand prevented her from playing all six rotations. Despite standing only 5-4, she is an effective blocker, a sound setter and an instinctual player.
Taylor Haltiner, 5-4 Sr. OH, Tillamook – Tillamook head coach LaVonne Rawe called Haltiner "a firecracker." "She isn't that tall, so her compromise is wit and coachability," Rawe added. "She reads well and has a rocket float serve."
Cienna Hartle, 5-6 Sr. MB, Junction City – Hartle leads the Tigers in blocking while routinely matched up against players four inches or taller.
Ellie McDonald, 5-6 Soph. RS, Horizon Christian (Tualatin) – A great athlete whose twin sister is a setter/hitter, McDonald plays like she's the tallest person in the gym. She jumps well and is an asset on the right and behind the service line.
Tehya Militante, 5-4 Jr. OH, Century – A double-double machine, reaching 10 or more kills and digs every match it seems, Militante's vertical jump and high volleyball IQ make her a capable attacker despite her smaller stature.
Mikayla Moore, 5-6 Jr. OH, Rogue River – The most impactful player on her team, Moore is a hustler who typically paces the Chieftains in kills, digs and even aces.
Skylar Rissel, 5-5 1/2 Sr. OH, Hillsboro – A six-rotation outside, Rissel is second on the Spartans in kills and averages more than one block per game on the outside. She has incredible court IQ and is a team player.
Lainey Stranberg, 5-4 Sr. OH, St. Mary's (Medford) – Stranberg is second on the Crusaders in kills this year, with 120 as of Oct. 11. "She works hard to find openings through and/or around the block," noted head coach Katie Miller.
Emma Wagner, 5-6 Sr. MB, Sherwood – Wagner plays with the presence of a six footer. According to her coach, she "owns the middle blocker position with such skill and confidence every time she steps on a court."
Hope Witham, 5-5 Sr. OH, Crosshill Christian – The foundation of the Crosshill Christian program, opponents game plan to try to stop Witham. Good luck with that! The senior is hitting .340 in league play, is an outstanding passer and tops the squad with 39 aces. "She jumps out of the gym," said head coach Julie Bennett. "We are lucky to have her!"
Fantabulous Freshmen!
In this space, we recognize Oregon high school freshmen who made major contributions to their varsity teams this fall. An asterisk (*) indicates someone new this week.
Natalie Baker, 5-6 MB, Clatskanie – Baker plays six rotations for the Tiger. Last week, she had 28 kills, 32 digs, four solo blocks and seven assisted blocks. She plays much bigger than her height and is a player Clatskanie leans on heavily to get the job done.
*Taelen Bentley, 5-11 MB, Crescent Valley – A powerful hitter who improved exponentially as the season progressed, Bentley was named Second Team All-League and First Team All-State Tournament for the 5A fourth-place Raiders.
Mylee Blake, 6-0 OH, Siuslaw – A sniper on the court who is a kill leader for the Vikings every match, Blake also is a positive and encouraging player and emerging leader with an innate knowledge of the sport.
Moe Bondo, 5-7 S, Milwaukie – Has a great understanding of the game.
Jackie Carle, 5-5 S, Jesuit – Quick, athletic and confident, Carle is averaging almost 11 assists per set when she's running the offense for the undefeated Crusaders.
*JoJo Christiansen, 5-8 MB, Valley Catholic – The Valiants scored a ton of points off of Christiansen's serve. The freshman also was a crafty scorer in the front row and has am emerging power game.
Giana Elgarico, 5-10 OH, Marist Catholic – A six-rotation talent, Elgarico is the Spartans' go-to hitter when a kill must be had. She leads the team in kills and also is the best passer in serve-receive.
*Addie Emerson, 5-8 RS, Valley Catholic – Springy and super athletic, Emerson emerges as a go-to terminator for the Valiants later in the year and is set to play a major role in 2022.
Saralynn Grove, 5-9 MB, Amity – A versatile six-rotation player with an arsenal of shots, Grove also frustrates hitters with her big block.
*Caitlyn Horrell, 6-1 MB, Burns -- Horrell really came on strong mid-season and helped the 3A champion Hilanders at the net. She also was a key consistent server during the regular season.
Mia Hunt, 5-8 OH/RS/S, Central Catholic – Coach Kayla Hambley called Hunt her "most dynamic player." She plays everywhere, does everything well and with poise, is a consistent and essential passer for the Rams and one of the team's strongest servers.
*Isabella "Bella" Jacobson, 5-9 OH, Crescent Valley – The Raiders' go-to hitter averaged 3.4 kills per set and hit .241 in 2021. "She loves being able to run multiple options on offense and hit on the right side in serve receive," coach Troy Shorey noted. Jacobson was named Second Team All-League and First Team All-State Tournament for the 5A fourth-place Raiders.
*Akylah Kaino, 6-0 MB, Burns – Kaino is strong and has the ability to terminate, but she made the biggest impact for the 3A state champions on the block. Simply stated, she was a force at the net and a difference maker whose decisive blocks could change the momentum of a game or match.
Paige Liles, 5-4 libero, Camas Valley – Liles serves tough, leads the team in digs and passes 80 percent of the serves.
*Olivia Lyons, 5-2 libero, Warrenton – Lyons earned the starting libero job for the 16-9 Warriors and never relinquished it. "She is speedy and fearless and a natural fit for the libero position," noted head coach Staci Miethe. "Her success was even more remarkable considering this is only her second year playing volleyball."
*Kamden Mitchell, 5-10 S, Crescent Valley – Mitchell led the team in assists despite missing time. "She gave our offense consistency and dependability during the season while still developing her game," said coach Troy Shorey.
Tatum Montiel, 5-10 OH, Marshfield – The Pirates' kill leader in most matches this season, Montiel had 20 kills and 14 digs in a Sept. 23 win over Siuslaw.
*London O'Brien, 5-5 S, Warrenton – O'Brien had more than 300 assists for the 16-9 Warriors. "London took on the challenge of being the team quarterback and did amazingly well," coach Staci Miethe said."She led a very potent offense with poise beyond her years."
Malia Parker, 5-10 MB, Central Catholic – Parker is an efficient hitter whose flat, powerful serve recently earned her a spot in the starting lineup for one of the best teams in the state.
Sheala Simmons, 5-8 MB/RS, Newport – A fiery southpaw, her intensity and desire to compete have brought a sense of urgency to the court.
Lily Tegner, 5-6 OH/RS, Jefferson – A vocal, high-energy player, Tegner came into the program ready to dominate and she has not disappointed. Tegner is a kills leader on a senior-dominated team, as well as an exceptional teammate.
Quick hits
Bend recovered from a four-set 6A semifinal loss to Jesuit to down Central Catholic in four in the third-place match. "I felt the girls played hard this past weekend," noted head coach Kristin Cooper. "They were executing things we were working on all season, so I was happy to see it come together in the end. I always told the team we wanted to be our best by the end of October and I felt we were playing our best volleyball as we finished…" After losing to Jesuit, a match in which the Crusaders' outsides were on fire, Bend had a "refuse to lose" attitude against Central. "It took a game to start getting momentum and finding the holes in the Rams, but we made some adjustments and were able to tighten up a few things on our defense and we got rolling," Cooper said. "It felt good to end the season on a hard fought win."
…Salem Academy won 2A in coach Melissa Holman's sixth season with the Crusaders. In 2016, the team finished top 16. In 2017, sixth place. In 2018, fourth. In 2019, third. In the 2020 Covid season, lost only to defending 2A champion Kennedy. "It's been fun to watch the program bloom since becoming the program director," Holman said. "We've improved every season."
Leah Mattson is a serving middle for Crescent Valley who is asked to play defense and set. The junior had an amazing dig against Dallas early in the season and has been called "Libero Leah" ever since….
Stat stars
I have asked coaches on our bulk email list to help me compile a list of astounding single-game statistical achievements! We kept a running tally of players who put up statistics at these levels for a single match:
55 assists or more in a match
35 kills or more in a match
35 digs or more in a match
15 blocks or more in a match
15 aces or more in a match
Here's what we uncovered…
15 aces in a match
Morgan Milbrett, 5-6 Fr. S, Mapleton – 26 aces in 3-1 victory over Siletz Valley on Oct. 11.
Natalie VanderPloeg, 5-4 Sr. libero, Mohawk – 28 aces in a 3-0 sweep of Mapleton on Sept. 16.
35 digs in a match
Gianna Friendy, 5-6 Sr. libero, Sherwood – 41 digs in five-set loss to Sprague on Oct. 30
Nose-bleeders
Jumping 10-feet on approach remains a lofty goal for most volleyball players. If you get enough air to touch a regulation basketball rim, you have the ability to hit over blockers and pick your own spots. That makes you a very dangerous scorer on the court!
In this space, we recognize those Oregonians who achieved that lofty mark.
Taylor Brickey, 6-0 Sr. OH, Summit
Amariah Clay, 5-6 Sr. MB/RS, Beaverton
Katie Clevenger, 6-0 Jr. OH, South Medford
Emma Gates, 5-9 Sr. MB, Cascade
Sophia Gregoire-Salagean, 6-2 Jr. OH, Newberg
Gracie Johnson 6-5 Jr. MB, Nyssa
Sage Kramer, 5-11 Sr. OH, Philomath
Sophie Scott, 6-3 Sr. MB, Catlin Gabel
Mensa Mensa
In this space, we recognize "smarty-pants" volleyball players, those current juniors and seniors who have an unweighted GPA of 3.9 or better or a weighted GPA above 4.0.
Zoe Alberty, 5-7 Sr. S/RS, Siuslaw
Sydney Alexander, 5-6 Jr. OH, St. Mary's (Medford)
Jazell Allen, 5-6 Jr. OH, Milwaukie
Madison Balcom, 5-4 Sr. OH, Thurston
Emma Ball, 5-10 Sr. MB/RS, Crescent Valley
Stella Barber, 5-9 Sr. MB, Newport
Lucretia Benolken, 5-9 Jr. OH, Cascade
Sydnie Bierma, 5-11 Sr. MB, Wilsonville
Albie Borovansky, 5-3 Jr. libero, St. Mary's (Medford)
Kora Botta, 5-8 Sr. MB, Milwaukie
Sydney Bowen, 6-1 Sr. OH, Wilsonville
Taylor Brickey, 6-0 Sr. OH, Summit
Brooke Burns, 5-5 Sr. DS, Beaverton
Addy Childress, 5-4 Jr. OH, Willamina
Kenna Coleman, 5-7 Sr. S, Cascade
Kamryn Craig, 5-4 Jr. DS, North Bend
Kate Doorn, 5-11 Sr. S, Summit
Kaylee Dresser, 5-10 Jr. RS, Wilsonville
Kelsey Dunn, 6-2 Jr. MB, St. Mary's (Medford)
Ashli Edmiston, 5-9 Sr. OH, Wilsonville
Natalee Federico, 5-7 Sr. RS, Cascade
Grace France, 5-4 Sr. S, Willamina
Adrianna Frank, 5-8 Sr. OH/RS, North Bend
Maria Fuller, 5-1 Sr. DS, Crescent Valley
Emma Gates, 5-9 Sr. MB, Cascade
Olivia Hale, 5-9 Jr. OH, Dallas
Stella Hall, 5-9 Jr. RS, Thurston
Ayrica Hansen, 5-10 Sr. RS, Rogue River
Kaitlyn Hansen, 5-8 Jr. S, St. Mary's (Medford)
Hailey Harris, 5-5 Sr. DS, Beaverton
Madison Heagney, 5-9 Sr. S/RS, Crescent Valley
Audrey Histed, 5-7 Sr. S, Cascade
Anna Howard, 5-7 Sr. DS, Rogue River
Hallee Hughes, 5-10 Jr. OH, Willamina
Kylie Iverson, 5-8 Jr. S/OH, South Wasco County
Laci Jespersen, 5-4 Sr. DS, West Salem
McKenzie Jonas, 5-10 Jr. MB, Crook County
Eleanor Kahn, 5-5 Sr. OH/DS, Beaverton
Josephine Kasberger, 5-6 Sr. OH, Crook County
Hannah Kendall, 5-6 Sr. libero, Summit
Kylie Kinsella, 5-8 Sr. RS, St. Mary's (Medford)
Sophia Kleckner, 5-5 Sr. libero, Wilsonville
Katy Klein, 5-5 Sr. DS, Summit
Emily Lettenmaier, 5-8 Sr. OH, McNary
Olivia Lewis, 5-7 Sr. S, Molalla
Tatum Lubisich, 5-11 Sr. MB, Wilsonville
Shannon MacCallum, 5-11 Sr. OH, Summit
Sierra Martin, 5-4 Sr. libero, Thurston
Leah Mattson, 5-9 Jr. MB/RS, Crescent Valley
Kendall Maykut, 5-8 Sr. OH, Crook County
Sadie McCoy, 5-7 Jr. RS/MB, South Wasco County
Jenny McKinnon, 5-4 Sr. S, Crook County
Avyree Miethe, 5-7 Sr. OH, Warrenton
Holly Miles, 5-9 Sr. S/OH, South Wasco County
Kaitlyn Miles, 5-8 Jr. MB, Marshfield
Delaney Mitchell, 5-3 Jr. DS/libero, Molalla
Carlee Murray, 5-6 Sr. OH/libero, Newport
Cami Oliva, 5-5 Sr. DS, Cascade
Annah Orloff, 5-2 Jr. DS, Molalla
Kara Paterson, 5-6 Sr. libero, Crescent Valley
Sophia Perakis, 5-7 Sr. MB/RS, Crescent Valley
Bailey Pool, 5-5 Jr. S, East Linn Christian
Malia Rauh, 5-5 Sr. OH/DS, Beaverton
Cierra Ridenour, 5-7 Sr. OH, Colton
Isabella Rodriguez, 5-5 Jr. libero/DS, McNary
Hailey Schwinof, 5-7 Jr. OH/RS, McNary
Lois Shetler, 5-7 Jr. DS/OH, South Wasco County
Riley Simonsen, 5-6 Jr. RS, Warrenton
Stevie Singler, 5-6 Sr. DS, Newport
Lainey Stranberg, 5-7 Sr. OH, St. Mary's (Medford)
Sophia Terwilliger, 5-8 Jr. OH, Crescent Valley
Kayla Toavs, 5-8 Jr. OH/MB, McNary
Natalie VanderPloeg, 5-4 Sr. libero, Mohawk
Abigail Warrick, 5-8 Jr. MB, Marshfield
Josie Wertz, 5-9 Jr. OH, Newport
Emily West, 5-9 Sr. RS, North Bend
Sydney Wilson, 5-4 Sr. libero, North Bend
Lauren Wyatt, 5-3 Jr. libero, East Linn Christian
Jordyn Wynia, 5-3 Sr. libero, Dallas
College-Bound!
In this space, we list those players, in the current senior class and younger, who have made a commitment to attend a college or university of their choice and play volleyball.
Mackenzie Berger, 6-3 Sr. MB, Gaston – Idaho State
Kayleigh Carpenter, 5-7 Jr. OH, South Salem – Boise State (for defense)
Greta Davis, 5-10 Sr. OH, Sisters – Sacramento State (Indoor and Beach)
Kate Doorn, 5-11 Sr. S, Summit – University of Idaho
Gwen Fife, 6-0 Jr. OH, Sheldon – University of Utah (Beach)
Sophia Gregoire-Salagean, 6-2 Jr. OH, Newberg – University of Oregon
Alayna Hughes, 5-8 Sr. libero, Sheldon – University of Providence (Montana)
Laci Jespersen, 5-5 Sr. libero, West Salem – Bushnell University
Emmi Marks, 5-9 Sr. OH, West Salem – Corban University
Tess Masingale, 6-3 Sr. MB, Jesuit - Cal Poly SLO
Ella Nordquist, 6-0 Sr. MB, West Linn – Western Oregon University
Sophie Scott, 6-3 Sr. MB, Catlin Gabel – Cal Berkeley
Abby Sorensen, 5-6 SR OH, Sprague - Oregon Institute of Technology
Emily Warmenhoven, 5-11 Sr. OH, West Linn – Belmont University