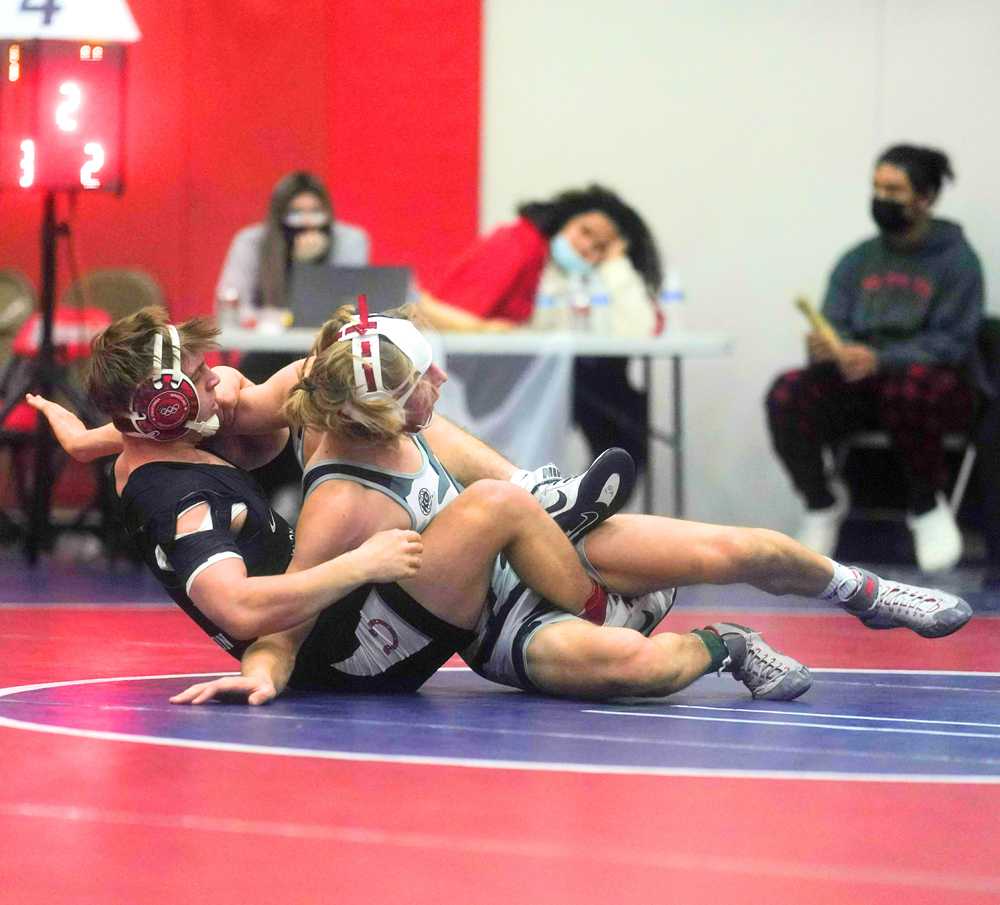 Newberg blew away a very strong field to capture the Rose City Invitational, hosted by Westview High School over the weekend.
In a 22-team tournament that featured seven 6A teams ranked among the top 10 in the state pre-season coaches poll, two top 5A teams, the No. 1 team in 4A, No. 4 team in 3A and three strong schools from across the river in Washington, the Tigers placed 14 of their 22 wrestlers in the semifinals, nine in the finals and came away with five titles in the 14 weight classes. That was good enough for 473 points, 176.5 more points than second-place finisher Thurston, the No. 2 team in 5A.
When asked whether Newberg's performance at Rose City meant that the Tigers were unbeatable in 6A this year, West Linn coach Doug Samarron was succinct.
"Yes, unbeatable," he replied. "The race is for the other three trophies."
Dallas, No. 9 in 5A; Sprague, the third-ranked 6A team; and No. 6 West Linn rounded out the top five teams in the event, which allowed schools to enter up to two wrestlers in each of the brackets. Newberg was so dominant that it twice placed both of its wrestlers in the finals. At 138 pounds, senior Nicky Olmstead, a two-time state champion, edged freshman Gus Amerson, 2-1. At 120 pounds, sophomore Brandon Smith, one of triplets; got by his brother, Jacob Smith, by a 5-2 score. Isaac Hampton (113), Ethan Ritchie (132) and Charlie Evans (160) also emerged victorious for Newberg. Hampton was the most impressive, scoring a technical fall in the third period of his match when the score got to 17-1. Evans is a two-time state champion.
Both Thurston and Sprague took home three individual titles. Thurston, which put eight wrestlers into the semis and five into the finals, got wins from junior Kolton Malone at 145, senior Logan Slonecker at 152 and junior Vaun Halstead at 220. Malone finished second in 5A at 120 as a freshman before missing last season with a shoulder injury. Halstead finished second at last spring's culminating event at 220 pounds. Slonecker won by pin in the third round; Halstead by pin in the second.
Five of the six Sprague wrestlers to make the semifinals advanced to championship matches. Senior Brayden Boyd, a two-time defending state champion, won at 126. Junior Riley Davis, a 6A state champion at 160 pounds in the spring, edged two-time state placer Justin Rademacher of West Linn in a Sudden Victory situation at 170 pounds. And senior Brook Byers, a two-time state champion who has signed with Stanford, had a dominant performance to win the 195-pound division. All three wrestled up one weight class for the event.
"Riley Davis had probably the toughest bracket to go through to get to a nationally-ranked wrestler from West Linn in Justin Rademacher," noted first-year coach Mike Ritchey. "Brook Byers looked very solid in his tournament as well, beating the defending state champion at that weight. Brayden Boyd also had a state champion, who moved up a couple of weight classes."
Ritchey added that David Sherman wrestled well to get to the finals at 220 and that Josh Camillo getting to the championship match at 152 was terrific for his first competition of the season.
Sweet Home, the No. 1 team in 4A, claimed the other two individual titles won by Oregon wrestlers. Sophomore Kyle Sieminski, the state champion at 106 pounds last spring, pinned his way through the 106-pound bracket. His average pin came at just over a minute. Senior Colby Gazeley won the belt at 295, in a tiebreak after three overtimes. The Huskies also advanced Jacob Sieminski to the 132-pound championship, where he lost to Ritchie in the toughest weight class in the tournament.
Sweet Home coach Steve Thorpe said that he was incredibly proud of his team, which brought only 18 wrestlers after illness sidelined four varsity wrestlers and a couple of other top standouts.
"This tournament gives us a great idea of where we need to improve in our march towards February." Thorpe said.
Sweet Home had five placers total, including Kyle Watkins and Ryker Hartsook, who battled through the backside to each get sixth place. Three Huskies in the finals are the most the team has ever had. Fourteen wrestlers made it to Day 2.
Mountain View, ranked fourth in 6A, placed five wrestlers in the semifinals. No. 6 West Linn put four, including Nathan Watts. Senior Ethan Goff, runner up at 132 during the spring, rallied from a quarterfinal loss in the 132-pound bracket to place third overall.
Willamina, a top 3A team, brought 11 wrestlers to Westview and put three into the semifinals. Senior Michael Fox, the 3A champion last spring at 160 pounds, made the final at 160 at Rose City, but fell, 8-7, to Newberg's Evans.