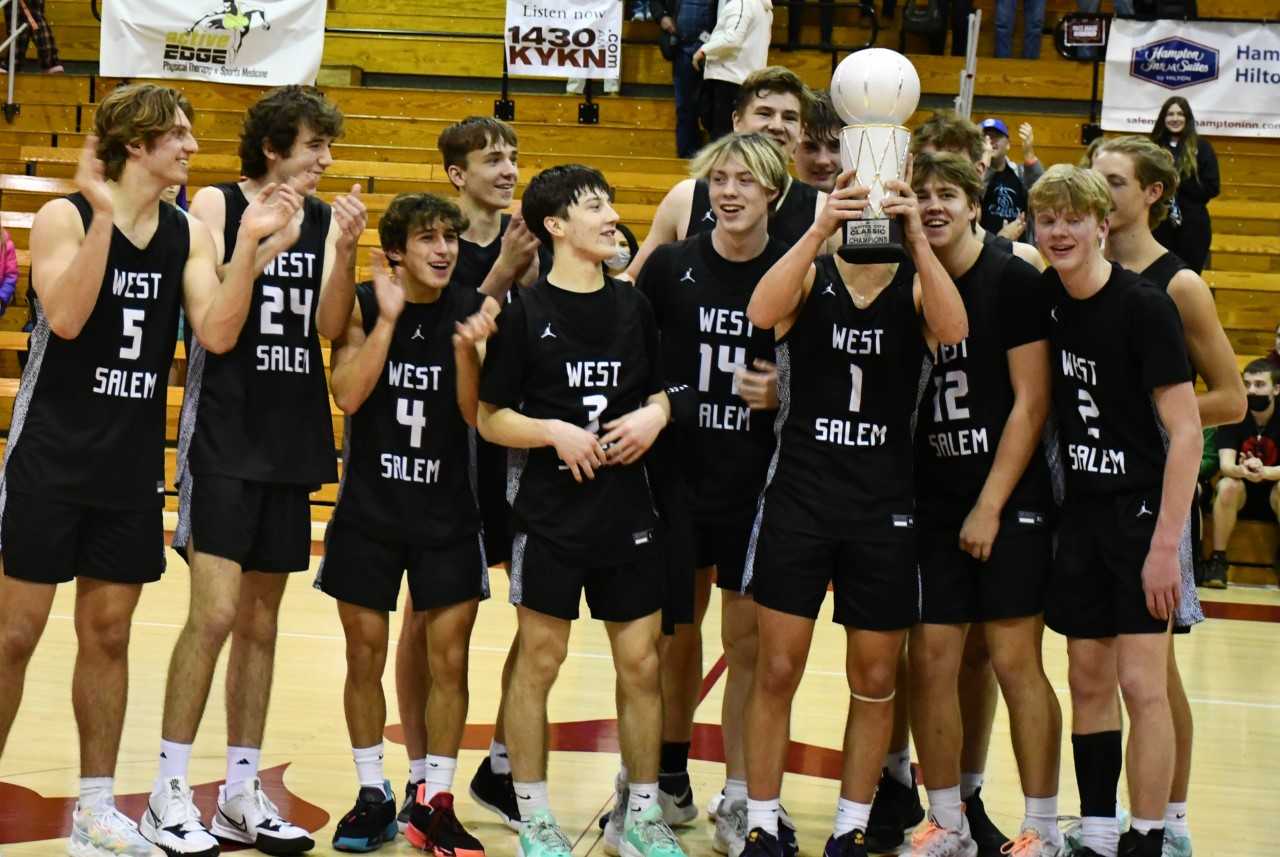 SALEM – West Salem became the first Oregon team to win the Capitol City Classic by rallying in the second half to defeat Wilsonville 42-39 in the championship game Wednesday night at Willamette University.
The Titans (6-1), unranked in 6A, trailed throughout the game but pulled ahead in the closing minutes to defeat the previously unbeaten Wildcats (7-1), who are ranked No. 2 in 5A.
Sophomore Jackson Leach made a three-pointer to put West Salem ahead 38-37 with three minutes left, junior Tommy Slack converted a putback for a 40-37 lead with 55 seconds to go and Slack added two free throws to seal the win.
Senior Jon Breyman had 11 points, four rebounds and two assists and Slack added 10 points for the Titans, who beat Jefferson 67-50, 5A No. 1 Silverton 75-53 and 6A No. 6 Beaverton 65-62 in double overtime in the first three rounds of the sixth annual tournament.
"It means a lot. We've worked hard for it and I think we've deserved it," Slack said. "We just had to be clutch. Jon (Breyman) came in clutch for us last night and I came big for us tonight."
In the semifinal win over Beaverton, West Salem trailed by 20 points in the first half but forced overtime on a late three-pointer by Breyman. The Beavers had knocked out the tournament's top seed, Cane Ridge (Tenn.). 49-39 in the quarterfinals.
Wilsonville led West Salem 23-18 at half and pushed its edge to 28-21 before taking a 36-30 advantage into the fourth quarter. But the Titans tightened up their defense in the fourth quarter, holding the Wildcats to three points the rest of the way.
"Just coming into it with the mindset that we're never out of it, and that we can keep coming back," Leach said. "We know we can always battle back. We weren't playing our best game in the first half against Beaverton, but we all knew we could, and we're still not at our potential that we can be."
West Salem entered the tournament off a 89-56 home loss to No. 1 Tualatin. The Titans will try to build on the momentum from winning the 16-team tournament.
"This is crazy. This is an awesome experience especially as a sophomore," Leach said. "I can't love my teammates any more than I do. This is a great team, great family. It's a crazy experience."
Slack said he was "super nervous" while shooting his clinching free throws.
"I had to stay calm, take a few deep breaths and focus on my form," Slack said. "We can take (this tournament) into the season and hopefully it'll lead us to the championship."
Logan Thebiay, a 6-foot-10 senior post, led Wilsonville with 10 points. Junior guard Maxim Wu added eight points and four assists for the Wildcats.
Wilsonville -- which came back from a 12-point, third-quarter deficit to beat 6A No. 4 Roosevelt 54-52 in the semifinals -- finished as tournament runner-up for the third consecutive time.