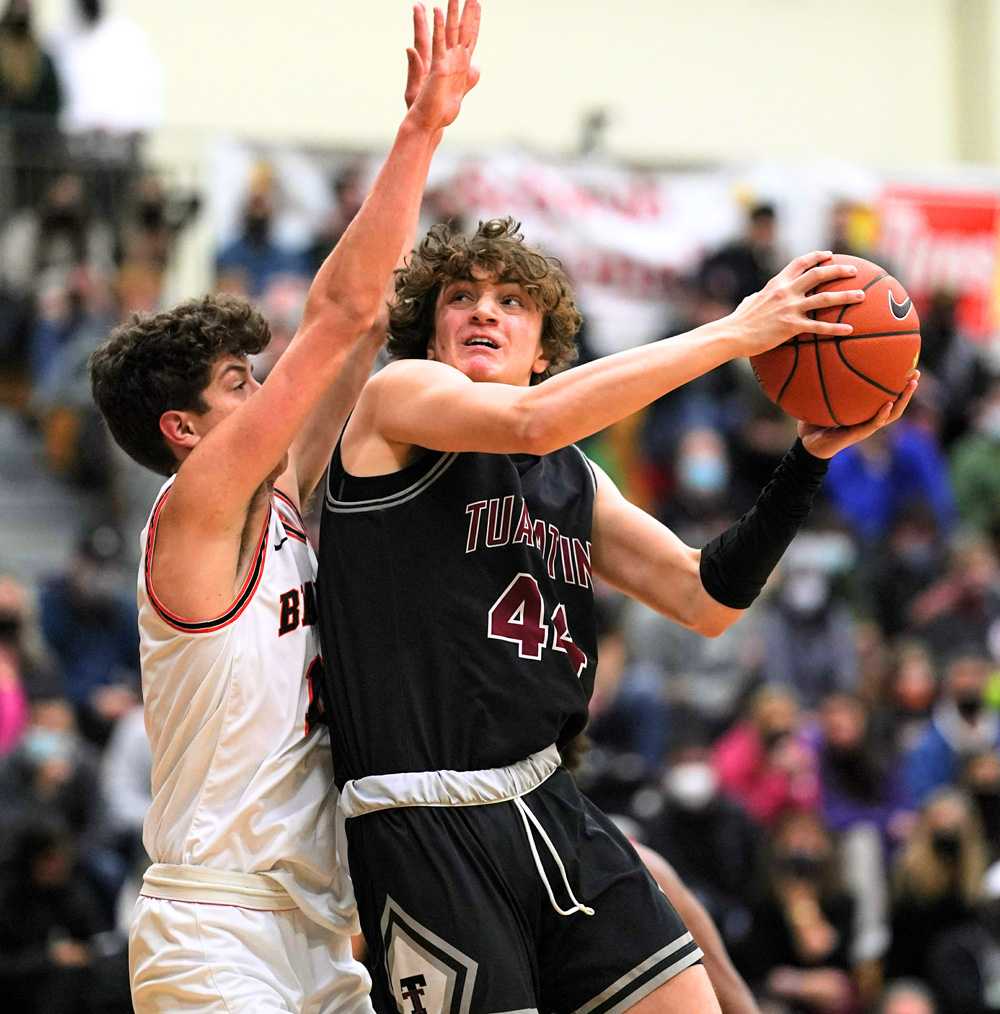 The best of Oregon will challenge one of the best teams in the nation tonight, after both routed semifinal opponents on Wednesday to reach the championship game at the 25th Les Schwab Invitational hosted by Liberty High School in Hillsboro.
Undefeated Tualatin (9-0), ranked No. 1 in the OSAAtoday 6A Coaches Poll; won every quarter in easing past Beaverton, 76-44, in one semifinal. Missouri's Link Academy (19-0) used its overwhelming height and talent advantage to dominate Barlow, 84-51, in the other.
Tonight's 8:30 p.m. tip could serve as a barometer on the state of basketball in Oregon this year.
"They're top 10 in the nation," said Tualatin senior guard Malik Ross. "We almost have to be perfect."
Ross played nearly a perfect game in leading the Timberwolves past Beaverton in the second semifinal Wednesday night. Oregon's 6A offensive Player of the Year in football this past fall, Ross used his breakaway speed to score on coast-to-coast drives and tickled the twine from long range on his way to a game-high 16 points in 22 minutes of action. He stood out even more in the way he passed, both in transition and against Beaverton's extended 2-3 zone defense.
"When a team wants to zone us I feel like there's a lot of open space," said Ross, whose six assists (against just one turnover) were twice as many as anyone else from either team. "So with my ability to pass, I can penetrate and dish out to an open man or dish down to a big man on the block. I just do what I do best and part of my game is passing and I take real big pride in that."
The game started slowly for both teams in a semifinal that Tualatin led, 14-10, after one quarter. Beaverton, which rallied from behind to win its first two games of the tournament, hoped to rally from behind once again, but an 8-0 Tualatin run to start the second quarter made any comeback seem improbable. Senior guard Noah Ogoli, who scored Tualatin's first four points of the game, scored on consecutive run outs, following Ryan Schleicher's wing three, to make it 22-10 Timberwolves barely a minute into the quarter. Tualatin, which got nifty assists in the eight-minute period from Jack Wagner, Jaden Steppe and Kellen Hale, methodically extended its lead against a Beaverton team that went 0-13 from the floor in the quarter, and led, 30-14, at halftime.
Tualatin replicated its fast start to the second quarter in the third, using a Josiah Lake 3-ball and Ashton Rose fast break lay-in, both assisted by Ross; and Ross' jumper to tack seven straight points onto its lead. Peter Burke added a triple of his own and Schleicher scored five late points, including an off-hand finish on a strong drive; to extend the Timberwolves' advantage to 27 points, their largest of the game to that point.
The fourth quarter saw both teams clear their benches after Lake's two free throws with 5:20 remaining made it 67-32 Tualatin. Beaverton (6-3) outscored the Timberwolves, 12-9, the rest of the way.
Ross was joined in double figures for Tualatin by Schleicher (15 points) and Ogoli (12). Lake and Steppe, who was very active inside; teamed for 17 more. A total of nine players scored for the Timberwolves, and virtually all who played made a positive contribution to the team's win.
Sophomore southpaw Max Elmgren, who scored six first-quarter points for Beaverton, paced the Beavers with nine points on 40 percent shooting from the field and 75 percent shooting from the stripe. Reserve Aiden Rice added eight points, while Christian Gonzalez injected life into the offense with three assists off the bench.
***
Link Academy started its game with Barlow on an 11-0 run. Trey Green scored on a lay-up off of the opening tip, Arkansas signee Jordan Walsh tallied five early points and Omaha Biliew electrified the crowd of over 2,000 with a monster jam following a steal as part of the Lions' fast start. Walsh, one of four starters 6-7 or taller, and one of four seniors who have signed with Power 5 Conference schools; finished with 13 points in the quarter as Link stormed to a 29-11 lead after one.
"We were outmatched at every position and just went out and played," said longtime Barlow coach Tom Johnson. "We didn't play our style but they force you to do things that you're not comfortable doing. Their size, length and athleticism we just can't emulate in practice."
Barlow showed a lot of fight and showed off its long-range shooting in the second quarter. The Bruins used four triples from freshman Jalen Atkins -- launched from Forest Grove -- and strong work inside from senior post Jesse Jones, to cut Link's lead to just eight, 43-35, at the break. Barlow's 24-14 advantage in the second included an 11-0 run that stunned Link, a new, private academy with established top 100 national talent culled from all parts of the country.
"We battled," Johnson said. "We made shots. A lot of the shots we made were kind of bad shots. We've got some kids who can shoot it and that helped a lot."
Link Academy came out hot to start the third. Green, a 5-11 junior point from Charlotte, North Carolina, scored nine points in the period and showed off his ability to penetrate and finish, as did many of his Lion teammates. Barlow hung in thanks to two more three-pointers from Atkins and three more from Connor Hills.
Link, which outscored Barlow by 10 in the third quarter to take an 18-point lead into the fourth quarter, scored 12 quick points to open the fourth, six on three athletic, full-court rushes by Walsh, who finished with a game-high 26 points on 11-of-13 shooting, with 10 rebounds. After Biliew's dunk made it 84-51 Lions, Link throttled down. Neither team scored in the final 3:35 of the game.
Green complemented Walsh's big game with 14 points and six assists for Link. Damien Mayo added 10, including 2-for-2 from long range. Biliew and 6-10 senior Tarris Reed, Jr., a Michigan signee, chipped in nine points apiece. The Lions shot 60 percent from the field and 50 percent from behind the three-point line.
Barlow, which fell to 5-3 with the loss, played without impact senior wing Nathan Jones, who was under the weather. But a semifinal appearance for the unranked Bruins, including a quarterfinal win over athletic Roosevelt, stands as a terrific achievement.
"It's been great for us," Johnson said. "I love this group of kids. They work hard, are committed and are a lot of fun to be around."
Atkins had 19 points and five assists to lead Barlow. Hills finished with 17 points. The Bruins shot just 23 percent from the floor in the second half and only 35 percent for the game. They were outrebounded, 40-19, and turned the ball over 19 times.
Does a similar fate await Tualatin tonight? Link's average margin of victory over its first three games is 32 points.
"They're such a great team offensively and defensively," said Ross. "We can't come out scared. We have to play our game. We have to come out, be confident, play great defense and execute on offense. They're going to make some big plays. We can't get down on ourselves and have to stay in the moment. But that's easier said than done."
In other action Wednesday from the Schwab:
(recaps by Tim Tawa)
Cleveland 85, Lake Oswego 77: -- Senior guard Lawson Vella contributed 30 points to help guide Cleveland to an eight-point win over Lake Oswego Wednesday night. The Warriors controlled the game for the first three quarters, steadily building their lead to 17 going into the fourth. The Lakers were able to cut the lead to 10 with three minutes left, helped by a 35-point performance from freshman Winters Grady, but wouldn't get any closer until there wasn't enough time to mount a comeback. Turnovers played a role in this game; Lake Oswego suffered 11 more than Cleveland. The Warriors were also aided by Christian Green, Jamel Pichon, and Jackson Cooper, who all scored in double figures in the win.
Roosevelt 71, Jesuit 67: -- Sophomore guard Terrence Hill scored 21 points and added nine assists to help Roosevelt edge Jesuit late Wednesday afternoon. The Roughriders held a seven-point halftime lead, but the Crusaders stormed back to tie the game with just over a minute left in the third quarter, led by junior Cade Collins, who scored 28 points in the contest. The game remained close throughout the fourth quarter, until a late three-point play and a pair of free throws with under a minute to play pushed the lead to four and out of reach for Jesuit. Donatello Tupper, Utrillo Morris, and Chance White all finished in double figures for the Roughriders in the win.
David Douglas 75, Canby 68: -- Junior guard Fernando De La Torre and senior forward Jay'Vanni Sarchi both scored 21 points in David Douglas' seven-point win over Canby Wednesday afternoon. The Scots started hot in the contest and held a comfortable 16-point halftime lead over the Cougars. Canby senior Payton Meyers helped turn the momentum of the game in the third quarter, scoring seven of his 32 points and helping cut the Scot lead down to six heading to the fourth. The score got as close as three with just under five minutes to play, but David Douglas pulled away late to secure the win. Scot senior Jamaree Collins contributed 19 points and nine rebounds, while Canby senior Jacob Strand added 19 points and seven rebounds in the losing effort.
Central Catholic 68, Tigard 37: -- 6-7 junior forward Riley Williams contributed 19 points to help Central Catholic cruise to a 31-point win over Tigard. The Rams opened up an 11-point lead after the first quarter, keeping the Tigers off the scoreboard for the last five minutes of the period. Central Catholic continued to pull away throughout the game, aided by 19 Tigard turnovers. Junior guard Malik Brown was the bright spot for the Tigers, scoring 16 points in the game and grabbing five rebounds. For the Rams, Luke Johnson added 14 points to go along with eight rebounds, helping secure the easy win for Central Catholic.
Sherwood 68, Evergreen 60: -- Senior guard Owen Caudle scored 17 points (10-11 from the free throw line) and dished out eight assists in a consolation bracket win for Sherwood Wednesday morning. Matthew Verkamp, Baydon Kullowatz, and Bryson Goff all reached double figures too for the Bowmen, whose balanced attack helped them control the game throughout. Sherwood only trailed for 10 seconds during the contest despite a late fourth quarter push by Evergreen, led by Arthur Ban (16 points), Juelz Mendoza (14 points), and DJ Edmonson (12 points, nine rebounds). The trio helped trim Sherwood's 15-point lead down to seven, but the Bowman advantage proved too big to overcome.
Churchill 68, Gresham 63: -- Senior guard Samaje Morgan, who played all 32 minutes of Wednesday's consolation game, scored a game-high 30 points to lead the Lancers to a five-point win over Gresham. Tied going into the fourth quarter, Churchill managed to open up an eight-point lead with just over three minutes left to play, but junior guard Scotty Riddle (20 points, eight rebounds) wouldn't let the Gophers go down quietly. He hit two clutch late shots to pull Gresham within one with 22 seconds left to play, but a late lay-up and pair of Churchill free throws by Carson Luna (12 points) put the game out of reach. Junior guard Esyah Pippa-White contributed 16 points, eight rebounds, and six assists for Gresham in the losing effort.