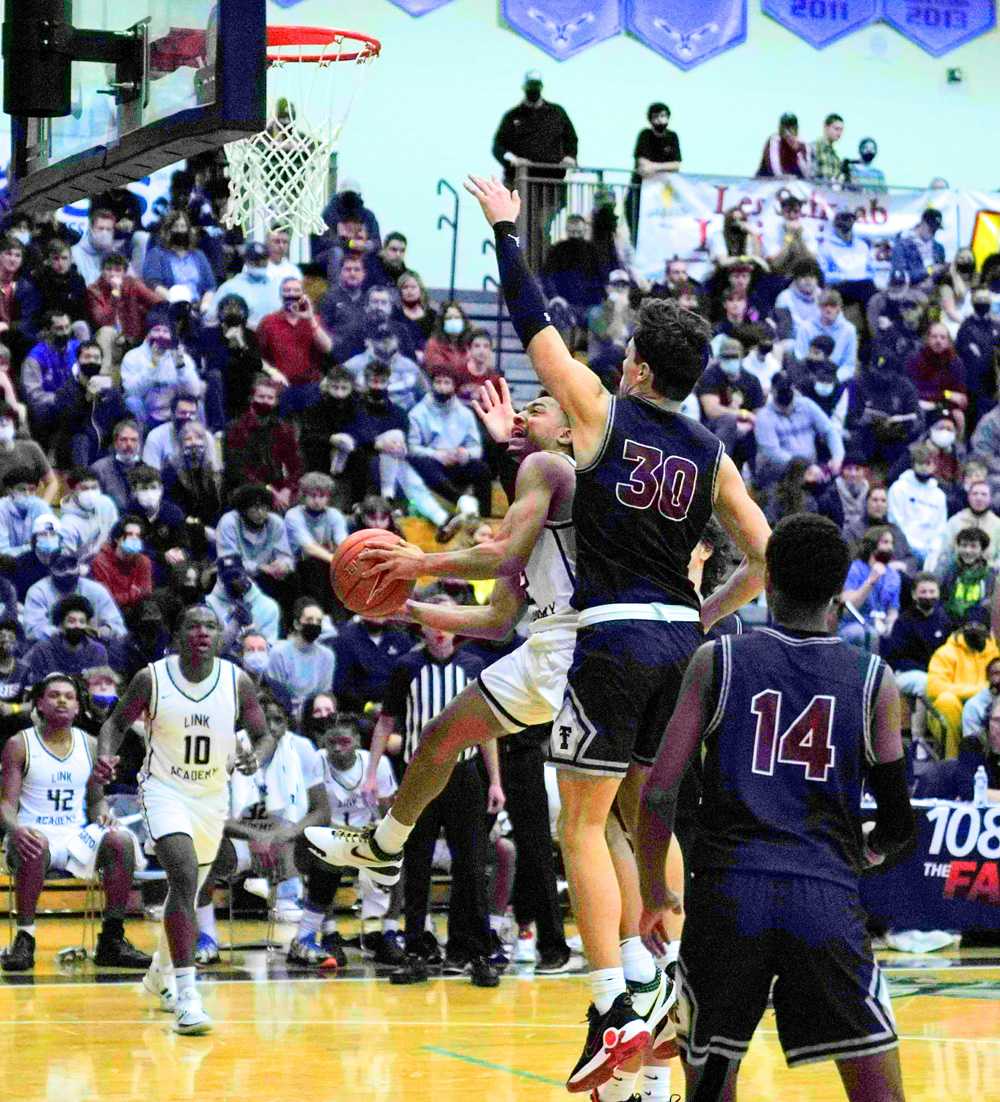 History will record that nationally-ranked and undefeated Link Academy, a brand new Branson, Missouri school with nationally-recruited talent; defeated Tualatin by 23 points Thursday night, 83-60, to capture the 25th Les Schwab Invitational at Liberty High School in Portland. But make no mistake: Tualatin, the top-ranked team in Oregon, did what many teams before them could not do.
They made the Lions sweat.
"I thought we didn't play with fear," Tualatin coach Todd Jukkala observed. "We just got after them. Our seniors will always compete. They won't back down. They won't give up at any point. [Link] got us sometimes but we took it to them."
Playing before a capacity crowd nearing 4,000, Link (20-0), the No. 8 team in the nation, raced to an 11-0 lead, aided by three Tualatin turnovers in the game's first 72 seconds. LSU signee Julian Philips, one of four players in Link's starting lineup standing 6-7 or taller; hit two corner threes to ignite the Lions' fast start. Arkansas signee Jordan Walsh, the tournament MVP, added two buckets inside as well during the opening run.
"We had a slow start – I wish we had a better start – but, after that, we got after 'em and I thought we had some moments," Jukkala said. "I couldn't be more proud of our guys."
Indeed, every time Link, with its roster of top 100 players, threatened to blow Tualatin out of the gym, the Timberwolves responded with grit, despite being physically outmatched by the Lions' immense height and impressive athleticism.
"Obviously that's a different type of team," Jukkala observed. "We told our guys to go out, play hard and compete. I think that's what our guys did."
Tualatin sophomore Jaden Steppe hit a wing three nearing the midway part of the first quarter to finally get Tualatin on the scoreboard. The Timberwolves appeared to relax and settle in after that, because they tacked on two buckets from senior guard Noah Ogoli, both assisted by Malik Ross, as part of a 10-3 run that got them within four at 14-10.
Link countered with a run of its own, because that's what elite teams do. Tarris Reed, Jr. started it with a lefty stick back and assisted on Omaha Biliew's bucket. Philips, who finished with 11 points in the quarter, delivered another three-pointer and a monster jam at the horn to make it 24-13 Link heading into the second.
Reed, Jr.,a 6-10 Michigan signee from St. Louis, took over the second quarter with eight early points at the rim and another deuce in the closing seconds of the half. In between, Tualatin matched Link point for point. The Timberwolves got five points from Steppe and four from Ross and, aside from Walsh's stunning windmill dunk, slowed Link by going to an aggressive 2-3 zone on the defensive end.
"When we switched to the zone it helped us out and we stuck with it," Jukkala said. "That's the kind of team you have to throw everything at and hope it works."
Tualatin, which trailed by 21 points in the second quarter and 17 at halftime, came out with great energy to start the second half. A 3-ball from Josiah Lake started the Timberwolves' surge, which eventually brought the local team to within seven points. Ogoli and Kellen Hale were catalysts during the quarter, accounting for every point for Tualatin other than Lake's triple. Ogoli, especially, was impressive attacking the goal on run outs and hitting a deep, deep three.
"Our guys, especially on the defensive end, were communicating and our seniors were really executing the defense we wanted to do," Jukkala said. "I thought we rebounded well for our size and physicality. When we kept them to one shot and got run outs, I think that's when we were strongest."
All that good work from Tualatin, however, was squandered in the final minute of the third quarter. Two Tualatin turnovers—the team had 19 for the game compared to 11 for Link – helped the Lions score the final nine points of the period, including Damien Mayo's three-pointer at the buzzer, which restored the 17-point lead that Link came into the quarter with.
There was more fight yet in Tualatin. Julian Norris stroked a corner three to open the fourth quarter and give Link a 20-point lead, 64-44, but Tualatin answered with 11 of the next 12 points to cut the Lion advantage to just 10 with four minutes to play. Ogoli, who had a game-high 24 points, was essential to the run, with seven points, but so, too, were Ross and Steppe.
Link point guard Trey Green, who had been scoreless in the game to that point, hit a three-pointer from the top of the key out of a time out, to stop Tualatin's run. The North Carolina native added seven more points and two terrific assists down the stretch to finally help put the Timberwolves' away. Link's margin of victory, 23 points, represented its largest lead of the game.
Five players finished in double figures for Link Academy, which shot 52 percent for the game, outblocked Tualatin 7-0 and had a 14-6 advantage in steals.
"Defensively, I felt like we were locked in and ready to win the tournament," Reed, Jr. explained.
Reed, Jr. led the way for Link with 20 points, seven rebounds, two assists, two blocks and three steals. He said that the tournament provided its challenges.
"It was tough at first coming off of Christmas break," he explained. "We needed to get in the groove and get back into condition but we did a good job and came away with the win."
Philips finished with 14 points, seven rebounds and two blocks. Walsh contributed 13 points, seven rebound, three assists and five steals. Biliew, one of the top juniors in the nation, chipped in with 11 points, three boards and two assists. Green finished with 10 points and five assists. And Mayo contributed nine points and five assists.
Ogoli added five rebounds and five assists to his 24-point total for Tualatin, which fell to 9-1 with the loss. Steppe had 12 points and seven rebounds off the bench. Ross and Hale each had eight points.
In other action Thursday from the Schwab:
(recaps by Tim Tawa and Jordy Tawa)
Third-place game
Beaverton 59, Barlow 43 -- A lopsided game from the start, the Beavers proved to be too much for the Bruins, despite resting its tournament standout, Brady Rice, in this one. Beaverton jumped out to a double-digit lead after the first period and outscored Barlow in every period. Senior guard Trevon Hamilton and sophomore guard Max Elmgren, who put up 17 and 18 points, respectively, while shooting a combined 11-17 from the field, led the way for Beaverton. Rebounding was a deciding factor in the game, with Beaverton outrebounding Barlow, 31-16. Senior forward Philip Rosenfield led the way for the Beavers, grabbing eight rebounds, including two offensive rebounds. Senior guard Connor Hills did his best to keep Barlow team in the game, providing a team-high 16 points.
Fifth-place game
Cleveland 62, Jesuit 57 -- Cleveland jumped on the Crusaders out of the gate, leading by eight after the first quarter. Cleveland was powered by a 20-point effort from All-Tournament junior Christian Green. Senior guard Lawson Vella and junior Jackson Cooper both provided double-digit points. Cooper added 10 rebounds. Jesuit outscored the Warriors, 20-11, in the fourth quarter, but the early lead proved to be too much to overcome. Senior wing Tyree Blake led Jesuit's comeback effort. He contributed 16 points for the Crusaders. Cleveland improved to 7-2 with the victory.
Consolation championship
Central Catholic 76, David Douglas 30 -- Five players scored in double figures for Central Catholic, led by freshman sensation Isaac Carr's 14 points, in its 46-point rout of David Douglas. This game was over early; the Rams held the Scots to just two points in the first quarter and led by 31 at halftime. David Douglas also turned the ball over significantly more than Central Catholic, allowing the Rams to score 33 points off of their turnovers.
Other action
Roosevelt 82, Lake Oswego 77 -- Powered by 33 points and nine rebounds from All-Tournament sophomore guard Terrence Hill, Roosevelt beat Lake Oswego by five on Thursday afternoon. The Roughriders found themselves down after three quarters, but overcame their four-point deficit within the first minute of the fourth quarter and never looked back, controlling the game the rest of the way. Donatello Tupper, Utrillo Morris, and Chance White all scored in double figures for Roosevelt. Lake Oswego was led again by freshman wing Winters Grady, whose double-double effort (28 points, 11 rebounds) was notable in the loss. Grady was named to the All-Tournament Team. Sorena Torabi, Luke Brauner, and Carson Reno all reached double figures, too, for the Lakers.
Tigard 55, Canby 44 -- Twin brothers Kalim and Malik Brown combined for 31 of Tigard's 55 points to lead the Tigers to an 11-point win over Canby. The game turned in the third quarter, when Tigard went on a 14-2 run to up its four-point halftime lead to 15. The Cougars wouldn't go down quietly though. Helped by a 20-point, eight-rebound effort from senior forward Payton Meyers, Canby ended the third quarter with an 8-0 run of its own. Seven points was as close as the margin would get, as the Tigers slowly pulled away throughout the fourth quarter to secure the win. Junior wing Sawyer Wolf had a solid game for Tigard to complement the Browns. He contributed 11 points and eight rebounds.
Churchill 69, Sherwood 62 -- Senior guard Samaje Morgan played all 32 minutes and scored 29 points to lead Churchill to a seven-point win over Sherwood Thursday morning. Churchill jumped on Sherwood early, leading by 12 points after the first quarter and held a double-digit lead until the fourth quarter. Senior guards Caden Jenkins and Owen Caudle provided 18 and 21 points respectively in the comeback effort for the Bowmen, but the lead proved too much. Junior wing Matthew Verkamp provided 16 points and 7 rebounds for Sherwood while junior Cooper Case provided 10 points and senior guard Ty Weiskind had 11 points off the bench for Churchill. Churchill move to 7-3 after the win.
Gresham 62, Evergreen (WA) 40 -- Trailing 22-21 at halftime, a second-half surge by Gresham helped guide the Gophers to a 22-point win. Gresham was led by a 17-point effort from sophomore guard RJ Alexander and 15 points from junior guard Scotty Riddle. The Gophers poured on 24 points in the third quarter and led by 13 going into the fourth, where their defense took over, allowing only eight points to close out the win. The Gophers also controlled the glass throughout the game, outrebounding the Bowmen 40-26, led by senior post Terrence Anderson, who grabbed eight rebounds off the bench. Sophomore forward Arthur Ban did everything he could for Evergreen, finishing three steals short of a triple-double (10 points, 10 rebounds and 7 steals). Gresham improved to 4-4 with the win.