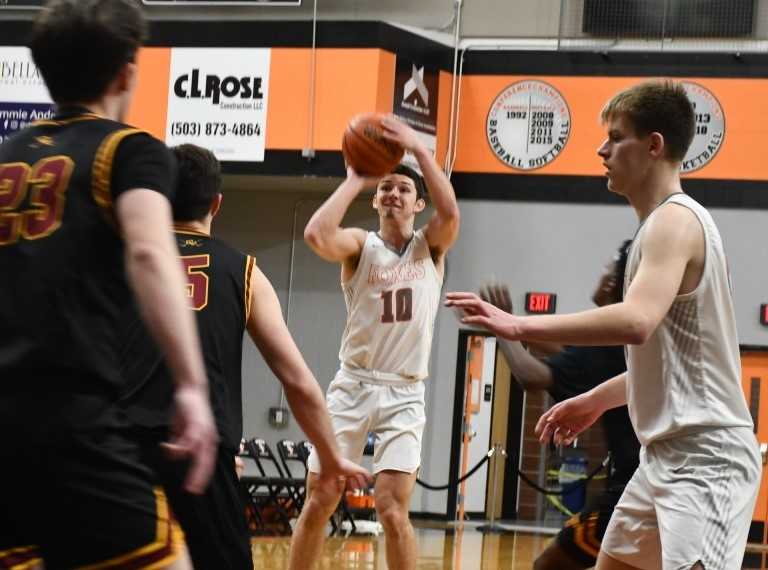 SILVERTON – Senior guard Jordan McCarty scored 19 points as No. 2 Silverton downed No. 3 Crescent Valley in a 5A Mid-Willamette Conference boys basketball showdown Monday night.
Seniors Ryan Redman-Brown and Neil Efimov added 15 and 14 points, respectively, for the host Foxes (11-5, 7-0), who extended their conference winning streak to 41. It was the first conference loss for the Raiders (11-4, 5-1).
"It'll help us a lot with playing a great team like CV," McCarty said. "It makes us step up to the test, and I think our guys were ready for it. They just pushed us to be better and that's what it's about every game."
Silverton led 27-20 at half and 43-38 after three quarters. But Crescent Valley took a 46-45 lead midway through the fourth quarter on a basket by senior Jake Leibelt.
The Foxes answered with a 7-0 run, capped by a three-pointer from McCarty, to lead 52-46 with 2:23 remaining. The Raiders drew within 52-51 with 1:24 left on a three-pointer by junior Adam Temesgen, but Silverton was able to seal the win with free throws.
The Foxes had won the previous eight games against Crescent Valley by an average margin of 26.0 points, but this time, had to dig deep to turn back the Raiders, with a boost from their bench.
"We always dominate the third. but something went wrong," Redman-Brown said. "It fell apart. We weren't picking up our man And then the subs came in, we clicked again and it was crazy.
"This is going to carry us forward. Our offense can get better, our defense is helping us carry the game through. The offense will come as our defense will get better."
Silverton has won six in a row. The Foxes' only loss to an Oregon team came against 6A West Salem.
Temesgen scored 14 points and Leibelt and senior Cooper Wakefield scored eight points apiece for Crescent Valley, which had its six-game winning streak snapped.