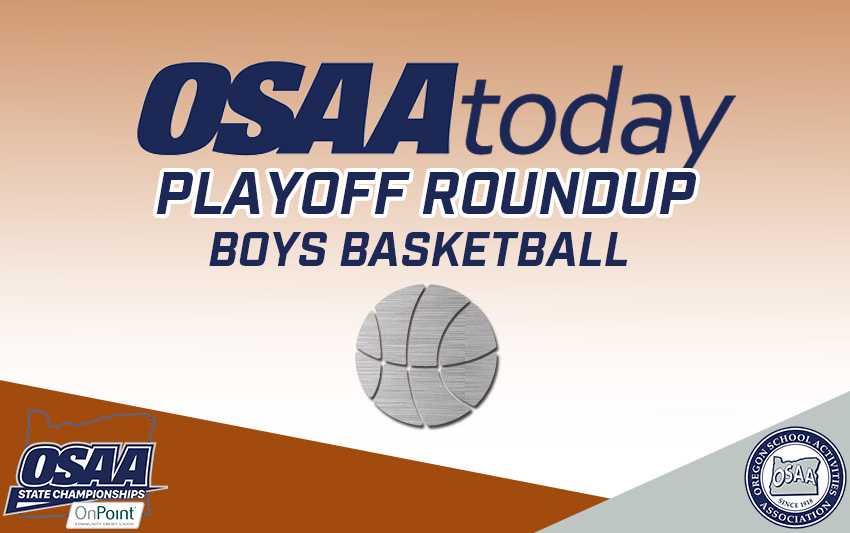 A look at Tuesday's 6A first-round games in the OSAA / OnPoint Community Credit Union 6A Boys Basketball State Championship:
The 6A first round of the boys basketball playoffs went according to chalk on Tuesday night, with only three games decided by less than double digits.
Please find scores and recaps that we have below. We will add more details as we receive them. COACHES may email [email protected] with recaps.
Tualatin 96, Roseburg 72: Noah Ogoli had 26 points to lead top-ranked Tualatin, which survived a stunning, state-record 46 three-point attempts from Roseburg. RHS made only 12 of them. Kellen Hale, Josiah Lake and Peter Burke combined for 43 more points for Tualatin, which had a big second quarter run to break open a close game. Roseburg got as close as 10 points in the second half. Danil Olson led Roseburg with 24 points.Hunter Fullerton added 20.
Lake Oswego 59, Mountain View 42: Lake Oswego led 24-20 at halftime before pulling away after the break. Freshman Winters Grady led the way for LO with 22 points. Marcus Lee added four from deep for 12 points. Sophomore Quincy Townsend's 19 points paced Mountain View. Tane Prictor, a 6-11 senior center, added 11.
Grant 69, Gresham 54: Grant bolted to a quick 21-11 lead after one quarter, sharing the ball and cleaning the glass. But the flow changed after 6-7 senior post Austen Jay went to the bench with foul trouble. Gresham rallied to get within 35-32 at the half. In the third and fourth quarters, with Jay, Grant's rim protector, back in the game, Gresham managed just 22 points total as the Generals pulled away for the win. Jaye finished with 15 points, four blocks and eight rebounds. Adrian Mosely, the PIL POY, finished with 26 points while scoring at will, and added six rebounds, six assists and three blocks. Point guard Andre Lawrence chipped in with seven assists and six rebounds. Cole Bernius contributed 12 big points, four assists and five rebounds.
Beaverton 63, Bend 42: A two-point Beaverton lead after 16 minutes gave way to a Beaver blowout in the home win. Aidan Rice sparked the win, scoring 22 points off of the bench, including six triples. Brady Rice and Max Elmgren teamed for 22 more for Beaverton, which won the third quarter, 28-5, and and never looked back."Iwas happy with the way we adjusted and settled down in the second half," Beaver coach Andrew Vancil said. "If we defend and shoot the ball like that we can beat anybody."
Jesuit 61, Sherwood 57: Jesuit built an eight-point lead after one and made its free throws down the stretch to escape the Bowmen. Tyree Blake and Cade Collins teamed for 35 points in the 'Sader win. Spencer McKelligon added 10. Jared Sucher scored 18, Owen Caudle added 15 and Matthew Verkamp chipped in 12 in the loss for Sherwood.
"Both teams competed extremely hard, and the game could have gone either way," said Jesuit coach Gene Potter. "We just made a few more plays than they did. Sherwood is extremely well coached, they play together, and they had an outstanding year."
West Linn 90, Ida B. Wells 70: West Linn trailed 14-12 after one, but outscored the Guardians, 27-11, in the second quarter on its way to a 20-point home win. The Lions maintained at least a 10-point lead throughout the second half. Sharpshooter Jacey Canalin (24 points) had a great game for Wells to make up for an off night from Nick DiGiulo. Junior Jackson Shelstad carried the Lions with terrific long-range shooting. The Oregon commit finished with 37 points, six rebounds and five assists. Senior Zeke Viuhkola added 12 points and five boards for a West Linn team that shot 15-for-26 from long range for the game.
West Salem 76, David Douglas 74: West Salem led 44-33 at halftime, but the Titans had to hang on against the athletic Scots. Connor Oertel, who had 20 points to lead West Salem, hit a three from the corner with a minute remaining to put the Titans up five. David Douglas answered with a three-ball of its own, but West Salem won the game by making enough free throws in the end game. Jimmy Lathen complemented Oertel's 20 with 17 points of his own. Brooks Ferguson added 10. Jay'Vanni Sarchi, Jamaree Collins and Josiah Collins teamed for 45 points in the loss for David Douglas.
"Credit to David Douglas for not giving up," noted West Salem head coach Travis Myers. "They are one of the fastest teams we played all year and, even with a 10-point lead at times, we knew we were in for a dogfight. We are thrilled to move on."
South Medford 79, Sunset: 55 -- South Medford started down two key players and lost a third one minute into the game, but the Panthers managed to win every quarter to win going away. Senior Devon Malcolm had 21 points and 18 rebounds to lead the way for South, which got terrific performances from freshman guards Boden Howell and Drew Hall. Howell had 14 points and five assists and Hall chipped in with 10 points and five assists in South's first playoff win since 2016. Josh Jackson scored 18 and Jalen Childs added 16 in the loss for Sunset.
Cleveland 63, Century 38: Defense ruled the day for Cleveland, which held Century's leading scorers to single digits and chased them off of the three-point line. Junior wing Christian Green scored 17 for the Warriors, including one sequence where he scored off of an offensive rebound, then stole the ball and got an and-1 layup. Jackson Cooper added 13 for the victors. Jessley Bukeyeneza, a freshman guard, scored 16 points to lead Century.
Lincoln 57, Canby 52: Lincoln won in a tale of two halves. Canby jumped to a 14-5 lead after one, and led 23-13 at the half. Lincoln pulled within two in the third quarter until a 10-3 Canby surge made the Cougar lead nine, 39-29, heading to the to the fourth quarter. But Lincoln, led by Moroni Seely Roberts and Malachi Seely Roberts, who combined for 37 points, came all the way back and Sawyer Heald scored five of his 14 points late on the free throw line to clinch the comeback win. Kellan Oakes had a nice game for Canby.
Mountainside 64, Benson 52: Mountainside's lead was a scant four points, 45-41, after three quarters. The Mavericks were able to extend their lead to double figures in the fourth quarter to win going away over the Techmen. Freshman Brayden Boe led the way with 19 points and six rebounds. Dylan Westlake added 14 for the Mavericks. Junior Kavon Bradford scored 28 for Benson to lead all scorers.
Central Catholic 71, Southridge 43: Jordan King scored 18 points and Riley Williams (15 points, seven assists, six boards) dominated down low along with Emar'rion Winston in the Rams' workmanlike win. Isaac Carr had nine points on three second-half triples to add to Central Catholic's margin.
Roosevelt 62, Clackamas 45:
North Medford 48, Sprague 37: North Medford outscored the Olympians by 10 in the fourth quarter to break open a close game. Trey Neff had a game-high 22 points for the victors. Bryce Dyer added 10 points and 12 rebounds. Dillon Morgan, who had 13 points for Sprague, hit a triple in the fourth to bring the Olympians to within five, but Neff made six straight charity tosses down the stretch to seal the win. Ryden Skogstad led Sprague with 17 points.
Barlow 71, Tigard 58: Jesse Jones had 23 points and 12 rebounds, Jalen Atkins contributed 18 points and five assists, Nathan Jones put up 15 points and fuor rebounds and Tyson Rouo had a double-double (10 points, 10 assists) in the Bruins' opening-round win.
Summit 78, Liberty 46 : Summit remained undefeated by putting five players in double figures and handing out 17 assists as a team in a game that the Storm dominated from first tip. Caden Harris and Pearson Carmichael led the way with 16 points apiece and Julian Mora contributed 13 points and five assists. Charlie Rask led Liberty with 15 points.