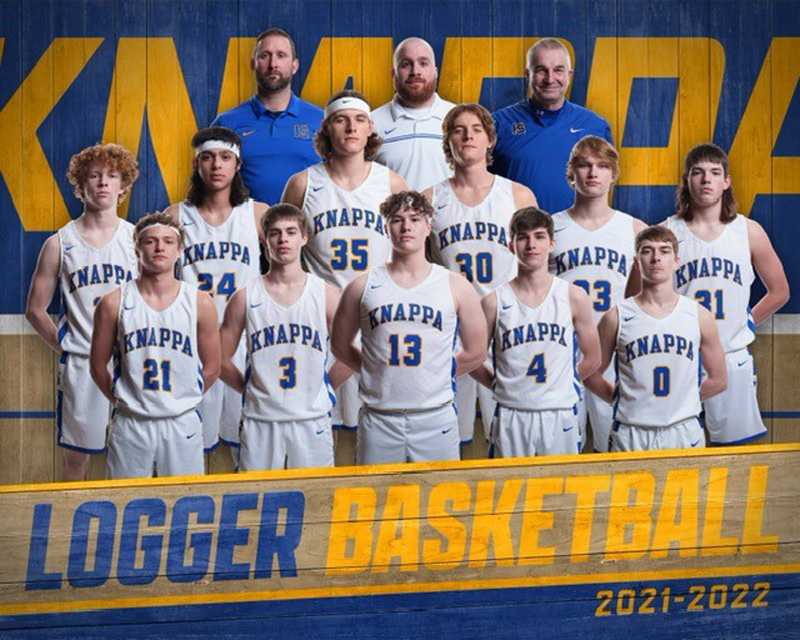 Salem Academy girls basketball head coach Derek Imig could not wait for the 2021-2022 season to get underway. His team finished second in June in the culminating week state tournament AND he was returning everyone, including his First Team All-League junior post Aly Herber, the favorite for 2A Player of the Year.
The Crusaders' first game, December 2, versus 3A De La Salle North Catholic, didn't appear too tough. Salem Academy would open stress free and begin its expected run to state glory.
Ninety seconds into the game everything changed.
Herber dislocated an ankle. She would be lost for the season. In the second quarter, senior wing Dylainee Carmony also went down with a season-ending knee injury, the "unhappy triad."
Despite those massive setbacks, Salem Academy won that game and 23 others and will head to Pendleton as the favorite to win the state title.
"Before Aly and D went down we were staring at the deepest high school team I've ever been a part of," Imig noted. "Since their departure, we'd have to rely heavily on senior leadership and freshmen stepping into bigger minutes than anyone anticipated. It took us a few weeks to gather our bearings, and to some degree we are still tinkering with adjustments, but the team never blinked an eye!"
Let's take a look at the quarterfinal state tournament matchups:
2A boys quarterfinals, Thursday, Pendleton High School
No. 7 Kennedy (20-6) vs. No. 1 Western Christian (27-3), 1:30 pm: Tri-River Conference rivals Kennedy and Western Christian will meet for the fourth time this season. Western Christian lost the first time they played, in early December, but the Pioneers have won the last two, 47-42 at home on Feb. 5; and two weeks ago, 59-47, on the road. Kennedy, which tied for second in the league with Western, is making its first trip to Pendleton in three years, its fourth over the past decade. The Trojans finished fourth both in 2018 and 2019. Conference POY Riley Cantu, a 6-2 senior guard, will lead Kennedy into Pendleton. He filled the stat sheet this season, averaging 14.2 points, 4.7 rebounds, 3.5 assists and 1.2 steals per game for the Mt. Angel school. Stephen Salinas, who averaged 10.5 points per game and is a long-range shooter; and 6-3 junior post Brett Boen, who averages a near double-double, with 9.3 points and 10.4 boards per game, are two other key performers for the Trojans. Western Christian, a perennial 2A power, is headed to Pendleton for the 16th consecutive season. The Pioneers last won in 2019. They finished second behind Toledo in 2020, the last time the official 2A tourney was held in Pendleton. Western Christian graduated nine off of last year's team, but managed to go 27-3 this year despite the losses. Gary Hull's team suffered defeat at the hands of Kennedy once and Salem Academy twice, but its record was otherwise unblemished. The Pioneers are led by First Team All-Conference performers Chaz Storm, a 6-7 senior; and Austin Sladek, a 6-5 senior. Senior Owen Stalnaker, senior Jaaron Janzen and freshman guard Lucas Zook are others to watch. Though Western Christian is the top seed, Kennedy coach Karl Schmidtman thinks that this quarterfinal matchup could come down to the wire. "We know them well," he said. "They are tough and seem to be playing their best basketball right now. They will be a tough out for anyone, but our guys are confident and are looking forward to the challenge against them. We have had leads in the 4th quarter against them all three times we played them. Unfortunately, we let our leads slip away a couple of times, and we will need to be more efficient down the stretch to have a chance to beat them this time."
No. 10 East Linn Christian Academy (20-7) vs. No. 12 Bonanza (19-6), 3:15 pm: ELCA versus Bonanza is a matchup of teams that pulled off first-round playoff surprises to advance to Pendleton. East Linn Christian stunned Illinois Valley, the top team from the Southern Cascade League that also includes Bonanza. And Bonanza defeated Jefferson, the top team from the Central Valley Conference where East Linn Christian also plays. Basketball can be funny like that. ELCA comes to Pendleton for the first time in 10 years. The Eagles won state in their last trip east in 2012 and come to Pendleton 8-2 over their last 10 games. The team features a balanced attack led by captains Cole King, Ashton Sewell and Devin King. Sewell scored 17 to spark the Illinois Valley upset. ELCA lost junior Gavin Sewell to a knee injury midway through the season, but is otherwise healthy. Bonanza will be making its first trip to State in 15 years. Four years ago, the Antlers did not have enough players to field a team! In 2019, the team started with seven freshmen, one sophomore, one junior and one senior and built. "Pendleton has been their goal since they started playing basketball together in Bitty Ball," said coach Campbell Kness. The team, which will be "one and done" in Pendleton because it is moving to 1A next year, is very balanced. "It is a peculiar team," Kness said. "My top performers change from game to game." Look for Ty Nelson, WD Ness, Adrian Mojica, Andres Mojica and Austin Sieminski to be impact performers.
No. 6 Regis (22-6) vs. No. 3 Salem Academy (21-5), 6:30 pm: Regis and Salem Academy met on January 1. Salem Academy came away with a 22-point win. Regis, making its first trip back to Pendleton since 2016, will hope for a different result this time around. The Rams are led by seven seniors, including two post players, 6-4 Grant Goesch and 6-1 Nick Woods. Goesch averaged 18 points and 11 rebounds a game. Woods scores at a 13.5 per game clip and is shooting 52 percent from the field. The team's star is freshman guard Isaiah Koehnke. He averages more than 20 points per contest. Regis comes to Pendleton undefeated over its last eight games. The Rams are bringing a wild car with them: senior Tristan McMullen, who was injured in the pre-season, will be playing in just his fifth game for the team since returning to the court. Salem Academy is 19-1 over its past 20 games. The Crusaders' lone loss came on Feb. 18 to No. 1 Western Christian, a team it twice defeated. The loss was their first against a 2A opponent this season. Salem Academy is led by First Team All-Conference performers Chase Brown and John Pass. Brown, a 6-2 senior post, averaged 13 points and eight rebounds per game. He also is the team's defensive spark. Pass, an efficient scorer and facilitator, averaged 13 points per game and was SA's assists leader. Jackson Oglesby, another double digit scorer; Jaren Oglesby, Landen Iversen and Landen Mitchell are others to watch for Salem Academy. "The Elite 8 is very tough," noted Crusader head coach Ben Brown. The only significance the rankings will have is determining what jersey colors the teams will wear! Great programs and teams peaking at the right time will lead to some great games."
No. 8 Heppner (21-3) vs. No. 2 Knappa (25-1), 8:15 pm: Heppner finds itself in the state tournament for the first time since 2016. This is a very fast and athletic squad, with several players from its state-semifinal football team. The Mustangs average 63 points per game and yield just 42. They are efficient on offense, shooting almost 50 percent from in front of the arc and nearly 40 percent from beyond it. Seniors Kason Cimmiyoti and Joe Sherman lead the way for Heppner. The unanimous First Team All-League picks combine to average 26 points, 14 rebounds, 5.5 assists and 4.5 steals per game. Brock Hisler, Tucker Ashbeck and London Mitchell are other impact players for Heppner. Knappa will be making its fourth consecutive trip to Pendleton. The Loggers placed fifth in 2019 and 2020. This year's team, which lost its opener to Western Christian but has since reeled off 25 wins in a row, should contend for a title behind 6-9 senior Logan Morrill, the league's Player of the Year and Defensive Player of the Year. Morrill averages 16 points, 11 rebounds and three blocks per contest. Shane McMahan, Tanner Jackson and Brandon Gale, all Third Team All-League or better, each averages double digit points per game as well. Knappa coach Paul Isom was asked whether this was the best team he's had in his four years as head coach. "'Best Team' is hard to define," he said. "I have been lucky enough to start my career coaching with some really good teams. I think this is probably my most balanced team though. Winning at the state tournament starts on the defensive side of the ball. If we can continue to defend at a high level, like we have done most of the season, I think we have as good of a chance as anyone to win three games." Of note: when Heppner went to State in 2015, its first opponent was Knappa. Last June's first round opponent during the Covid state tournament? Also Knappa!
2A girls quarterfinals, Thursday, Pendleton Convention Center
No. 8 Stanfield (22-5) vs. No. 1 Salem Academy (24-3), 1:30 pm: Stanfield is the only girls team in Pendleton not to be ranked among the girls' pre-season top 8 in the OSAAtoday coaches poll. The Tigers haven't been to state in 31 years, when they went two and out. They last made the first round of state in 2020 and lost their play-in game to Gervais. Simply stated, there's not a lot of history there. Stanfield comes to Pendleton 2-3 over its past five games, but that's deceiving, as both losses were by a single point. Turn those into wins and the Tigers won 20 of their last 21 games behind First Team All-Conference junior Maggie Sharp. Senior Alexis Shelby and junior Zuri Reeser are others to watch. "We try to play solid, tough defense," said coach Daniel Sharp. "If we can get out and run, we will. No real individual stars; just try to move the ball and make quality reads." Tri-River Conference POY Annabelle Brawley and First Teamers Bailey Pedersen and Lexi Herber lead Salem Academy, which hasn't lost since Jan. 1 to Nyssa. The Crusaders are making their first trip to Pendleton since 2010. Of course there was a stint in 3A in between…
No. 5 Gervais (23-4) vs. No. 4 Bandon (23-3), 3:15 pm: Gervais won the culminating week state title last June and kept the momentum going this winter despite graduating five off of that team, including four starters. "We were very loaded and deep last year," coach Kyle Buse said. "It was this group of players that pushed our seniors and starters last year. They were prepared to step into the roles they have this season all because of last season." Junior Izzy Boyd, a post player; and sophomore Olivia Boyd, a wing, lead the Cougars into Pendleton, where it hopes to win an official state title for the first time since 1994. In 2020, Gervais ended a 25-year absence from the state tournament. Mayra Perez, the lone returning starter from last season; Ava Sellers and Salma Villegas are others to watch. Gervais has outscored teams, on average, by 14.5 points his season. "This group is ready to make some noise at state this year and make a name for themselves, but represent our community with respect, discipline and class," Buse said. Is anyone coming from further away than Bandon? The Tigers left yesterday in order to split up there eight-hour drive north and east. They practiced at Creswell, stayed overnight in Tualatin and are finishing up their drive today, complete with a Chick-Fil-A stop for brunch! The team is led by three sophomores: conference POY Katelyn Senn, a 5-8 guard, averaged 13.5 points, six rebounds, 3.5 assists and four steals per game. Olivia Thompson, a 5-7 guard, was the Sunset Conference's Defensive POY. She averages 14 points, four rebounds, three assists and four steals per game. Makiah Vierck, a 5-7 forward, was a Third Team pick and is the team's leading rebounder. She also led the team in scoring in the first-round playoff win and comes to Pendleton on a hot scoring streak. Senior Carlee Freitag is a story to follow. The senior injured a knee at the end of January and was only recently released to play. It is uncertain how much she will play, if at all. Of note: Gervais/Bandon is a rematch of a 2020 state game, which Bandon won. Bandon and Gervais haven't met this year, but Tiger coach Jordan Sammons knows how tough Gervais will be, saying "We have our work cut out for us." He added this: "This will be a great ending to our seniors' careers and great experience for our younger girls moving into the off-season and next year. There is nothing like Pendleton in March and we are fortunate to be a part of it."
No. 6 Faith Bible (25-3) vs. No. 3 Union (23-4), 6:30 pm: Faith Bible graduated three All-League starters from its 10-3 spring season team but had enough to reach Pendleton this year. The Falcons have lost only twice on the court and only once to an in-state team. Brent Masterson's team is led by senior forward Ashley Lohman. The Northwest League POY and Defensive POY averages 18.4 points and 8.16 steals per game. Fellow senior Taylor Masterson, a 5-8 forward, a First Team All-League performer, averages 14.5 point per game and is a hard-nosed defender. Others to watch include point guard Alexis Mallory and Adrienne Mallory. The duo contributes 22 points per game. Indeed, Faith Bible comes to Pendleton as one of the highest scoring teams in the state. "I think our story really is just our girls and the way they exemplify what it means to be a team," Coach Masterson said. "I am partial but they represent everything that is good about high school athletics. Our average margin of victory in league this year was 25 points yet we still won Sportsmanship of the Year for our league. The girls have fun and look for every opportunity to remind everyone that basketball is a game and is supposed to be enjoyed. Not sure it's much of a story but our saying is, 'Make everyone in the gym want to be a Falcon.' That's our goal this weekend." Union went to state in 2020 and finished fifth overall. The team's star then is the star now, as senior guard Callie Glenn leads the Bobcats, who are riding a 10-game winning streak into Pendleton. Audrey Wells, a strong rebounder and experienced senior, is another to watch.
No. 7 Lakeview (18-2) vs. No. 2 Central Linn (21-3), 8:15 pm: Lakeview is making its first trip to state tournament since going as a 3A school to Coos Bay in 2017. Honkers coach Cody Blair said that Lakeview has yet to win a state tournament game in its history, so any trophy would represent a first for the school. The Honkers are led by 6-0 sophomore Kenna Stratton. The Southern cascade League POY averaged 12.2 points and 10.1 rebounds per game during the regular season. Other scorers to watch include First Teamer Tyler McNeley, who stands 5-11; and Second Teamer Carlee Vickerman, a 5-10 wing. Junior Breanna Strubel and Savannah Greenfield, the Conference Defensive POY, are two others key contributors for Lakeview, which placed sixth at the culminating week state tournament in the spring. Central Linn is riding a 12-game winning streak heading into Pendleton. The Cobras, making their fourth straight trip to the final eight, plays a team style. Five different players have led the team in scoring over the season. Keep an eye on junior guard Maya Rowland. She led Central Linn in scoring at 16 points per. Seniors Ashlei Ramirez and Ryleigh Nofziger contribute 12 and 11 points per game, respectively. Senior post Bri Beauchamp, who stands 6-1; and junior post Gemma Rowland do the dirty work in the key. Beauchamp is averaging nine points and eight rebounds per game. Rowland averages a team-high 12 boards per game. This is a defensive-minded team and has held opponents to 28 points per game in average. Of note: actress Jessalyn Gilsig from the show Big Shots on Disney+ has supported the Cobra team inline by reporting a few team posts on her story.