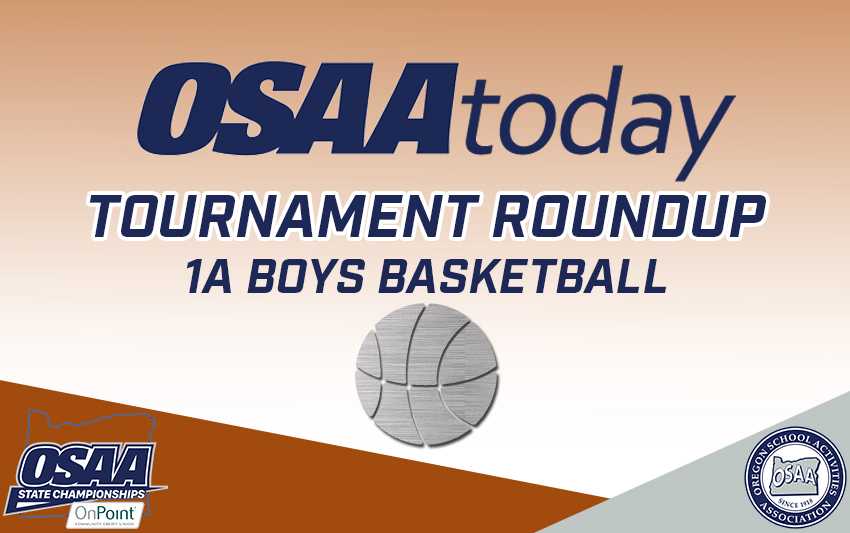 The 2022 OSAA / OnPoint Community Credit Union 1A Boys Basketball State Championship got off to a riveting start on Wednesday with thrilling quarterfinal games that had the fans at Baker HS on the edge of their seats.
Here's how Day 1 finished up.
No. 1 Crane 44, No. 8 North Douglas 41
Crane (29-0) stayed undefeated on the season, but needed all 32 minutes to remain so. The Mustangs led for most of the game but needed a triple at the horn to survive and advance.
North Douglas went ahead, 41-38, on a three-pointer by Ray Gerrard with 4:29 remaining, its largest leadoff the game. But the Warriors (20-8) did not score for the remainder of the game, as they tried to run out the clock.
Missed free throws by North Douglas in the final minute allowed Crane to rally. The Mustangs tied the game at 41-41 on two free throws from Ty Taylor with five seconds remaining. North Douglas turned the ball over on the ensuing in-bounds play, which left Carter Nichols just enough time to rain down a three-point with one second left for the game winner.
Nichols paced a balanced Crane scoring attacking with 10 points. Cody Siegner had nine and three Mustangs, Mitch Clark, Jared Zander and Taylor, scored seven apiece. Nichols and Siegner also had nine and 10 rebounds, respectively.
Trenton Rabuck led North Douglas with 16 points. Gerrard added 10 points and 17 rebounds.
No. 4 Crosshill Christian 55, No. 12 Riddle 40
Crosshill Christian won every quarter and the turnover game, 18-7, in the comfortable quarterfinal win over Riddle.
The fourth-seeded Eagles (24-3) had a balanced offense that placed four in double figures. Landon Knox led the way with 16 points, while Ben Hemelstrand chipped in with 15 points and six rebounds. Julius Pokorny and Owen Spaulding scored 10 apiece.
Only three players scored points for Riddle (21-5). Mario Gianotti, a 6-3 senior wing, had a monster game for the Irish, with 23 points, eight rebounds and six blocks. Leo Lopez and Jesse Myers teamed for the other 17.
No. 3 South Wasco County 59, No. 6 Rogue Valley Adventist Academy 58
South Wasco County needed to win a game for the ages Wednesday afternoon to remain unbeaten on the season. Rogue Valley Adventist Academy scored the first 15 points of the contest, in a game marred by 55 total turnovers, and did not give up the lead until Remington Anderson-Sheer hit a jumper to put the Redsides on top, 57-56, with 1:35 remaining. South Wasco County trailed Rogue Valley Adventist by eight with 2:24 to play but finished on an 11-2 run to claim the win. Oscar Thomas' free throw with seven seconds left broke a 58-all tie. Kyle Wilson had a shot to win the game for the Red Tail Hawks but could not score. Kyle Best rebounded the ball as the clock ran out on RVAA's state title hopes.
Thomas finished with a game-high 27 points and seven steals for South Wasco County (23-0). Ian Ongers added 13 points and 11 boards.
Wilson and Cody Mendenhall teamed for 27 points and 13 rebounds for Rogue Valley Adventist, which fell to 23-2 with the loss.
No. 2 Powder Valley 60, No. 11 Nixyaawii 45
Nixyaawii led, 3-2, to seconds into Wednesday evening's quarterfinal, but did not lead again. Second-seeded Powder Valley scored the next 13 points and led by as many as 21 in the wire-to-wire win.
Key to victory was rebounding. The victorious Badgers held a 54-28 rebounding advantage. Powder Valley (24-2) also benefited from poor free throw shooting from Nixyaawii, which finished just 4-for-9 from behind the charity stripe.
For Powder Valley, Cole Martin, Reece Dixon and Kaden Krieger combined for 32 points and 36 rebounds. Kaiden Dalke and Clay Martin added 19 more collectively.
Baron Moses scored a game-high 19 points for Nixyaawii (23-7).Dylan Abrahamson added 10.