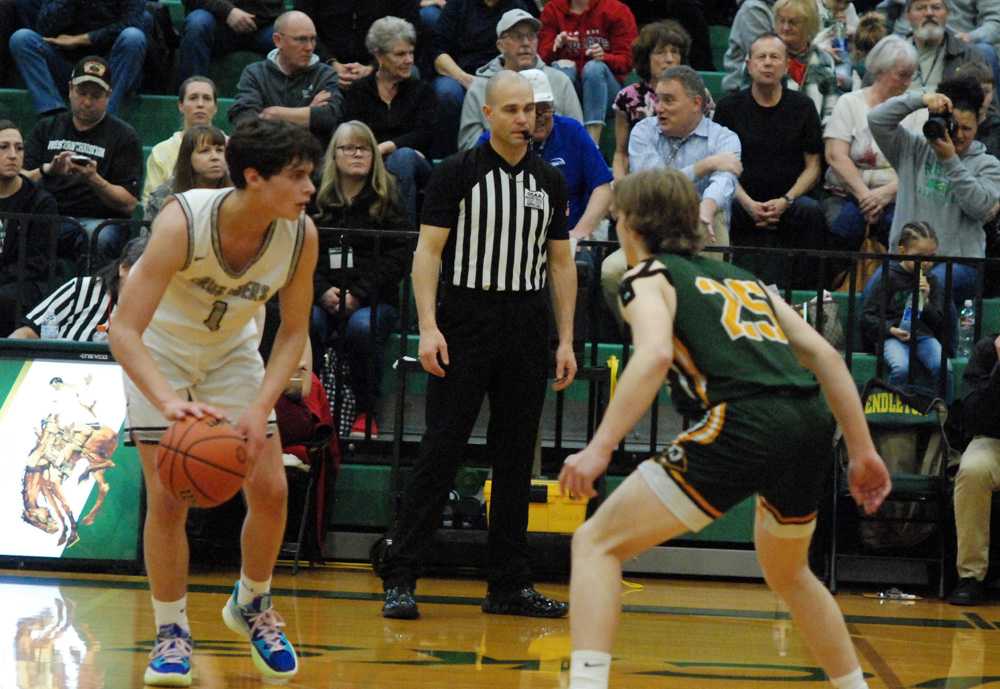 PENDLETON: When Salem Academy and Regis met on January 1, the Crusaders dominated by a 69-47 score.
Thursday evening's contest at the OSAA / OnPoint Community Credit Union 2A Boys State Championships was much closer, as No. 6 Regis (22-7) fought off an early Salem Academy onslaught to play from ahead until midway through the second quarter before falling, 59-49, Thursday evening at Pendleton High School.
Salem Academy's star of the game was 6-4 junior win Jaren Oglesby. He scored 15 points on 5-of-8 shooting from beyond the arc, with each long range triple critical to the outcome of the game.
"I was feeling it out there," Oglesby said. "My coach always tells me to shoot it so I did. The rim was looking big."
John Pass, Salem Academy's standout senior, hit two three in the first two minutes of the contest in a torrid 8-0 start for the Crusaders (22-6). But as Pass cooled off, so, too, did Salem Academy. That opened the door for Regis to rally. The Rams scored the next eight points, and 13 of the next 15, with freshman Isaiah Koehnke, Tanner Manning and Nick Woods, fueling the run. Regis' largest lead of the game was five, 21-16, after a Koehnke jumper with five minutes left before halftime. That's when the Oglesby show began.
After 6-7 junior post Jackson Oglesby hit a three pointer to pull the Crusaders within 21-19, Jaren Oglesby drilled back-to-back triples to give third-seeded Salem Academy a 25-21 lead, which it would not relinquish. Landen Iverson's leaner at the horn put the Crusaders ahead, 27-22, going into the half.
A great pass from Iverson to senior post Chase Brown for a bucket opened the third quarter and preceded Jaren Oglesby's next three, a swish off of Pass' assist that gave Salem Academy a double-digit lead for the first time in the game. Regis rallied after that, getting two buckets from post Grant Goesch inside and four points from Manning to pull within two, at 36-34. That's when Jaren Oglesby showed up again, hitting another triple with a minute left in the third that silenced the boisterous Regis crowd.
The fourth quarter went back and forth until Manning hit a three-pointer to get Regis again within five, 49-44, with 2:28 to play. There was only one problem: Regis had too many fouls to give to hope to turn this into a free throw shooting contest and Pass was too good with the ball in his hands for the Rams to expect to turn Salem Academy over enough to rally without missed 1-and-1 opportunities. It was in the midst of this fouling chaos that Jaren Oglesby stepped up one more time. His trey off of a Pass assist with 1:36 remaining was the dagger and gave Salem Academy an insurmountable eight point lead.
"That's him in a nutshell for us all year," said Crusader coach Ben Brown. "He's always locked in and watching for his opportunities. Those shots were huge."
Chase Brown, held in check most of the game and battling foul trouble throughout, put the exclamation point on the 10-point win, dunking on a breakaway in the closing seconds after a Landen Mitchell steal.
"Like I told them in there, we can dissect this game and all the things that went wrong, but the only thing that went right was their heart and desire not to give up, Coach Brown said after the game.
Salem Academy won despite a tough shooting night from Pass. The senior made his first two long-range shots, then found anything other than a layup hard to come by. Pass was still named Player of the Game, despite shooting 7-for-20 from the field, for scoring 16 points, while adding seven rebounds and six assists.
"Johnny…he used to be three-point only and if he wasn't hitting threes he was having a bad game," Brown said. "But now he's been really good getting downhill. He's turned that corner in his game, realizing that he's a pretty big guard with good moves."
Jaren Oglesby added 15, Brown had 12, Jackson Oglesby contributed eight points and eight rebounds and Iverson scored five points with nine boards for Salem Academy.
Manning scored 18, Koehnke 13 and Woods 10 in the loss for Regis.
In other quarterfinal games:
Boys 2A:
No. 1 Western Christian 46, No. 7 Kennedy 43: Western Christian defeated Kennedy for the third time in four tries this season. Like the three games before it, this one was close. Three times, Kennedy got within three points in the fourth quarter. Western Christian made just enough free throws to survive.
Kennedy (20-7) started the game hot, scoring the first six points, four on strong inside play from Brett Boen. Western Christian (27-3) responded by scoring the next eight, highlighted by Chaz Storm's coast-to-coast drive and finish.
The teams played back and forth until a 9-2 Western Christian run to start the second quarter gave the top-seeded Pioneers some breathing room. Riley Cantu, the Tri-River Conference POY, got on the board with two quick buckets to get Kennedy within three but a Lucas Zook triple and Storm bucket extended Western's lead to eight, 28-20, at the half.
Kennedy got as close as four in the third quarter, but Western's lead was nine entering the final period. The Pioneers played unsettled to start and Kennedy quickly made it a game, 38-34, thanks to a 3-ball from Stephen Salinas and two charity tosses from Ethan Kleinschmit.
The game turned for good in Western Christian's favor on the strength of two in-bounds plays that resulted in easy hoops for Austin Sladek. Kennedy never got closer than three in the end game. The Trojans had one shot to tie, but Kleinschmit's long range shot was off the mark.
Owen Stalnaker scored 13 points, Storm added 12 and Zook, a heady, hustling freshman, finished with 10 for Western, which won its eighth game in a row. The Pioneers have reached the championship game the last two years that the OSAA state tournament has been held in Pendleton. Kleinschmit had 14 and Cantu 10 for Kennedy. Boen, who was a beast inside despite being hampered by foul trouble, finished with 12 points and nine rebounds.
No. 2 Knappa 63, No. 8 Heppner 50: Knappa bolted to a 7-0 lead and never trailed in a convincing win over Heppner. The underdog Mustangs (21-4) played shorthanded after star senior Kason Cimmiyotti went down with a sprained ankle one minute in and never returned, but the team did not help itself by turning the ball over 19 teams and shooting just 33.3 percent from the field, including 19 percent from long range.
Knappa, meanwhile, did a nice job of jamming the ball inside to 6-9 senior Logan Morrill. The results weren't always pretty but were effective. Morrill scored 20 points and had 13 rebounds, seven of them on the offensive end. Senior point guard Shane McMahan was easily the most impressive player for Knappa. He was a menace defensively and scored game-high 23 points on a combination of long range shots, short-range jumpers from the key and finishes at the rim. He also added five assists to keep his teammates involved.
Credit to Heppner for playing hard throughout. Tucker Ashbeck had 13 points and eight rebounds and was very effective inside despite a profound height disadvantage; and Joe Sherman scored 14 for Heppner, which trailed by 20 in the opening seconds of the third quarter but got within 12 early in the fourth quarter.
No. 10 East Linn Christian Academy 74, No. 12 Bonanza 55: East Linn, making its first appearance at state in a decade, looked right at home at Pendleton High School Thursday afternoon. The Eagles soared to a 12-point lead after one and 43-21 lead at halftime and cruised to the easy win. ELCA (21-7) benefited from hot shooting over the first 16 minutes, hitting on 61 percent of its shots from the field, including 64 percent of shots from long range, while Bonanza (19-7), making its first trip to state in 15 years, shot only 31 percent from the field in the half, including just 1-for-10 from deep. Ty Nelson scored 19 and Allen Hill and Victor Gonzalez combined for 25 more for Bonanza, which won the second half but never got closer than 16 points. Cole King and Devon King combined for 45 points and 13 rebounds in the win for East Linn Christian. Elliot Nofziger added 16 points and nine rebounds, while Chayse Beachy contributed eight points and a game-high seven assists.
Girls 2A:
No. 4 Bandon 39, No. 5 Gervais 30: Bandon dominated its entire quarterfinal matchup with reigning culminating week champion Gervais, playing stifling defense and making timely shots, until the Tigers started playing not to lose. Bandon led by as many as 17 points midway through the third quarter, against a Gervais team that was only 3-for-17 from long range and shot just 23 percent from the field for the game. The offense sputtered down the stretch for the Tigers (24-3), but the defense stayed stalwart.
"Our thing is defense," said head coach Jordan Sammons. "We thought if we came out playing defense how we could, we could hold it to a low-scoring game. We wanted to try to make it a half-court game and did a great job at that. I was proud of our defensive effort and proud of how hard we played, seeing as we're a relatively young team."
Bandon got a scare early in the second quarter when Makiah Vierck, one of three sophomores who start for Bandon; rolled an ankle after drilling a baseline triple that extended the Tigers' lead to 15-6. She wailed on the floor, then hobbled off, but was able to return for the second half.
"She'll be the first to tell you one thing she's working on is her toughness," Sammons said. "I told her, 'You gotta be tough here. Let's tape it up at halftime and see how it goes.' She told me, 'Coach, it's just hurt. I think I can go.' Adrenaline kicked in down the stretch and she said she wanted to play and we rolled with her."
Olivia Boyd finished with 11 points and nine rebounds to lead Gervais. Boyd scored the first four points of the game, but there was a lid on the basket for most of the first half for the Cougars (24-4). Gervais shot just 18 percent from the field in the first half as Bandon built a 10-point halftime lead. After falling behind by 15 points at the end of the third quarter (officially 14, as Gervais was mistakenly credited with an extra point on a missed foul shot), the Cougars showed a ton of fight in the fourth quarter and twice got within five as Bandon tried to take the air out of the ball.
"In those moments we have to remember to still take it to them and play to win and not not to lose," Sammons said. "But we still responded well down the stretch and hit free throws. I can't be prouder of these girls."
Freshman Makenna Vierck was named Player of the Game for Bandon after totaling eight points and 10 rebounds. Makiah Vierck also scored eight points, all in the first half. Olivia Thompson added 10points, Angelina Morones scored seven and Katelyn Senn had six points and nine rebounds and controlled the tempo of the game from her point guard position.
Boyd finished with 11 points and nine rebounds to pace Gervais in the loss.
No. 3 Union 53, No. 6 Faith Bible 30: Union (23-3) stifled Faith Christian's high-scoring offense, freshman guard Jesse Ledbetter scored 17 points and senior Callie Glenn was 10-for-11 from the free throw line in the fourth quarter in Union's dominating win. After Alexis Mallory scored on a jumper midway through the first to give Faith Bible an 8-5 lead, the Falcons were shut out for almost the next five minutes. Union scored 14 points in a row and was never headed, despite turning the ball over 11 more times than Faith Bible. Faith Bible (25-4) was done in by shooting just 1-for-17 from behind he three-point line and just over 19 percent for the game. Mallory led Faith with 13 points. Taylor Masterson added 11. Northwest League MVP Ashley Lohman was held to just six point, 12 below her season's average. Audrey Wells had a near double-double for Union, contributing 11 points and nine rebounds.
No. 1 Salem Academy 49, No. 8 Stanfield 39: Salem Academy raced to a 7-0 lead to open the game, led 17-6 after one quarter and was never seriously threatened in a clean game played Thursday afternoon at the Pendleton Convention Center. Annabelle Brawley had 18 points and 11 rebounds and Bailey Pedersen added 12 points, on 4-of-5 shooting from behind the three-point arc; for the victorious Crusaders (25-3), whose 11-0 run over a four-minute stretch between the end of the third quarter and beginning of the fourth put the game away. Stanfield, playing at the state tournament for the first time in more than three decades, acquitted itself well. The Tigers only turned the ball over 13 times and shot a respectable 37.5 percent from the field. Stanfield (22-6) made things exciting when Alexis Shelby hit a jumped to get it to within six points early in the third quarter, but Brawley answered with a layup and Pedersen connected soon thereafter from long range to restore Salem Academy's double-digit advantage. Shelby finished with 17 points and collected nine rebounds in the loss. Maggie Sharp added 10 points.
No. 2 Central Linn 55, No. 7 Lakeview 43: Central Linn remained unbeaten against 2A competition this season and extended its winning streak to 13 games with an impressive win over Lakeview. Ryleigh Nofziger led the way with 19 points, 12 rebounds and three steals. Maya Rowland added 13 points and six rebounds and Gemma Rowland chipped in nine points, five rebounds and five steals for the Cobras (22-3), who forced 25 turnovers. Tyler McNeley had 13 points and 13 rebounds to pace Lakeview (18-3), which has yet to win a state tournament game in school history.