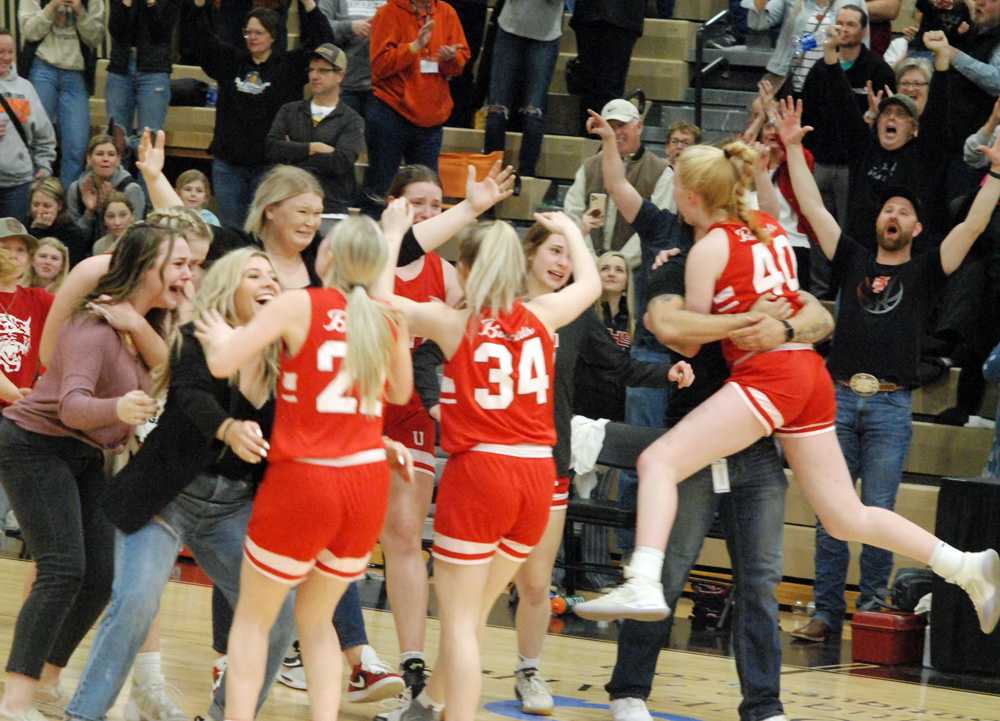 When Union high school coach Jordan Klebaum-Johnston coached the Bobcats' four seniors on their seventh-grade middle school team, she told the parents, "There's a state championship in this room right now."
"I hate to say I'm always right, but I was pretty right on about that," Klebaum-Johnston said.
On Saturday night, in front of a loud and frenzied crowd at Pendleton Convention Center, about 65 miles northwest of Union, the Union Bobcats captured their first basketball state title, rallying from down 5-0 early to dominate Salem Academy, 52-38, at the OSAA / OnPoint Community Credit Union 2A Basketball Championships.
"Pretty much this whole team has been dreaming about this moment since we were in about sixth grade," said Callie Glenn, one of the seniors.
Union won the game from the free throw line. In Friday's victory over Central Linn, the Bobcats shot 14-for-33 from the charity stripe, about matching their season's average of 41 percent, and barely hung on to win. Last night, the team shot 18-for-25 or 72 percent. Glenn was 13-for-16. Fellow senior Audrey Wells made four-of-seven, even though two of her misses were air balls.
I told her if she's going to miss it she'd better miss it good," Johnston-Klebaum joked.
"I told the girls all season long, and they have run probably 200 down and backs for our free throws, that free throws win championships," Klebaum-Johnston added. "I would say that the numbers don't lie, do they?"
Glenn said that the players were mad in the moment about all that extra practice time running because of missed free throws.
Not anymore.
"All of that practice paid off," she said.
The game started with top-seeded Salem Academy, seeking its first state title since 2008; racing to a 5-0 lead in the game's first two and one-half minutes. Grace Hinkle did the job on offense for the Crusaders (26-4) with a leaner and an "and-1" layup inside off of a nifty pass from Annabelle Brawley.
For six minutes, Union was stymied by SA's triangle and two defense, which was designed to take sharpshooter Glenn and standout freshman Jesse Ledbetter out of the game.
The Bobcats took seven shots in the game's opening five. None was even close to going in. They scored after the eighth miss, a shot so off the mark that it clanged off the backboard and into the hands of senior Kaylin Nowak, who banked in the follow shot with two minutes remaining in the quarter.
Salem Academy, which itself was slowed by Union's tough defense, answered Union's initial score with a three pointer from Aubrey Smith. The Crusaders' 8-2 lead seemed formidable given how difficult it appeared for Union to score the basketball.
With 28 seconds left in the first, Nowak, left alone around the arc as SA concentrated on stopping Glenn especially, splashed home a three off a Wells assist. Union was in business down just three points.
The second quarter consisted of Wells trying to create around the defense and Nowak finding holes in it.
The results were magical.
Nowak hit three more three pointers and a free throw jumper to score 11 points. Wells was pure on a rainbow three and scored three more the old-fashioned way, on a drive, finish and foul; as part of a seven-point outburst. And freshman Kaelyn Shoemaker rebounded a miss and got a stick back to give Union its first lead of the game at 10-8. It all added up to a 20-7 second quarter spree that put Union up 10, 25-15, at the half.
"We had a solid start," noted Salem Academy coach Derek Imig. "We took some chances defensively with a triangle and 2 in the first half, hoping that some of their secondary shooters would have an off night, which, unfortunately for us, was not the case."
In effect, what SA tried to do was to "Union Union." The Bobcats packed paint on Friday versus Central Linn, which struggled to score from long range. It looked like the Crusaders' strategy versus Union might work early, but it did not as the game went on.
"Unfortunately for them we've got girls that want to score the basketball," Klebaum-Johnston said. "We were cold at the beginning. Their defense shocked us a little bit. Then I had one of my seniors step up big time and bust it open for the rest of them."
That senior was Nowak, who was 3-for-4 from behind the arc in the quarter and finished the half with 16 points.
"I just felt it," she said. "I just had confidence going in. I got in a rhythm and tried to stay in that place."
Salem Academy switched to a more conventional defense in the second half, but the damage was done. The Crusaders got as close as seven early in the third quarter, as Brawley had success attacking the cup and finishing with her left hand. But a sequence of terrific assists from Glenn to Shoemaker inside and Glenn's fearless drives herself extended Union's advantage to 15, 36-21, at the end of three quarters.
"I came out in the second half trying new things, because shooting outside wasn't working as well," Glenn explained. "State championship, you just have to do what's going to work."
Down 15, Salem Academy needed almost a perfect fourth quarter to get back into the game. Union's defense would not allow that. Wells, Union's ultra-athletic senior wing, stole a pass 15 seconds into the fourth quarter and headed down court for another basket.
"They have a really tough defense," Imig said. "They scouted us well, obviously. Our shooters were not getting as many looks as they have this whole tournament."
Fouled on a jump stop, Wells felt her right knee give way. She crumpled to the court and had to be helped off. The severity of the injury is unknown. Paisley Miller made 1-of-2 free throws in her stead, extending Union's margin to 16.
The rest of the night, Salem Academy attacked. Lexi Herber scored inside and out. Brawley was very strong in the paint, as was Hinkle. Again Salem Academy got within seven, after Bailey Pedersen went all the way on a dribble drive to score; but the Crusaders could get no closer thanks to Glenn.
Glenn, the senior point guard, was absolutely amazing in the second half. She had the ball in her hands for most of it, had zero turnovers, made great passes and strong attacks and was the player Salem Academy fouled when it needed to stop the clock. Not only did Glenn not give the Crusaders any hope by making her free throws, she also rattled home a dagger three-point shot from the corner with 2:10 remaining that blunted any SA momentum and put Union up by double digits once again.
Glenn made seven of her last eight free throw attempts to close out the game, a 14-point dream win for the Eastern Oregon team, and bring the state championship home to Union.
"That's the best way you can go out," Klebaum-Johnston said. "Only one team gets to."
Glenn finished with a game-high 20 points, all in the second half, for Union, which finished 25-3. She added six rebounds and four assists and was so clutch in crunch time, both at the free throw line and with the ball in her hands. Nowak added 16 points and six rebounds. Wells was terrific in 24 minutes for the Bobcats, scoring nine points with six rebounds, four assists, two steals and a block.
"It's the first state championship in girls basketball history," Klebaum-Johnston said. "And that history goes back a long time. I'm excited for the seniors. They had a helluva career."
"Coming in we weren't really sure winning state was possible, because usually west side teams are really tough compared to the eastside," Nowak said. "We knew our potential and we stepped it up every game to make it happen."
Brawley finished with 12 points, six rebounds and three steals to lead Salem Academy. Pedersen and Hinkle combined for 16 more points. The Crusaders shot just 26.5 percent from the field for the game.
"Props to them for shutting us down," Imig said. "I'm proud of our girls for never giving up."
The win marked the last high school game for Klebaum-Johnston. She is going back to her alma mater, Eastern Oregon, to be an assistant basketball coach for the women's team.
"As a high school coach this is probably the best I could imagine," she said. "Personally, professionally and, with this group of girls, I couldn't have pictured a better moment."
In the girls 3rd/5th game:
Central Linn 63, Bandon 41:
Junior guard Maya Rowland shot Central Linn into the lead, making 4-of-6 three pointers in the first half, which the Cobras led, 29-23. She then shot herself into the record books, making four more threes in the second half, a 2A record eight (on 10 attempts) for the game, to help the Cobras blow out Bandon, 63-41. Central Linn (23-4) led by only three before a late "and-1" to end the first half by Ashlei Ramirez gave the Cobras a little breathing room to start the second half. Central Linn then scored the first 12 points after halftime to break the game open, before successive Rowland triples pushed the lead to 20 with seven minutes remaining in the contest. Rowland finished the game with 32 points and five rebounds for Central Linn. Bri Beauchamp chipped in with 11 points and seven rebounds. Sophomore Olivia Thompson had 14 points and freshman McKenna Vierck had 11 to lead Bandon (24-5). The Tigers, whose best players are three sophomores and a freshman, probably have a future state title in them.
In the girls 4th/6th game:
Lakeview 48, Stanfield 41: Lakeview had a shot to win the fourth-place trophy in regulation but the Honkers' shot rimmed out. Lakeview rebounded to outscore Stansfield, 11-4, in extra time to take the win. Kenna Stratton had 22 points, eight rebounds and seven steals to lead the way for Lakeview (20-3). Zuri Reeser led Stanfield (23-7) with 13 points. Alexis Shelby added eight points and 13 rebounds and Maggie Sharp and Mazie Reeser teamed for 20 points and 13 rebounds for a Tiger team that won the first state tournament trophy in school history.
Sportsmanship Trophy: Central Linn
All-Tournament First Team:
Pedersen (Unanimous pick)
Brawley
Glenn
Olivia Thompson, Bandon
Ryleigh Nofziger, Central Linn
All-Tournament Second Team:
Wells
Ledbetter
Alexis Shelby, Stanfield
Maya Rowland, Central Linn
Tyler McNeley, Lakeview