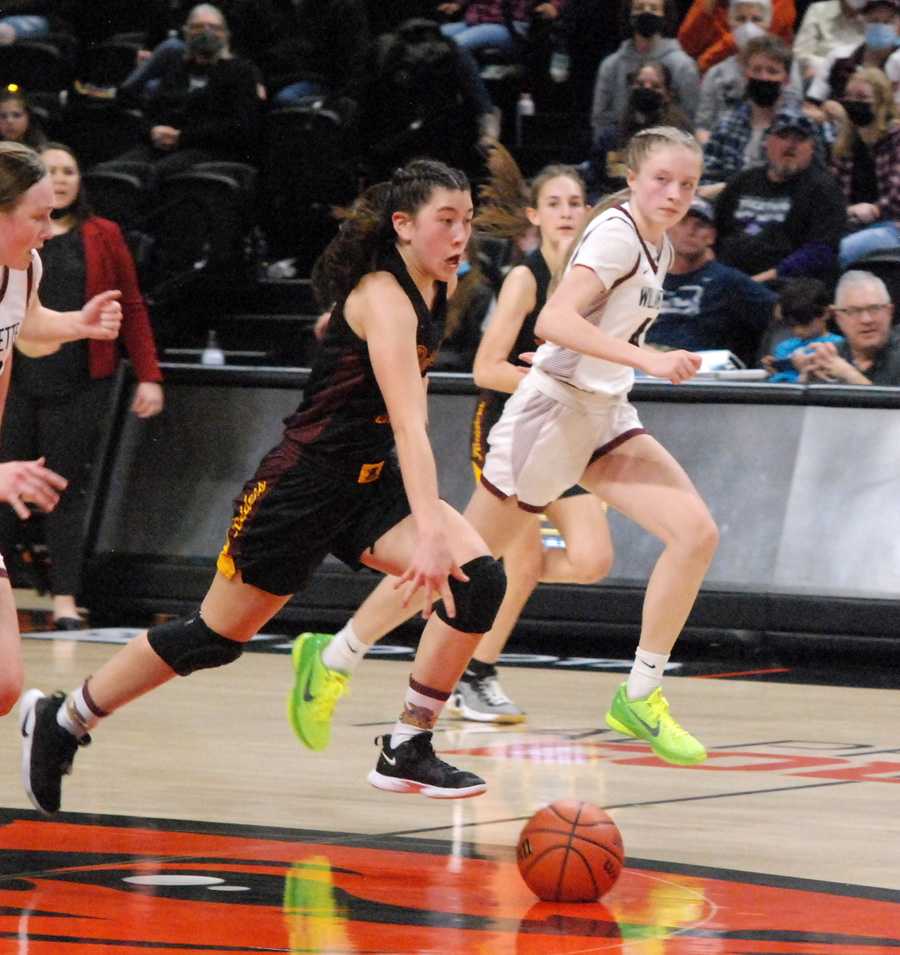 CORVALLIS: Crescent Valley head coach Eric Gower had a feeling about this game. His young Raider team, not a senior among them, was 17-3 over their last 20 games after starting 2-4. The team had been tested in the tough Mid-Willamette Conference, which sent three teams to the final eight. And his team, seeded ninth after a mild first-round upset of Wilsonville, always seemed to beat its seed at state.
And yet, in the moments immediately following Crescent Valley's thrilling 48-45 win over No.1 Willamette, Gower seemed shocked that his team had managed to hold off The Wolverines' furious fourth-quarter rally.
Or maybe he was just exhausted from having to coach so hard late in the game to keep his team focused, after a Willamette onslaught erased a 12-point lead, capped by Wolverine freshman Brynn Smith scoring on a three pointer to knot the score at 45-45 with 32 seconds to play.
Whatever he was feeling, he could not disguise the pride coursing through him after Crescent Valley showed sheer determination on the boards to draw the fouls and score the free throws needed to complete the three-point win.
"They're a gutsy group," Gower said. "They make mistakes but always bounce back from them. They have a lot of heart. I'm super proud of them.
"They flinch but they don't break."
Both teams came out a little tense, which is to be expected from teams without a starting senior between them. Junior Nicole Huang got Crescent Valley off fast with a layup and three pointer. Willamette, which had not lost since its only loss, Jan. 21 to South Medford, the No. 3 seed in the 6A tournament; battled back to tie the game at 5-5 on a crafty bucket from Smith, the high-scoring freshman. Maddy Warberg, another freshman, hit a triple off the bench to give Willamette its first lead at 8-7. Taelyn Bentley, one of three impact freshmen for CV, gave the Raiders back the lead on a conventional "and-1" off of an in-bounds play, but junior Nancy Coffman's stick back for Willamette sent the teams to the second quarter tied at 10-10.
Willamette added five points to its quarter-closing bucket to take a 15-10 lead early in the second. Freshman point guard Victoria Nguyen started the scoring with a layup. Smith followed with a corner three. She finished just 2-for-16 from behind the arc, a common theme for the Wolverines who shot just 16 percent for the game from three.
With Willamette on top 17-12 more than three minutes into the second quarter, Crescent Valley made a run to tie, with Huang scoring a deuce thanks to great effort and fellow junior Gabby Bland, the team's leading scorer, dialing up a long-distance three. That mini-run and a 4-0 run to end the half, which featured a Bentley stick back and Bland drive for two, put the Raiders up 25-21. Young Willamette left the floor looking tired and frustrated that it wasn't on its way to another blowout.
Crescent Valley kept its late second-quarter momentum throughout a dominant third quarter, which started with a Charlotte Patel drive and finish and concluded with Haley Bland's wing three. The Raiders outscored Willamette, 14-6, in the period and was in complete control going to the fourth quarter with a 39-27 lead, their largest of the game.
Smith scored two seconds into the fourth, breaking a drought that spanned five minutes, and during which time Willamette missed eight shots. The Wolverines, playing with renewed energy, had hope. Willamette followed with a Harper Wagner layup, assisted by Nguyen; and a hoop from Jadynn Ireland, assisted by Smith, to get within six, as there seemed to be a lid on the Crescent Valley basket.
The Raiders never stopped playing hard, though, and they were relentless rebounding the basketball. They finished with a 49-28 rebounding edge.
With Crescent Valley clinging to a 45-39 lead, a Warberg long-range effort found the bottom of the basket and injected hope into the Willamette cause. The lead was now just three with a minute to play!
After time was out, Crescent Valley saw its nightmare scenario play out. Kayla Morris stole the inbounds pass and Warberg got the ball to Smith, who cashed in another long shot. The game, unbelievably, was tied at 45-45 with 32 ticks remaining.
Crescent Valley did not take a time out and pushed the ball up the floor. With 13 seconds left, Gabby Bland attacked the basket and shot, but her layup attempt was too strong. Everyone went for the rebound, but it was Bentley, the 5-10 center, who came down with the ball, one of her five offensive rebounds; and was fouled on the put back attempt.
"Tae does an amazing job as a freshman," Gower said. "She's not one to back down. She may be undersized at times but she's going to use her physicality and crashes the boards hard. She doesn't know any other way to play."
Bentley hit one of two free throws to give CV the lead. She missed the second and, this time, Patel snagged the rebound and was fouled. She hit both freebies to give the Raiders a three-point lead with seven seconds to play.
Willamette tried to work the ball up court for a tying three attempt, but Crescent Valley, with just two teams fouls, smartly fouled, twice, until 2.5 seconds remained, enough time only for a desperation three that was never at risk of going in.
Gower said that end-game experience helped .
"It's been good that we've been in situations like this," he said. "Our league prepares us well, with this good competition and having to be prepared time and time again."
Bentley was named Moda Health Player of the Game for Crescent Valley (20-7). She finished with 10 and seven rebounds. Gabby Bland scored 12 with seven rebounds.
The best player on the floor for the Raiders, however, was Huang. She scored nine points, had 10 rebounds and three steals and was the player who did all the little things for CV to aid their victory.
"Nicole is an exceptional player," Gower said. "She's explosive. The motor doesn't stop. She's always battling and willing to do the little things."
Smith scored a game-high 19 points for Willamette (25-2). She finished 8-for-29 from the floor. Warberg added 12 points and seven rebounds.
In other quarterfinal games:
Girls 5A:
No. 4 Ridgeview 53, No. 5 Corvallis 43: Kyrah Daniels, a midseason move in from Australia, scored 16 of her game-high 33 points in the fourth quarter as Ridgeview (19-6) broke a 33-33 tie after three with a dominant fourth quarter to advance.
Daniels, a 5-11 junior, got to the basket at will. She was able to finish as easily with either hand and her pull up jumper in the key was automatic.
Corvallis actually led in the fourth. A Sevennah Van De Riet free throw put the Spartans up by one early. Laci Pentzer scored on a stick back for Ridgeview to give the Ravens a lead they would not relinquish again. Daniels followed with a jumper to match Ridgeview's largest lead of the game, then scored inside off of a Jenna Albrecht assist to establish a five-point lead.
Just when things looked lost for Corvallis, Taylor Brasfield hit one of her four three-pointers – the Spartans (20-7) won the battle from long range, converting seven triples to none for Ridgeview – to make it a two-point game once more. But Faye Davis scored inside for a four-point lead and Daniels followed with six in a row to put the game away.
Daniels added a game-high 13 rebounds to go with her robust point total. Five came on the offensive end.
Brasfield had 14 points and six boards to pace Corvallis. Van De Riet added 10 and five boards. Elka Prechel, the team's leading scorer, finished with eight. She was after being shut out at halftime, when Ridgeview held a two-point lead.
No. 12 Putnam 74, No. 3 Crook County 42:
It wasn't that the Crook County Cowgirls played poorly. They did not. Katelynn Weaver, Josie Kasberger, Emma Bales and McCall Woodward all had stretches where they were exceptional.
It's just that Putnam (20-6) was sensational from first tip to the end. Playing an entertaining style with five starters all capable of scoring in bunches, the Kingsmen took care of the ball, caused jaws to drop with precision baseball and bounce passes, finished from in-close and long range and generally did everything right in the wire-to-wire win.
The ringleader in this star-studded show was senior point guard Maddie Olma. Uncommitted to play at the next level, for utter baffling reasons, Olma controls the game like no other girl in the state. She has deep range, uses both hands equally well around the basket and is as creative a passer as the girls' game has seen in Oregon in quite some time.
She scored on a nifty lefty lay-in and two wing jumpers early in the fourth to extend Putnam's lead, which was nine after one, 19 at halftime and 24 after three, to 27 points, 59-32. The lead eventually ballooned to 34, on a Rylee Lemen lay-up, part of a 15-point effort for the sophomore post.
Olma wasn't the only Putnam played denting the stat sheet in multiple categories. Emma McDonald scored 18 points on just 10 shots and was so prolific that Crook County went to a triangle-and-two defense aimed at slowing down Olma and McDonald. Riley Greenleaf tossed in 13 points, and added seven rebounds and four blocks. Kayla Kasbuchi scored eight and had six assists and four steals. The play was precise and it was beautiful.
Kasberger led Crook County (21-4) with 13 points. Bale s had 10 and 11 boards. Weaver and Woodward added 15 more. The Cowgirls were good; Putnam was just that much better.
No. 7 Springfield 29, No. 2 Silverton 20:
A stifling 1-3-1 zone defense and the mastery of point guard Danaeja Romero-Ah Sam lifted Springfield past No. 2 Silverton, 29-20, in the nightcap on Thursday.
Romero-Ah Sam, a sophomore, had two points and two assists in the first quarter as the Millers (20-7)moved to a 9-2 lead. She had two more points and three more assists in the second quarter as Springfield extended its lead. Silverton scored six in the quarter, including a three-pointer from Paige Traeger, its first from long range after 11 misses to open the game
Trailing 17-8 at half, Silverton (21-5) needed to come out quickly to start the third quarter. Instead the Foxes need 5:19 to get on the board. Romero Ah-Sam, meanwhile, scored all eight points in the quarter for Springfield, including two three pointers. Kyleigh Brown scored the final six points for Silverton, giving the Foxes hope going to the fourth trailing by 11.
Again, Silverton needed a fast start to get back into the game. Again, it took the Foxes five minutes to put up a point. By then Springfield's lead was 13 points, which was too big a deficit for Silverton to overcome. Springfield, which lost by 15 to Silverton in December, had completely turned the tables on the Foxes.
Romero-Ah Sam finished with a game-high 14 points, four rebounds, five assists and three steals in a complete performance for Springfield. Juju Henderson, Kylie Rankins and Alexi Morgan combined for 15 more.
Brown led Silverton with 10 points and eight boards. She was 6-for-6 from the line but struggled from distance as did Silverton's other long-range shooters. Indeed, the top three scorers on the Foxes combined to gon1-for-19 from beyond the three-point line.
In consolation action
Boys 5A
Ashland 74, Crescent Valley 58: Ashland hit nine first-half three-pointers, including three by Toby Barnes and two each from Izzy Golden and Sebastian Stowasser, to establish a 10-point lead at the break and were never headed. The Grizzlies finished the game 12-of-20 from long range. Golden had 17 to lead the way for Ashland, while Barnes had 16, Stowasser 12 and Egan Shields 11. Cooper Wakefield scored 20 to lead Crescent Valley, which lost a quarterfinal thriller yesterday to Silverton. Jake Leibelt and Noah Dewey combined for 25 more in the loss.
Crater 58, Eagle Point 53: Eagle Point led 49-41 with just over four minutes to play, but could not hold off Crater's furious rally. The Comets went ahead for good on a three pointer by Tate Broesder with 60 seconds to go and hit six free throws down the stretch to seal the win. Crater ended up outscoring Eagle Point, 26-14, in the final period, to come back from a seven-point deficit after three. Crater also rallied in the first half, when the Eagles led 13-4 after one. Crater got within two at the break with one rally but saved its best rally for the end. Broesder had 16 to lead the way for Crater. Javon Smith and Logan Price teamed for 25 more. Brennan Neyt topped Eagle Point with 17 points. Tristan McGuire chipped in with 13.