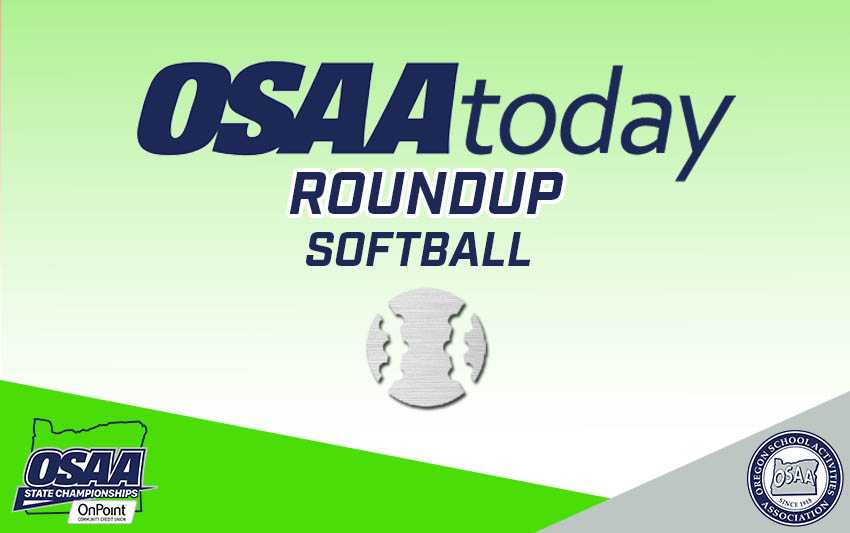 Third-seeded Oregon City rallied with two runs in the bottom of the seventh inning to beat No. 19 Lakeridge 2-1 in the second round of the 6A softball playoffs Wednesday.
The visiting Pacers (13-12) scored the game's first run in the top of the seventh inning when an infield error allowed Ella Hoyle to score from third base.
Pinch-hitter Sam Marsh singled to lead off the seventh inning for the Pioneers (20-7). With two outs and two strikes, Gina Allen hit a single to shallow center field, putting runners on first and second.
On a two-strike count, Phoebe Borkus hit a high pop-up to second base, but an error allowed pinch-runner Lily Castor to score the tying run. The throw to the plate was off target, allowing Allen to score the winning run all the way from first base.
The game was a pitchers' duel between Oregon City sophomore Lily Riley and Lakeridge senior Holly Beeman. Riley pitched a two-hitter with 14 strikeouts and Beeman held the Pioneers in check, fanning 11.
Chloe Stromme had two hits for Oregon City.
In first round games Monday, Riley threw a five-inning no-hitter against Reynolds and Beeman tossed a perfect game to beat Central Catholic 1-0.
Oregon City advances to the quarterfinals to face No. 27 seed West Linn.
Other highlights from Wednesday's round of 16:
6A
Bend defeated Mountainside 6-2 as Addisen Fisher pitched a four-hitter with 17 strikeouts, not allowing an earned run. Sophia Weathers had two doubles and an RBI single for the Lava Bears. … Ali Martinez went 3 for 3 with two home runs and three RBIs to lead McNary past North Medford 9-2. Celtics pitcher Lacey Vasas fell behind 2-0 in the third inning but held the Black Tornado scoreless the rest of the way. … Brynn McManus went 3 for 4 with two RBIs to lead McMinnville past Barlow 6-3. Mackenzie Bekofsky went the distance for McMinnville, allowing five hits and striking out seven. Morgan Calcagno had three hits and three stolen bases for Barlow. … Courtney Williams hit a two-out, two-run single in the top of the 10th inning to lift West Linn to a 5-3 win at Tualatin. ...
Tigard's Makenna Reid pitched a perfect game with 18 strikeouts in a 2-0 win over South Salem. The Tigers had five hits, including an Ella Dardis triple, against South Salem's Rowan Thompson, who fanned 11. ... Newberg's Serayah Neiss stymied Jesuit in a 1-0 win, pitching a one-hitter with 20 strikeouts. The Tigers scored the game's only run in the third inning on an RBI single from Scarlett Olivas. ... Payton Burnham hit two home runs and a sacrifice fly, driving in seven runs, and struck out six in three innings to propel Sheldon to a 16-1, three-inning win over Lake Oswego. Mya Guerin went 2 for 2 with two doubles and five RBIs and Molly Blanchette went 3 for 3 for the Irish, who had 14 hits.
5A
Down 7-2 after five innings, host Eagle Point rallied to beat West Albany 8-7 in eight innings. Sydney Boren had two triples and a home run for Eagle Point. She led off the eighth inning with a triple and scored on a sacrifice fly by Hailey Waldon. Emilee Nielsen and Jocelyn Hanan had three hits each for the Eagles. Serena Hattori went 4 for 5 and Sidnee Holloway had two RBIs for West Albany. … Sauren Garton threw a one-hitter with 17 strikeouts and one walk to lift Pendleton to a 3-1 win over La Salle Prep. … Trailing 4-2, Silverton scored four runs in the fourth inning and held on to win at Crater 7-5. The Foxes got a home run and a double from Braezen Henderson. …Teeghan Reams hit a two-run double in the first inning and a two-run triple in the second inning for Ridgeview, which scored seven runs in the first two innings on its way to an 11-3 win over Thurston. ...
Lebanon handled Ashland 10-0 in five innings. Alivia Holden pitched a one-hitter with 11 strikeouts and Emma Sheets had three hits and two RBIs for the Warriors. … The Dalles ousted Scappoose 7-1 as freshman Despina Seufalemua hit two home runs and Kennedy Abbas pitched a complete game. Abbas also had two hits. Kaitlyn Ventris hit a home run for Scappoose. ... Maddie Erickson led the way for Wilsonville in a 7-0 win over Corvallis, throwing a shutout with 16 strikeouts and going 2 for 3 with a home run. Natalie Adams went 3 for 4 with two RBIs for the Wildcats. ... Dallas beat Putnam 2-1 behind Kadence Morrison, who pitched a two-hitter with 13 strikeouts and drove in the winning run in the bottom of the seventh. Ashleigh Gaylor had an RBI double for Putnam.
4A
Annie Campos had three hits, including a home run, and drove in five runs for Henley in a 15-0, five-inning win over Sweet Home. Campos also pitched a three-hitter with four strikeouts. … Cascade blanked Hidden Valley 6-0 behind Hannah Walliman, who allowed one hit, struck out four and walked one. Kailee Bode preserved a shutout by robbing the Mustangs of a two-run homer in the fourth inning. The Cougars had 11 hits. … Christine McCants and Kenzie Hollenbeck had two hits each for Stayton in a 7-2 win over Marshfield. Jessica Rule picked up the win, allowing three hits and striking out five. … Kinzy Bowen hit a grand slam and Carlee Strand pitched a complete game with 11 strikeouts as La Grande stopped Banks 9-1. Grace Neer hit a two-run homer for the Tigers. … Estacada bounced Mazama 6-1 as Isabella Us-Zapata pitched a three-hitter and Katey Carpenter had three RBIs. The Rangers took a 3-0 lead in the first inning. ...
Astoria shut down Corbett 7-0 behind freshman Maddie Wilkin, who threw a one-hitter with seven strikeouts and no walks. Wilkin, Tenley Matteucci and Megan Davis had RBIs in a four-run third inning for Astoria, which finished with eight hits. ... Ontario outscored Valley Catholic 11-9 as Sam Ray went 4 for 4 with three doubles and three RBIs and Brie Kemble went 3 for 4. ... Marist Catholic's Malia Williams pitched a six-inning no-hitter with 17 strikeouts and went 4 for 4 with a double and an RBI in a 10-0 win over Baker/Powder Valley. The Spartans had 15 hits as Paige Doerr went 3 for 3 with two home runs and three RBIs, Chelsea Rustik went 3 for 4 with a home run and three RBIs and Madeleine Hopkins hit a solo home run to end the game.
3A
Ayla Davies pitched a two-hitter and struck out 15 to lead Burns to an 8-1 win over Douglas, which committed seven errors. Sam Perron's single drove in Douglas' lone run. … Yamhill-Carlton dispatched Creswell 10-0 in five innings as Kati Slater piched a no-hitter with 11 strikeouts and one walk. … Myleigh Cooper pitched a two-hitter with nine strikeouts in Scio's 7-0 win over Santiam Christian. Cooper and Kylee Baumgartner had three hits apiece. … South Umpqua's Violet Richardson had a dominant performance in a 7-1 win over Vale. She pitched a one-hitter with 13 strikeouts and hits two homers, driving in three runs. Hailey Twyman also had a home run for the Lancers. Kinsey Meisinger's seventh-inning home run was Vale's only hit. ...
Enterprise/Wallowa/Joseph outlasted Dayton 9-7, getting a big game from Rilyn Kirkland, who went 4 for 4 with three home runs, a double and five RBIs. ... Blanchet Catholic won at Pleasant Hill 10-6, rapping 13 hits behind Regan Rasmussen (4 for 5), Ariel Davila (3 for 4, three RBIs) and Alana Jensen (3 for 5, three RBIs). Davila pitched a complete game. ... Hailey Weaver led Taft past Brookings-Harbor 11-0 in five innings. She held the Bruins scoreless on six hits, fanning three, and went 3 for 3 with a double and two RBIs. Nat Gates went 2 for 2 and scored three runs for the Tigers. ... Harrisburg scored three runs in the first inning to take a 3-1 lead and held on to beat Warrenton 5-1.
2A/1A
Aryanna Beloir pitched a four-hitter with 12 strikeouts and had an double and an RBI for Glide, which defeated Oakridge 5-3. … North Douglas knocked out Pilot Rock/Nixyaawii 16-6 in six innings as Asia Ward went 4 for 5 with three runs and Cydni Dill went 3 for 5 with three runs and three RBIs. … Nestucca got back-to-back home runs from Lyndie Hurliman and Kyla Hurliman in the second inning as it pulled away early to beat Rogue River 8-2. Abby Love threw a five-hitter against Rogue River, which got a home run from Avery Bushey. … Drew Williams pitched a one-hitter with 13 strikeouts and no walks and Sivanna Hodge went 3 for 3 with a home run and four RBIs to spark top-seeded Grant Union/Prairie City to an 8-0 win over Bandon. ...
Union/Cove had only four hits in its 11-1, six-inning win over Days Creek. Amanda Lawyer hit a three-run double and Cabella Gregory pitched a complete game. … Kennedy's Jenna Hopkins threw a one-hitter with 17 strikeouts to win a pitchers' duel with Weston-McEwen's Hailey Stallings as the Trojans prevailed 1-0 in eight innings. In the bottom of the eight, Hopkins doubled to put runners on second and third with one out, and Morgan Kyle drove in the winning run with a ground ball to shortstop. … Lakeview's Tyler McNeely pitched a five-inning no-hitter with 14 strikeouts and went 3 for 4 with a double, home run and five RBIs in a 10-0 win over Gaston. ... Toledo's Mariah Frederic held Jefferson scoreless on two hits, striking out 12 and walking one, in a 3-0 win.