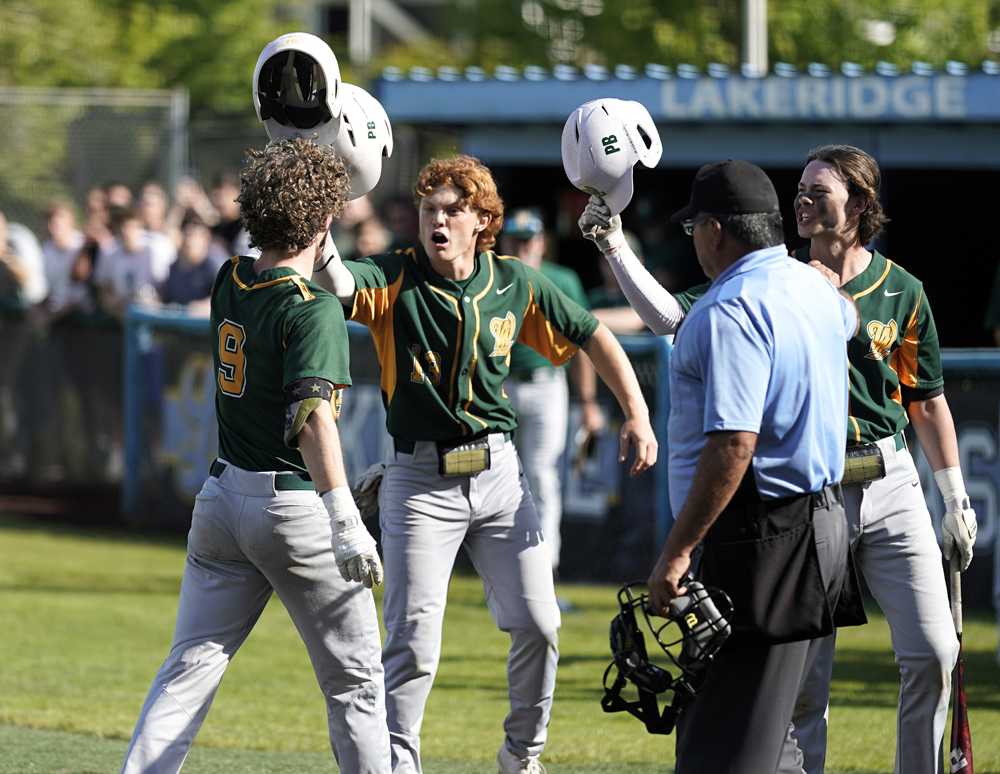 6A
No. 4 West Linn 5, No. 1 Lakeridge 4 – West Linn put four on the board in the top of the first, capped by Spencer Sullivan's three-run home run and led throughout to reach the state championship game for the third time in the seven-year tenure of head coach Joe Monahan.
Sullivan hit a 2-0 pitch deep over the fence in left field off of senior starter Zach Johnson.
"He couldn't locate his off speed in the first two pitches so I was expecting a fastball," Sullivan said. "He gave me the one I liked, middle in, and I just took it for a ride. I couldn't feel it off the bat so I know it was pieced. I looked up and it was going and disappeared into the trees. It was an unreal feeling. With the crowd behind me and seeing my teammates coming out of the dugout, it's an unmatched feeling. Got to go get one more."
Sullivan finished with two hits, as did Kace Naone, in support of winning pitcher Drew Talavs. Naone's first hit was a two-strike, two-out RBI to left field.
West Linn added a run in the top of the fourth on back-to-back singles, with one out, from Gabe Howard and Barrett Brundage. Howard scored on a ball that eluded the Pacer catcher.
Talavs, a junior RHP and Oregon State recruit, was cruising after five and leading 5-0 with a two-hit shutout, when Lakeridge came to life in the sixth. The Pacers put two on the board in that frame, on an RBI double from Paul Wilson and RBI single from Mason Utecht; and scored two more in the bottom of the seventh off of reliever Drake Gabel. Dawson Santana's second hit of the game and a Johnson RBI single made it 5-3 with one out, before Wilson's RBI force out added one more, but put the Lions one out from victory.
With the tying run on first and the record crowd at Lakeridge of 2,174 buzzing, Gabel struck out the final batter looking to punch West Linn's ticket to the championship game.
No. 14 Canby 14, No. 7 Clackamas 9 – Canby won a wild one at Clackamas to reach its first championship game in more than 60 years and set up an all-Three Rivers League finale.
Canby struck first in the second, scoring seven runs on six hits. Kellen Oakes started the frame with a triple and Clayton Langdale capped it with a two-run homer. In between, Alex Evans, Theo Netter and Bryce Oliver all delivered RBI hits.
Clackamas, which was seeking its first appearance since 2018, one year after capturing state for the third time since 2008; came to life in the bottom of the fourth with seven runs on seven hits to tie the game. Garrett Strube had a two-RBI double and Jackson Jaha singled to drive in the tying run.
Canby responded with six runs in the top of the fifth to take command once more. Netter drove in his third and fourth runs with a single and Oakes plated two more.
Jacen Rademacher launched a two-run shot in the bottom of the fifth to pull the Cavaliers within 13-9, but Canby added an insurance run in the seventh with two out on an Oakes single. Clackamas could not mount a rally in the bottom of the inning, as Oakes, who entered in the fifth, went the final 2.1 innings without yielding a hit to save the game for reliever Evans.
West Linn and Canby played three times during the regular season. All three games were close. The Lions won two of the three, barely, as the third game required a Lion rally from behind and a walk off on a Canby error.
5A
No. 1 Lebanon 3, No. 4 Willamette 2 -- Lebanon rallied from a two-run deficit after one-half inning of play to make the first baseball state championship game in program history. Noah Cox' RBI double staked the Wolverines to the 2-0 advantage. Senior Blake Stavros pitched well for Willamette, but he could not hold the lead. In the sixth, Lebanon scored three times,on the strength of two hit batsmen, a walk by Zach Lyon, which drove in the tying run; hits by Matt Woodward and Tyler Walker and a sac fly from Colton Vandetta, which plated the go-ahead run. Tyler Walker recovered from his shaky start to go six strong for Lebanon. Ryan Rivers struck out the side in the seventh for the Warriors, who won their second consecutive one-run game. "These guys are great competitors and they just fin a way to win baseball games," said coach Jeff Stolsig.
No. 11 Crescent Valley 9, No. 2 Wilsonville 4 -- Caleb Kelley stroked an RBI single as part of a two-spot in the top of the first for the Raiders, who never trailed at Wilsonville. Garret Bozdeck's two-run triple in the sixth, as part of a three-run inning, extended CV's lead to 6-1, which was more than enough for pitcher Landen Parker. Bozdeck added a two-run single in the seventh to finish with four RBIs for the Raiders, who advanced to the championship for just the second time in school history. CV lost in the 2018 championship final.
4A
No. 4 La Grande 8, No. 8 Philomath 0 – Senior RHP Devin Bell pitched a complete-game no-hitter, fanning 11 while yielding just two walks for the Tigers. Bell also went 3-for-3 at the plate, with a home run and three RBIS. Nick Bornstedt drove in two for La Grande, which is in the finals for the first time since 2018, one year after it captured its second 4A title.
No. 2 Hidden Valley 10, No. 6 Mazama 1 – Senior RHP Nate Vidlak tossed a complete-game with 10 strike outs to lead the Mustangs, who were undefeated last year in the Covid season, to their first OSAA state championship game since 2012. Caleb Richter supported Vidlak with four RBIs, including a two-run homer; and Isaac Hill hit his eighth home run of the season. Hidden Valley finished with 11 hits for the game, including two from Blake Zehe.
3A
No. 5 Santiam Christian 5, No. 9 Blanchet Catholic 4 (nine innings) -- – Santiam Christian's Jacob Yenchik squeezed home the winning run in the bottom of the ninth to help the Eagles reach the state championship game for the first time since 2016, one year following the team's fourth state championship. Blanchet Catholic, which was 2-17 during last spring's Covid season, scored to open the game on a Sam Schindler home run and led going into the bottom of the seventh, when Ely Kennel homered to tie the game at 4-4. Two innings later, Yenchik executed to help Santiam Christian walk it off.
No. 2 South Umpqua 7, No. 3 Yamhill-Carlton 6 -- South Umpqua took advantage of two late YC errors and used a Jace Johnson double to walk off with the win to advance to its first championship game since 1996. The Lancers, who will make their eighth state finals appearance, last won state in 1979.
2A/1A
No. 1 Umpqua Valley Christian 4, No. 4 Dufur / South Wasco County 3 (nine innings) – Umpqua Valley Christian beat Kennedy, 10-5 in extras, when the OSAA last conducted a state championship event in baseball. The Monarchs will try to go "back-to-back" after coming from behind to stun Dufur in nine innings. The game was tied 2-2 after seven. Dufur pushed two across in the first and UVC plated two in the fourth. The game remained tied at 2-2 until Dufur went ahead in the top of the ninth. Ty Haynes, who finished with two hits, a run scored and RBI, led off UVC's half of the ninth with a double. Levi Heard's RBI single drove home Haynes to tie the score. Will Haynes had an infield single to move Heard to third and Nathan York squeezed him home for the game winner.
No. 2 Kennedy 8, No. 3 Knappa 1 – Ethan Kleinschmit was dominant on the mound, striking out 10, and scored two runs for Kennedy, which reached the championship game for the first time since taking on UVC for the title in 2019. Riley Cantu was 3-for-3 with two RBIs and Charlie Beyer and Luke Beyer each scored 2 runs to lead a balanced Trojan attack. Kennedy led 1-0 after three but broke the game open in the fourth.
***
We will add more recaps as we receive them.