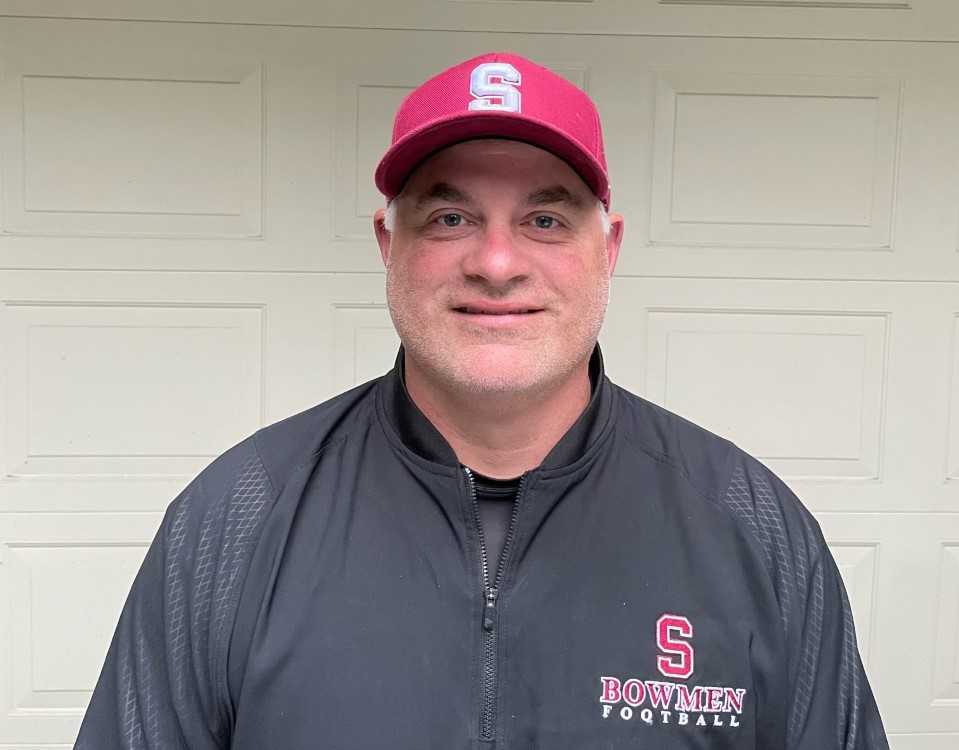 The resignation of football coach Kevin Hastin this spring didn't give Sherwood much time to find a replacement for this season.
So after conducting a search, the school has opted to hire longtime assistant Mark Gribble as the interim coach.
Gribble, a 1991 Sherwood graduate, has been on the Bowmen coaching staff since 1997. He served as the running backs coach under Greg Lawrence and continued in that role when Hastin took over in 2021.
"We kind of just got to the spot where everybody agreed, based off of timing, that less change is better," Gribble said. "We've got a great group of kids and continuity among the staff, so with me having been tenured here for 30 years, I was able to at least offer the smooth transition, or steadying of the ship, if you will, until they find a long-term candidate."
Gribble was a fullback and outside linebacker at Sherwood under coach John Hackworth. Gribble joined the coaching staff under Lawrence, his former running back coach with the Bowmen.
Lawrence went 234-72 in 27 seasons at Sherwood, leading the team to 5A titles in 2010 and 2012, before retiring after the 2021 spring season. Hastin took over last season and guided Sherwood to a 7-5 record, Pacific Conference title and 6A quarterfinal appearance.
But Hastin stepped down to move to Idaho, leaving a vacancy at the top as the Bowmen headed into their offseason program.
"I did not apply, but I did offer to take the interim after the district kind of went through their initial feel-out to see who the applicants were," Gribble said. "My concern was we would have something canceled as far as our spring and Linfield team camp.
"So I went in and we had a great meeting. I just said, 'While we go through this process, I can take the reins and get us through the spring, and get us well past our team camp.'"
Sherwood completed the Linfield team camp last week and announced Gribble as the interim coach Monday.
"I think we have a good plan in place," Gribble said. "We had a great spring and a team camp at Linfield. We're hitting the ground running."
Gribble said he expects the coaching staff to return largely intact, with a few changes in roles. Gribble will become the coordinator of the wing-T offense, Hastin's duty last season. Rob Hastin will slide over to defensive coordinator to take over for Rich Hannan, who will coordinate the special teams.
Gribble will stress maintaining the status quo throughout the upcoming season, after which the school will begin searching for the next coach.
"We all know that's the intent," he said. "Between the school district and myself, we all agreed that was the plan before I even took the interim tag. Obviously you're going to get a guy that comes in and puts his own little spin on things, but ultimately you want somebody that's going to continue to build on the foundation that's there."
An off-campus coach, Gribble works as an electrical contractor. He said he is open to applying for the permanent coaching job.
"I'm still relatively young," said Gribble, a board member for Sherwood's youth football program. "I want what's best for the program."
The 2022 season is promising for Sherwood. The Bowmen return starters at 17 of 22 positions, among them Gribble's son Nick, who played defensive back, outside linebacker, running back and slot last season as a junior.
"We've got a lot of talent. They're very cohesive," Mark Gribble said. "I've been around this group since they came together in third grade with our youth program. I think this is going to be a special run. It could be a magical, fun ride. This team has the capabilities of competing at a very high level against anybody we face."