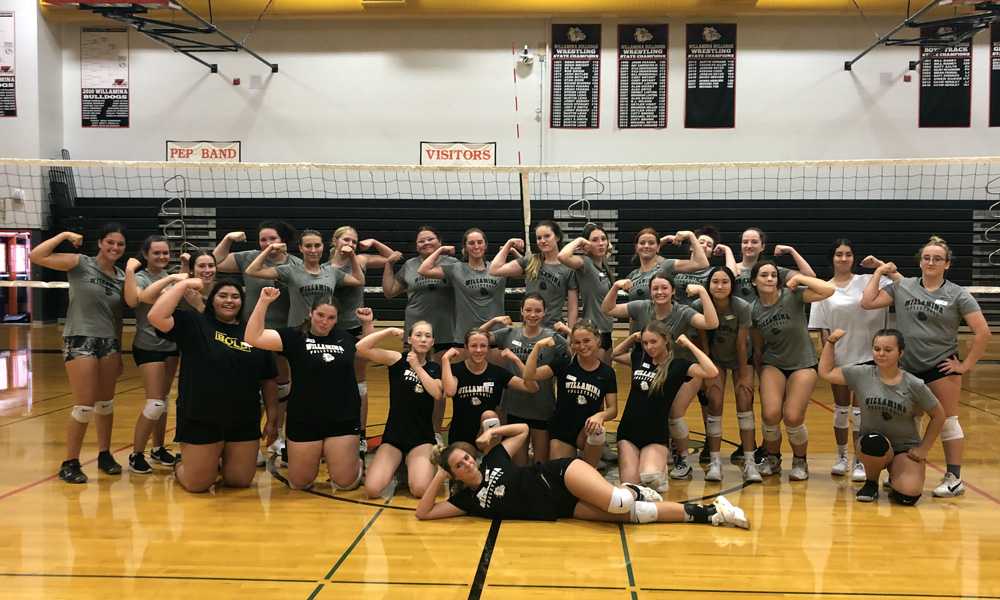 We are one week out from the first contest of the 2022 girls volleyball season. If you're a volleyball fan like I am, that day cannot come fast enough! What better way to pass the time waiting for first serve than with a volleyball notebook? Let's get after it!
Looking back first
The beginning of November was SOOOOO long ago that you might have forgotten what happened at the Oregon State Tournament. Here comes a quick review:
West Linn won 6A for the first time in 14 years behind a command performance from senior setter Shealyn Cecil. The Lions were virtually perfect in all phases and got amazing work at the net from senior middles Ella Nordquist and Rayna Reynolds in sweeping perennial power Jesuit, the third time West Linn defeated the Crusaders in as many chances last season.
West Albany was the favorite to win 5A to start the year and went wire-to-wire, sweeping a gutty Wilsonville team for the Bulldogs' first title since winning back-to-back in 2012 and 2013. West Albany was paced by senior setter Sydney Harrington and senior OH Hailey Heider.
A young Cascade team toppled conference foe Sisters in 4A to win its first title in its first appearance at state since 2014. Led by underclass attackers Lucretia Benolken and Annabelle Peterson, who combined for 35 kills, the Cougars rallied from a two-sets-to-one deficit to win.
Burns, fielding a lineup featuring two freshmen and two sophomores, won its first title in six years by downing Sutherlin in 3A. The title was No. 7 for the Hilanders under head coach Paula Toney.
Salem Academy won 2A for the first time in 26 years behind a core group of senior athletes that also finished second in basketball and fifth in track & field.
North Douglas won its first 1A title, denying St. Paul a threepeat. The Warriors won with a home-grown team, the majority of whom had played together since the sixth grade.
Ch-ch-ch-ch-changes
There was a lot of movement amongst classifications in the offseason. Volleyball was deeply affected. Except for 1A, at least one team that made the quarterfinals last fall is moving down a classification.
6A Bend will now be in 5A and a favorite, despite heavy graduation losses, thanks to the return of dynamic 6-3 junior attacker Chloe LeLuge.
North Bend moves from 5A to 4A. The Bulldogs were 21-2 a year ago, but graduated two-thirds of their 12-player varsity roster.
Sisters, Valley Catholic and Siuslaw all move from 4A to 3A. All three teams should be trophy contenders this season, with Burns and Horizon Christian also heavily in the mix.
Willamina moves from 3A to 2A and Union goes from 2A to 1A. Both teams should me a lot of noise this year in their respective divisions.
Re-Visitation rights
In this space, we look back at our final notebook of 2021, where we asked coaches to weigh in if theyr thought they'd be a final four team in 2022…
Calling their shot!
We invited coaches to call their shot if they believed their team would at least make the semifinals in 2022.
Only a handful of coaches had the courage to do so.
In 6A, champion West Linn and quarterfinal loser Sprague could be Final Four bound in 2022.
West Linn graduates a ton, including its setter, libero, both middles and one of the best attackers in the state, Emily Warmenhoven. Coach Emilie Wilmes remains bullish despite the losses, because of the return of pin hitters Addie Hoover and Amyah Semau as well as others waiting to contribute, like setter Olivia Doel, defender Caroline Nielsen and hitter Olivia Trobetsky.
Sprague bids farewell to Abby Sorensen, arguably its best six-rotation player, but Anne Olsen's squad will return 12 varsity players, including standouts at the setter, libero and outside hitter position. If rising sophomore S/RS Evie Morrissette develops quickly and Sprague find a little height, the Olympians, who finished under .500 this fall, could make a run.
In 5A, fourth-place finisher Crescent Valley had three impact freshmen, setter Kamden Mitchell, OH Bella Jacobson and MB Taelen Bentley, this past fall. Add juniors Sophia Terwilliger and Leah Matson, both HM All-League; libero Dani Street and OH/DS Vivian Buford and it's easy to understand why coach Troy Shorey is bullish about his team.
"We have a very good core coming back next with a year of experience together and a trip to state," Coach Shorey explained. "This is a group of players that are dedicated and willing to continue to work hard and achieve higher level of play and sustain that level. They feel like they have unfinished business right now!"
In 4A, champion Cascade will be favored again as the Cougars return a core group that includes five starters, four of whom were All-League picks. They are OHs Lucretia Benolken and Meah Carley, libero Jadyn Daviscourt, middle Annabelle Peterson and RS/S Bella Oliver.
"They all have grit and the will to win and are ready to come back as defending state champions," said coach Cristina Williams.
Philomath made a run to the semifinals in 2021 despite finishing outside of the top 10 in the final OSAAtoday coaches poll. The Warriors graduate six, but return a big front row that includes 6-2 RS Abigail Brown, 5-9 OH Clara Stanley and 5-10 MB Ahnika Tryon.
"I believe in this program," coach Denee Newton said. "We seem to be underdogs going in because our record shows losses. Those losses are to big teams, so we can prepare all season to finish strong. We plan to continue this and are hoping to get into the finals this time."
In 3A, state champion Burns should be more than formidable as it chases the repeat in 2021. The Hilanders bring back three First Team All-League players and two more who landed on the second team. Those players are setter Ashley Wright, libero Macy Temple, middles Akylah Kaino and Caitlyn Horrell and 6-1 OH Mackenzie King, who made the All-State Tournament Team.
Fourth-place finisher Creswell is planning on a return trip to the semifinals.
"I always believe my team will be a contender," Bulldog head coach Anna Baltrusch explained. "I have a ton of strong sophomores, several who played on the JV team. I have lots of kids who love the game of volleyball in Creswell. The group of players that were on varsity have great ball control and knowledge of the game. They serve tough and to locations that they need to hit. I also have a lot of kids who know they are competing for spot and are dedicated to working on their game in the off season."
Creswell will graduate six, but only star Emme Whitson played six rotations. Setter Kimberlee Kelsey, middles Kendyl Whitson and Kyla Ellis and OH Lizabelle Osborn are among the returnees expected to make deep impacts.
In 2A, Weston-McEwen, coming off of a 14-11 season, brings back starters at all but one position, including 6-1 middle Genevieve Robinson, OH Lily Linsdey and libero Lirian Holden.
"We were really young this year and lacked the consistency to get over the top and be a top four team," said coach Shawn White. "With a year of experience, I expect this group to win those close sets and matches that we narrowly lost this year."
In 1A, Crane rallied from two sets down to upset top-seeded North Clackamas Christian in the quarterfinals. Head coach Grant Nelson believes that losing at home like that will motivate his Saints all season in 2022. NCC will graduate just two and returns a slate that includes four All-League players: OH Kelly Dransfeldt, MB Ashlyn Watt, who was co-defensive MVP; setter Olivia Woody and MB Hannah Stark. Makayla Ferguson, a starter on the right side, also returns.
Re-Visitation rights, Part II
I also called my own shots. It's too early to have regrets, so here's what I wrote:
Calling our own shots
With confidential help from coaches, here are the teams we predict will make the semifinals next fall. Note that the picks are based on where teams are classified currently, not where they might land following December's re-classification vote.
6A
Central Catholic – perennial contenders return standouts Mia Hunt, Sofia Cooper and Mia Starr
Jesuit – always in the mix, the Crusaders graduate their defense and top middle, but return both live-armed outsides, setter Jackie Carle and nice complimentary pieces
Nelson – Hawks won 17 matches and made second round of the playoffs in first year as a school with almost entirely an underclass roster
Westview – Wildcats were 22-6 this fall with just one senior on the roster
5A
Crescent Valley – Made state with three great freshmen leading the way
La Salle Prep – Unfortunate draw cost LSP a shot at Final Four this year; Falcons return dominant middles Olivia Moulding and Hailey Heytvelt
Ridgeview – Five starters, including Madi Vaughn, return for third-place Ravens
Silverton – Foxes return arguably the state's best player, S/OH Alexis Haury, as well as attacker Rowan Reilly
4A
Cascade – Five returning starters, including two who made All-State Tournament Team
Philomath – Battle-tested Warriors bring back tough front row
Sisters – Runner up Outlaws graduated two key finals contributors, but return MB Gracie Vohs, setter Hannah Fendall and OH Gracelyn Myhre
Valley Catholic – Naima Foster returns from injury, Addie Emerson is a year better, Fran Eisenhardt does her thing…the Valiants will be GOOD!
3A
Burns – OH Kaitlyn Wright a huge loss, but virtually everyone else back for Hilanders, including Mackenzie King and Akylah Kaino
Cascade Christian – Maddi Carter and Molly Griffin lead Challenger team that had just one senior this year
Horizon Christian – Reagan Anderson, the McDonald twins back for the Hawks, as is the entire roster
Santiam Christian – Junior dominated in 2021; graduates only two defensive specialists
2A
Lowell – 18-win Devils graduate just one; bring back Lydia Plahn, Annabelle Pickett
Monroe – Maddie Gamache a big loss, but Dragons return Bella Gamache and Sarah Thompson
Vernonia – 20-win Loggers graduate only three
Weston-McEwen – TigerScots barely missed playoffs, but welcome back five starters
1A
Damascus Christian – Sierra Hale, Julia Mitchell return with a purpose for senior year
North Clackamas Christian – Saints will be fueled by hunger, four returning All-League players
Rogue Valley Adventist Academy – team's best players were all juniors
St. Paul – State runner up loses just one starter
Note: Picking 1A was especially tough, as champion North Douglas, fourth-place Crane and perennial force Powder Valley all bring back strong squads as well.
Quick hits…
Coming off of its first state title in 26 years, 2A Salem Academy saw 30 girls try out this year. Head coach Melissa Holman said that she'll be able to field three teams for the first time ever…Randi Viggiano has stepped down as head coach at 5A Ridgeview after the Ravens' third-place finish last year. Viggiano is the school's new Athletic Director. Kurtis Bower takes over as head coach…
Faith Bible won eight matches last year, the most for the Falcons since they placed second at State in 2014. Eleven seniors graduated, two returning players moved away and the team's best player coming back is out for the season with a broken wrist. So it's starting over for coach Brent Masterson, who could start as many as three freshmen. There may be growing pains but the future is bright…Milwaukie did not win a match last year, but head coach Carol York predicted, "We will not be the bottom of our league anymore." Senior Aza Bondo is an impact player moving to the outside from the middle. Newcomer Harry Berry, who stands 6-1, is a beast at blocking.
Burns is getting a lot of new competition in 3A, but the Hilanders plan to be top dog once again, with all but two starters back. Look for sophomore middle Caitlyn Horrell to add to Burns' impressive offense that includes veterans like Mackenzie King and Akylah Kaino…Rogue River won four times last fall, doubling its win total from the previous three seasons. Three Chieftains have graduated but coach Sarah Wicks is really excited about the young players in her program. Players to watch include All-League junior OH Suzy Smith, senior OH Mikayla Moore and senior MB Grace McQuain. Rogue River is moving into a tougher league, which will be challenging, but Wicks said, "In the 5 years I have been coaching here I have the most confidence in this group. They play well together and love volleyball. I think that even though our record may not reflect it because we are moving up into a tougher league (2A to 3A) this team will play well."
Catlin Gabel won 20 matches and finished third in 3A a year ago. The Eagles bring back three starters, including First Team All-State OH Elsa McDermott; but will be without senior middle Tatum Chase (knee). It's almost déjà vu, as MB Sophie Scott was lost to a knee injury before last season. Keep an eye on 6-2 freshman middle Haley Schaaf. She has lots of high-level club experience and could be an impact player right away both scoring and on the block…Creswell, fourth in 3A a year ago, will be much more balanced this year after graduating superstar Emme Whitson. Whitson, however, was the only starter to graduate, causing longtime head coach Anna Baltrusch to say that her team will be much more balanced this year. "The sky is the limit," she added.
Thurston went 13-8 last year with a young team. Only the libero has graduated for the Colts, who reached the state playoffs last fall. Three returning All-League players, senior OH Bayleigh Wodke and middles Scout Martin and Bailey Tovey will lead the charge to hang a Midwestern League banner in the gym…Marshfield won a dozen matches last year but should do a lot more winning this year in wide-open 4A. The Tigers return five starters, all HM All-League or better, including First Team All-League pick Tatum Montiel, a 5-10 sophomore OH. Marshfield will benefit by the transfer of 5-10 Jr. RS Bridget Gould, who was Midwestern League MVP last year while at North Bend…
Molalla made the post-season for the second straight year in 2021, but will have a less-experienced group in 2022 after seven seniors graduated, four of whom are playing at the next level. Senior setter Avery Guijosa Gonzalez and senior libero Delaney Mitchell are the team's key returning players…Crescent Valley has never won a state title in volleyball, but the core group of sophomores this year suggests that it may happen multiple times over the next few seasons. Sophomore OH Bella Jacobson and sophomore MB Taelyn Bentley are foundational players and terrific athletes…
Cascade Christian is poised for another successful year despite losing Second Team All-State OH Maddi Carter for the year due to injury. The team has nine experienced players returning from last year's 12-11 team…6A state champion West Linn won't be favored to repeat with five senior starters (nine seniors total) lost to graduation. Senior OH Addie Hoover and senior OH Amyah Semau give the Lions a chance, however…
Willamina should have success in its move to 2A, as six starters return for the Bulldogs, including senior OH Hallee Hughes and senior MB Brooklyn Bailey, two physical scorers…5A will find Canby to be a scrappy and tenacious squad in its first year playing at that level. Senior setter Natalie Just and senior MB Chlos Annas will lead the Cougars…
Jefferson is in position to surprise in 3A behind sophomore pin Lilly Tegner and several other returning starters, including a middle whose name is Trinity Swinger…Sprague returns 10, including junior OH Sidney Friesen, senior OH Rubie Morrissette, senior setter Megan Smith and senior libero Sarah Jones. This is not a tall team, but a good one…
1A runner up St. Paul graduated only a defensive specialist, meaning All-State MB Stella Koch and All-League performers Gracie Koch (S), Anabelle Davidson (MB) and Haslie Hempfling are back and motivated to get back to the top of the mountain…Marist Catholic won just six times last year, but a turnaround is expected with all starters but one back, including sophomore hitter Giana Elgarico…
College-Bound!
In this space, we list those players, in the current senior class and younger, who have made a commitment to attend a college or university of their choice and play volleyball. Please email [email protected] to add players to the list, using the format you see below.
Kayleigh Carpenter, 5-7 Sr. OH, South Salem – Boise State (for defense)
Gwen Fife, 6-0 Sr. OH, Sheldon – University of Utah (Beach)
Sophia Gregoire-Salagean, 6-2 Sr. OH, Newberg – University of Oregon
Alexis Haury, 5-10 Jr. S, Silverton – University of Washington